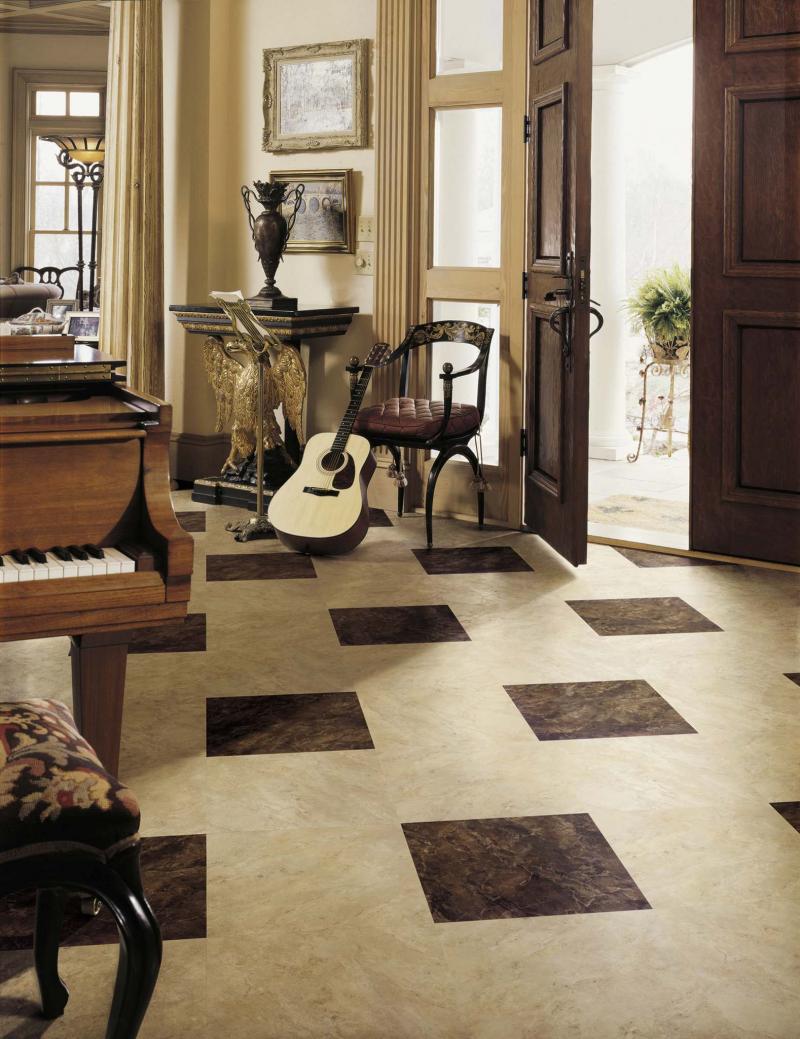 If you're considering replacing tired flooring in your home, choosing flooring for your new home or cabin or finally putting something on that cold concrete basement floor, lay flat flooring may be just the thing.
Keeping it very simple, lay flat flooring is a type of vinyl flooring of various thicknesses (1/8 of an inch being a very common size), comes in endless styles, colours and designs, is cushion-y to walk on, waterproof and requires no gluing to install.
You just cut it to size, lay it on the area to be covered and it's done.
My personal experience is with the vinyl sheet variety.
The former screen room in my humble abode was converted, a few years ago, to a three-season room, but now miraculously handles all four seasons comfortably.
Someone suggested lay flat flooring would be ideal for the space, so in it went. The floor, 12 feet by 24 feet, appears to be a lighter oak planking and, over and over again, people are shocked to find that it is indeed vinyl, and more shocked that, because it's not glued down, it can be rolled up, removed and used elsewhere in your home, if you so choose, with absolute ease.
It has held up amazingly, and couldn't be more perfect for the 24 wet and often muddy paws (two dogs, four cats) that criss-cross it endlessly each year. Very user-friendly for grandkids as well (muddy shoes, spilled drinks, etc.,). Can't remember if the floor was insulated when built, but it can be a bit cool to walk on and the lay flat flooring helps buffer that "cool," as it does with any seasonally chilly floor.
A fabulous product. Earlier this week, I popped into Avalanche Flooring on Portage Avenue, (where my "lay flat" was purchased) to ask flooring specialist extraordinaire Barbara Lowman what feedback she gets on the product.
The bottom line, of course, was that people love it; in fact, one customer at present is about to have about 1,800 square feet of it installed in all the major areas of her home.
Good idea. I'm thinking of replacing the carpet in three bedrooms here with it. So much easier to keep clean, comfy to walk on and non-allergenic!
What I didn't expect to hear was the many other applications, aside from flooring, that people use lay flat flooring for.
One of those creative uses absolutely thrilled me. "Lots of people replace their broken or cracked tub surround with lay flat flooring. Cheap, easy to install and holds up extremely well," Barbara says.
That thrills me because I have a multi-cracked tub surround in a cabin and I wasn't happy with what it looked like it was going to cost to replace it. This epiphany made my Scottish roots very happy.
"Lots of people come in and grab a roll end to do their bathroom floor," Barbara says. "It also works great as cupboard and drawer liners, and is increasingly being used as a backsplash."
Now, that is a great idea, and when you're bored with it, it's so inexpensive and easy to replace.
The widths available in lay flat sheet vinyl make it even more easy to work with, available in either 12 feet or 13-2 widths, and length that goes on forever. Price range? $1.50 to $5 per square foot pretty much covers it.
Some folks are even using lay flat flooring as bar tops! One caution? Because it's not stuck down, don't drag heavy stuff on it when replacing or rearranging furniture, as it can bunch up a bit and perhaps get damaged. You can, however, hold a big party and dance your butts off on it just as you would with any other floor. Great stuff.
For further info, check out avalancheflooring.com or visit any flooring store that carries this superb product.
Tub surround. YES!
Comments or feedback, love to hear from you!
lmustard1948@gmail.com