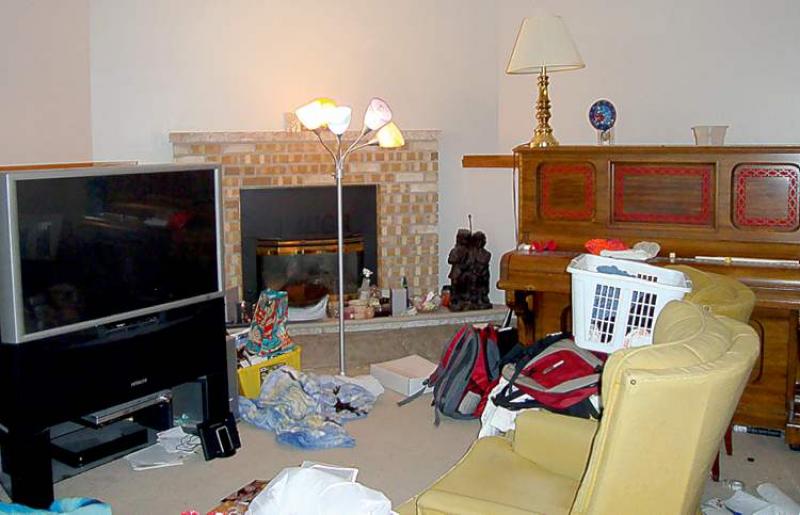 Selling your home can be a daunting prospect. Along with all of the planning for an eventual move, you have to get your current home up to standards for the sale.
This can seem an overwhelming prospect if you've got a house brimming with 'stuff' but presenting your home in its best light will improve the overall experience of selling your property. The more quickly it sells, the less time you have to spend preparing it for each showing or open house. Creating a buying buzz about your home may bring you a higher selling price and a quick sale. It's all about the show.
Experts, from real estate agents to professional housecleaning services chime in on their best tips for getting your house ready for the big sale.
Tara Bertholet, a real estate agent with the Sutton Group, has seen her share of homes that would show better with a bit of preplanning. Tara advises home sellers can increase their chances for a quick and profitable sale if they plan ahead and prepare their home in advance for showing. From a real estate agent's prospective, here are Tara's Top 5 suggestions when preparing your home for sale:
De-personalize
Buyers can't see past personal artifacts and you don't want them to be distracted. You want buyers to imagine their own photos on the walls and they can't do that if yours are there. You want buyers to say, 'I can see myself living here.'
De-clutter
People collect an amazing quantity of junk. If you don't need it, why not donate it or throw it away? Pack up all knick-knacks, vases, candle holders and excess furniture. Go through every room in your house and de-clutter.
Rent a storage unit
Almost every home shows better with less furniture. Remove pieces of furniture that block or hamper paths and walkways and put them in storage. This will make the rooms appear larger. All your items from the depersonalization and de-cluttering can be stored in a rental space as well.
Make your house sparkle
Tidy, dust and vacuum daily during showings. If it is dirty clean it. If it is smelly, air it out. Odours are a no-no.
Don't forget the outside curb appeal of your house either. Keep your walks clear in the winter and grass short in the summer. You want to make your house as welcoming as possible.
Attend to minor repairs
Use common sense. If it is broken. fix it. Make sure your locks and keys work well and leave a light on outside for evening showing appointments.
"You may want to hire a professional home stager before doing any of this," Bertholet said. "They will walk through your house as a potential buyer would, and can point out areas of concern that should be dealt with. They will be able to help with paint choices and furniture placement, which will showcase your house properly and make it appeal to potential buyers."
When major repairs are needed, Bertholet recommends these updates, which provide the most bang for your buck:
Remove all wallpaper and paint ceiling and walls, using neutral colours on the walls. Hardwood flooring is in demand. If you have hardwoods, you should expose them and have them refinished if needed. Replace worn-out carpets and linoleum in neutral colours.
Kitchen and bathrooms can return up to 100 per cent of your investment. Have a look at comparable houses in your area that have recently sold. (Your real estate agent can provide this information to you.)
You may not need granite countertops or stainless-steel appliances when a simple laminate countertop and new faucet and sink will do. If your cabinets are dated, you may want to replace them or get them resurfaced. Make sure all your current appliances are in working order. In the bathroom, new floors, fixtures and lights pay off.
Roofs and exterior
If your home needs a new roof, bite the bullet and do it. Buyers shy away from buying a home if the roof needs to be replaced.
Overall, buyers want to buy a home that has no deferred maintenance, has newer appliances, updated plumbing, electrical and heating (including a/c), modern conveniences and is ready to occupy. If you are not interested in doing any of these repairs, it's important that the price of your house reflects the work that needs to be done.
Home staging
Real estate agents and home sellers are using home-staging services more and more these days. Home-staging professionals can do much of the work and de-cluttering for you, which can be a blessing when you're stressed about the buying/selling process.
Theresa Swain, owner of the Home Staging Company in Winnipeg, has built a booming business in the home-staging arena.
"Over the past seven years, I've built the business from working out of my home, storing accessories for 20 homes, to recently adding a warehouse for larger furniture," Swain said. A significant amount of my business is through my website. (www.winnipeghomestaging.com). I have several real estate agents as clients who use home staging as a service. I also work with builders as well as people who buy and flip houses."
Swain said the key when preparing a house for sale is you're selling more than a house and four walls... you're selling a dream or perception of a lifestyle. While no one can guarantee a house will fetch a specific price or sell within a certain time frame, experts all agree that preparing a house for sale has a positive influence.
Home-staging services can include everything from painting and space planning to landscaping and shopping services.
Theresa concurs with Tara's Top 5 list with respect to depersonalizing, de-cluttering, curb appeal and fresh paint. She also recommends updating lighting fixtures in brushed nickel or stainless steel, which she says will go a long way to modernize your home. Add some lamps in older homes with low lighting.
Staging from a homeowner's prospective
Home staging creates a positive first impression, which is the most important part of the home-selling process. Homeowners Val and Marty Marques share their recent experience using a home-staging company to prepare their home for the market:
"My wife Val and I made the conscious decision to use the home-staging services of Theresa Swain and her company to sell our home," said Marty Marques.
"As much as we all like to believe our homes will sell themselves, I truly believe the added benefit of staging a home gives a seller an advantage over another home not staged.
"The majority of people accumulate a substantial amount of stuff over the years, which usually ends up crowding our home. Our home stager, Theresa Swain, had the experience and talent to come in and add or remove pieces of art, furniture and accessories to make the home look great.
In our case, we had purchased another home and required the staging in order to avoid the home feeling empty and cold. Theresa brought some furniture, some art pieces, as well as several accessories. After seeing the home staged, we seriously considered not selling it ... it looked that great.
""Unless you're an interior designer, I strongly urge anyone attempting to get that edge over a competing home to use the services of a home-staging company."
The Marques' realtor advised them he had received lots of positive feedback about the showing of their home and they all expect a sale soon as a result of the interest.
Paint: an affordable and DIY update
If you want to make your home a hot property for resale, warm up the colour. Contrary to popular belief, colours with personality have been shown to be more effective at closing a deal.
So say the colour experts at CIL paint, pointing to the power of colour psychology in swaying people's opinions, emotions and behaviour, which in turn can determine how quickly a home sells.
"First impressions are everything when selling your home, and paint is the easiest and least expensive way to create an appealing atmosphere for potential buyers," said Alison Goldman, brand manager for AkzoNobel, makers of CIL paint.
"The more attractive and comfortable you make your home, the more it will entice prospective buyers to make an offer."
Goldman offers this advice for updating your home for resale:
Detach from the process. Look at the property from a buyer's perspective. Don't think of it as your house anymore. You're selling a product now.
Focus on fixtures. Since your furnishings will be going with you when you move, select a colour scheme best suited to your home's stationary items, such as flooring, cabinetry and countertops.
Play the odds. Select paint colours that are palatable to a broad a range of potential buyers. Earth tones that reflect the colours of nature, such as muted shades of green, brown, yellow, blue, red, grey and tan work best, since they create a warm and inviting environment.
Create interest. Painting a focal wall in a warm colour adds personality to a room and may draw increased interest from prospective buyers. This technique is especially effective in key rooms such as the master bedroom and dining area, where a splash of colour can do wonders in adding charm to a space without overwhelming it.
Accentuate the positives. Use colour to highlight impressive features of a home or detract from less desirable elements. Crown moulding can be accented by painting the wall around it in a slightly contrasting colour. Smaller spaces can be visually expanded with shades of cool blue or muted green and a dark entryway can be warmed up with sunny yellow to maximize the play of light.
"For a minimum investment, paint can help yield maximum return when selling your home," Goldman said, comparing planning a home resale to preparing for a performance.
"William Shakespeare's claim that 'all the world's a stage' is particularly true when putting your home on the market. Using the right colours will set the stage for a successful and profitable outcome."
Clean homes sell faster
First impressions count. The cleaning experts at Molly Maid advise that when it comes to listing your property, a clean, fresh-smelling home will sell faster. Here are some cleaning tips from the experts to help attract more buyer interest:
Tidy and clean all entryways. Store shoes and coats in another closet rather than having them displayed at the front door. The entrance of your home is the first thing a buyer sees once inside your house, so make sure you are leaving a positive impression.
Use a light air freshener. When a buyer walks into your home you want a nice, fresh scent in the air. If the weather is nice, open the windows; fresh air is a wonderful way to freshen up the room and help eliminate any pet odours.
Clean your windows. Make sure your windows are sparkling to ensure a potential buyer can appreciate that great view. To clean windows, use window cleaner, a microfibre cloth and the technique of wiping horizontally on one side and vertically on the other so you can see and avoid streaks.
Dust your light fixtures. The last thing a potential buyer wants to see is dust and cobwebs hanging from your light fixtures. Dust and wash your light fixtures to make certain they shine as they should and that lighting is optimized.
Thoroughly clean the kitchen and bathroom. These two rooms are major selling features and potential buyers will inspect them for cleanliness. Ensure the sink, counter, tub, toilet and mirrors are sparkling clean. Remove any mildew by making a paste of three parts baking soda to one part water, apply the paste to a microfibre cloth and rub it over the mildew until it comes off.
Clean all appliances. Clean and shiny appliances look great and sometimes it's as simple as wiping off the fingerprints. It is important for all appliances to be clean both inside and out, especially if they are inclusive of the deal.
De-clutter each room. It's amazing how much stuff you can fit on the top of your dresser. Keeping these surfaces clean will not only help the room look cleaner, it will also help the buyer envision how their own items can look in that space.
Nobody wants to move into someone else's dirt, so ultimately you want to make your house look brand-new. If this task feels overwhelming, hire a professional cleaning service to do the dirty work for you. Visit www.mollymaid.ca for more information and cleaning tips.
connieoliver@shaw.ca