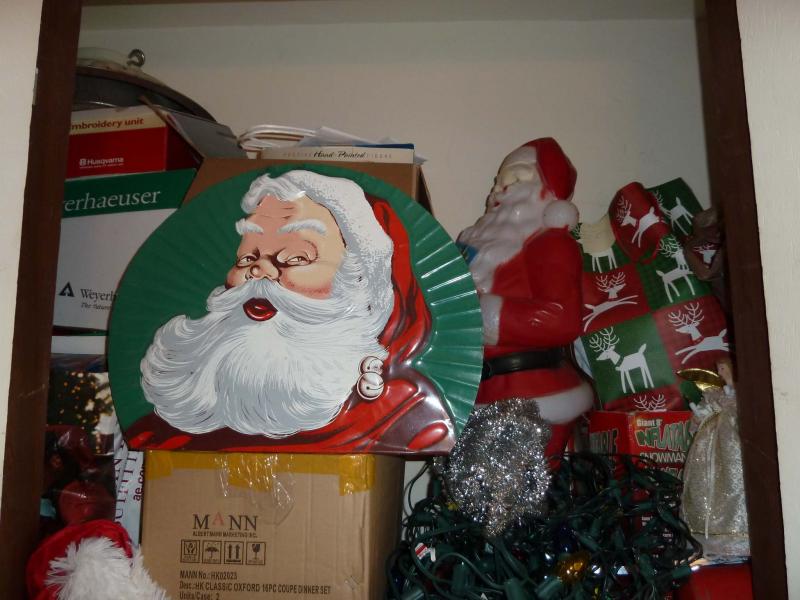 HO HO HO HOMES throughout many lands are being decorated and prepared to celebrate the Christmas season, what do you do with yours?
I personally am going through a humbug stage, where I do pretty much nothing in the way of either outdoor or indoor Christmas decorating, and that includes putting up a tree. I have a little artificial one with some lights on it that I set on a counter and plug in and aside from a plastic Santa that lights up and an old metal Christmas tin thing, that's basically it. Can you feel the magic? Me neither.
I'm sure these things go in cycles.
Don't get me wrong. I've always loved Christmas as a wonderful time with family, with great get-togethers and yummy food, but the whole tree and lights thing has just run its course with me for the time being.
Who knows, next year I might be right back at it, but this year, I'm at the point where I wish you could just buy a little electronic device (plug in or batteries), that projects the most beautiful Christmas tree you've ever seen, in 3D, on your wall for all to enjoy.
They probably exist, maybe I should look into that. Maybe not.
I admit to being a bit amazed at the fervour some folks have for decorating their homes for Christmas, both indoors and out, and how long, especially the tree part, they leave all this stuff up!
Curious, I popped the following query onto my Facebook page, to see what the average Christmas effort might include, also choice of real or fake tree, the following being a few of the responses.
Marilyn T.: "Fake for me. Did years and years of choppin' and draggin' for the children. Lived on a farm, it was beautiful. Now I'm saving trees and simplifying. Last year my son went out and got me a real tree, and it was beautiful, but even though watering it often, the needles were everywhere. So fake it is. Once it's decorated, spray on a little eau de pine and it's all good."
I hear ya' about the needles thing. I did a real tree (big one) two years ago, and those needles were indeed everywhere. The only good thing about that is the wonderful Christmas tree smell that blasts out the exhaust on the vacuum cleaner. Ahhhhhhhhhhh.
While on the subject of tree needles, I found a good tip on the Winnipeg Fire Paramedic Service website on trees and safety. Dry trees, of course, are more of a fire hazard than non-dry trees. That's not the tip. That's just common sense. The tip: when buying a tree, lift it off the ground a few inches and give the base of it a good bump onto the ground. If a whole bunch of needles fall off, you've got a dry one. Keep looking. Good tip.
Back to the Facebook responses.
I love Facebook.
Beryl M: "I usually put everything up the first weekend in December. Did it early this year. Everything is up already."
Next, the ever popular Tom Milroy of radio fame (hence the full name): "Real tree... up on December 8... down January 2nd."
Here's a novel approach: Gloria T.: "We hold off putting our tree and decorations up until after November 11 to remember our veterans and show respect. This year, something unique tree-wise, a collection of last year's cards taped to the wall in the shape of a tree. Ho Ho Ho Merry Christmas!"
So, November 12. Yikes.
James T.: "When I was married? We went out, cut our own, dragged it outta' the bush, etc. I got single. Now I have a three foot tree that I decorated, stays up for a week, goes into a bag, closeted til next year. Out it comes, all done up, repeat."
Efficient.
Tom D.: "Setting up – Advent begins December 3, any time after that. Tearing down, the 12th Day of Christmas is January 5. Any day after that."
Thank you Tom, next time we have coffee, you can explain to me what Advent is.
We'll close on this late entry from a Christmas Tree Pro, Ray DuBois of Ron Paul Greenhouses and Garden Centre: "Laurie, based on the cadence at my garden centre, the busiest time is this weekend and next. That's pretty much the fat part of the bell curve. We sell real trees so what you'll see is the more expensive trees that hold their needles the longest (Fraser Fir, Nordman, Noble, Douglas Fir) tend to go now and this upcoming weekend.
"The next weekend we'll see the Balsam Fir take over in a resounding way. We put ours up as soon as I have time so typically AFTER the crazy two weekends. Hope this helps."
Certainly does, thanks to all who responded, sorry I couldn't fit you all in. Best of the season to one and all. When you have my gift ready, just pm me and I'll send someone to pick it up. Ho Ho Ho.
Comments or feedback, love to hear from you!
lmustard1948@gmail.com