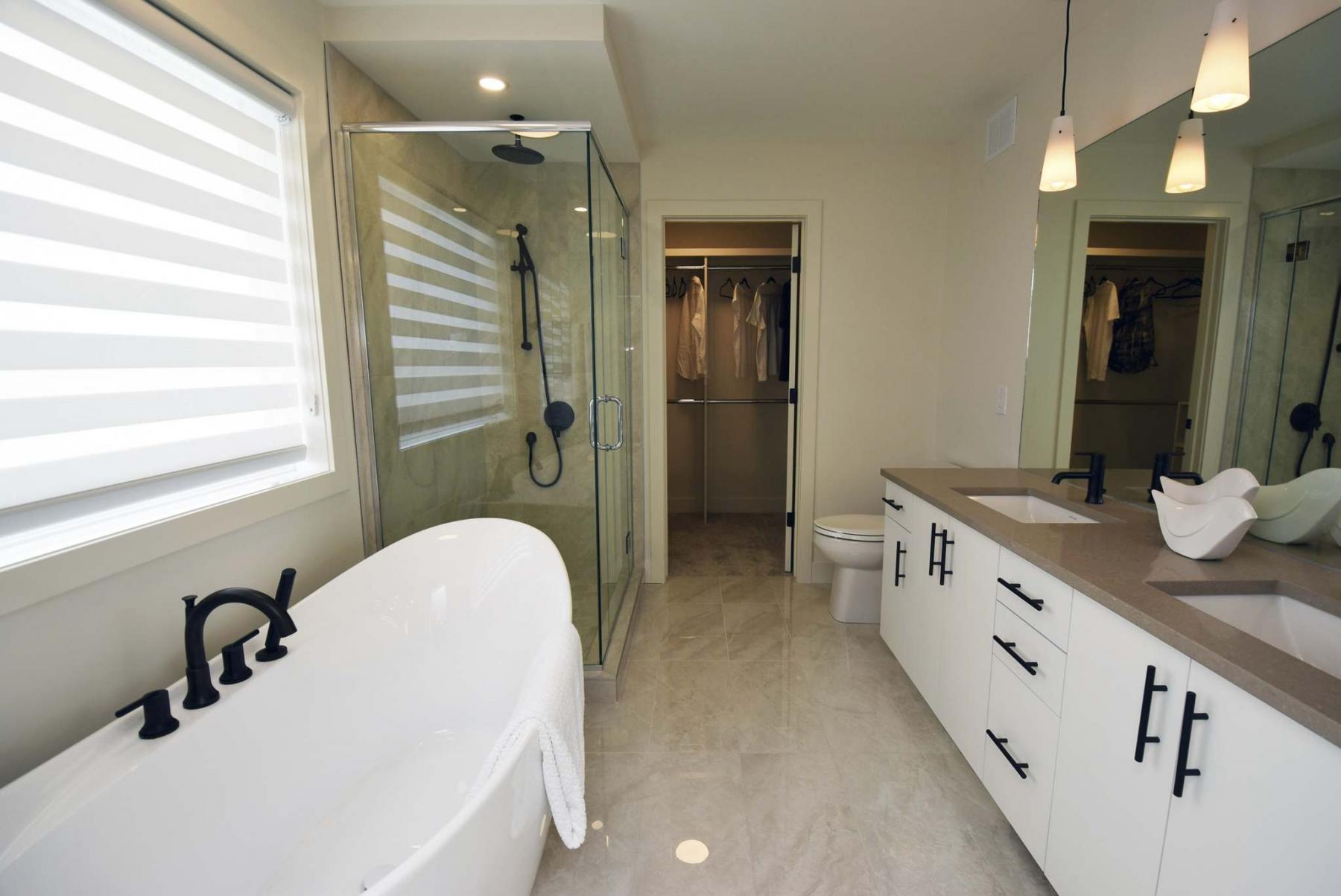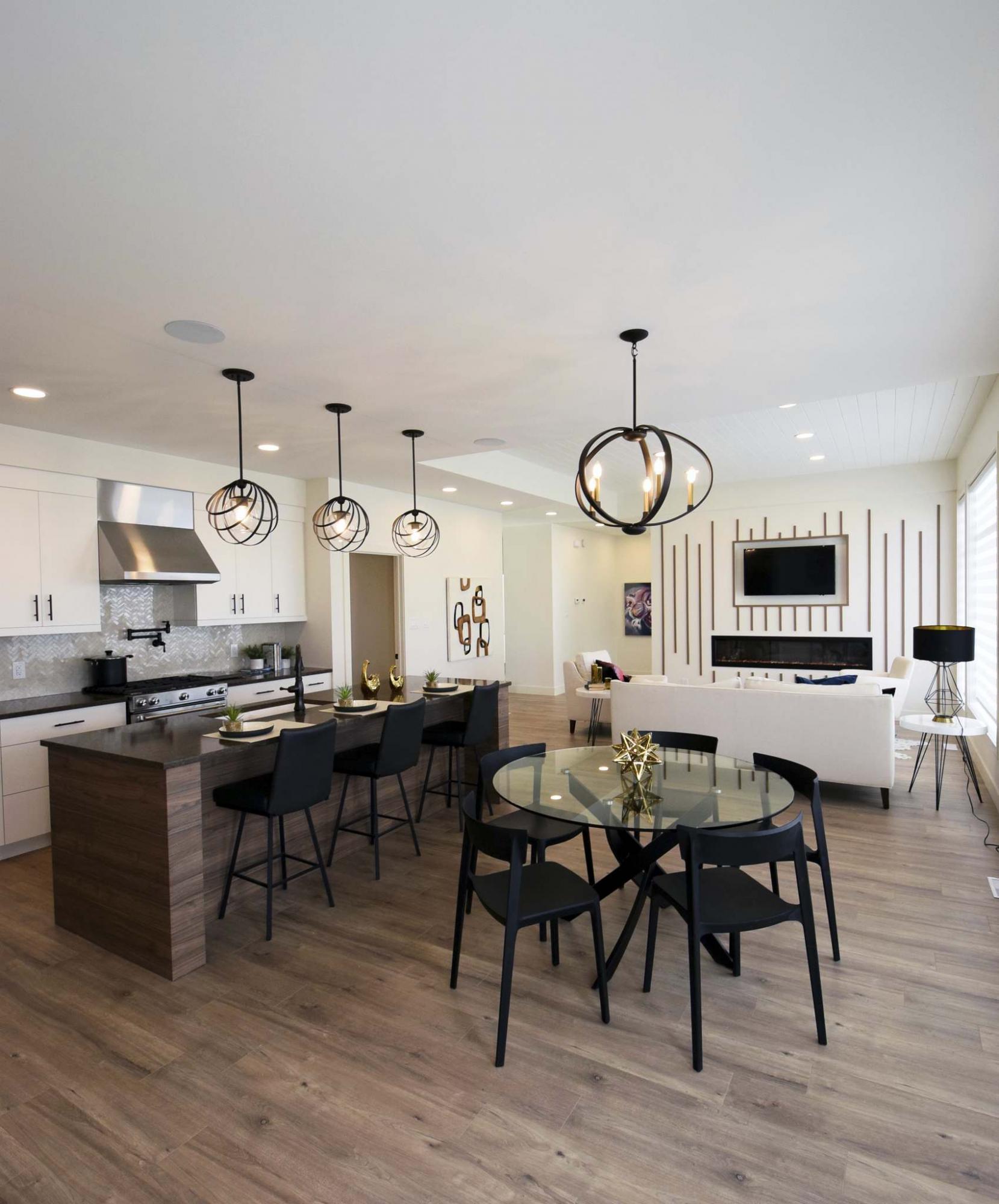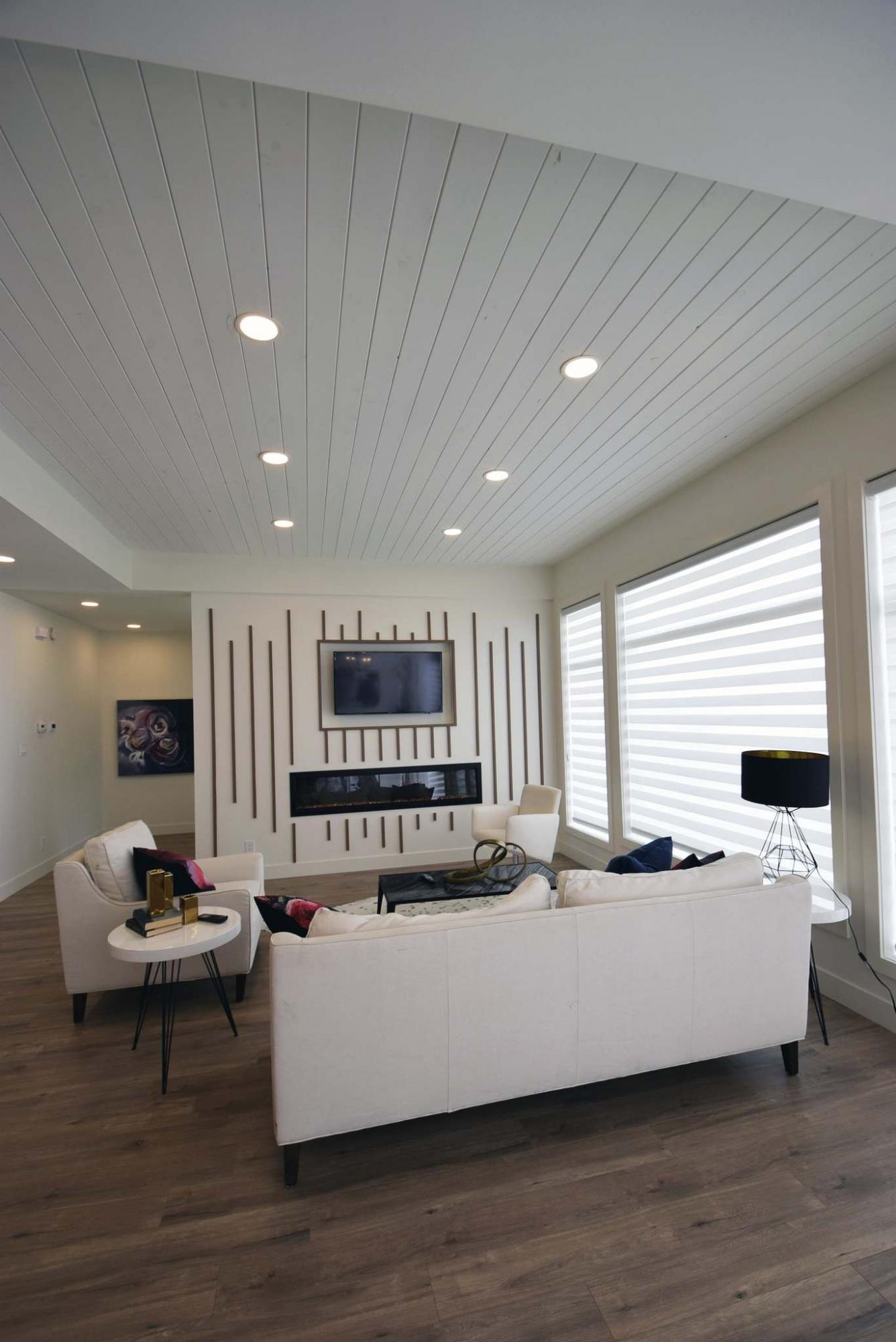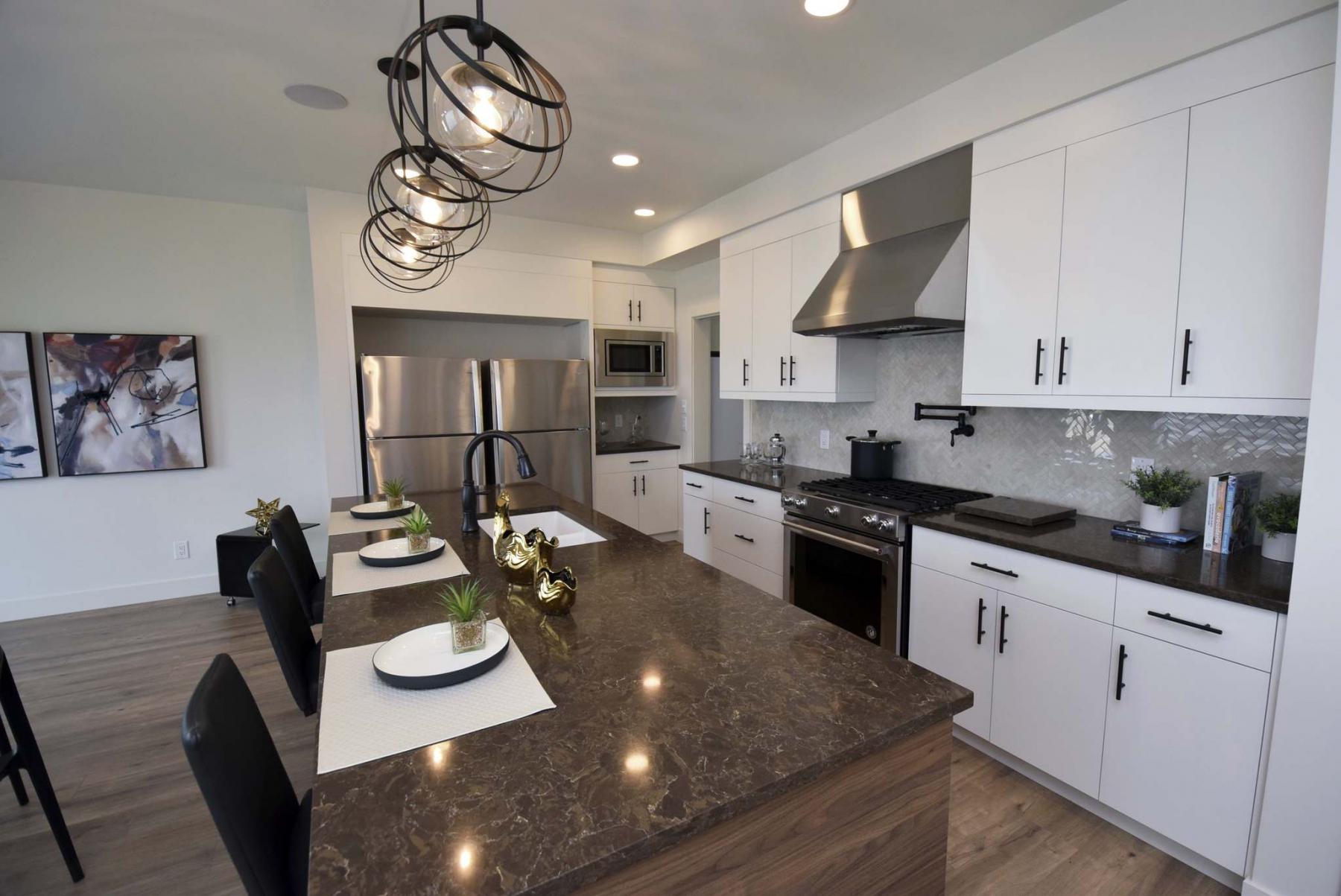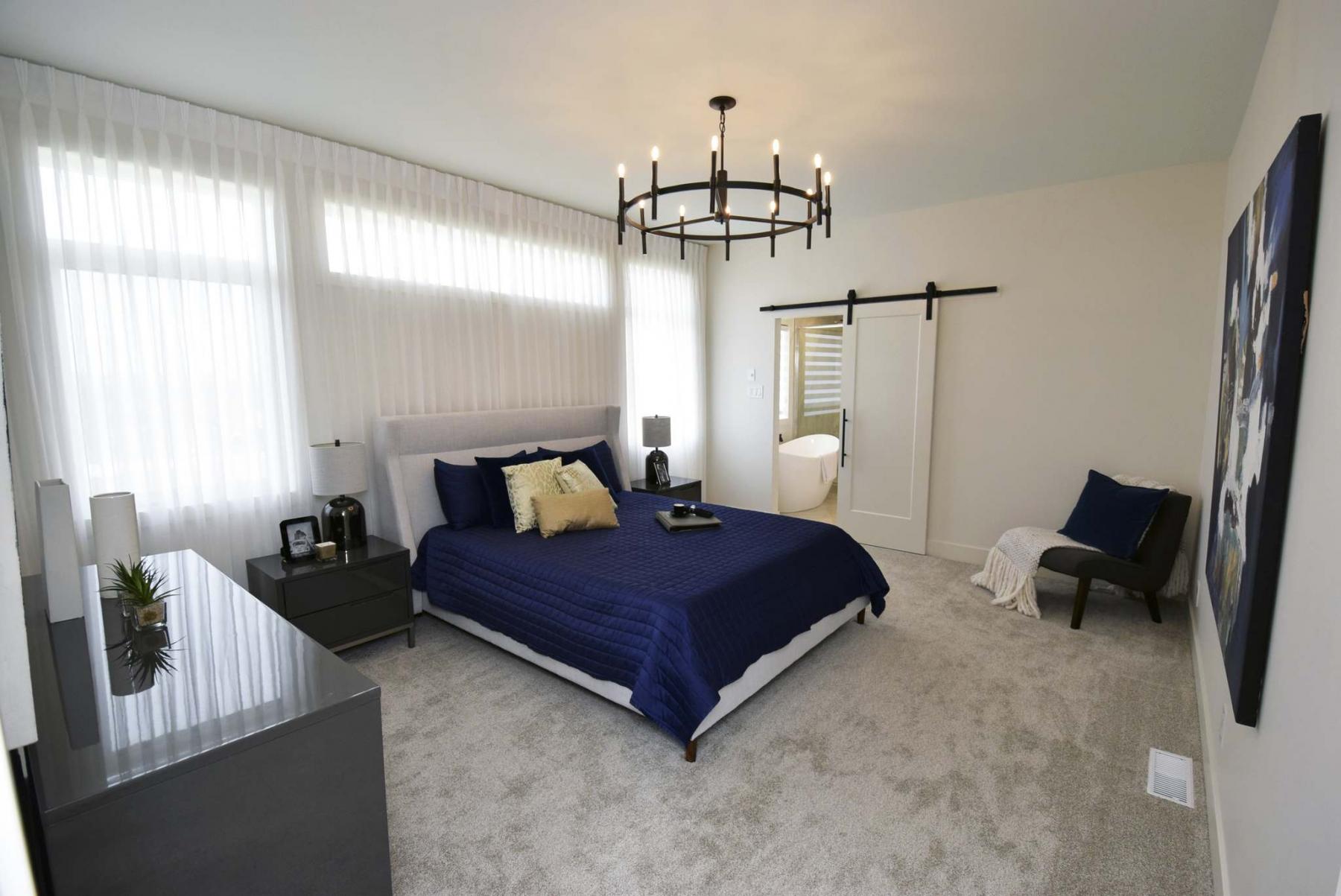 As busy as a home builder can get — it's too easy to simply make a few minor alterations to an existing plan and call it new.
That never happens at Gino's Homes — says Cam Ftoma, sales representative for the longtime custom home builder's new show home at 20 Siskin Bay in Sage Creek.
"Like every home Gino's Homes designs and builds, this is a brand-new, fresh design," he says of the modern-looking, 2,222-square-foot, four-bedroom home. "It's an original from top to bottom."
A shining example of sophisticated simplicity, the home starts off with a generous foyer with a handy powder room carved unobtrusively into the wall on its left-hand side. Interestingly, the upper-level staircase is nowhere in sight. That's where the home's novel design really starts to come into play, says Ftoma.
"The staircase was placed around the wall on the other side to give the foyer a clean, open feel. People love that design feature," he says. "It's different and adds function and style to the home. It's not the same old, same old."
He adds that the space to the right of the wide, recessed staircase, a spacious family room, is also anything but standard.
"It features a retro design with thunder-stained slats surrounding the fireplace, entertainment and TV nook," he says. "A cool wood slat ceiling above adds character, while it combines with three windows on the wall to define the space."
The family room then transitions seamlessly into an exceptionally bright and functional kitchen/dining area. There's plenty of space for a table for 10 in the readily-expandable dining area, while the kitchen comes equipped with a seven-foot island, plenty of cabinet and counter space and a unique colour scheme.
"Instead of going with grey countertops, Gino's design team went with brown quartz countertops to tie in with the slats around the entertainment unit," says Ftoma. "The island also has a brown rift oak base and cabinets that contrast nicely with light taupe cabinets. And I love the herringbone tile backsplash — it goes perfectly with the countertops."
A doorway placed smack-dab between the family room and kitchen provides access to an inconspicuous yet highly functional space that's been very well-received, he adds.
"It takes you into an amazing space that starts with a mudroom, then graduates into a pantry with tons of storage, a sink, cabinets and a nook for an upright freezer. Moms love it, especially because they can bring groceries right into the pantry from the garage."
The home's creative yet practical design continues upstairs, where style and function coexist in perfect harmony. Natural light pours in through two huge corner windows over the stairs, while a well-conceived floor plan enhances livability and privacy. Three huge bedrooms, a laundry room and four-piece bath were tucked away down a hallway to the left of the stairs, while a fourth bedroom — none other than the primary bedroom — was set up two steps from the landing area that fronts it.
"If you want a private primary bedroom, this is the one for you," says Ftoma. "The bedroom is just the right size, two windows either side of the bed and a transom window over it let light filter in beautifully through chiffon curtains, and a gorgeous candelabra-style chandelier adds some high-end style."
Meanwhile, the ensuite on the back wall is separated by a barn-style door that can be slid across to close off the space when privacy is required.
"It offers a six-foot soaker tub, shower with tile surround, tile floor, vanity with quartz countertop with dual sinks and a big walk-in closet behind its end wall," he says. "It's a gorgeous space that has a calm, restful feel to it."
Ftoma says taking the effort to come up with a unique, yet practical design paid off.
"Everyone who's been through the home has loved the fact that it's different, yet livable. It delivers the function, style and personality that families are looking for in one incredibly-well-designed package."
lewys@mymts.net
Builder: Gino's Homes
Address: 20 Siskin Bay, Sage Creek
Style: two-storey
Size: 2,222 sq. ft.
Bedrooms: four
Bathrooms: two-and-a-half
Price: $799,999 (includes lot & GST)
Contact: Cam Ftoma, RE/MAX Performance Realty, 204-794-5066