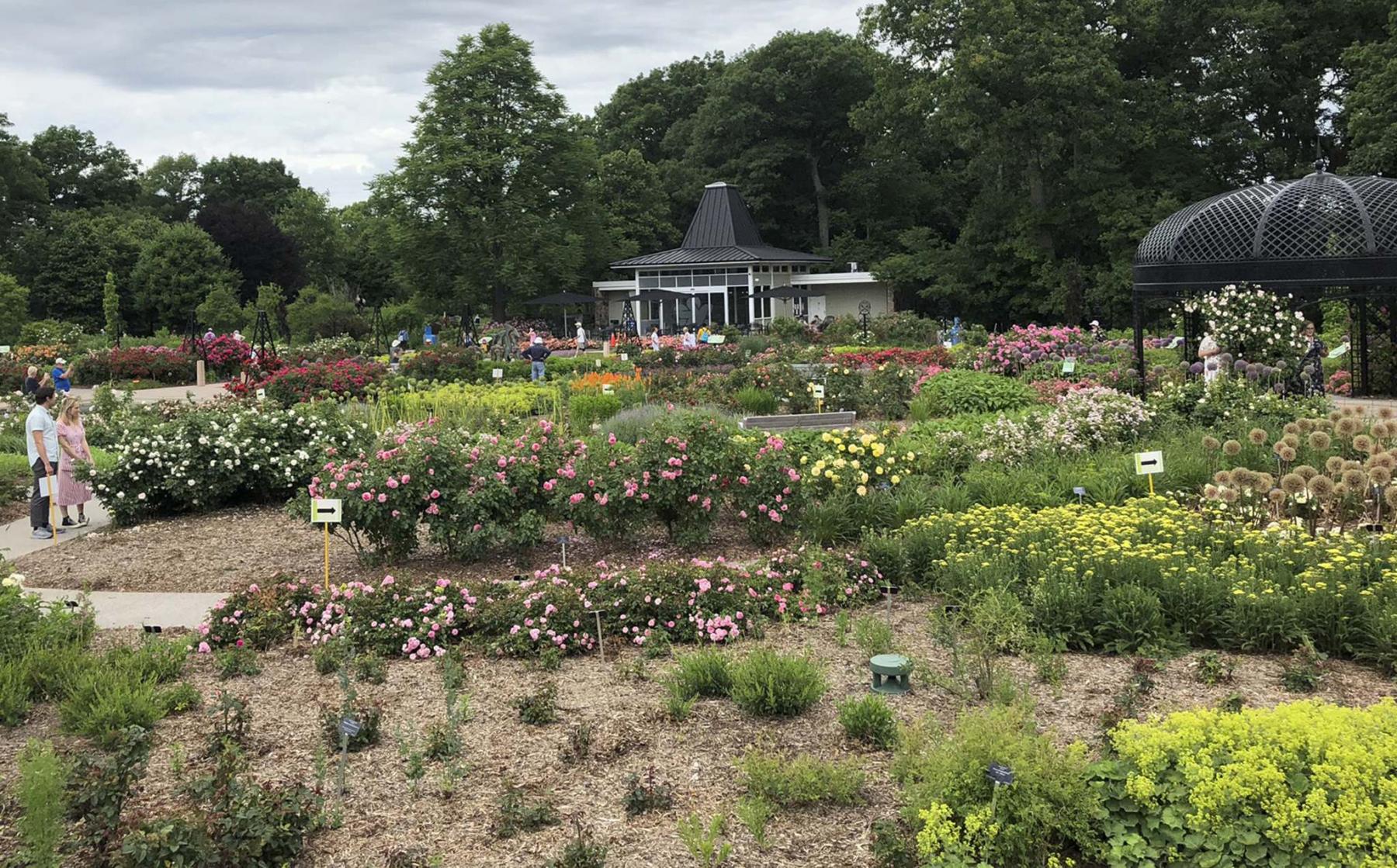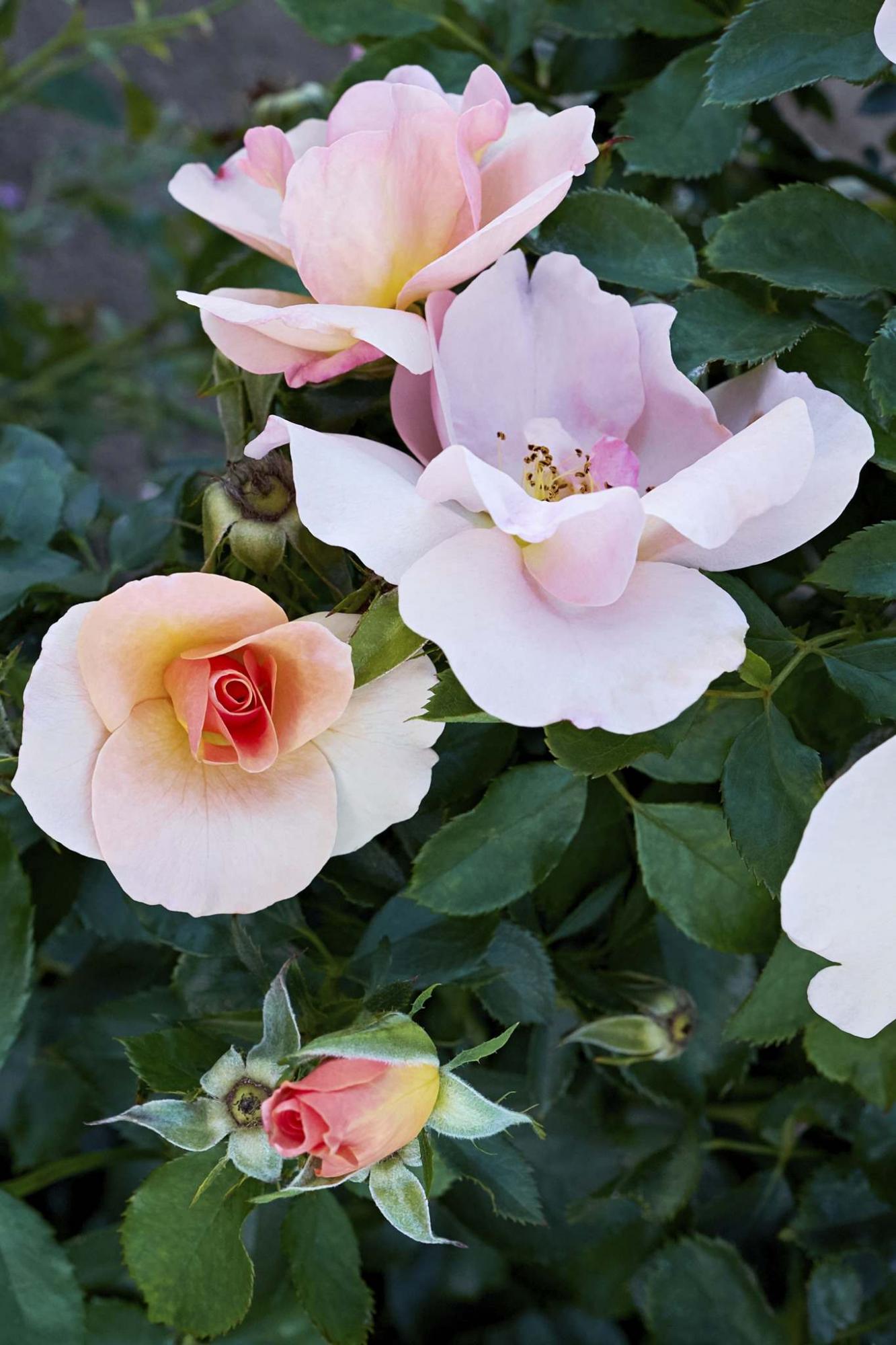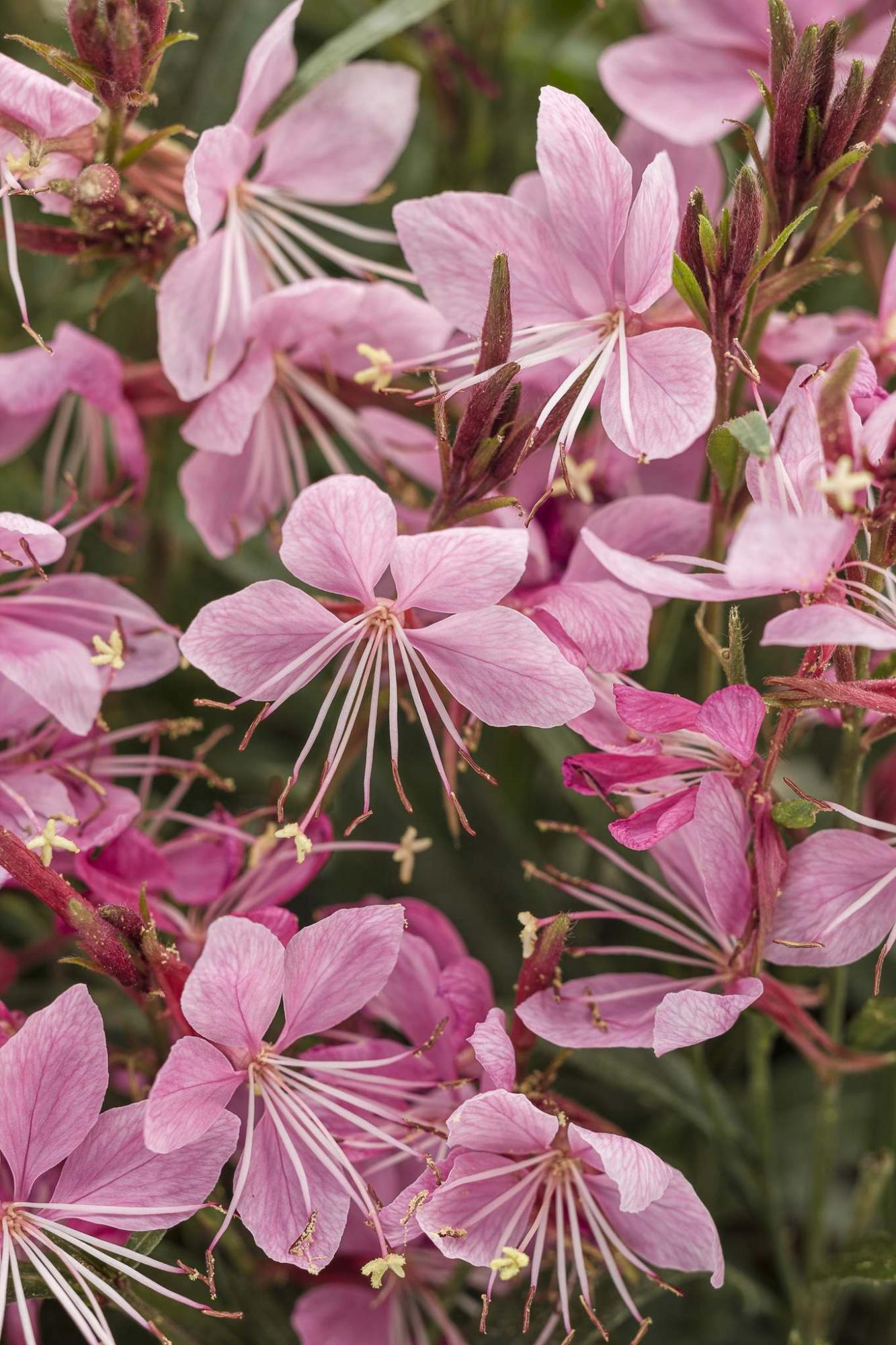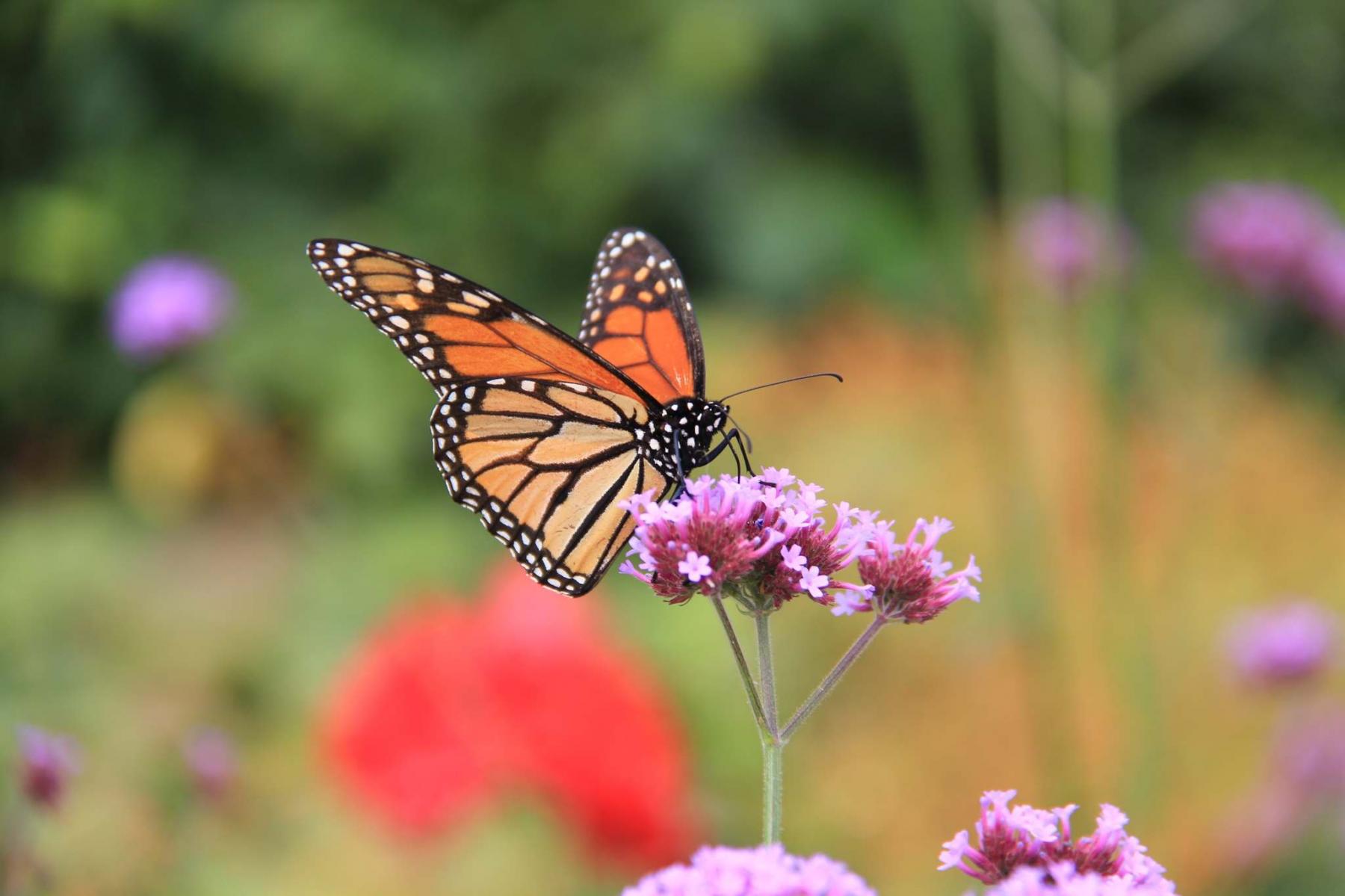 At the time, it is likely you couldn't actually hear the cheer that went up from insect pollinators everywhere when provincewide cosmetic pesticide bans were implemented. There was plenty of consternation to be heard, though, by anyone who grew plant varieties that had become chemically dependent over the years. Roses, for example. Would rose gardens ever be the same? Turns out, you can have the rose garden of your dreams without the use of any pesticides.
Alex Henderson is the curator of living collections at Royal Botanical Garden in Burlington, Ont. Henderson says that RBG planted its first rose garden in 1967 as a centennial project. For the next 50 years, the garden existed as a monoculture of roses with about 20 to 35 cultivars of the same rose variety in each bed — a traditional style that was formal and uniform. Henderson says management of the roses was heavily reliant on the use of pesticides and fungicides.
"When Ontario's cosmetic pesticides ban took effect in spring 2009, it basically meant the toolkit we were using on the roses was removed," says Henderson. Without the application of chemicals that the roses had become used to, the rose garden became infected with black spot, a common fungal disease of roses. "It got to the point where in midsummer there were no leaves on the roses," says Henderson. The situation was compounded by the fact that the soil in the beds was heavily contaminated by pesticide residues and impoverished by a lack of nutrients.
By 2016, with Canada's sesquicentennial just around the corner, Henderson says a decision had to be made as to whether to continue to grow roses or come up with a new toolkit that was sustainable and go in an entirely different direction.
Henderson and his team reached out to Peter E. Kukielski, a recognized rosarian whose efforts toward sustainability and disease resistance when he was curator at the Peggy Rockefeller Rose Garden at New York Botanical Garden earned the garden the Great Rosarians of the World Rose Garden Hall of Fame Award for 2010. That same year, Peggy Rockefeller Rose Garden was voted America's Best Public Rose Garden Display by the All-American Rose Selections Committee.
Kukielski is an expert on which cultivars of roses have the greatest amount of disease resistance and has been actively involved in testing cold hardiness and drought tolerance. He is the author of Roses Without Chemicals (Timber Press, 2015).
RBG hired Kukielski as a consultant. Today, says Henderson, RBG's rose garden is a very sustainable model of a rose garden that no longer relies on synthetic chemicals.
Its beauty inspires awe by visitors. What steps were involved in the transition to growing roses sustainably?
The new rose selections include varieties bred specifically for high disease resistance. Types of roses in the garden include shrub, floribunda, hybrid tea, hybrid rugosa, polyantha, grandiflora, hybrid spinosa, hybrid musk, climbing roses and species roses. In addition, the rose garden includes recent introductions — Canadian Shield and Chinook Sunrise — from the 49th Parallel Collection developed by Vineland Research and Innovation. The series has been bred for high disease resistance and cold hardiness. Next year Vineland will introduce Aurora Borealis, the third rose in the 49th Parallel Collection. With their superior genetics and disease resistance, the series is an excellent choice for sustainable rose gardens.
The previous monoculture was out. The plan, says Henderson, was for mixed plantings with a selection of companion plants that would attract beneficial insects to the rose garden. The companion plants include, to name just a few: Achillea Sunny Seduction, Allium Mount Everest, Alchemilla mollis (lady's mantle), Asclepias tuberosa (milkweed), Echinacea purpurea (purple coneflower), Hemerocallis Gentle Shepherd daylily, Perovskia Peek-A-Blue Russian Sage, and Sporobolus heterolepis Prairie Dropseed grass.
All of these are perennial varieties that can also be grown in our zone 3b climate. Kukielski's book includes an extensive list of companion plants for roses and in one reference it states that plants from the daisy family attract beneficial pests that consume aphids.
Henderson uses Gaura lindheimeri in a unique way. Rather than growing it in a separate block, gaura (which is a perennial in Henderson's growing zone) is planted so that it grows through the roses. The effect is fantastic, says Henderson. An option in our zone 3b climate would be to do the same with a variety such as Gaura Karalee Petite Pink but use it an annual. Henderson also combines Verbena bonariensis. The airy sprays go well with roses without overwhelming them and attract numerous pollinators such as bees, butterflies, and hummingbirds.
"I also use plants like ornamental onions (allium) that secrete sulphur compounds to naturally control black spot spores," says Henderson. Also grown in the garden are herbs such as Angelica archangelica, cilantro, and parsley to attract tachinid flies which are an important natural predator of major pests.
"Companion plants have allowed us to introduce a colour palette into the garden that is not represented in rose colours," says Henderson. Now, when some of the roses are not blooming or are in between flushes, there are companion plants in full bloom which help to extend the season of interest. The complimentary and contrasting colours as well as the different forms and plant habits of the companion plants have really increased the visual interest of the garden, says Henderson.
The rose garden at RBG is in year three now and is a riot of colour thanks to the addition of companion plants but Henderson says it's also a joy to walk through because of all the diversity of pollinators and beneficial insects that have brought the garden to life. "We are still refining the look of the garden and considering other companion plants that will bring in even more beneficial insects."
Mulch plays a critical role in the success of RBG's rose garden. First, organic matter was incorporated into the nutrient-depleted soil. You can use shredded leaves, composted manure, or compost. As the organic matter breaks down, it feeds the microbes and bacteria in the soil and improves drainage. Next, says Henderson, a 7.6 cm mulch layer of shredded raw wood chips was added to the soil surface. In his book, Kukielski says that it is critical that the mulch remains on the surface and is not mixed into the soil. "Mulch that is left on the soil surface will slowly break down and continuously feed the soil — and hence your plants — with nutrients, and with humus that provides proper drainage and aeration of the root zone and holds sufficient moisture to reduce the need for supplemental irrigation." Henderson adheres closely to this advice and tops up the mulch layer as it breaks down. It is important that the wood chips are aged and that the individual pieces are small, says Henderson, so that moisture can penetrate easily.
RBG regularly conducts evaluations of the rose garden and has plans to post the data so that it can be accessed by the public. "The rose garden has an interpretive and educational message and the data will allow people to make good rose choices," says Henderson.
colleenizacharias@gmail.com