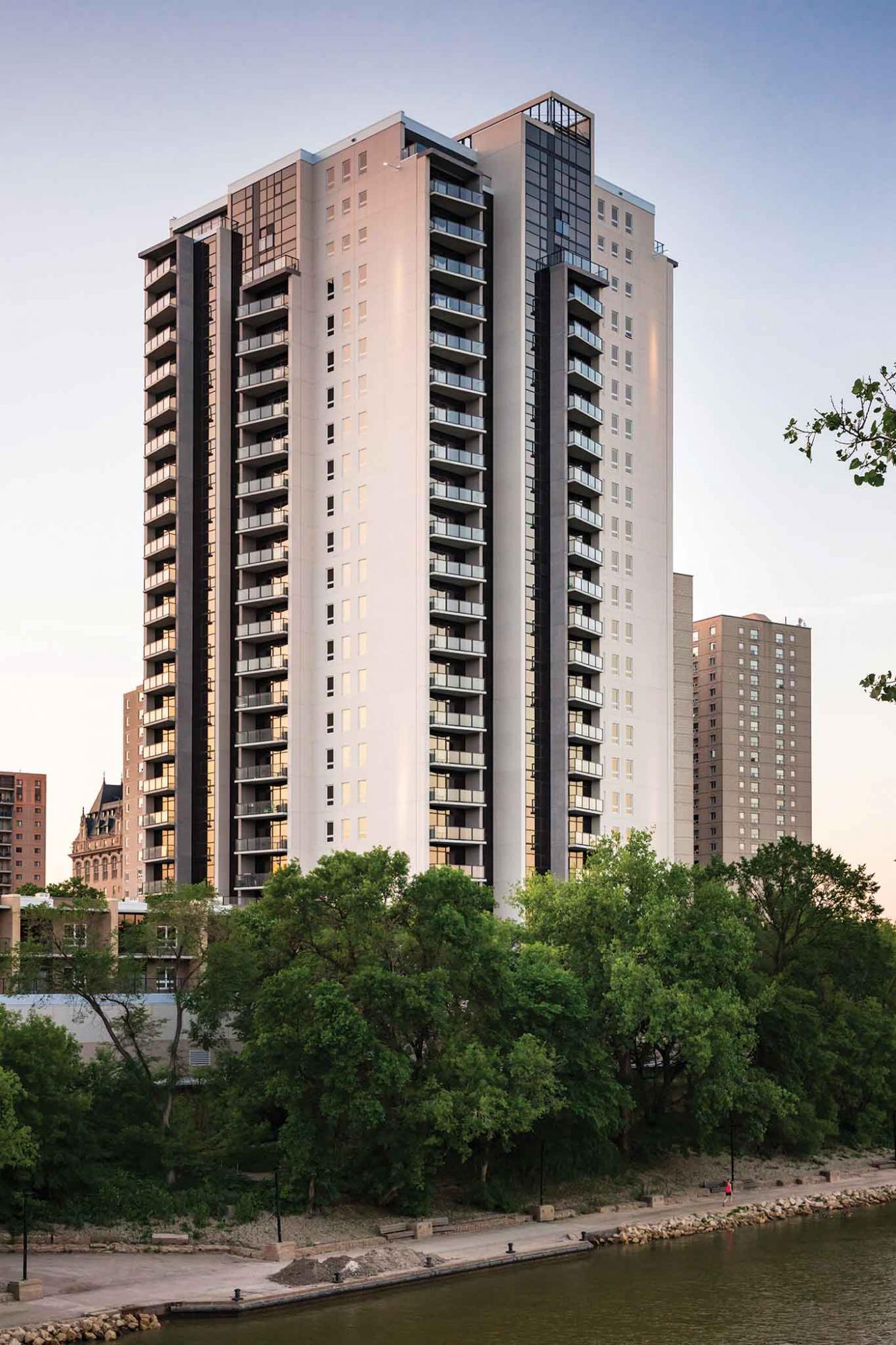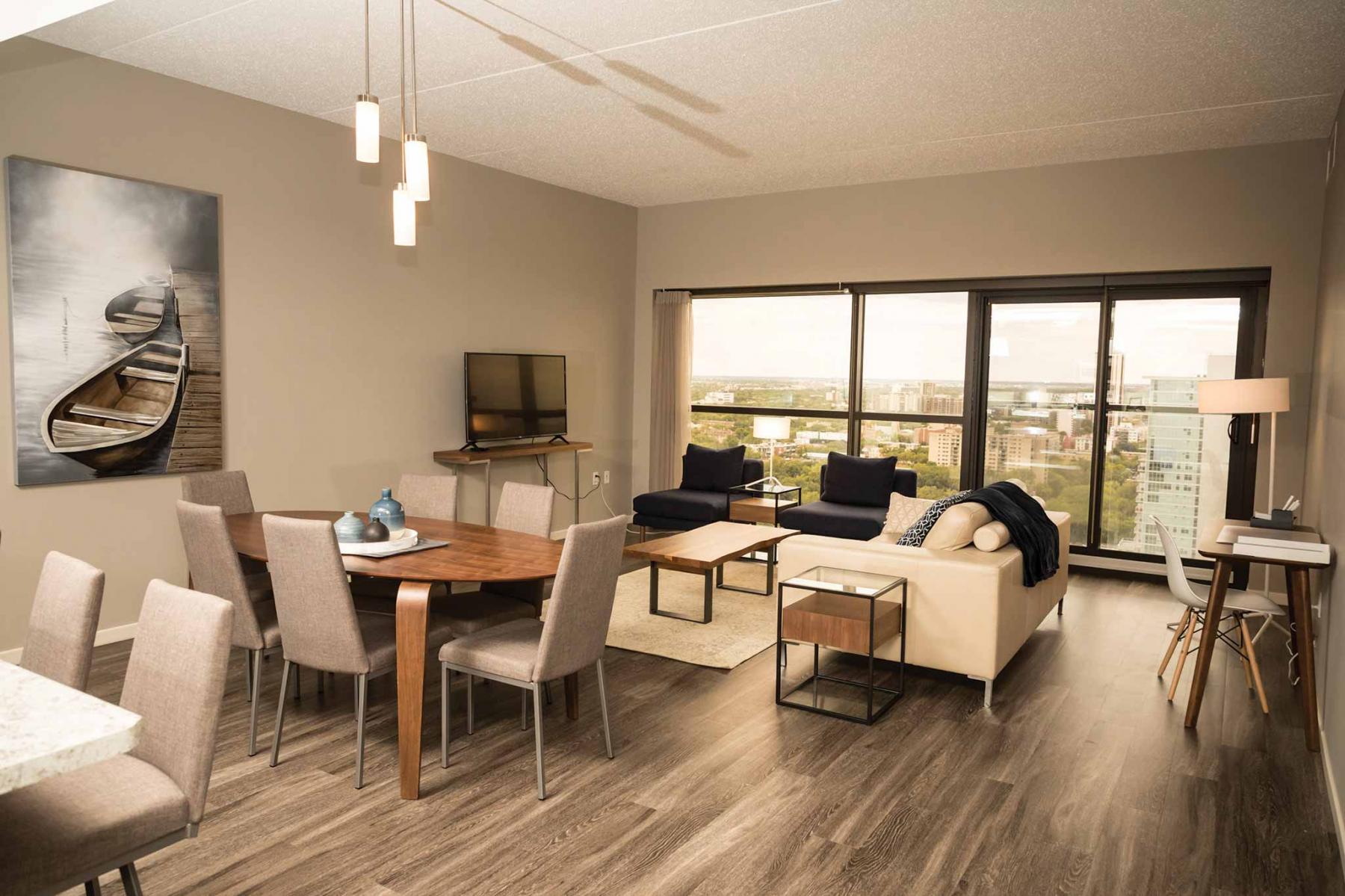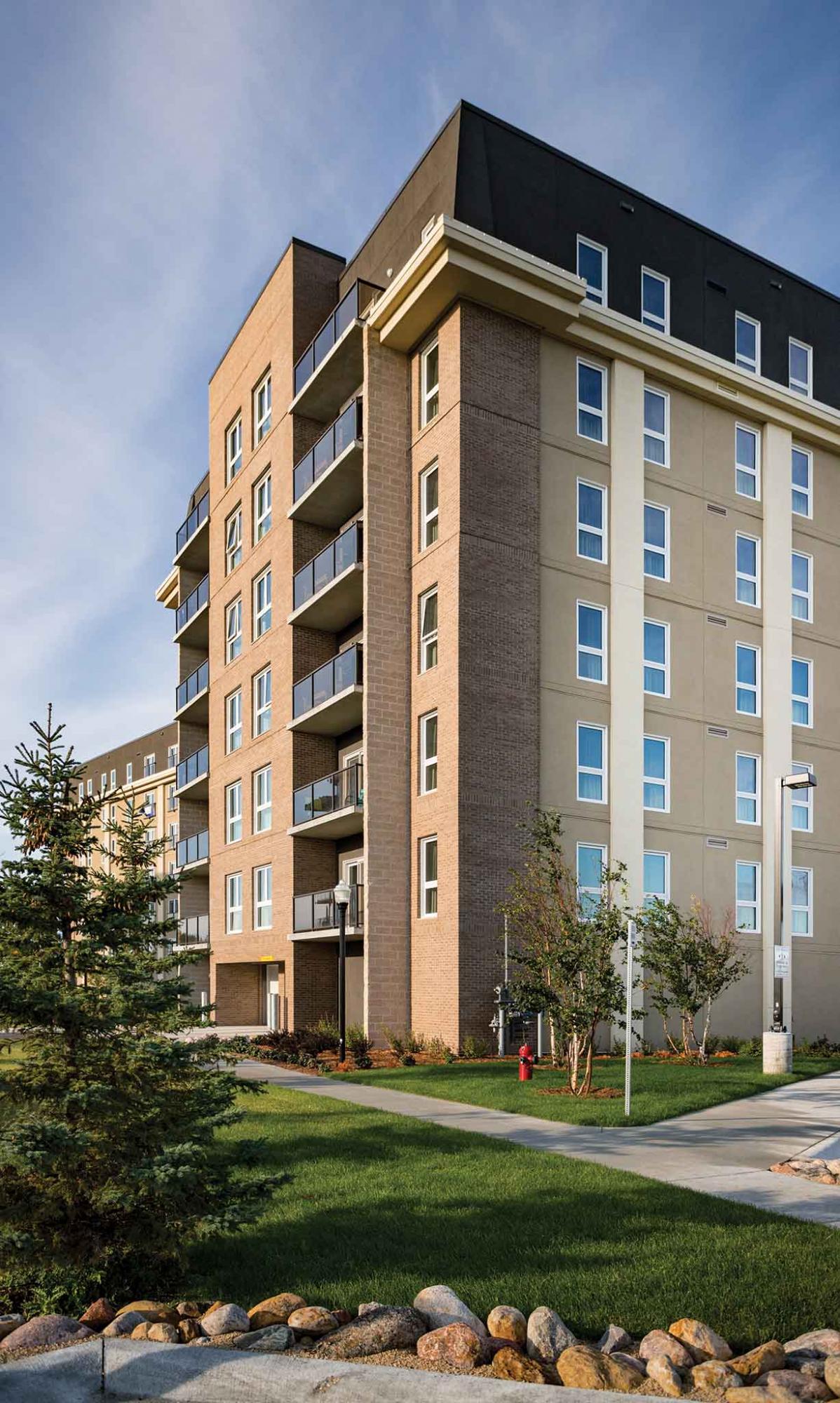 There are plenty of reasons why people rent rather than own a home. For some, renting is less responsibility; for others, it means more freedom. More travel, less yard care, leaving more money in the pocket to invest.
Recently developed by Crystal Developers and managed by Crystal Properties are 300 Assiniboine and Castle Gardens of Sterling Gates; both have been built with the utmost consideration for longevity and comfort. Equally peaceful, beautifully landscaped and both outfitted with a fully furnished guest suite available for tenant use as well as a common room — just because they're modern sleek designs with an airy openness doesn't mean that you can't afford to live — at either.
"Constructed with care, each suite in the buildings offers individually controlled heating and cooling system, allowing the tenant to regulate their suite according to their lifestyle. Built with concrete floor slabs and walls, one experiences minimal sound transfer or external noises between the suites. Each unit is comfortably spacious, and because they are built with the latest fire suppression system, the buildings offer a peace of mind when it comes to safety," said Crystal Developers vice-president, Heidi Spletzer.
Forget about cutting the grass, don't worry about shovelling snow; just move in and enjoy your life.
300 Assiniboine is affordable, luxury living situated in a park-like setting. One part tranquil, one part vibrant, it's close to the downtown area, a short walk to The Forks; Osborne Village and the historic Exchange District are also within reach. In fact, this twenty-five-story building with unobstructed views on the east, south and west sides of the building shows the most spectacular skyline with unparalleled views of the city; a first in class in the downtown area.
Every unit in 300 Assiniboine has floor to ceiling and wall-to-wall windows in the master bedroom as well as the living room. Almost every suite has a balcony, and some have terraces as well. Tenants have the flexibility to choose from two colour scheme options, one designed in a more contemporary style in greys and browns, with the other available in blonde and natural colours. With Bonnycastle Park just a football's throw away, you can enjoy the river view and jog alongside it.
Comfortably modern and colourful, but bright and inviting, 300 Assiniboine won the 2019 MASI (Manitoba Alberta Saskatchewan Interior) Design Awards for best Multi-family Residential.
The lobby claims a generous seating area centred around a fireplace, along with a second-floor open mezzanine, a fitness room and indoor parking. With rent starting at $1500 per month, this is a must see for anyone looking to live their best urban life.
Castle Gardens on the other hand is another development by Crystal Developers – perfect for anyone interested in living a suburban existence. Building 2, also managed by Crystal Properties, is located in a four-phase site; it's a quaint seven-story, equally well constructed building, set in an easy and approachable area. Minutes from Seasons of Tuxedo, it's just slightly nearer the suburbs with quick access to the south.
"It's new urbanism living," says Spletzer. "With monthly rent starting at $1275 per unit, this project, which was constructed in December of 2017, like 300 Assiniboine offers an open concept design, with hard surface flooring in the living spaces and carpets in the bedroom. Currently, Castle Gardens offers a selection of indoor and outdoor parking and will create an active living community with walkable paths as the community continues to develop.
Whether you choose to make Castle Gardens home — with quick access to Fort Whyte or the perimeter — or 300 Assiniboine — a downtown contemporary life with the best views — either way, you have plenty of options.
To find out more or make a viewing appointment call, text or What'sApp 204-290-0671 or visit their website at crystalproperties.ca.