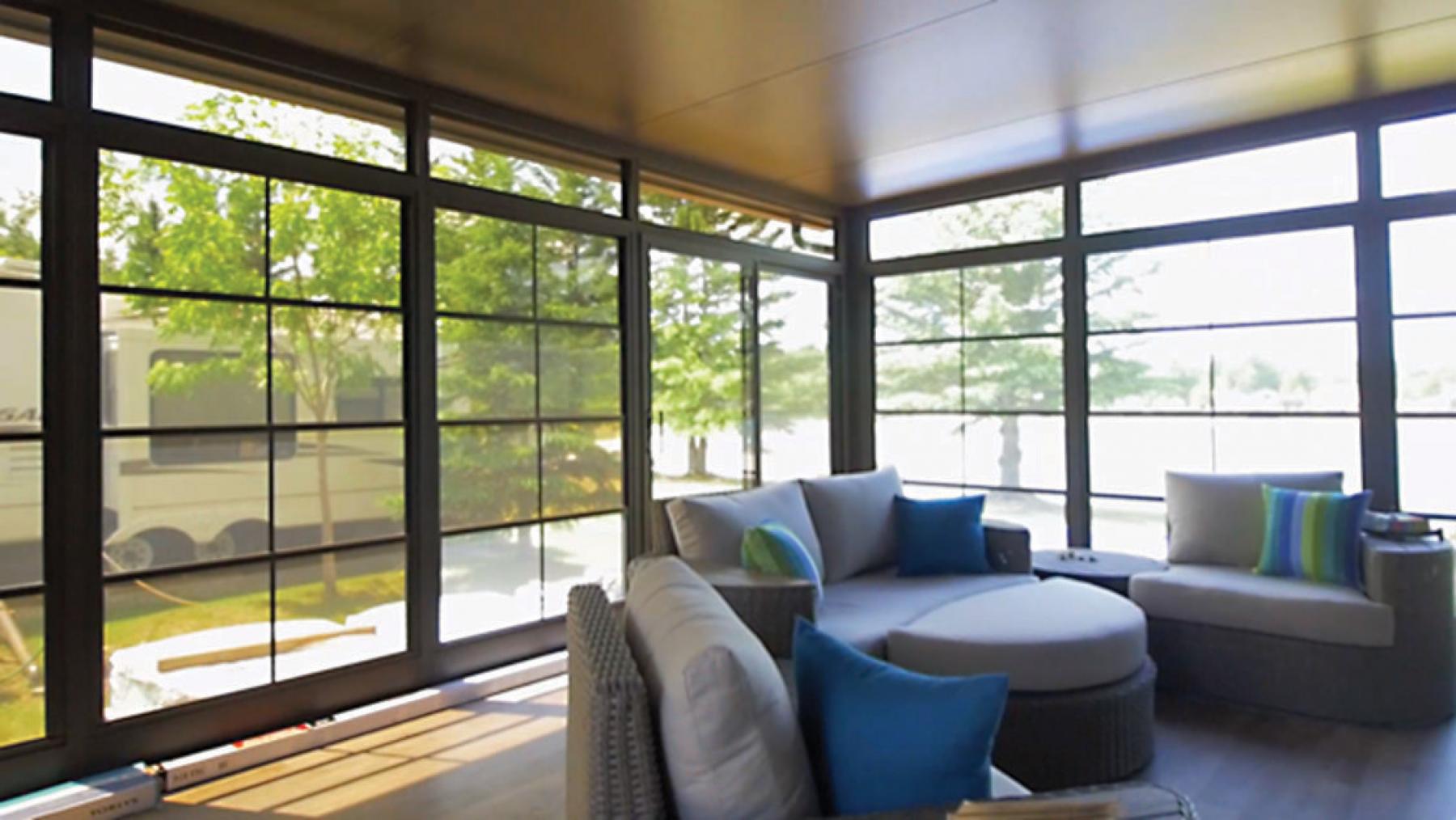 There is a trend in luxury year-round living that focuses on lifestyle as more people opt to live year-round in a RV environment. Not only are four-season park models available with upscale options such as Corian counter tops and stainless steel appliances, they afford families the time to live more instead of maintain more.
Whether you're a family with young children or snowbirds seeking your next adventure, the 12-month concept offers a sense of freedom and community that's hard to find anywhere else.
The advantages abound, these four-season park models allow for luxury living at an affordable price point. Joan Fehr of Cherry Hill Living feels this lifestyle choice evokes less stress and more enjoyment.
"This is a new movement for people who want to live more fluidly, who want less commitment and more flexibility while maintaining their standards of living. It's a game-changer for people who can set up their office wherever they are. It's incredible for those souls seeking more travel. And for vacationers, who might simply want a smaller cottage than what they can find at the bigger lakes," she said.
Cherry Hill Living is a family run business nestled in nature near Steinbach and across the road from Quarry Oaks Golf Course. They currently offer 136 two-season sites — and due to popular demand, are set to expand.
"This is a less expensive, more relaxed way for people to downsize. It's less work than a condo, but offers more fresh air and more action."
"We're in the process of adding 41 12-months of the year sites, so you can design your own lifestyle," Joan said. "Once you set up a park model, you can use it anytime you want. These sites will have services nine-feet deep, so they won't freeze and they don't have to be shut off like most RV parks. Come and go as you wish, there's plenty of flexibility."
In addition to the rich landscape, there is a clubhouse onsite and a beach just outside your door. Adding to the ease, Cherry Hill Living is a dealer for General Coach, which is a Canadian manufacturer for park models. These unique abodes span a maximum of 540 sq. ft. and they can be custom made to suit individual preferences.
"They are still recreational vehicles, but are different than a motorhome or a regular RV. The ultra-modern Black Diamond edition is equal to an upscale condo with luxury features like designer countertops, fireplaces, CanExel siding and stainless steel appliances. You can even add a sunroom and deck to make the most of our Manitoba summers," Fehr said.
"These units come equipped with a winter package, which means they have an upgraded furnace, six-inch walls as well as winterized doors and windows to withstand the Manitoba winters."
People who choose to live in park model communities can enjoy the country lifestyle with city conveniences nearby. The dynamic environment leads to a vibrant way of life filled with friends and fun.
Starting September 1st, Cherry Hill Living's four-season sites will be move-in ready. Until then, tours of the area remain available.
"It's such a sweet option to design your own lifestyle," Fehr said, "and this lifestyle can be a dream come true at any age."