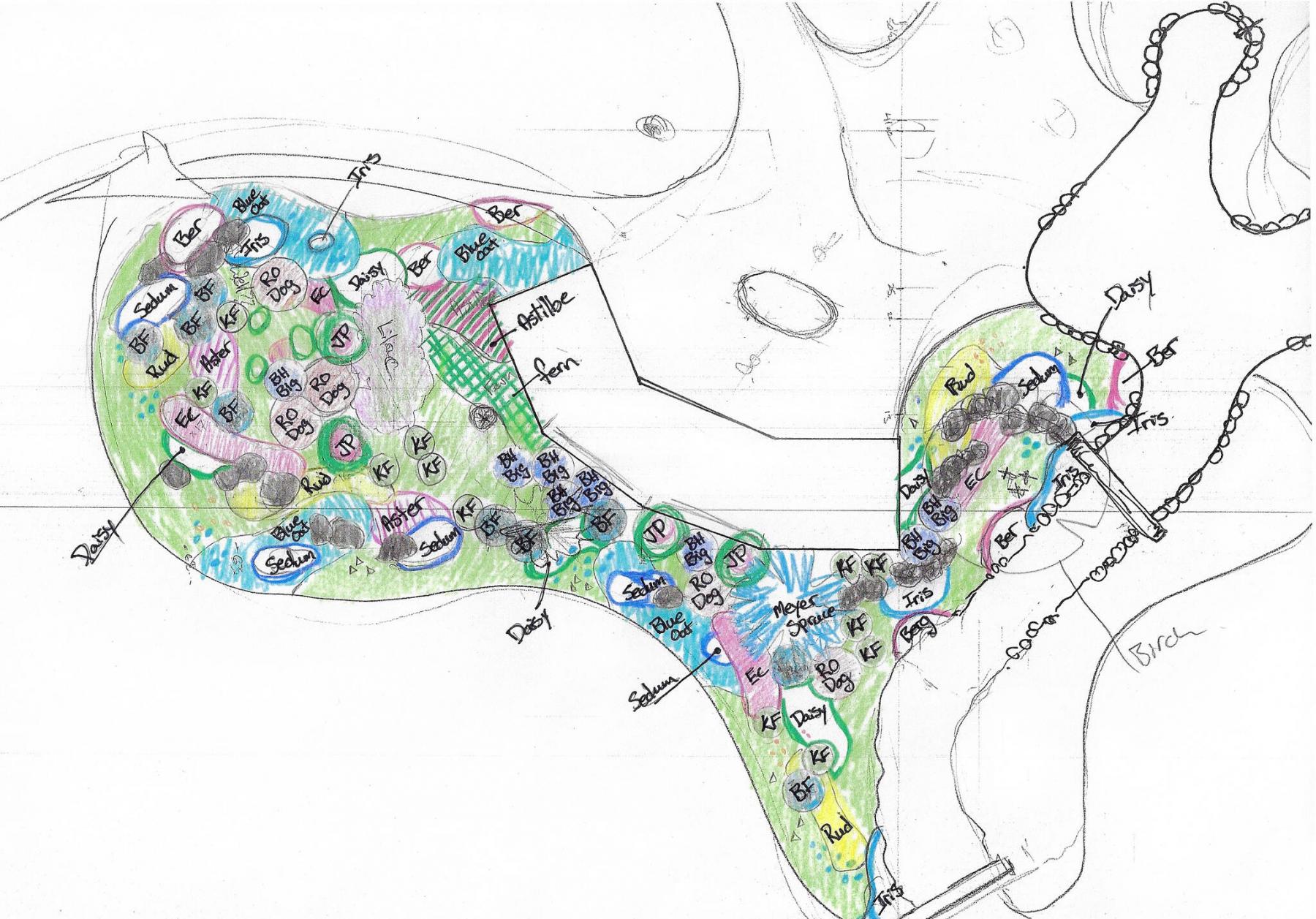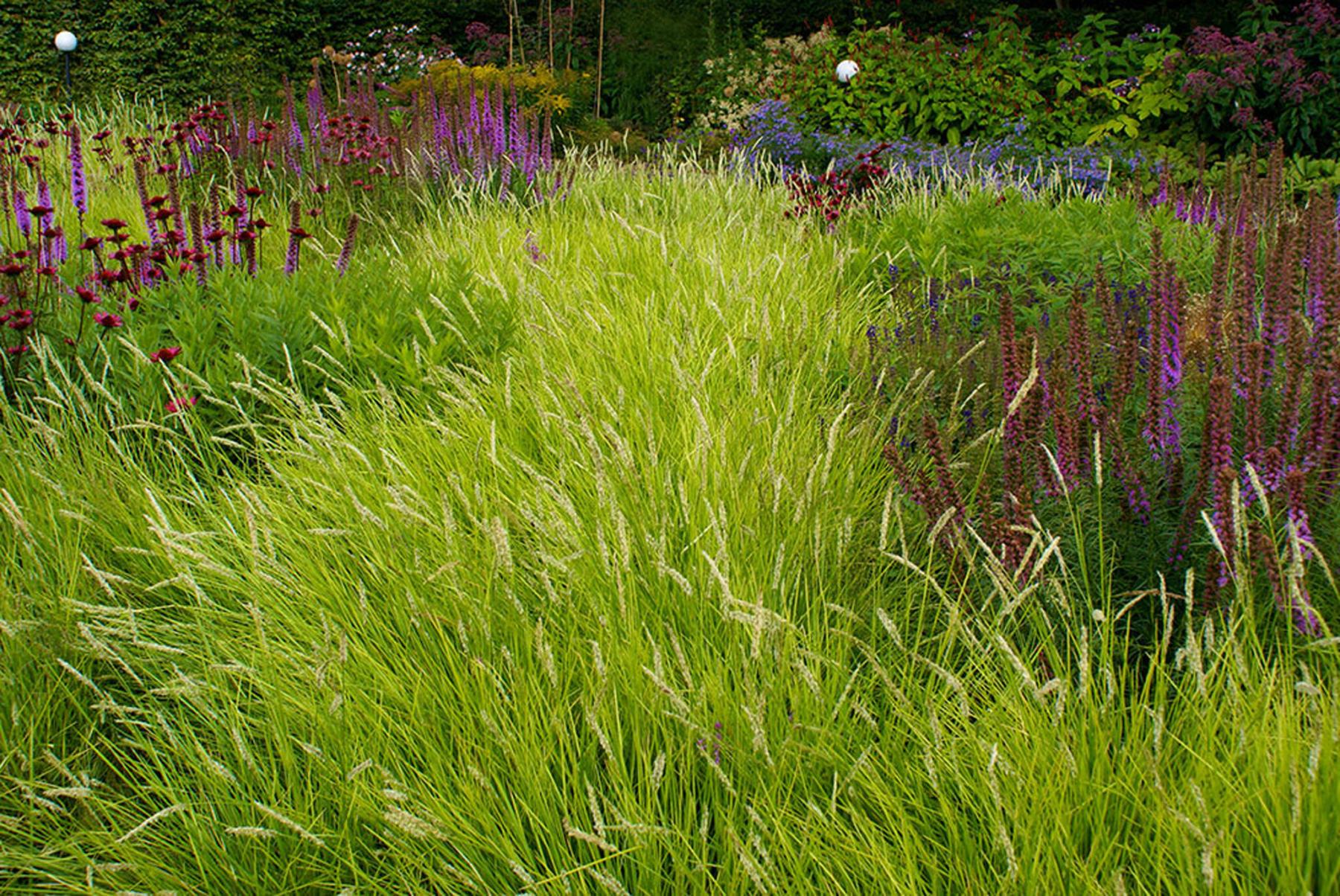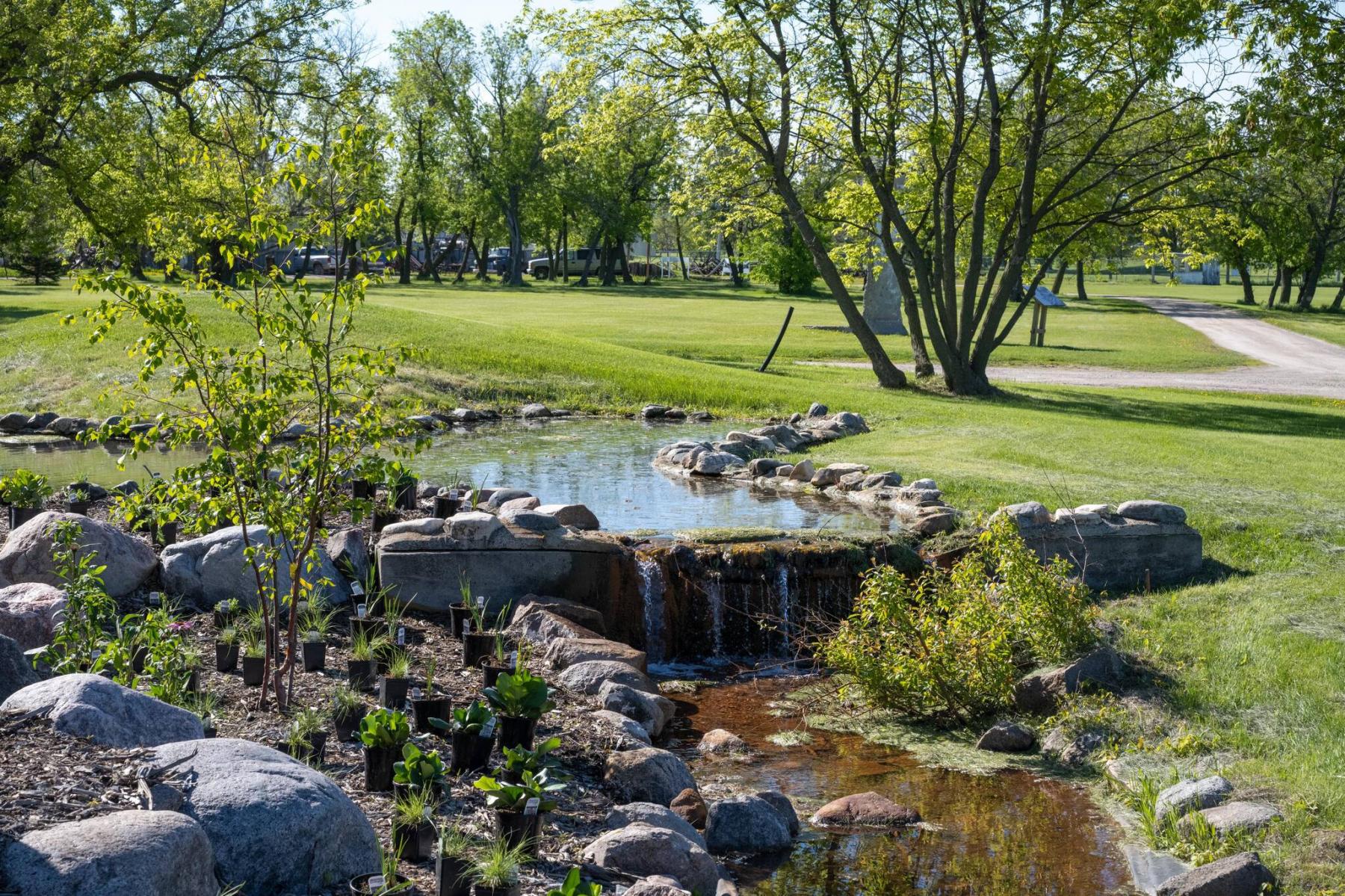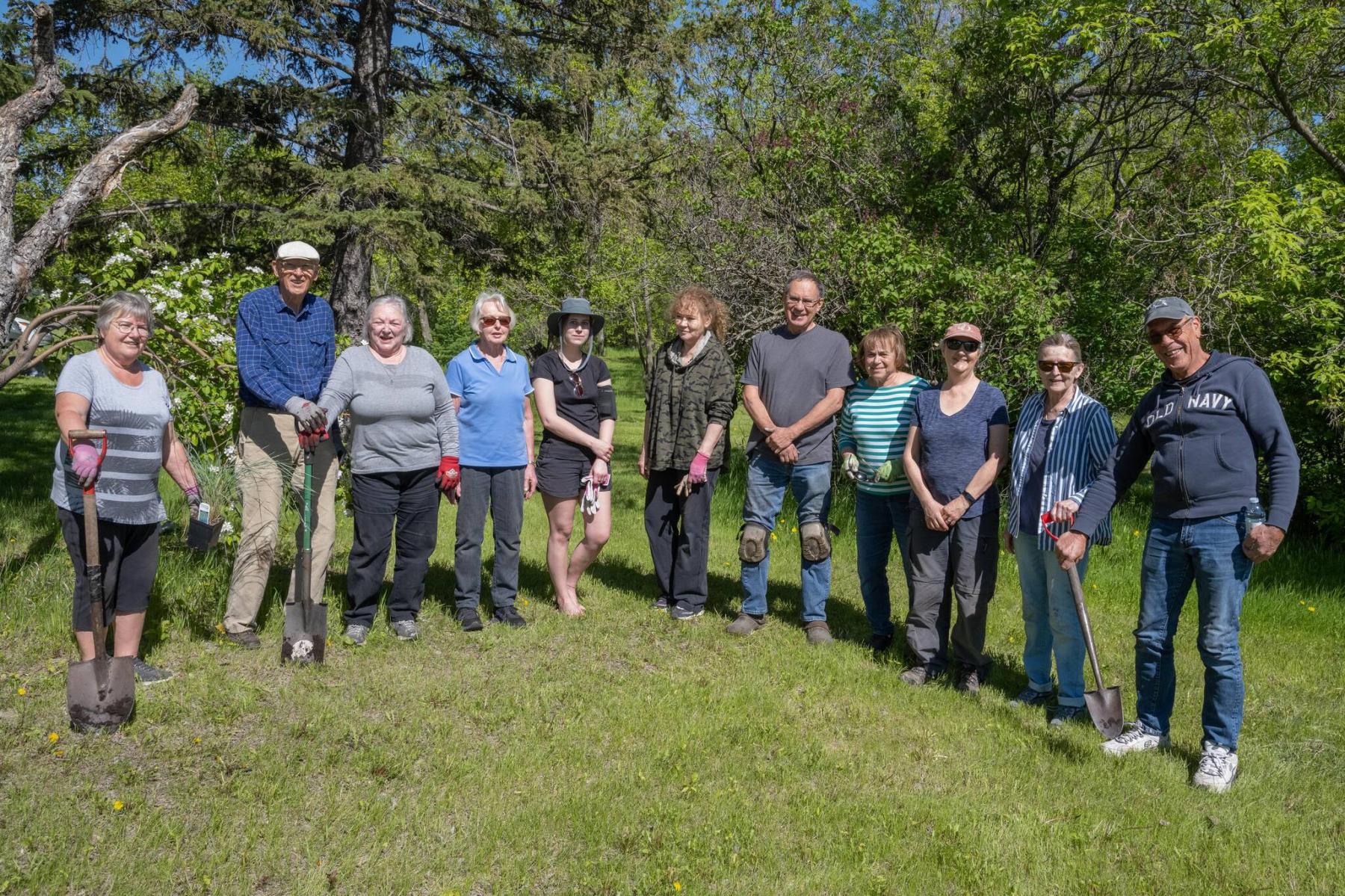 When the Dirk Willems Peace Garden at Mennonite Heritage Village in Steinbach officially opens in August, visitors will discover a well-planned and well-executed naturalistic planting scheme featuring drifts of grasses and flowering perennials. The diversity of plants selected for the ecologically sensitive design have been carefully considered for their adaptability and easy-care and laid out en masse using a technique that will highlight their contrasting shapes and textures. What will pique the interest of many is how matrix planting, a design method that layers plants in sweeping masses, so effectively achieves visual impact and year-round colour.
"It's what we see in nature," says Mike Plett, landscape designer, Skyview Landscaping. "The actual landscape design may be more organized but it draws inspiration from the flow of plants in nature and how plants intermingle." Part of Plett's inspiration for the garden design at Dirk Willems Peace Garden came from his research of the gardens designed by Dutch landscape designer Piet Oudolf, most notably Oudolf Garden Detroit on Belle Isle in Detroit, Michigan.
Plett has worked closely with Mennonite Heritage Village as well as the Steinbach & Area Garden Club whose members are coordinating the installation of the plants. SAGC members have also played a prominent role in influencing the rationale behind the design decisions.
Initially the design which was developed for the space a few years ago was focused more on a formal garden, says Elsie Kathler, a long-time member of SAGC. When MHV first approached SAGC to review the initial plan along with its request that garden club volunteers plant the proposed garden, SAGC declined despite its close volunteer relationship with MHV in planting and overseeing other gardens on the museum's property. SAGC's concern was that the proposed design which featured moisture-loving hydrangeas and assorted ornamental plants was not water-wise.
"We were concerned about sustainability into the future but also felt that the design was not appropriate to the natural setting," says Kathler. She and fellow members made a presentation to MHV and recommended that the new garden design focus mainly on native plantings that would be better adapted to the local soil, climate, and pollinators. Their preference was for an ecological design which would be more environmentally sustainable as well as less work to maintain. MHV agreed and SAGC reached out to Plett to create the design. In addition to recommending the example of Piet Oudolf's garden design, Kathler lent Plett a copy of Gardening Naturally by authors Sara Williams and Hugh Skinner and the 2020 edition of The Prairie Garden's Inspired by Nature.
Plett drew up a master plan for the garden that shows an intense mix of plant communities with Prairie Dropseed grass (Sporobolus heterolepis) as the primary plant that forms the native meadow look of the garden. A group of SAGC members, all of whom are master gardeners — Kathler, Lenora Kehler, Karen Loewen, Anne Peters, and Annette Schewe — calculated the actual quantities of the individual plants that would need to be sourced from a local supplier.
Prairie Dropseed is a finely-textured North American native grass with narrow, arching leaves and delicate seed heads. Drought tolerant, it has a mature height of 12-24 inches (30-60cm). "Other grasses in the design include Karl Foerster feather reed grass and Blackhawks Big Bluestem to create height, structure, drama, and colour in fall through winter," says Plett. "Blackhawks Big Bluestem has striking bronzy-purple colour in late summer and such a dominating form later in the season. There are also some pockets of Blue Oat grass that will be interplanted with Siberian Iris Sky Wings to create contrast."
Additional perennials include Heartleaf Bergenia, Astilbe Vision in Pink, native fern, Echinacea Magnus coneflower, Sedum Purple Emperor, Rudbeckia Black-eyed Susan, Leucanthemum Becky Shasta daisy, Papaver Champagne Bubbles poppy, Campanula Prairie Blue Bell, Eupatorium Joe Pye Weed, Cypripedium Pink Lady's Slipper, and Aster Purple Beauty. The massed plantings will enhance their natural surroundings, support pollinators, and feature a succession of blooms in a wide range of colours. A regular watering schedule is required to establish all the plantings even though they are primarily drought tolerant, says Kathler.
Shrubs and trees are also being planted and include Salix Blue Fox willow, Cornus Red Osier dogwood, Picea Meyer's spruce, and Betula paper birch clump. Existing mature trees include Boxelder maple and Common lilac. "We wanted to make sure we preserved the existing trees," says Plett. There will be several pathways that will make viewing the planting areas easily accessible for visitors as well as seating areas.
Mennonite Heritage Village is a museum that tells the story of Mennonite faith and culture. The garden is located in the southwest corner of MHV's 40-acre site and frames an exhibit that tells the story of Dirk Willems, an Anabaptist martyr. A bronze statue of Dirk Willems was completed in 2018 by Peter Sawatzky, a renowned sculptor. Adjacent to the garden is a new timber-frame pergola and a nearby pond and artesian well that overflows and creates a stream with multiple waterfalls. A bridge has recently been installed and a large fountain will be added in the coming weeks. "It's a very beautiful part of the Museum's 40-acre grounds," says Gary Dyck, executive director, "but has not been extensively used in the past. Now we are expanding the area and making it an attraction. It's exciting to see that whole area come to life in just the last couple of years."
Fundraising made the project possible and was mostly done by a community of supporters. More than $200,000.00 has been raised. The completion of an historical Mennonite peace trail that is being developed where the Mennonites first landed by Niverville will lead to the Dirk Willems peace garden and will be the culmination of the project.
"There is a lot of research on how museums promote mental wellbeing," says Dyck. "The new garden will increase our ability to provide that beneficial impact and to help people feel more peaceful and relaxed. You know how it is when you spend time outdoors in a historic area and in a garden — it's always good for the soul."
Planting of the garden began on Saturday, June 4. Most of the plants that were ordered arrived at Sunshine Garden Centre in Steinbach only the day before and volunteers from SAGC set to work first thing the following morning. The weather was perfect, says Kathler. Some of the plants are still on backorder but will be planted as soon as they arrive. The planting initiative is an opportunity for mentorship as well as inspiration. MHV receives many visitors from around the world. The chance to chat with visitors, says Kathler, is a priceless benefit of volunteering at MHV.
The Dirk Willems peace garden is expected to open to the public August 20.
colleenizacharias@gmail.com
Colleen Zacharias is writing a monthly newsletter for the Free Press that is loaded with advice, ideas and tips to keep your outdoor and indoor plants growing. Sign up to have Winnipeg Gardener delivered conveniently to your own inbox at wfp.to/wpggardener