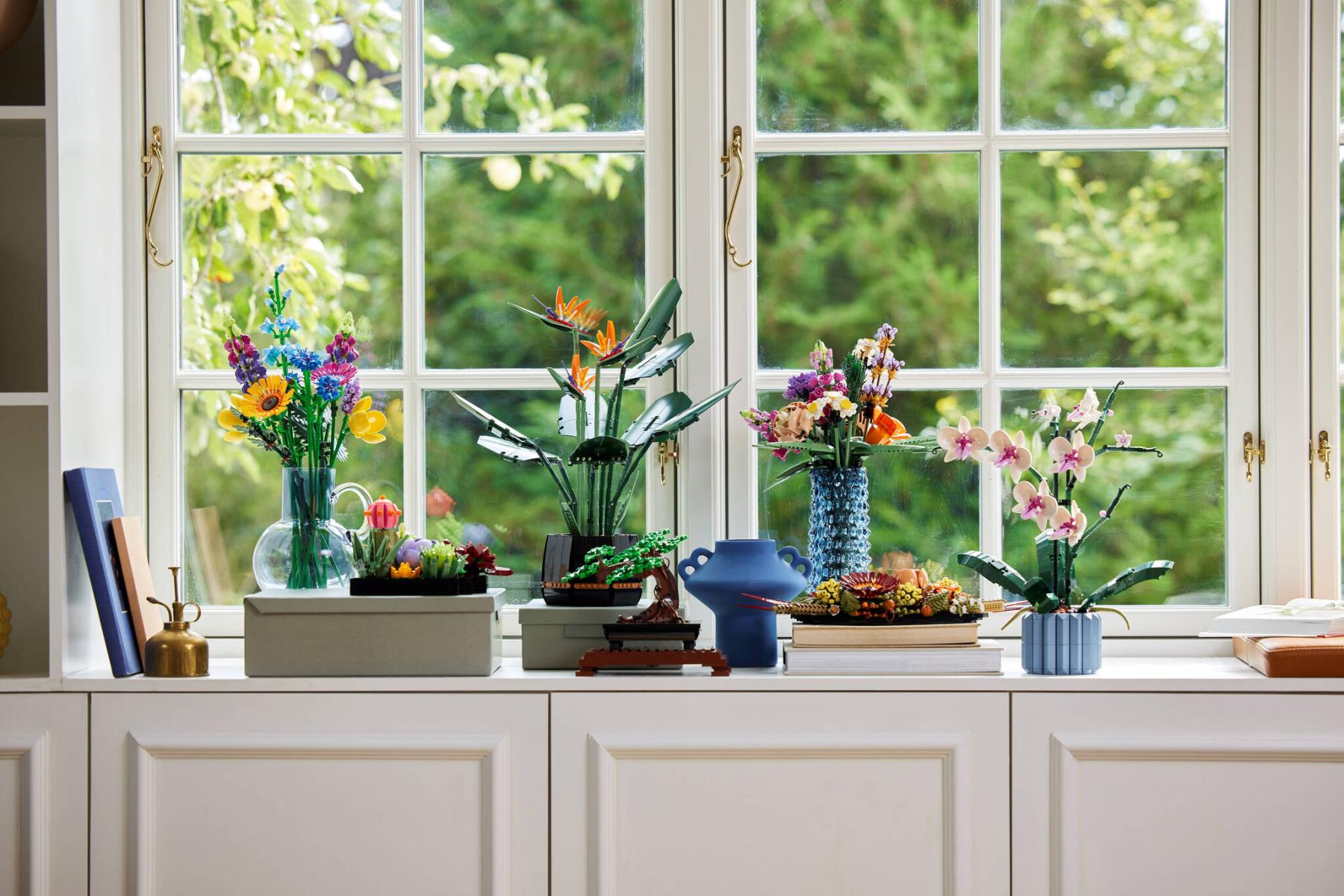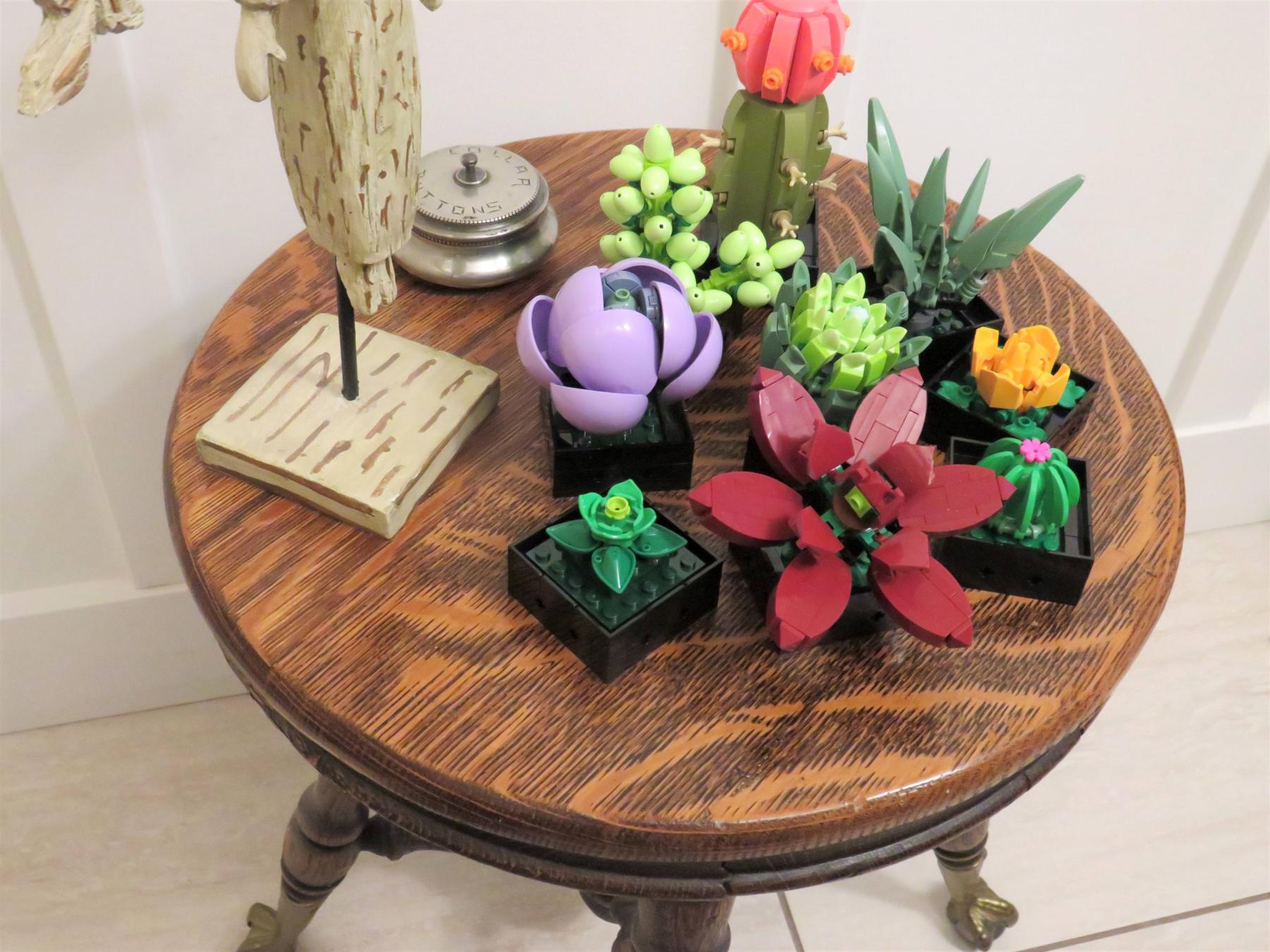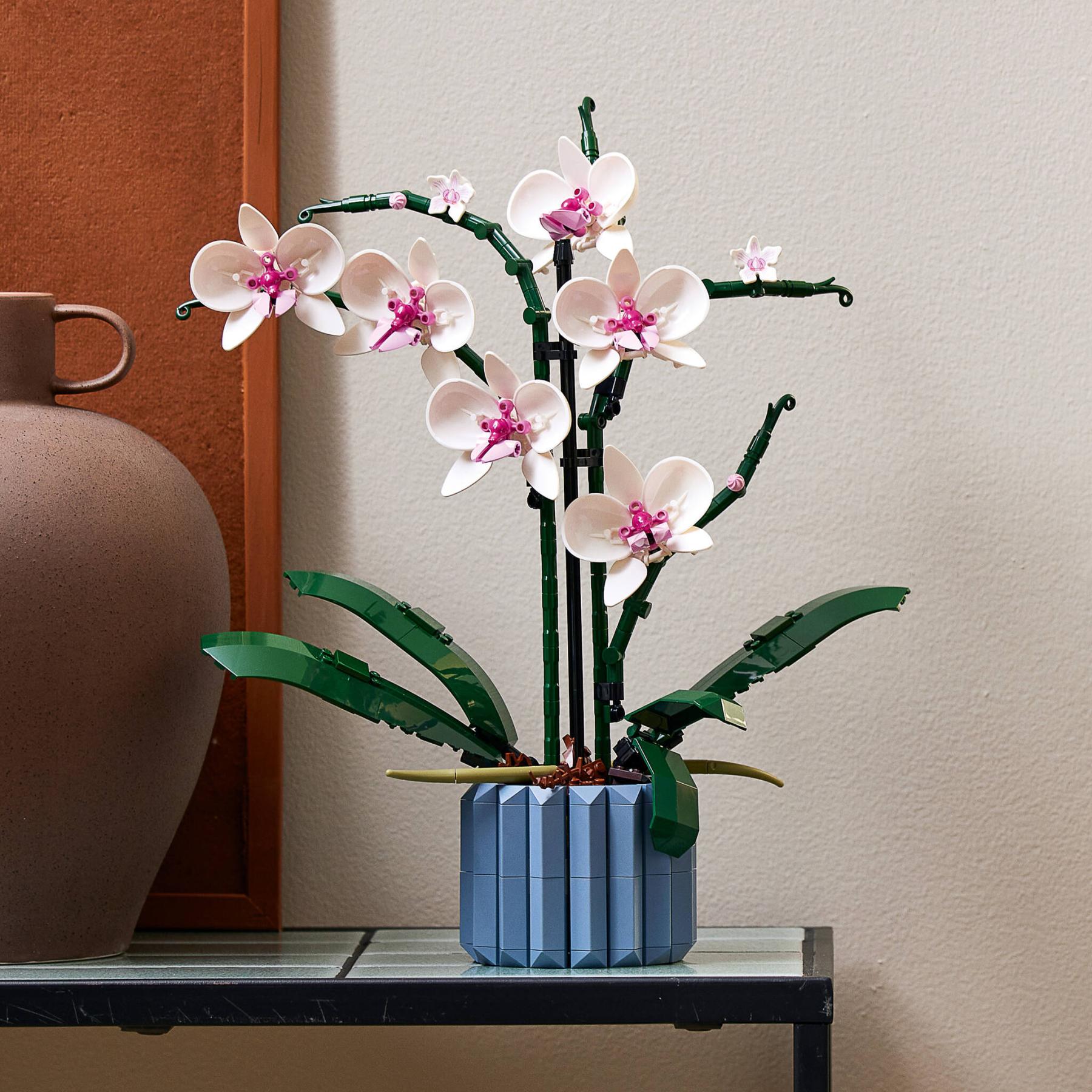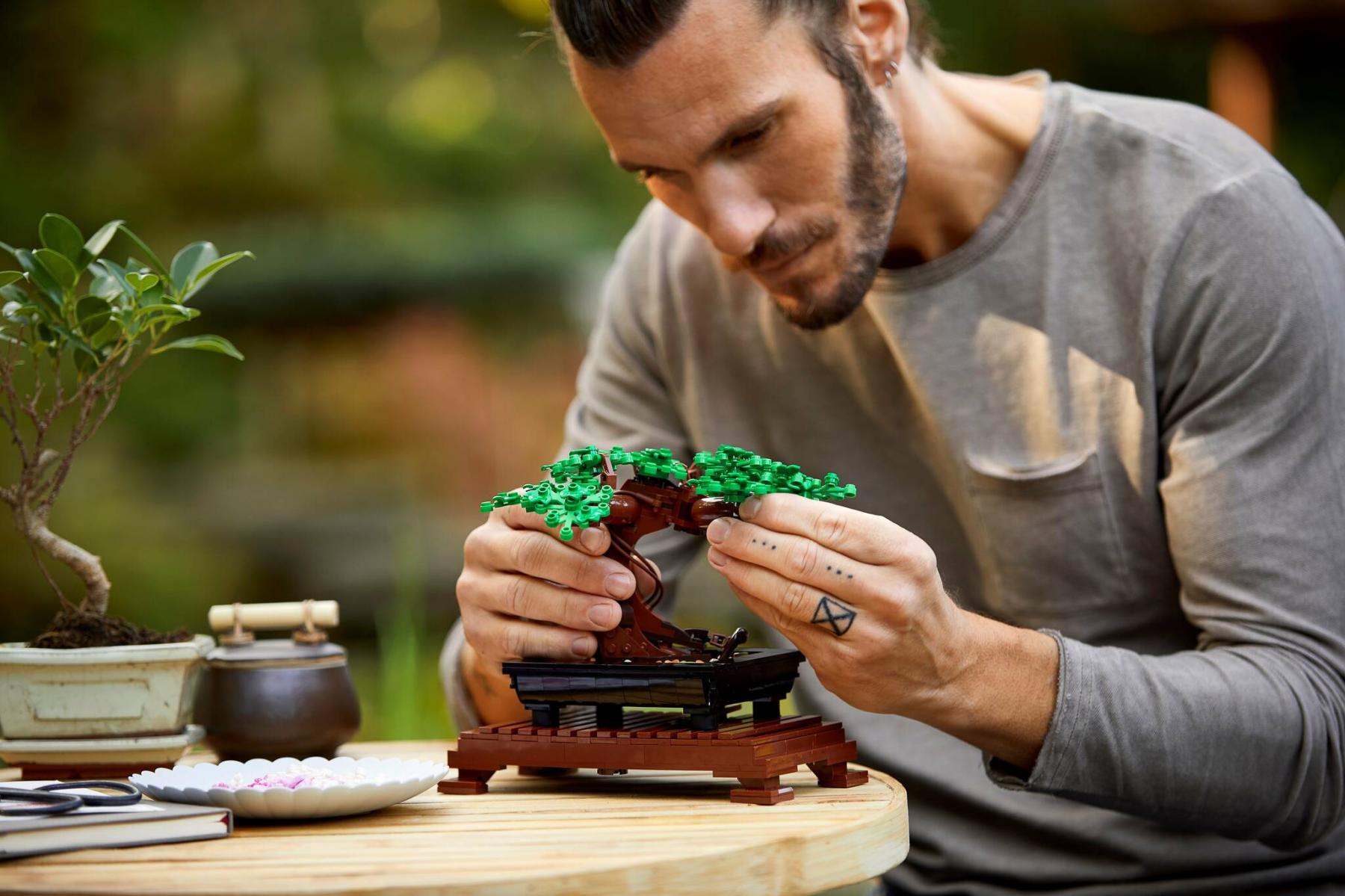 On Feb. 1, just in time for Valentine's Day, LEGO will release two new additions to its Botanical Collection designed with adult builders in mind. LEGO Wildflower Bouquet and LEGO Dried Flower Centrepiece will join the collection's popular line of botanical builder sets which include an orchid, succulents, flower bouquet, bonsai tree, and a Bird of Paradise. LEGO offers several types of builder sets for adults but the Botanical Collection, first launched in January 2021, is aimed specifically at plant lovers.
I discovered the collection when my sister Beth unexpectedly gifted me the succulents building set. The box contains 771 pieces for creating eight different succulents — Orange Echeveria (commonly known as the Orange Monroe), an Aloe plant, Hens and Chicks, Moon Cactus, Ball Cactus, Burro's Tail, lavender Echeveria and red Echeveria. Interesting facts accompany the descriptions for each succulent including places of origin and longevity in the wild. Did you know, for example, that the Moon Cactus glows red because it lacks chlorophyll and must be grafted onto other cacti for it to grow? It's all there on Page 29 of the instruction booklet.
When I began putting it together, I kept dropping the smallest pieces. At one point, I arranged the leaves of one of the LEGO succulents incorrectly until my son, who was watching over my shoulder, said, "Here, let me do it." Once fully assembled, I had to decide where to display my new succulents. Magazines in the bathroom absorb moisture, right? So, I removed the magazines, set the display on top of a piano stool that sits in the corner of my guest bathroom and arranged the succulents in their individual black pots ever so neatly. It's true that the brick-based plants have an effect on people. The first time that someone went into the room — he will remain nameless to spare him any embarrassment — I thought he would never come out. But when he did finally emerge, he sheepishly told me he had picked up one of the succulents to examine it more closely but accidentally pulled off some of the components. Not being familiar with succulents or with building LEGO, it took a while before he figured out how to put the succulent back together again (without the benefit of the handy instructions booklet). We had a good laugh.
But in all seriousness, LEGO's Botanical Collection seeks to inspire. When I reached out to The LEGO Group Canada for more information about the benefits of building, Carly Newton, who helps to manage PR, told me about the LEGO Group's Play Well Study conducted in 2022 among adults worldwide, with 1,047 respondents in Canada. The study showed that 67 per cent of adult respondents in Canada believe that doing something creative or manual feels more fulfilling as opposed to doing something passive like watching TV. In addition, 72 per cent of Canadian respondents say that play offers them relief from everyday life, chores and worries.
Now, if you're thinking that as a gardener you already play with real live plants and so why would you start playing with plastic ones? LEGO wants people to play well with others and to relax, unwind and unearth some mindfulness in their busy lives.
The LEGO orchid set consists of 608 pieces and from its appearance it must be modeled after a Phalaenopsis moth orchid. First, build the blue fluted vase including the soil which is made to resemble the bark medium suitable for growing orchids. The model has five strap-like leaves at the base as well as two aerial roots above the soil surface. There are six showy blossoms in all, complete with pollinia, stigma, and labellum to emulate the orchid flower's basic reproductive structures.
The story behind LEGO's Flower Bouquet set is an example of how plants bring people together. A young apprentice, Astrid Christensen, who worked at the LEGO campus in Billund, Denmark, started making bouquets from LEGO which she shared with her colleagues. Soon everyone wanted the cheerful stems and her unique brick-built flower designs were decorating offices across the campus. Today, the 756-piece set features a combination of roses, daisies, poppies, asters, snapdragons, and greenery. The flower stems are over 14 inches (36 cm) tall and the leaves are movable.
The new 939-piece Wildflower Bouquet is inspired by eight real-life flower species — cornflowers, lavender, Welsh poppies, cow parsley, leatherleaf ferns, gerbera daisies, larkspurs, and lupins. Interestingly, the Welsh poppy (Papaver cambricum), which has yellow, bowl-shaped flowers, is the only species of Meconopsis that is native to Europe.
Years prior to the release of the LEGO Bonsai Tree set, one of LEGO's designers, Nico Vas, enjoyed building personalized bonsai trees for his colleagues' desks. A sophisticated 878-piece set, the bonsai tree can be designed to alternately feature green leaves or pink cherry blossoms depending on the season. Fully assembled, it comes with a rectangular pot and a stand.
I'm not sure what to say about the LEGO Bird of Paradise. Of all the sets in the botanical collection, this one contains the most number of pieces — 1,173 – and costs the most ($139.99 plus tax). The tallest leaf limb measures over 18 inches (46 cm) high and the black flowerpot is about 5 inches (13 cm) in diameter. I think it looks rather awkward but no doubt someone would ask, What is that? Anything that leads to talking about plants must be good.
LEGO's Dried Flower Centrepiece, $69.99, consists of 812 pieces but you may not stop there because two or more sets could be arranged to accommodate a candle in the middle or perhaps even a real potted plant. With soft pumpkin colouring, it has a fall vibe and some definite possibilities for your dining table.
The buildable model sets include several elements made from a plant-based plastic produced using sustainably sourced Brazilian sugarcane. The plant-based plastic is not intended to be biodegradable or edible so as to ensure that the product is safe for children. LEGO is also experimenting with making building bricks from recycled materials.
LEGO's Botanical Collection encourages curiosity and personalization, and could lead to gardening.
colleenizacharias@gmail.com