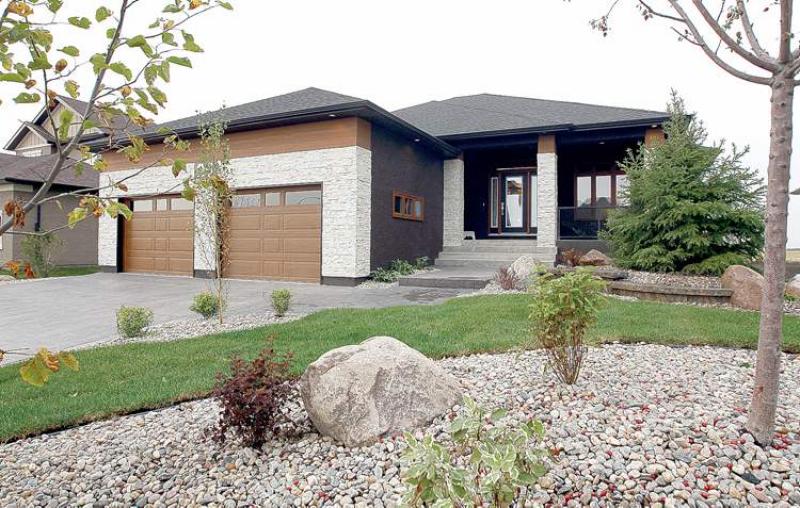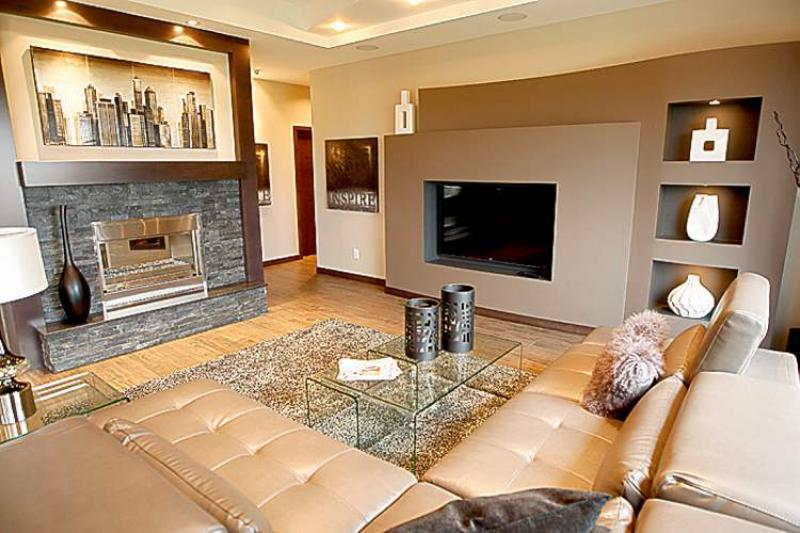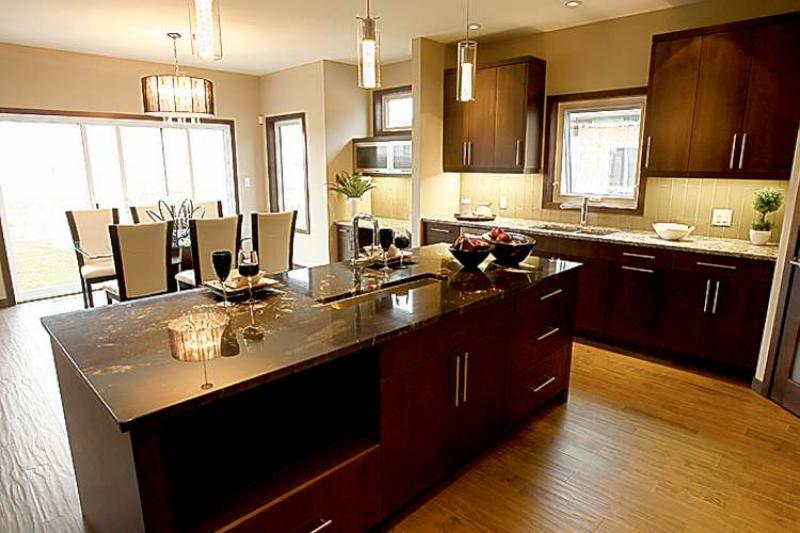 It's something for which Paradigm Homes' Jeff Baertsoen admits he's always searching: more function in a house.
So it shouldn't come as a surprise that Baertsoen and his design team found a way to plug more function into their latest show home, a 1,975-square-foot bungalow at 29 Benson Blvd. in Oak Bluff West.
"As is always the case, we wanted to maximize the square footage of the home," he said. "So we took a close look at the floor plan and tried to come up with ideas on how to make the home function even better than our previous designs."
The result of much brainstorming was a repositioned laundry room.
"We ended up placing the laundry room closer to the bedrooms, which was a bit of a tricky proposition," Baertsoen said. "After figuring out how to move a few things around to make room for it, we placed it in a more central area just to the left of the foyer off the bedroom wing. The result was a nicely said placed laundry/mudroom with a door that leads directly to the bedroom wing. It's close to the bedrooms, which makes for an economy of movement."
The adjacent foyer was also designed with space -- and light -- in mind.
"It's where you enter the house - either you and the family, or a bunch of guests, so it should be large and bright. With that in mind, we put in a door with a glass centre that's also surrounded by glass sidelights on either side, and a big transom window over it," he said. "You don't want to feel boxed in the moment you set foot in a home."
Move forward a few steps, and it quickly becomes evident that Paradigm's design team didn't forget about providing a fair modicum of style. The foyer, which is defined by a rich-looking taupe tile floor gives way to a two-sided fireplace that serves dual purposes.
"It not only subtly divides the foyer from the family room, but does it in style with its black quartzite surround. It just looks amazing at night when the fireplace is on, and the glow and warmth is something that can be enjoyed in both the family room and foyer," Baertsoen said. "It's a feature that gives you privacy, flow and style all at once."
Step around the fireplace and more style awaits in the living room -- above, on the walls, and at ground level. Take a look overhead and there's a gorgeous tray ceiling with curved bulkheads, infused with pot lights, that frames dark maple beams. The left wall features a curved (almost 3-D) entertainment unit with a huge TV niche and three-tiered storage/display unit.
There's a huge window through which to view the serene countryside out back and a unique finish on the side of the fireplace that faces in to the generous family room, which is warmed further by dark maple hardwoods.
"We put in a black, honed-granite hearth to really finish off the fireplace in style. It gives it an extra bit of texture and warmth."
The great room area not only flows exceptionally well due to an abundance of space and a very logical floor plan, but is also exceptionally bright due to a rear wall populated with a large amount of glass.
"As is always the case, we wanted to bring as much light as possible into the home, so there are all kinds of windows in the great room. Window technology has come such a long way in the last five to 10 years that we can now put in tons of glass, yet the home will still be warm and heating bills won't be affected much at all," Baertsoen said.
The ability to entertain hasn't been affected at all. The dining room, which can easily seat eight, and is set conveniently by patio doors and a huge window, and the dining room and kitchen are exceptionally sound from an ergonomic standpoint.
"To be honest, the area was designed for entertaining," Baertsoen said. "The island, which is nine feet by four feet, was designed for food preparation on one side with a bar sink with garburetor, and to provide an eating nook for two on the other side. At the same time, there's about five feet of aisle space between the island and range and fridge. There's lots of room to move and pull out drawers without getting all jammed up."
The wow factor wasn't ignored either, as shown by the finishing materials.
"The weathered-slate maple cabinets and black-titanium granite countertops look great. They finish off the kitchen in style, and there's even a corner pantry for extra storage."
There's a private bedroom wing with a four-piece bath and three oversize bedrooms, including the luxurious master suite.
"We're thrilled with how it turned out," Baertsoen said. "We put in a tray ceiling to give it more volume and then infused the ensuite with a lot of pizazz -- a beautiful five-foot custom tile/tempered glass shower, taupe tile floor, 10-foot weathered-slate maple vanity with dual sinks, and a curved maple display tower that gives it a different, rich look. There's also a huge walk-in closet off the bedroom, too."
Downstairs, there's another 1,500-square-feet-plus of developed space accessed via a staircase highlighted by titanium granite trim. It has a massive fourth bedroom, four-piece bath and rec room with media and games areas. There's a separate room designed for a home gym.
"Again, it's a very functional area with all the space and light. We put in 24-inch-by-60-inch windows to let in as much light as possible, and there's also a nine-foot ceiling, which again adds volume," Baertsoen said. "I think this is a well-balanced design that offers two levels that have just the right balance between function and fashion."
lewys@mts.net
DETAILS
Builder: Paradigm Custom Homes
Address: 29 Benson Blvd., Oak Bluff West
Style: Bungalow
Size: 1,975 sq. ft.
Bedrooms: 4
Bathrooms: 3
Lot Size: 72' x 140'
Lot Price: $126,900 plus GST
Price: $749,900 (including lot & GST)
Contact: Jeff Baertsoen, Paradigm Custom Homes @ (204) 792-1122