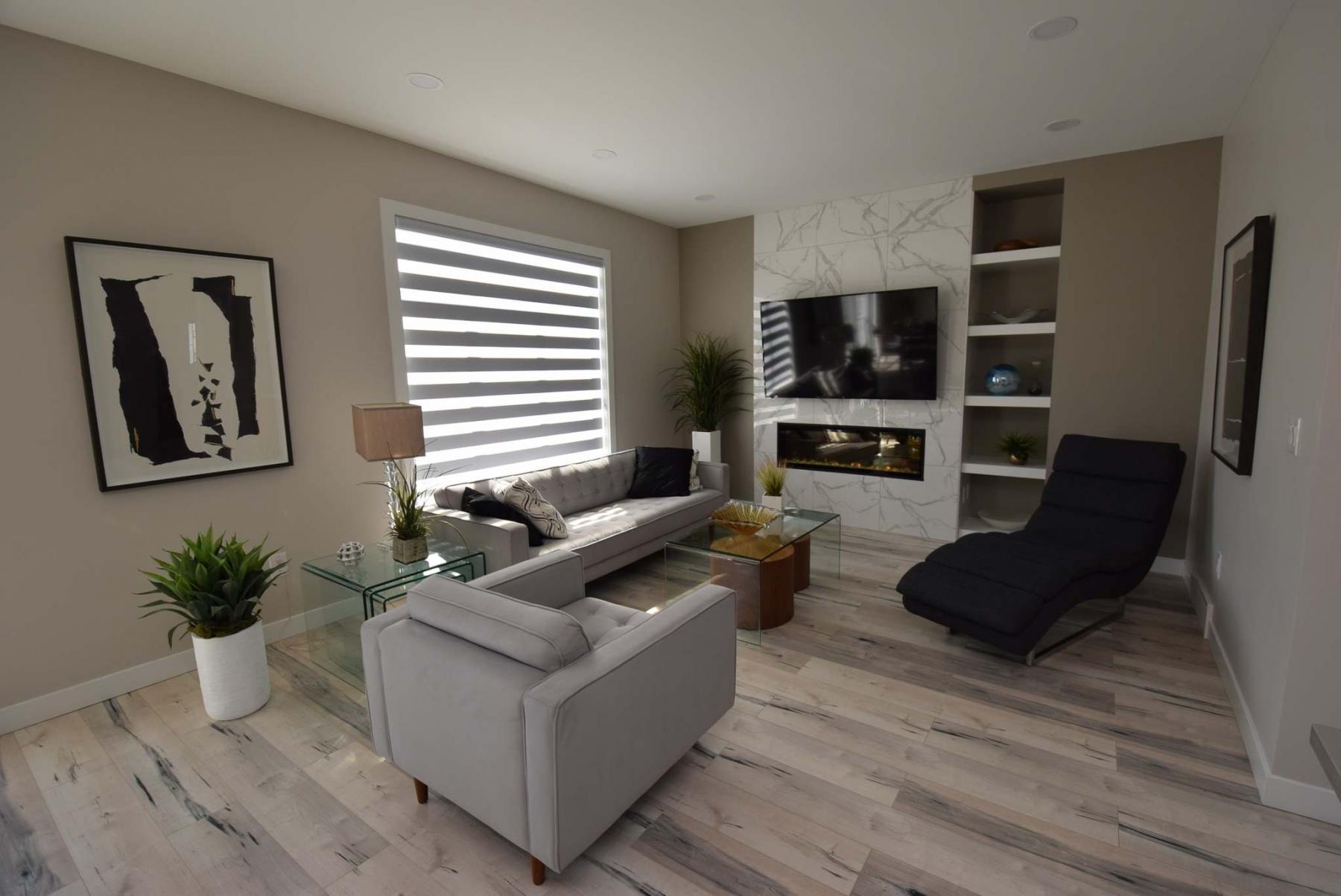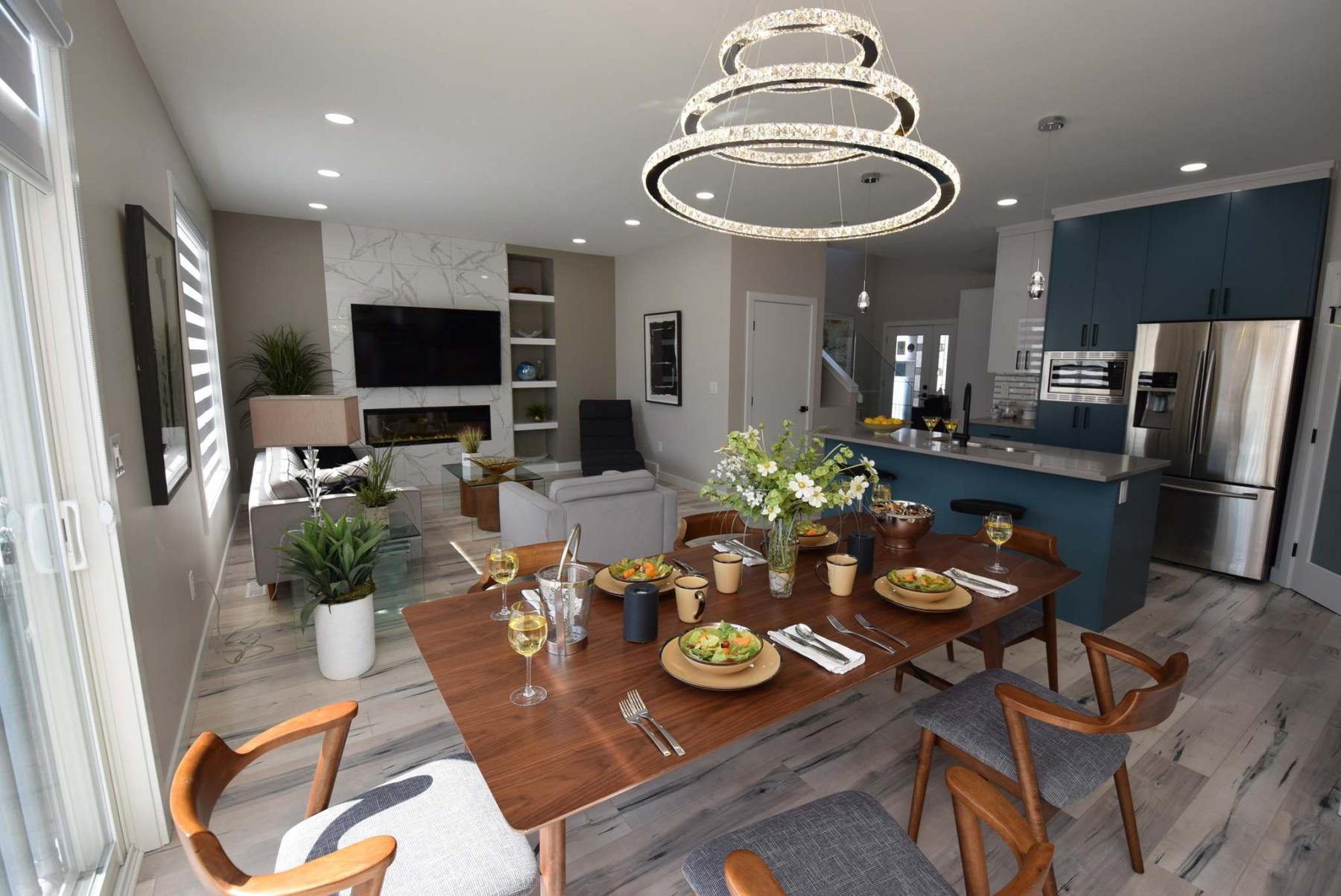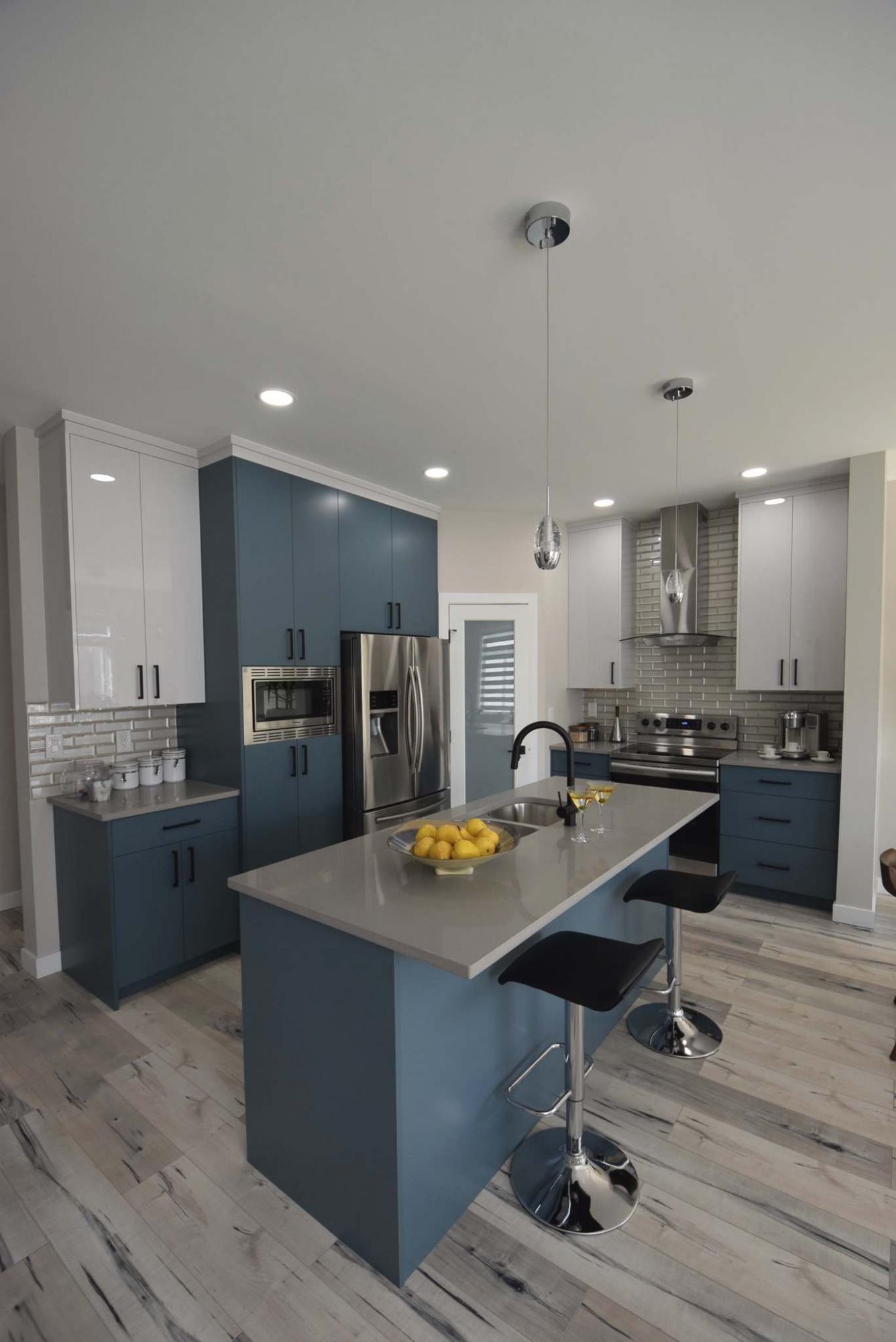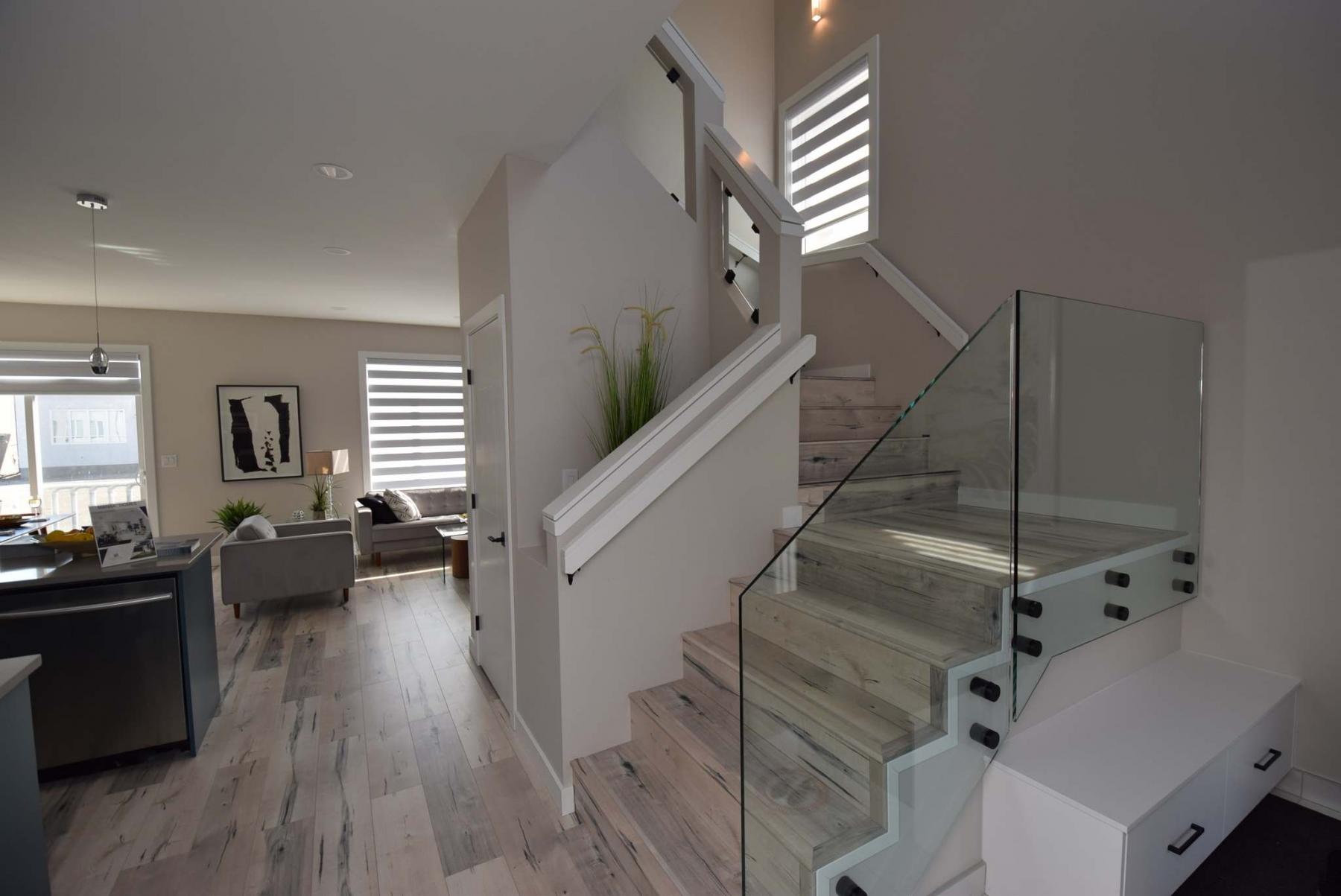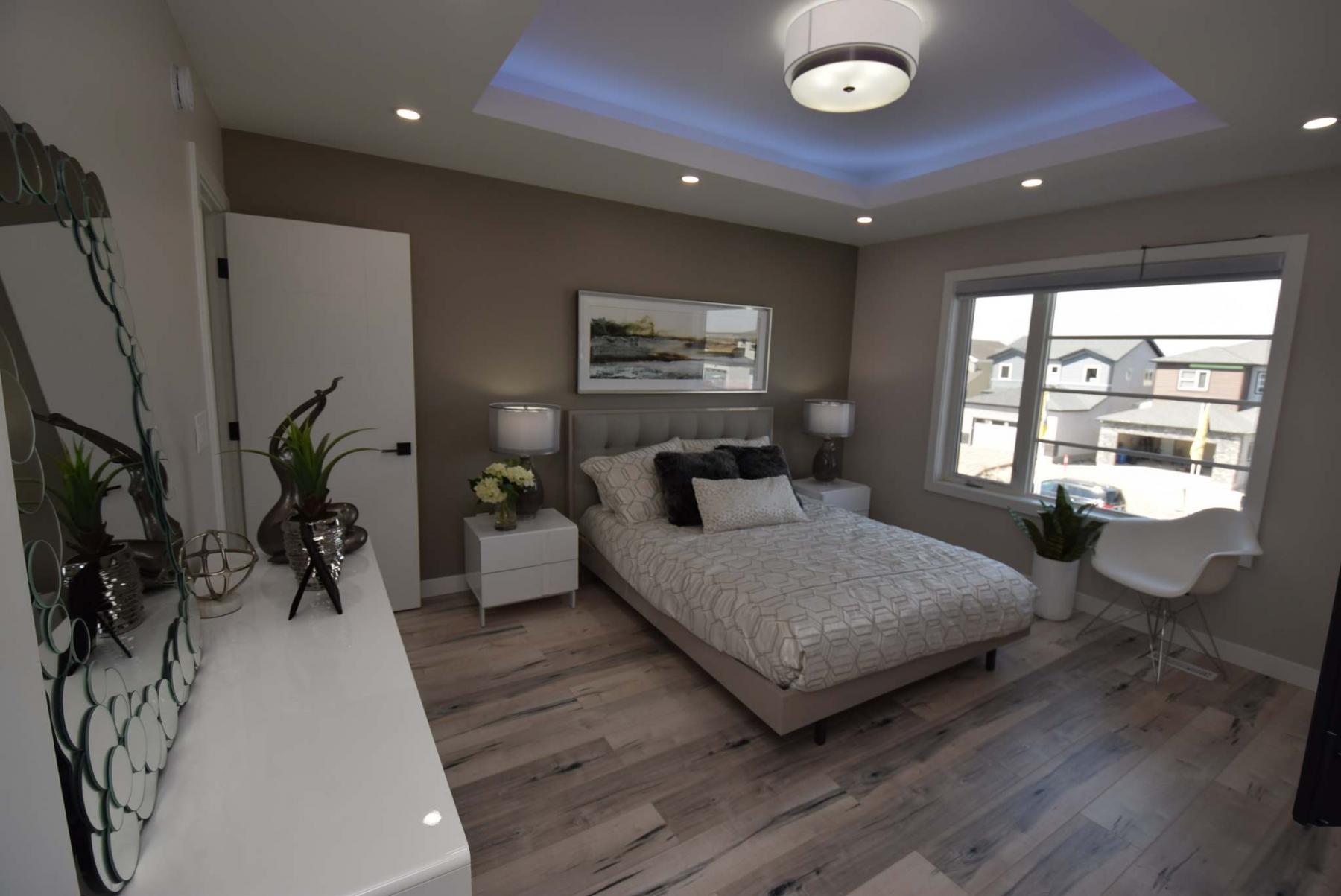 It's fun to close our eyes and visualize what the interior of a million dollar home would look like.
Many of us surely imagine a generous and bright interior filled with luxurious finishes that is both visually interesting and welcoming.
That's the feeling the design team at Manak Homes was going for and achieved when they designed their latest show home at 23 George Barone Bay in Transcona's Devonshire Park, says Amrit Manak of Manak Homes.
"With this home, our goal was to build a smaller home that had a good cross-section of the luxury items that are typically found in high-end homes," he says. "To help keep costs down, we built a smaller home on a smaller lot."
The end result was the Springfield, a 1,611 sq. ft., two-storey design that provides the look and feel of a million dollar home for roughly half the cost.
That luxurious feel starts in its foyer, says Manak.
"A 20-foot-high ceiling gives it a wonderful sense of volume while a tempered glass wall between the staircase and foyer maintains the open feel and promotes light flow," he says. "A tile floor in the foyer adds a touch of luxury, while a built-in bench with storage beneath provides a spot to sit down and take off your shoes. There's also a beautiful powder room to the left."
The next thing you notice is the gorgeous wide-plank flooring that lines the stairs and flows fabulously into the great room.
"It's a high-end laminate product with a modern oak look that has no repeating panels. Each plank has a different grain and colour which gives it a very luxurious look."
He adds that a doorway between the stairs and the kitchen delivers a welcome bit of function to the home.
"It holds a separate side entrance that's good to have if you want to put a suite downstairs to rent out or for family members to use," says Manak. "As the years go on, more homes are going to have a side entrance because it's a practical feature that doesn't cost much to add."
Walk past the doorway, and the Springfield's great room unfolds before you in all its naturally bright, well-laid-out splendor.
Even though the home is "only" just over 1,600 sq. ft., the great room never feels small at any point in time.
That's because a ton of thought was put into its layout, he adds.
"We placed the kitchen to the left, and then boxed out the rear wall to create plenty of space for a generous dining area. A seven-foot by three-foot island with double sink and plenty of prep space doesn't take up too much room. That opened up aisle space all around it, and ensured there was good separation between the kitchen and dining area."
Meanwhile, the kitchen is a sight to behold, its two-tone acrylic cabinets and taupe quartz countertops meshing perfectly with the gorgeous flooring.
"It really brings all the colours together in the kitchen," Manak says. "With their taupe and teal finishes, the acrylic cabinets — which you usually find only in high-end homes — look incredible, and go perfectly with the quartz countertops, taupe glass tile backsplash and stainless appliances."
The great room is then finished off by a mid-sized family room that envelopes you in style and warmth.
"Our goal was to make it as cozy as possible, and to create a feel that was modern yet warm. Lots of natural light filters in from a large window on its rear wall, while a simple entertainment unit with an electric ribbon fireplace set below a generous TV niche on a marble-style porcelain tile feature wall provides a nice touch of luxury."
Take the wide, quietly spectacular staircase upstairs, and you find yourself standing in a wide landing surrounded by four spaces — a four-piece bath that rivals most ensuites with its wealth of rich finishes, and three large bedrooms, including a stunning primary bedroom.
"Its calling card is a tray ceiling with built-in, multi-coloured LED lighting," says Manak. "A large window on its rear wall lets in lots of light, there's a big walk-in closet, and the ensuite, with its walk-in shower with porcelain tile surround, matching floor and acrylic vanity with quartz countertop and under-vanity lighting is the perfect finishing touch."
Manak says he's pleased with how the Springfield turned out.
"No detail was overlooked in its design — it maximizes the use of every square inch. We wanted to create a home that offered affordable luxury with many of the features you'd see in a high end home, and I think we accomplished that."
lewys@mymts.net
Details
Builder: Manak Homes
Address: 23 George Barone Bay, Devonshire Park (Transcona)
Style: two-storey
Model: the Springfield
Size: 1,611 sq. ft.
Bedrooms: three
Bathrooms: 2.5
Price: $550,000 (includes lot & GST)
Contact: Amrit Manak, Manak Homes, 204-509-7151