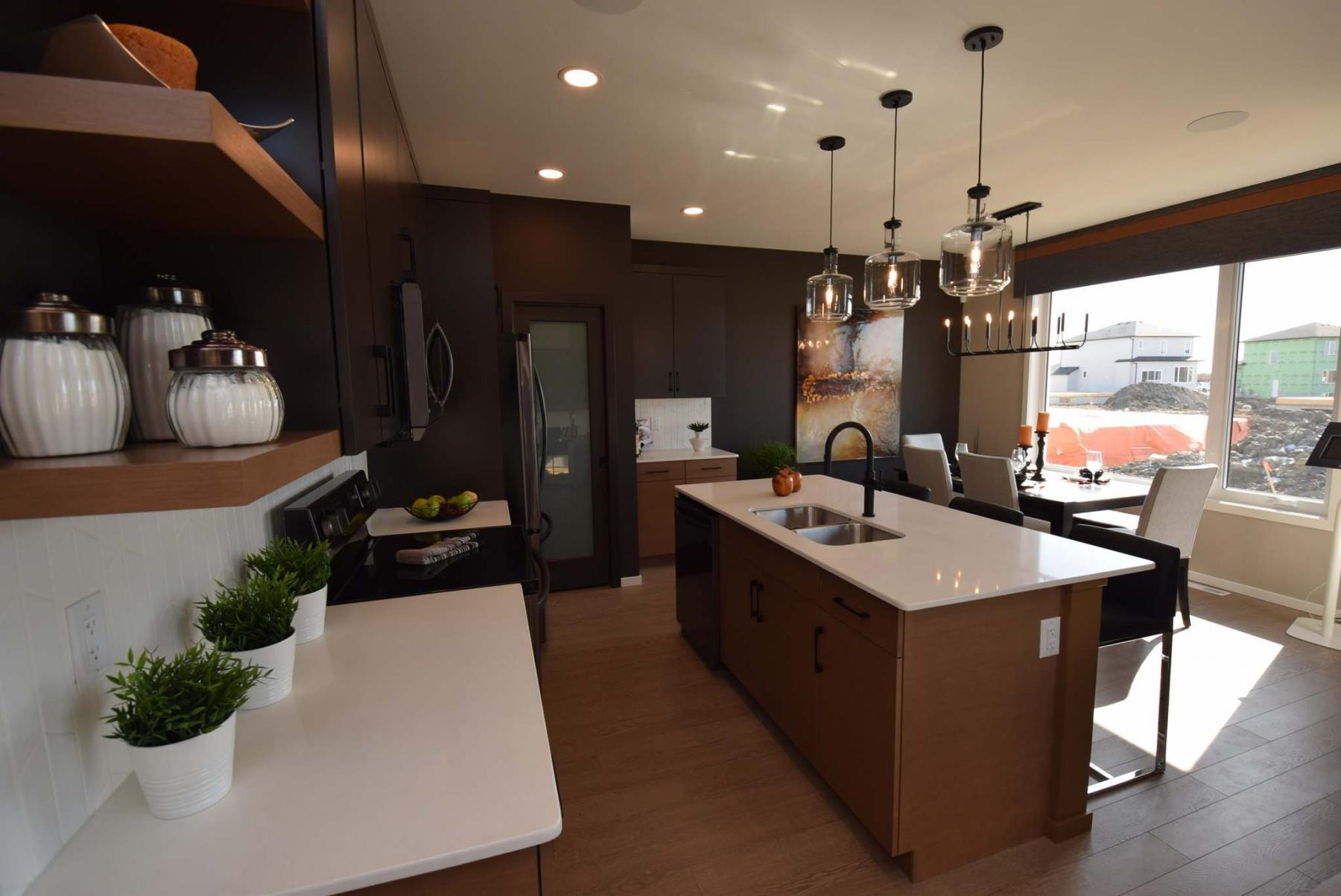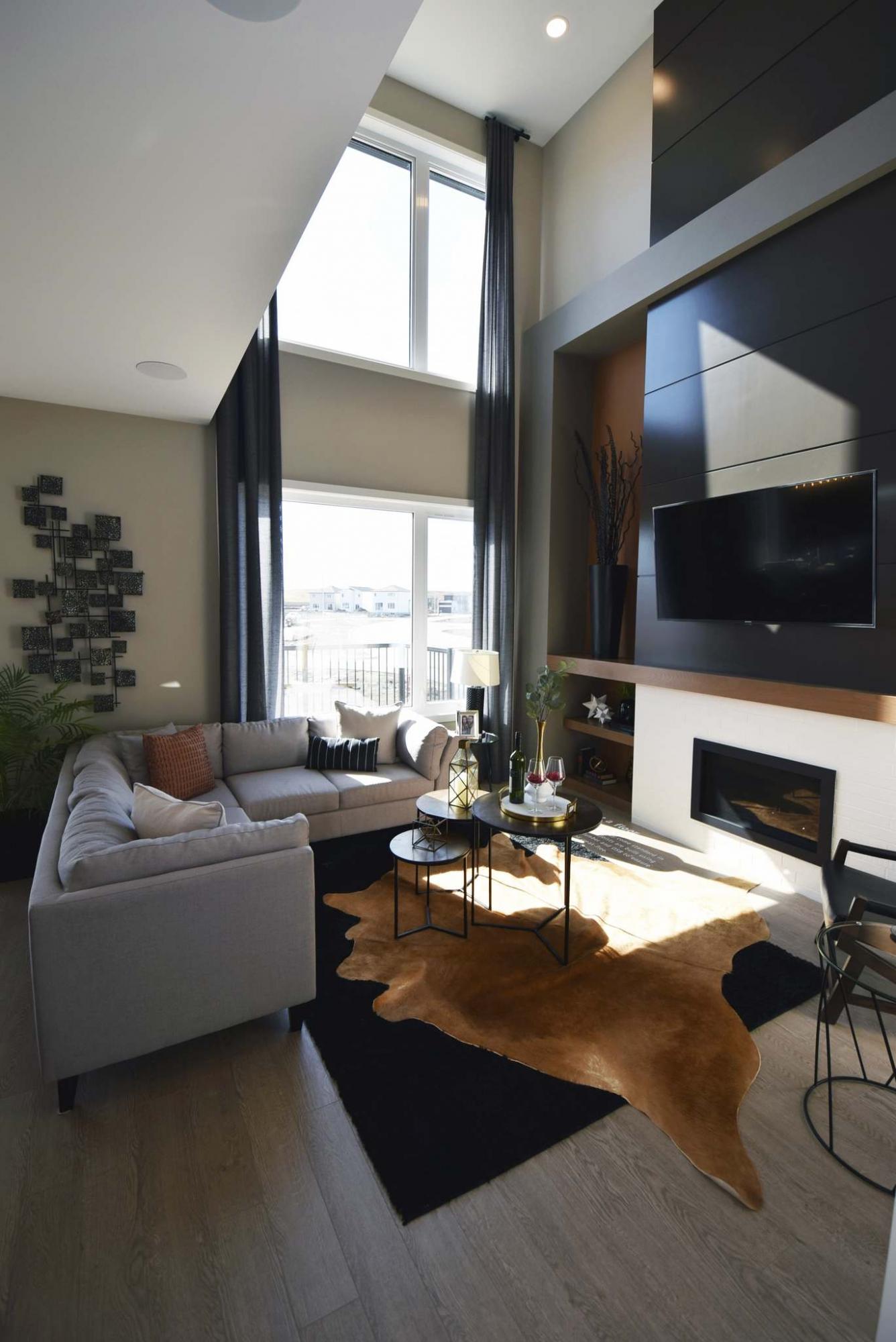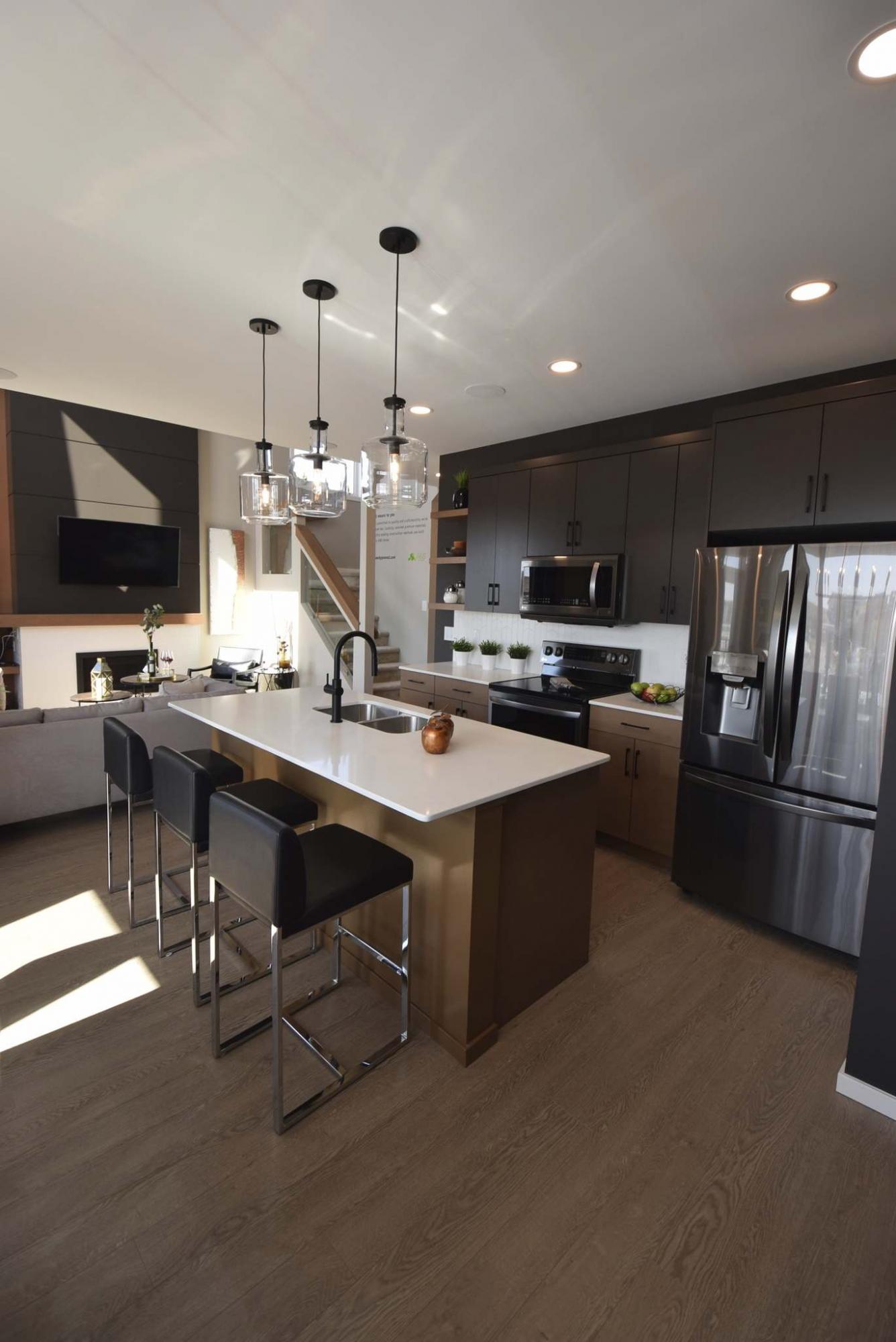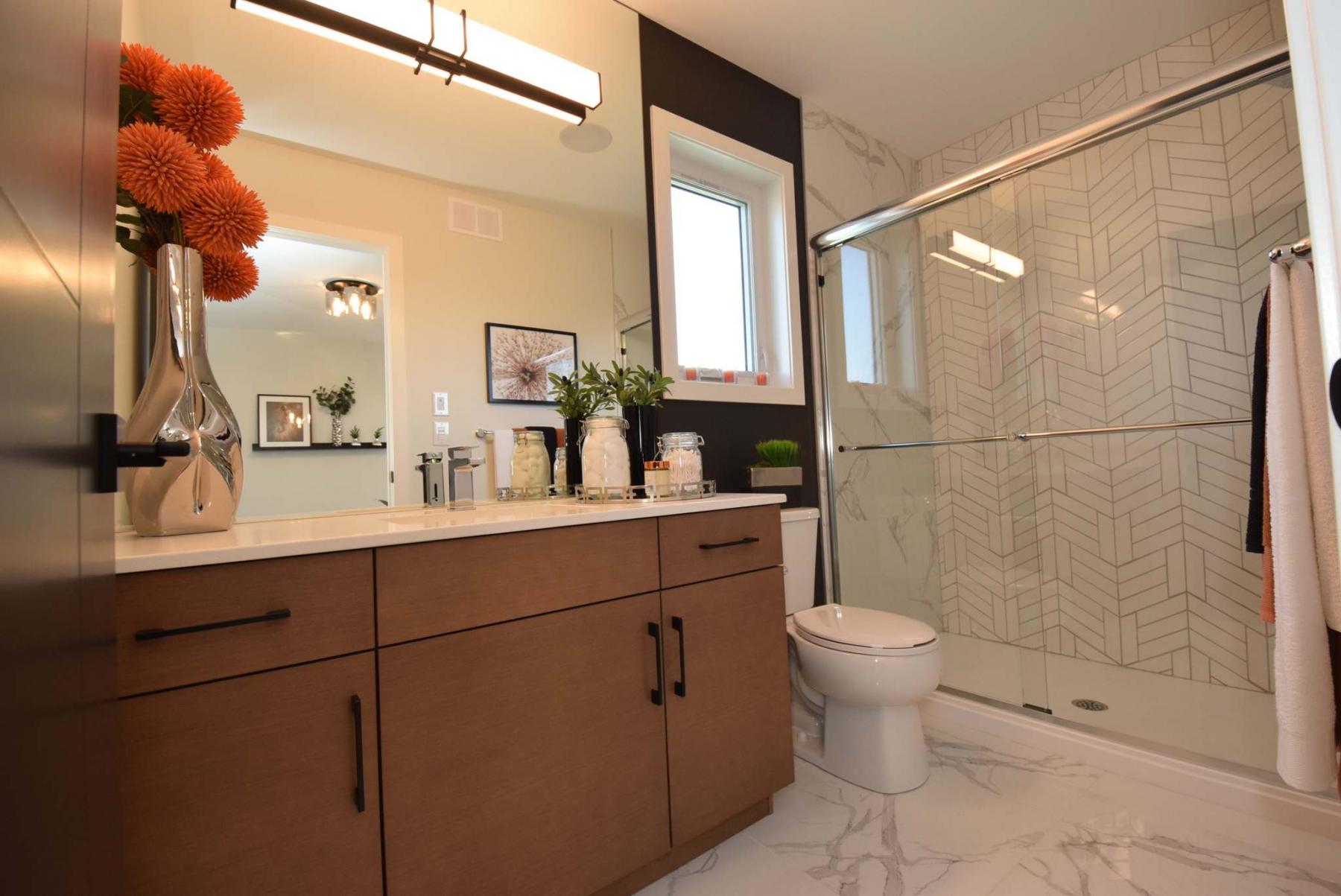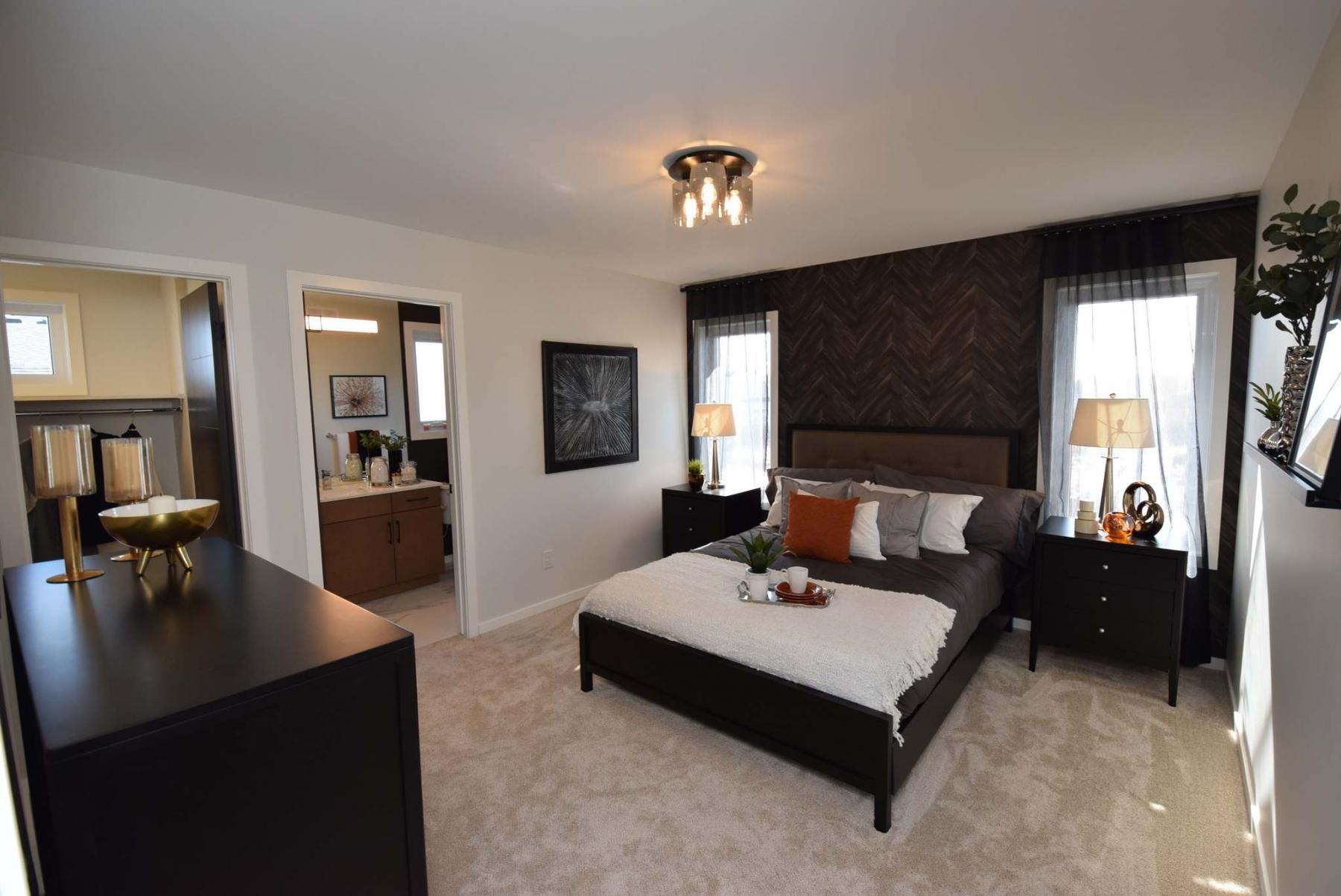 Coming up with a fresh design for a family-friendly home is no easy task.
Especially with active families typically looking for three things in a home — affordability, livability, and style.
Getting all those attributes under one roof is easier said than done.
The gifted design team at A & S Homes has met the challenge with the Indra II, a show home at 4 Douglas Henning Bay in Prairie Pointe that does a magnificent job of meeting those three needs, and more, says Adam Virgilio, sales representative for the 1,665 square-foot two-storey.
"Because affordability is such a huge issue, the Indra II was designed to fit on a 34-foot-wide lot," says Virgilio, who's marketing the home along with his stablemate at Royal LePage Alliance, Mark Loewen. "The cost of a 34-foot-wide lot compared to a 40-foot-wide lot is $15,000 less. That helps make the home more affordable."
Next comes the design of the home. In this instance, the narrow lot (in this case 38 feet) dictated that it be a two-storey design.
"As things turned out, the home came in at just under 1,700 sq. ft. with a width of 26 feet," says Virgilio. "Usually, you need about 1,900 sq. ft. to create a livable family home, that is, unless you come up with an incredible design. That's what A & S' design team did here. The Indra II is a brilliant design. I call it a micro luxury home."
Actually, thanks to an efficient, well-thought out floor plan, the Indra II simply feels like a spacious luxury home.
"In total, the home offers four bedrooms and three full baths," he says. "The first of the four bedrooms is to the left of the foyer in its own private wing next to a four-piece bath. It can be used as an in-law suite or office; a door on the wall opposite the bathroom allows you to come in directly from the garage."
The stairs were placed discreetly to the right, a design feature that opens up the hallway to create a nice, roomy feel that takes you into the bright and spacious great room.
"Several little design tricks were used to make the area feel bigger than it is. In the kitchen, the island isn't too big. That left plenty of space to move around it and left space over for the dining area. It was boxed out a couple of feet to its rear to add space, while a huge window was placed in its rear wall to let in lots of natural light."
Meanwhile, the colour palette used in the kitchen and dining room, featuring taupe, brown and grey tones with the odd dash of white, give the kitchen and dining area a very inviting feel.
"You need a little colour in a home — that's what gives it personality and character," Virgilio says. "Everything ties together perfectly in the kitchen, the black/grey cabinets, Highland (medium brown oak) cabinets, off-white quartz countertops and white tile backsplash. It's a warm, functional area that just draws you in."
Take a few steps to the right, and you then find yourself in the family room, a spectacular space that serves as a stylish, spacious counterpoint to the cozy kitchen and dining area.
"With its 18-foot ceiling, floor-to-ceiling windows and beautiful built-in entertainment unit with gas fireplace, it's a gorgeous spot to visit with guests after dinner. It really makes the great room, as it really amps up the feeling of space, light and style."
The staircase, cleverly carved into the great room's rear wall, is bordered by glass panels with oak capping, takes you to the second floor, which also offers a stellar layout.
The design team comfortably fit three bedrooms, a four-piece bath and a laundry closet — all without sacrificing livability.
"The layout is absolutely beautiful," he says. "Not one bedroom touches the other. Both kids' bedrooms are a good size with large closets and big windows, the main bath comes with an oversized vanity and the washer and dryer are in a big closet next to a linen closet."
Finally, there's the primary suite, which was set well away from the kids' bedrooms to enhance privacy.
"It features a functional design that flows really well. It comes with a big walk-in closet with a window and a luxurious three-piece ensuite that offers a walk-in shower with a herringbone tile surround, gorgeous porcelain tile floor and built-in speakers. Light and dark brown walls and rich taupe carpeting give the bedroom a cozy, relaxing feel."
Virgilio adds that a private side entrance sits next to the lower level stairs, which lead down to a basement that offers about 650 sq. ft. of space to develop into a fifth bedroom, rec room, bathroom, laundry room and storage area.
"The Indra II is a wonderful new family home that has all the features of a luxury home — four bedrooms, three baths, an incredible great room and versatile lower level. It can fit on any smaller single-detached lot, and can be built for around $500,000 with standard finishes. It's everything a family could ask for in a home — it's affordable, stylish and versatile."
lewys@mymts.net
Details
Builder: A & S Homes
Address: 4 Douglas Henning Bay, Prairie Pointe
Style: two-storey
Model: Indra II
Size: 1,665 sq. ft.
Bedrooms: four
Bathrooms: three
Price: $549,000 (Includes lot, upgrades, Control 4 system, appliances & GST)
Contact: Adam Virgilio or Mark Loewen, Royal LePage Alliance, 204-885-5500