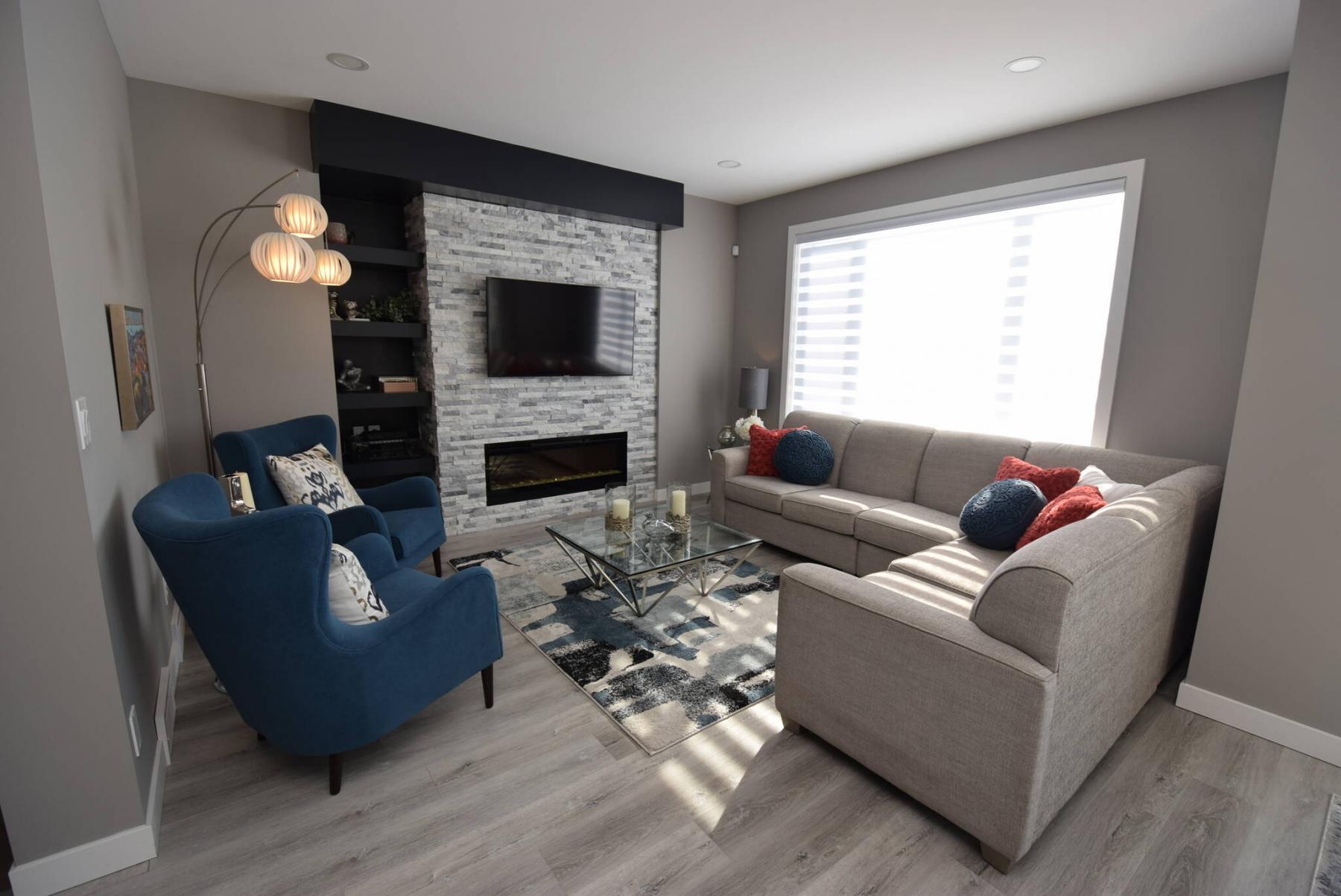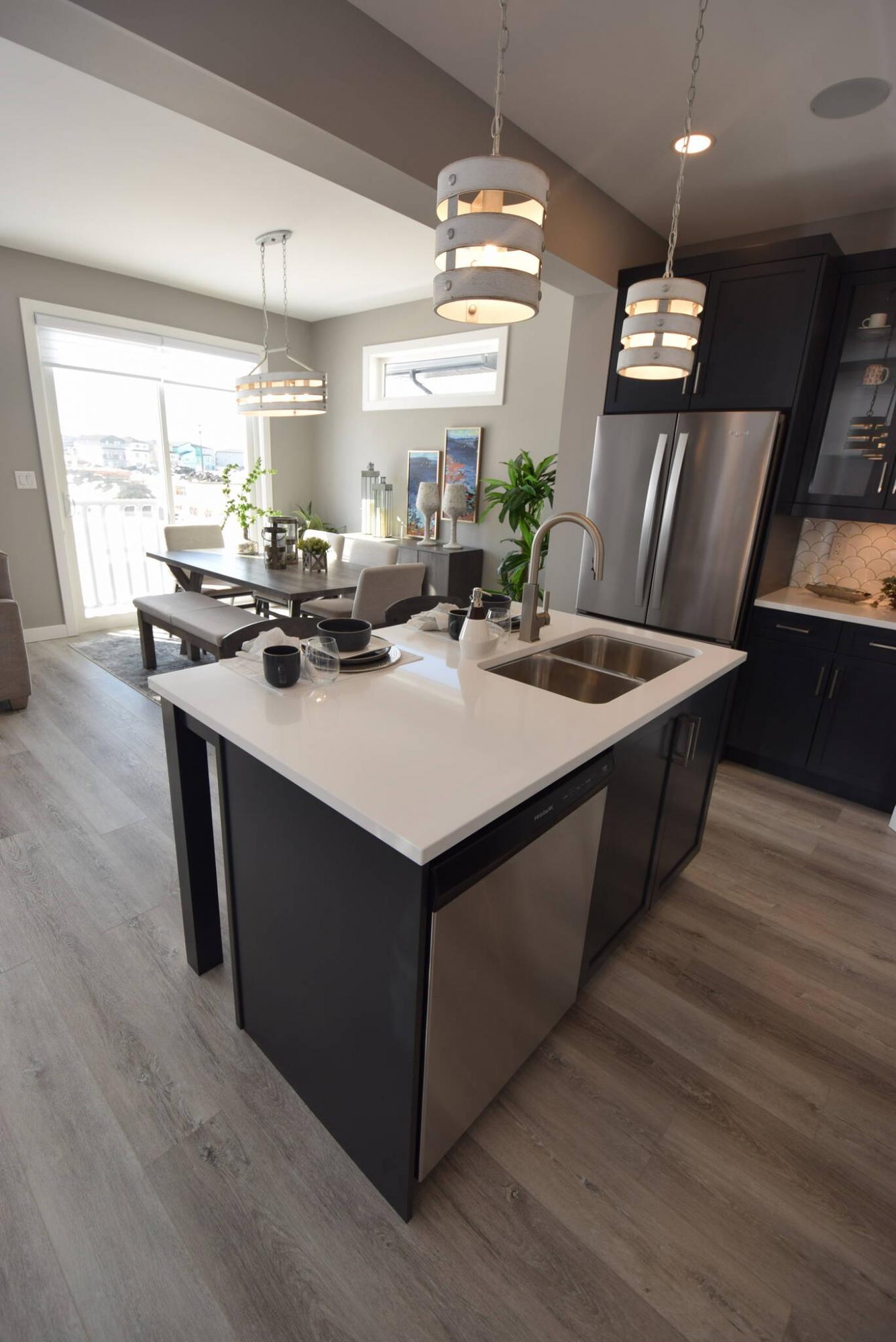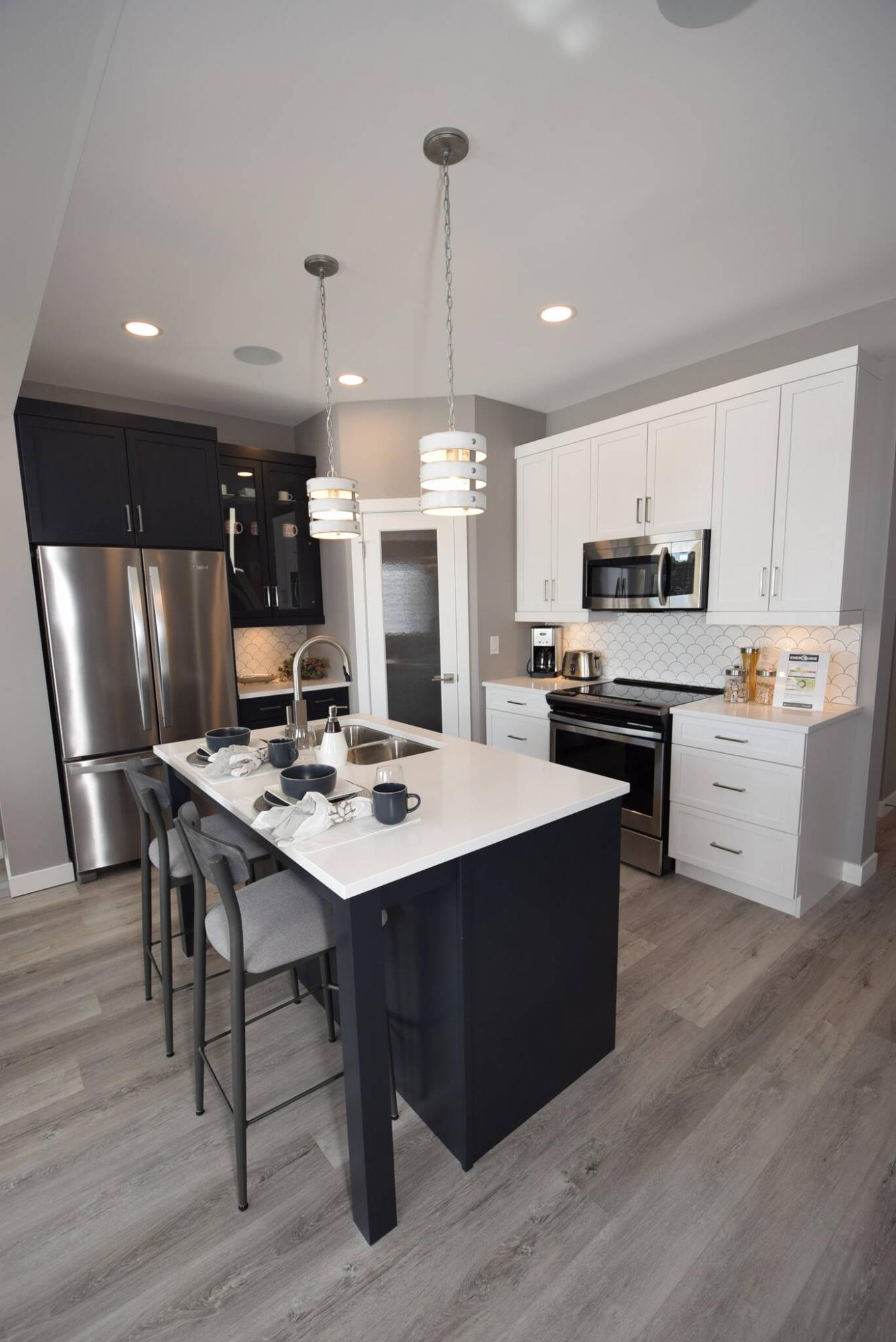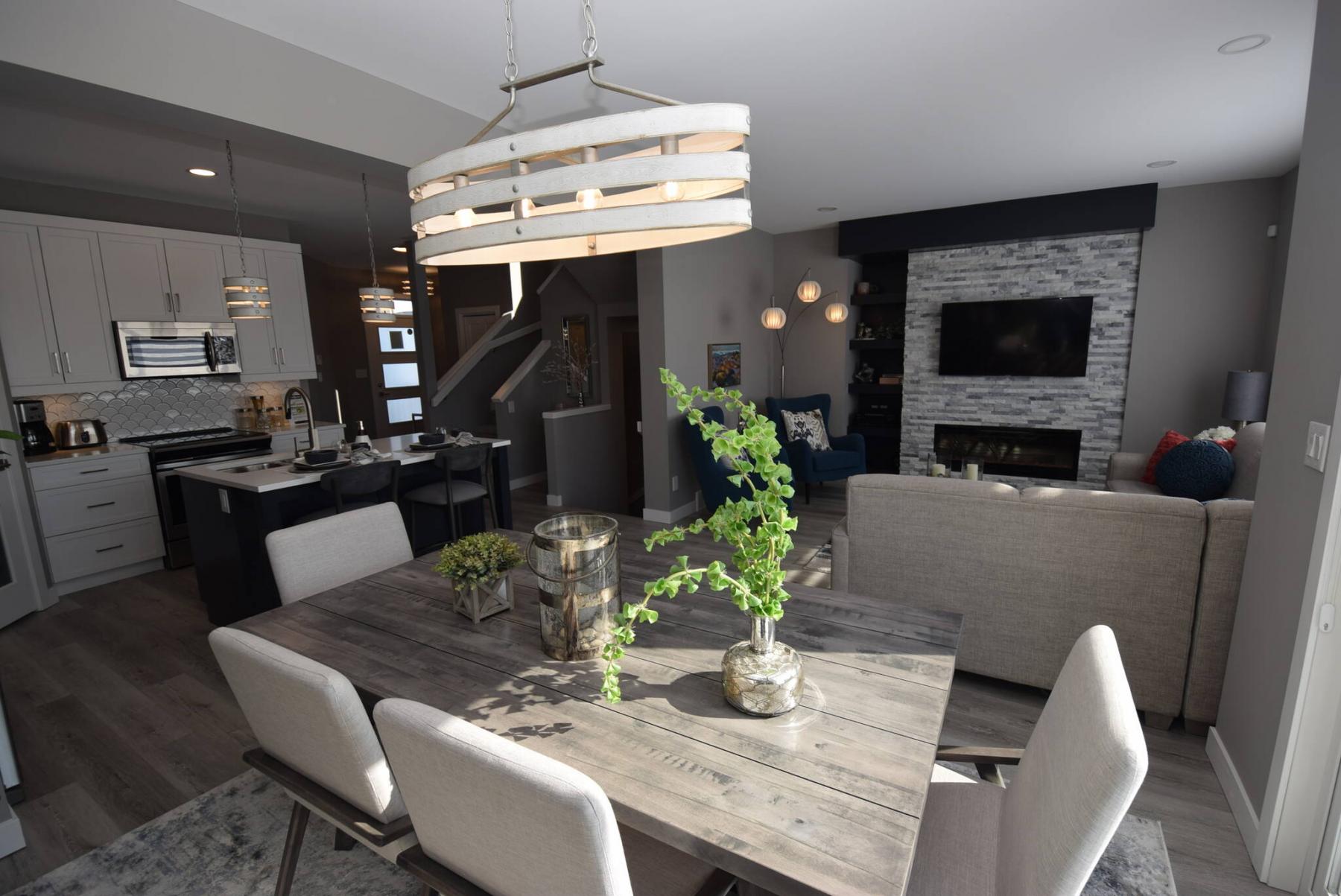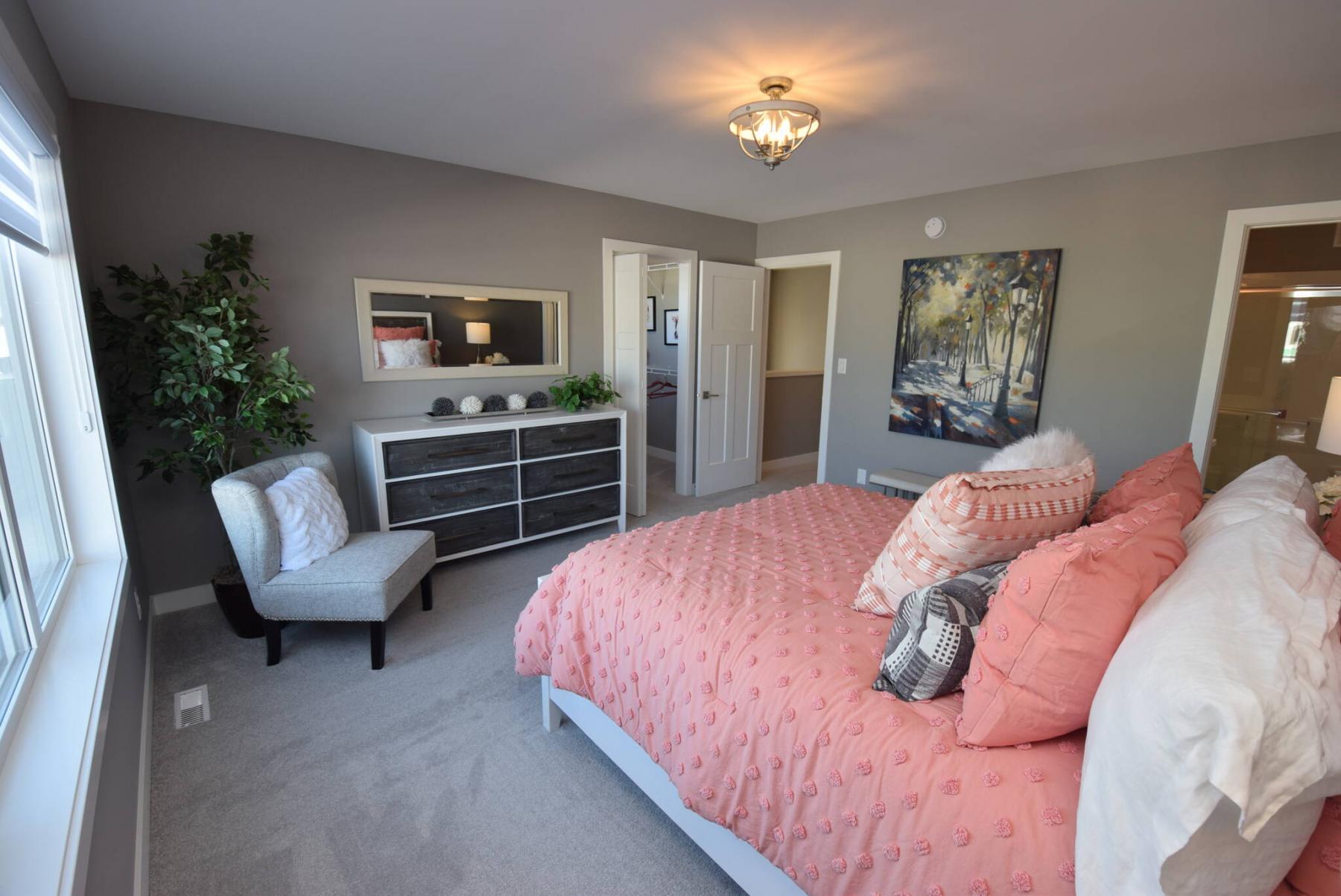 Admit it or not, first impressions play a central role in how we perceive a person or object.
In this instance, the first impression of the Preston, Broadview Homes' new show home at 820 Boulevard De La Seigneurie in Bonavista, is resoundingly positive.
Angled rooflines and a smart-looking exterior consisting of wood accents and acrylic stucco gives it plenty of wow factor, while a recessed, covered front entrance beckons you to come inside.
Step inside, and you're greeted by a spacious foyer that flows effortlessly into a bright, expansive main living area.
Surrounded by space, light and style, you'd never know that the two-storey home measures in at a touch under 1,620 sq. ft..
"This home was actually created for more narrow lots," says the sales representative for the splendid two-storey design, Brenda Johnson of Qualico Realty Services. "It was designed to fit on a lot that's 32 to 34 feet wide. This show home was built on a 32-foot-wide lot."
The key to the Preston's spacious feel lies in its efficient design.
For starters, the aforementioned foyer, which features an angled wall to the right of the front door that opens it up nicely, feels even wider thanks to a hallway to its right that leads to a closet and powder room.
A wide hallway then provides seamless access to an exceptionally navigable main living area that uses every available inch of space well.
"The area's spacious, functional feel starts with the kitchen," says Johnson. "A mid-sized island is just the right fit, allowing for excellent aisle width between it and the range, there's lots of room to move about in and around the kitchen."
At the same time, there's ample separation between the kitchen and dining area.
Yet, the dining area, which is set next to an oversized sliding patio door with a transom window above for good measure, is still large enough to hold a table that seats six to eight guests.
From there, the dining area flows smoothly into a quietly spectacular great room that's illuminated by a huge window on its rear wall.
"Both the patio door and window in the family room southwest, so tons of light flows into the main living area all day long," she says. "And the finishes throughout the great room really give it a warm, inviting feel."
The area's inherent warmth comes from laminate wide plank flooring that features plenty of texture and a soothing mix of light, medium and brown hues.
An optional entertainment unit with grey/taupe cultured stone wall and linear electric fireplace adds a touch of rustic/modern style, while a tasty collection of finishes endows the kitchen with understated wow factor.
"White maple cabinets line the walls with a gunmetal blue island at its centre," says Johnson. "A cloud-like ceramic tile backsplash perfectly complements the off-white quartz countertops, which are highlighted by mod hanging pendant lights above. Gunmetal cabinets up high, corner pantry and stainless appliances finish the kitchen off perfectly."
Access to the Preston's upper level, meanwhile, comes via a stylish staircase that was placed neatly next to the foyer and across from the kitchen.
"We've had lots of positive comments on it," she says. "People have noticed how wide it is, and how it opens on to both the foyer and main living area. A cutout to its rear and short stub wall don't close it off, maintaining a nice, open feel."
That same open feel can be found upstairs, as well.
"The staircase is again opened up by a low stub wall, while a huge optional window over it lets in tons of natural light. All the rooms were placed around a central landing to allow light from their oversized windows to flow through the entire area."
Not only are there three good-sized bedrooms, but there's also a spacious four-piece bath and a large laundry room with another large window that adds even more light.
Then, there's the king-sized primary bedroom.
"It's a private sanctuary with a
large walk-in closet, beautiful ensuite with mosaic vinyl tile floor and walk-in shower," says Johnson. "A huge window on the bedroom's rear wall allows lots of natural light to flow inside."
The Preston has been very well-received, concludes Johnson.
"It's one of our more popular homes due to its price point, and its efficient, stylish design. It doesn't sacrifice anything because it's been so well-designed."
lewys@mymts.net
Details
Builder: Broadview Homes
Address: 820 Boulevard De La Seigneurie
Style: two-storey
Model: the Preston
Size: 1,619 sq. ft.
Bedrooms: three
Bathrooms: two-and-a-half
Price: from $550,000 (includes lot & GST)
Contact: Brenda Johnson, Qualico Realty Services, 204-296-9981