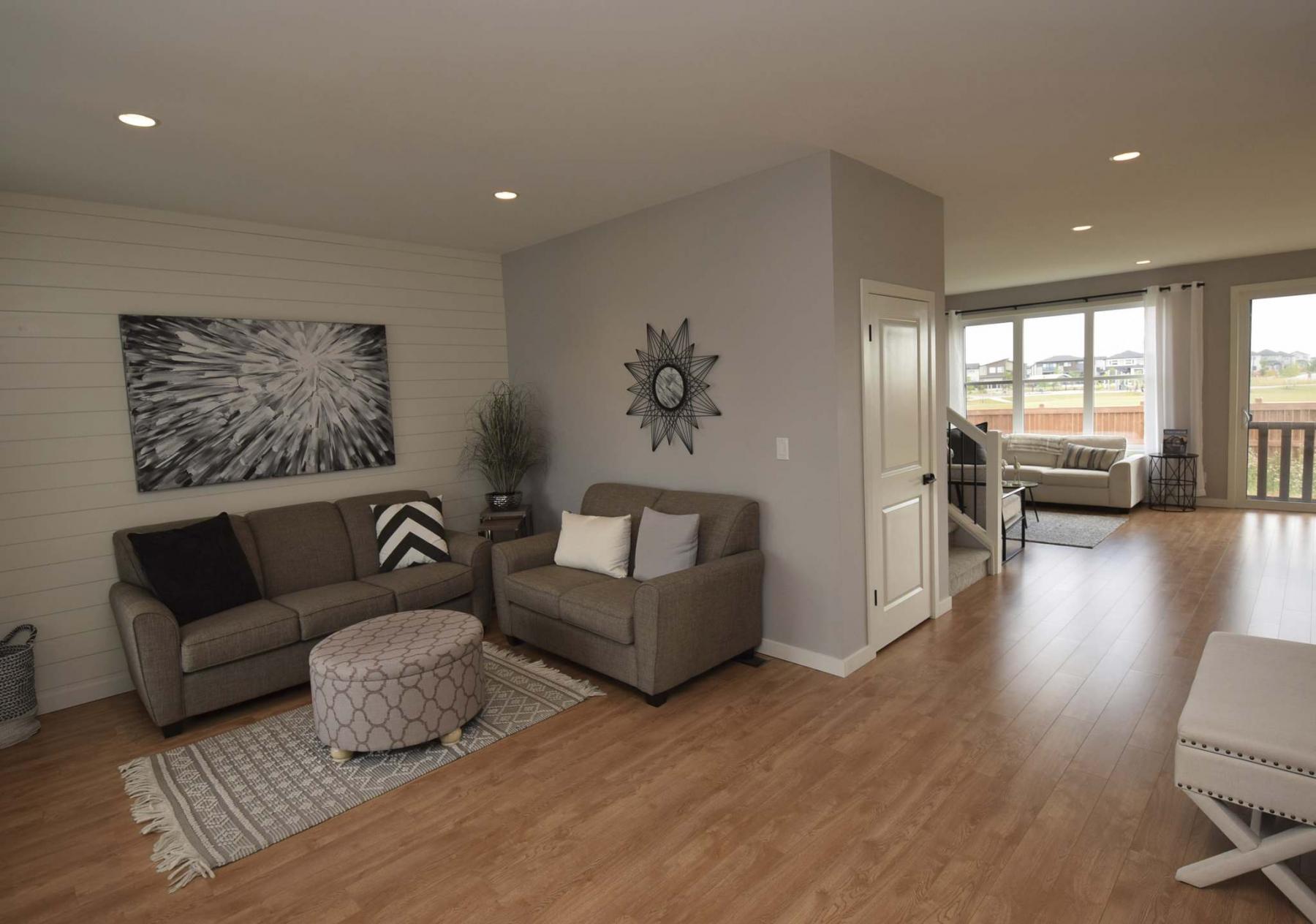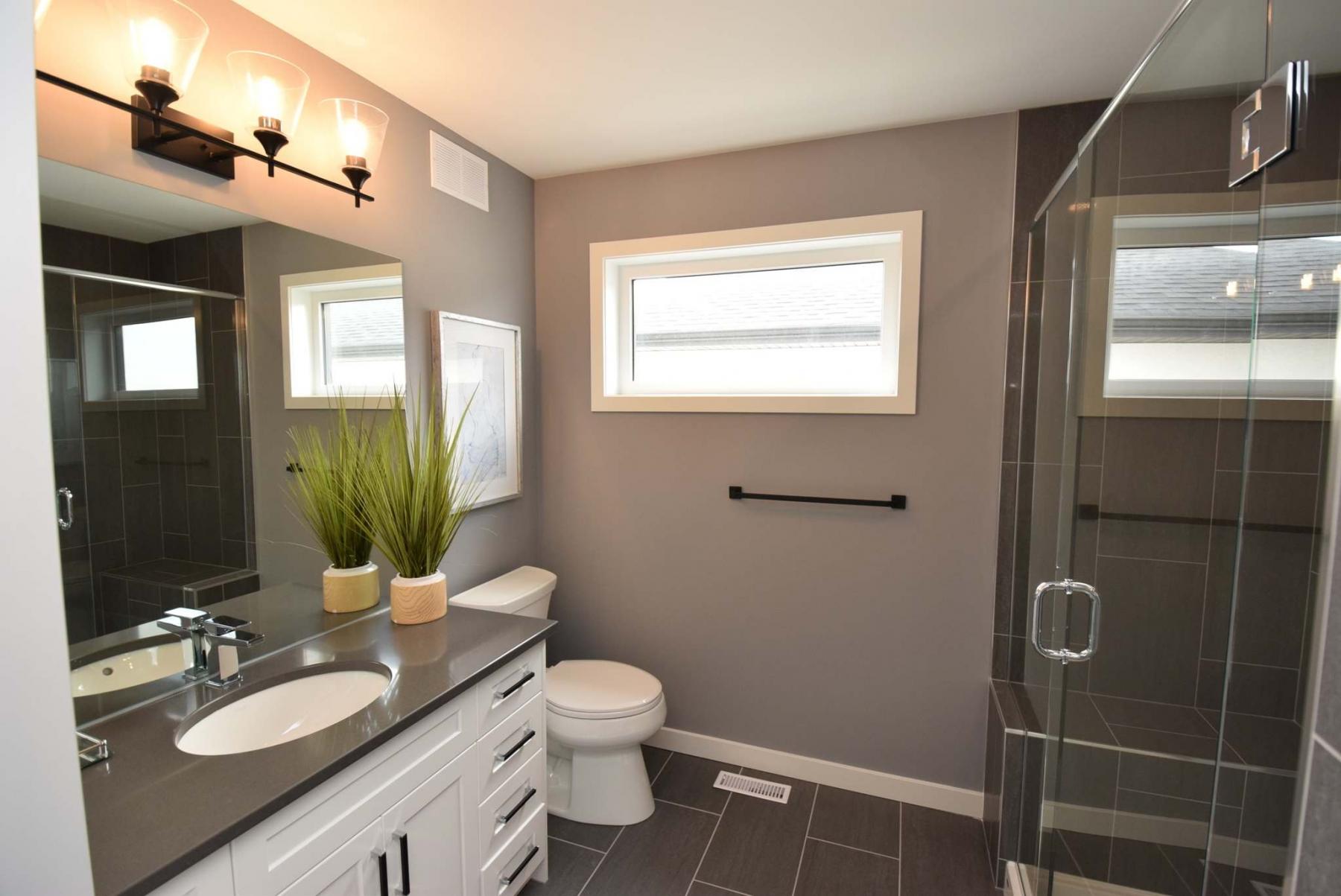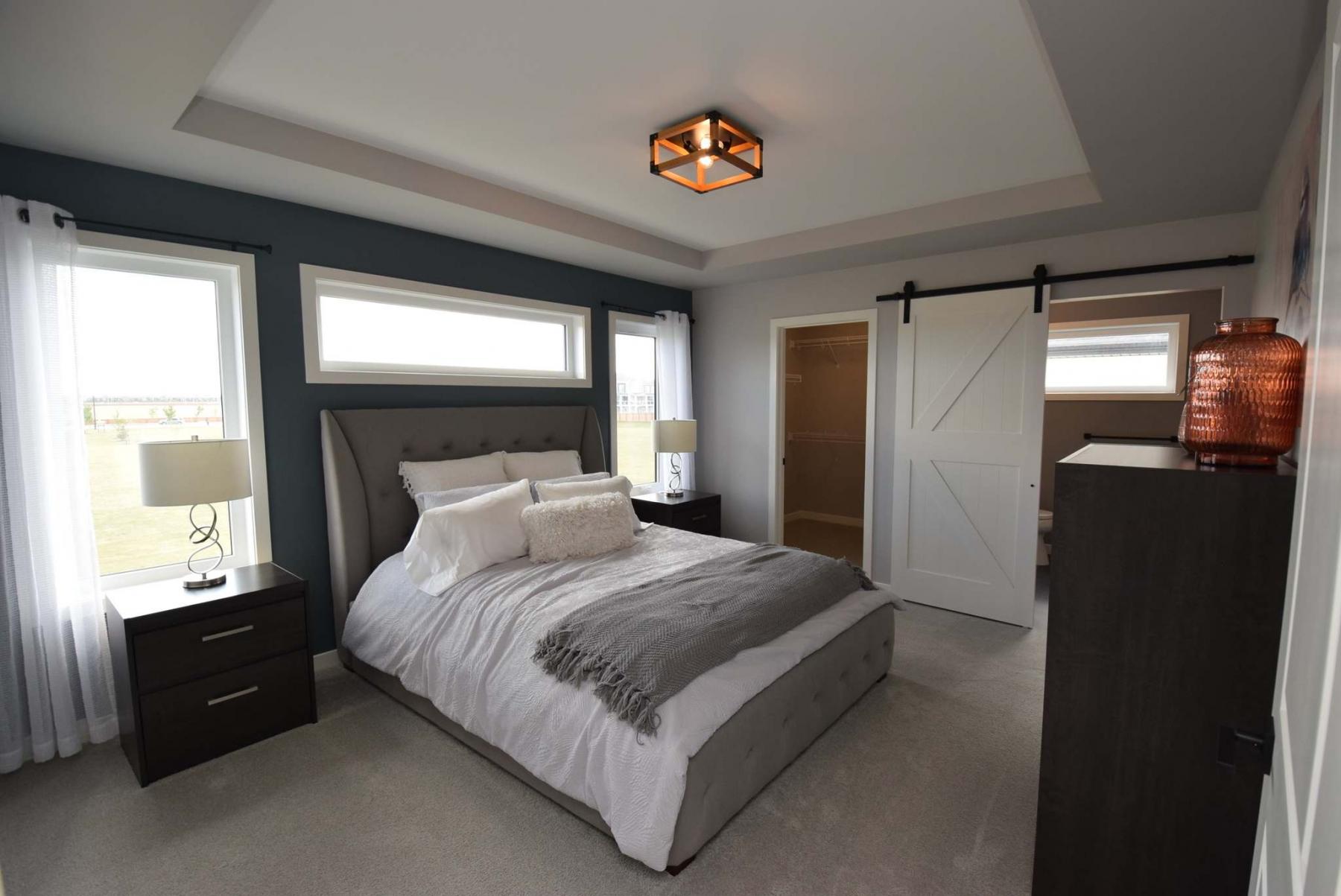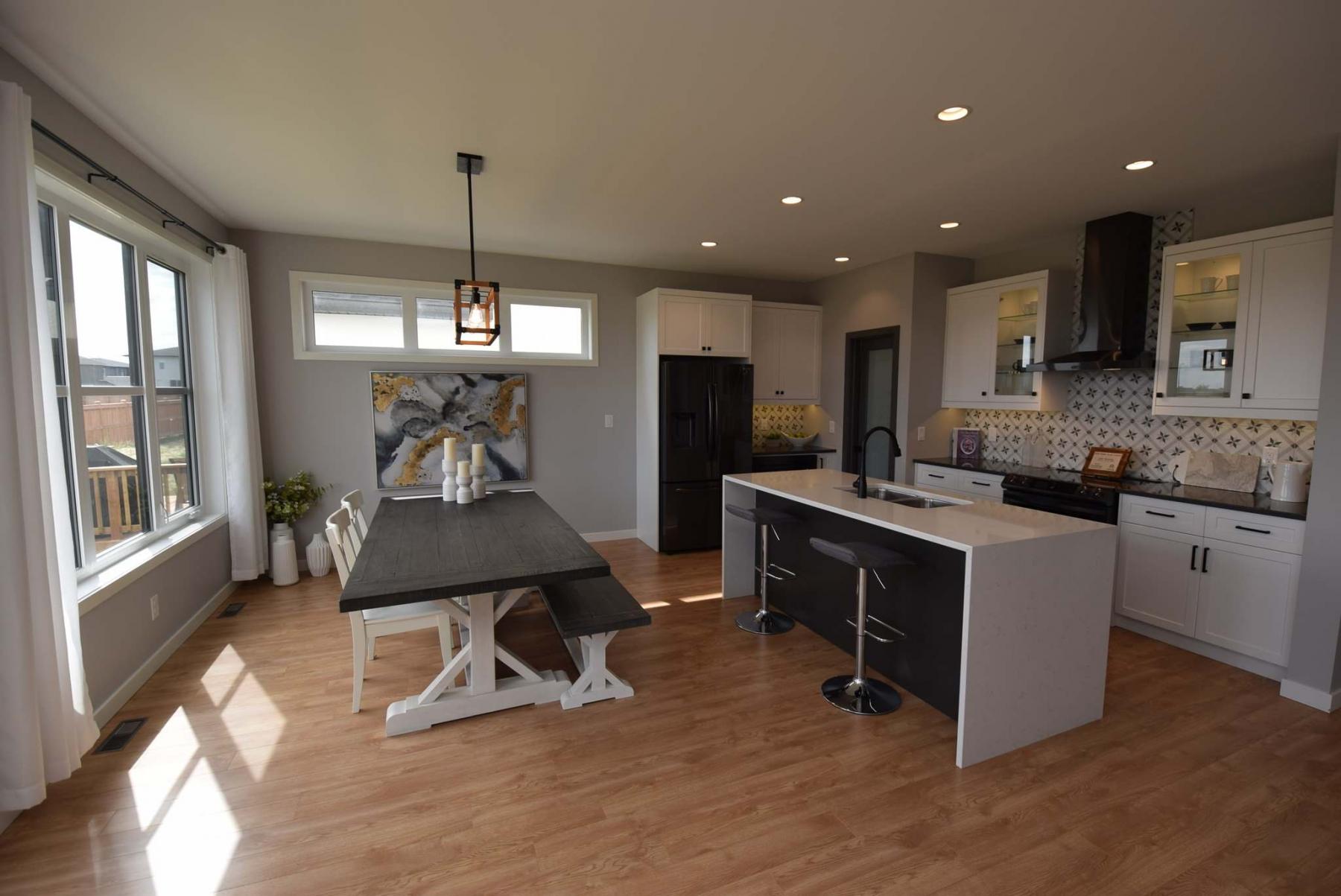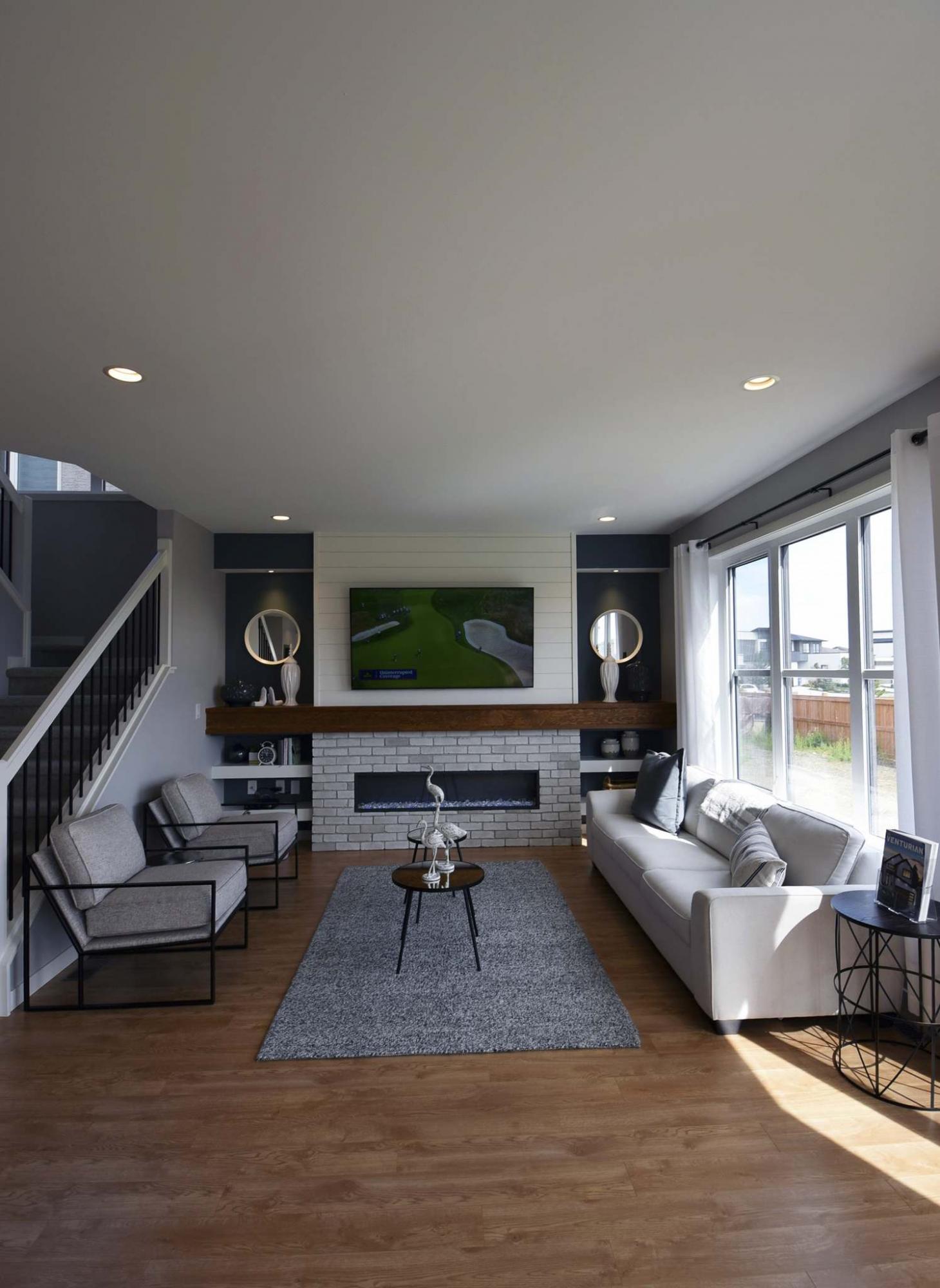 Suffice it to say life has been complicated lately.
Consequently, many large families have been on the lookout for a new home that provides the design features and space needed to live in perfect harmony.
Jon Dundas, new homes sales representative for Ventura Custom Homes' show home at 11 Highpark Dr. in Prairie Pointe, says the Edgemont — a proven two-storey, four-bedroom design, checks off all the boxes.
"This home has been incredibly popular for us," he says of the 2,174 square-foot home. "It features a modern farmhouse design that features a great-looking exterior elevation and an excellent layout."
Outside, the home immediately catches your eye with its seamless combination of modern-rustic details.
It starts off with a clean, modern double-attached garage with warm wood grain-style overhead door, then graduates naturally to a covered entrance with an overhang outfitted with durable metal cladding that contrasts magnificently with the home's ridged, country-white exterior.
Walk inside, and you find yourself in a bright, spacious foyer that draws you effortlessly into the home.
Flanked by functionality on either side, with a good-sized sitting room to the left and a compact wing to the right that holds a main floor bedroom, it provides the versatility families covet.
"Every home we build with a bedroom on the main floor will have a full bathroom next to it," says Dundas. "It's perfect for guests, elderly parents, or others with special needs. If it's used as an in-law suite, their own sitting room is just steps away."
A wide, user-friendly landing then leads to the great room.
As you approach the open-concept area, you can't help but notice all the light that emanates from the generous, six-foot-wide entrance that fronts it.
"When you walk in, you find a very open area with a series of extra-large windows on its rear wall that allow a ton of natural light to flow into it," he says. "Both windows — one behind the family room and the other behind the dining area — are standard."
Everything then comes together perfectly to create a great room that immediately transports you to your happy place: generous spaces, plenty of light and a delightful cross-section of finishes that create a farmhouse feel that's modern, yet possesses a pleasing rustic warmth.
"Rustic design features include the electric fireplace in the family room, with its brick surround, weathered oak mantel and shiplap feature wall above," he says. "The kitchen offers a modern warmth with its white and grey cabinets, a seven-foot island with marble-style quartz countertop with waterfall sides and grey quartz countertops."
Dundas adds that Ventura's design team hit it out of the park with their flooring choice.
"It's a laminate plank product with a natural look that's warm, yet isn't too dark. It looks great, and preserves the area's bright, welcoming feel. Families will also appreciate all the room there is to move, both within the three spaces, and between them."
The Edgemont's well-executed floor plan then gets even better upstairs.
Even though the home is nearly 2,200 sq. ft., you don't expect to find what you see: a loft with a primary bedroom tucked away neatly behind it and a separate wing that holds a main bath, laundry room and three more bedrooms.
"This is the most popular house in the neighbourood, and it's easy to see why," Dundas says. "The three kids' bedrooms are large, as is the laundry room and main bath. The kids have their own private area, as do the parents."
Buffered masterfully from everything by the bright, spacious loft, the primary bedroom is a private retreat that parents will doubtlessly gravitate to at the end of a long, activity-filled day.
A trio of windows surrounding the bed — two on either side, with one overhead on the rear wall allow daylight to filter in while simultaneously preserving privacy.
There's also a big walk-in closet with window and plenty of built-in storage, and a sufficiently stylish ensuite.
"It can be closed off by a gorgeous barn door on rollers, and offers a five-foot walk-in shower with two-tone tile surround bench and rain shower head," he says. "There's also a white vanity with a grey quartz countertop and a large window high up on the wall that lets in more natural light."
Dundas says large families looking for a new home that offers a perfect synergy of style and function should check out the Edgemeont.
"The key to this home is that it's as functional as it is beautiful," he says, adding that it can also be built with a handy side entrance. "No matter what your needs might be, we can tailor it exactly to your family's wants and needs."
lewys@mymts.net
Details:
Builder: Ventura Custom Homes
Address: 11 Highpark Dr., Prairie Pointe
Style: two-storey
Model: the Edgemont
Size: 2,174 sq. ft.
Bedrooms: four plus loft
Bathrooms: three
Price: $689,900 (includes lot & GST)
Contact: Jon Dundas, Quest Residential Real Estate, 204-292-2912