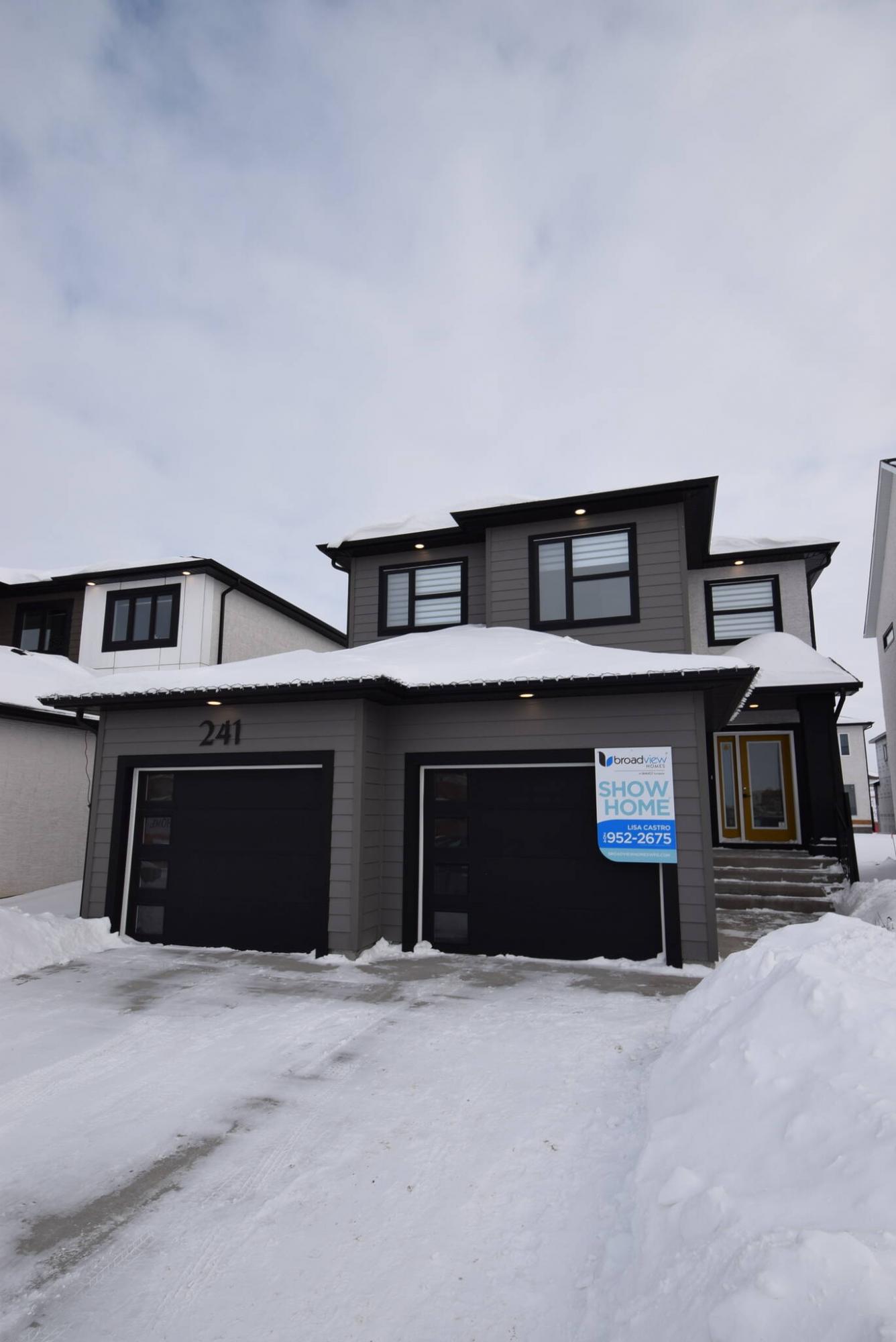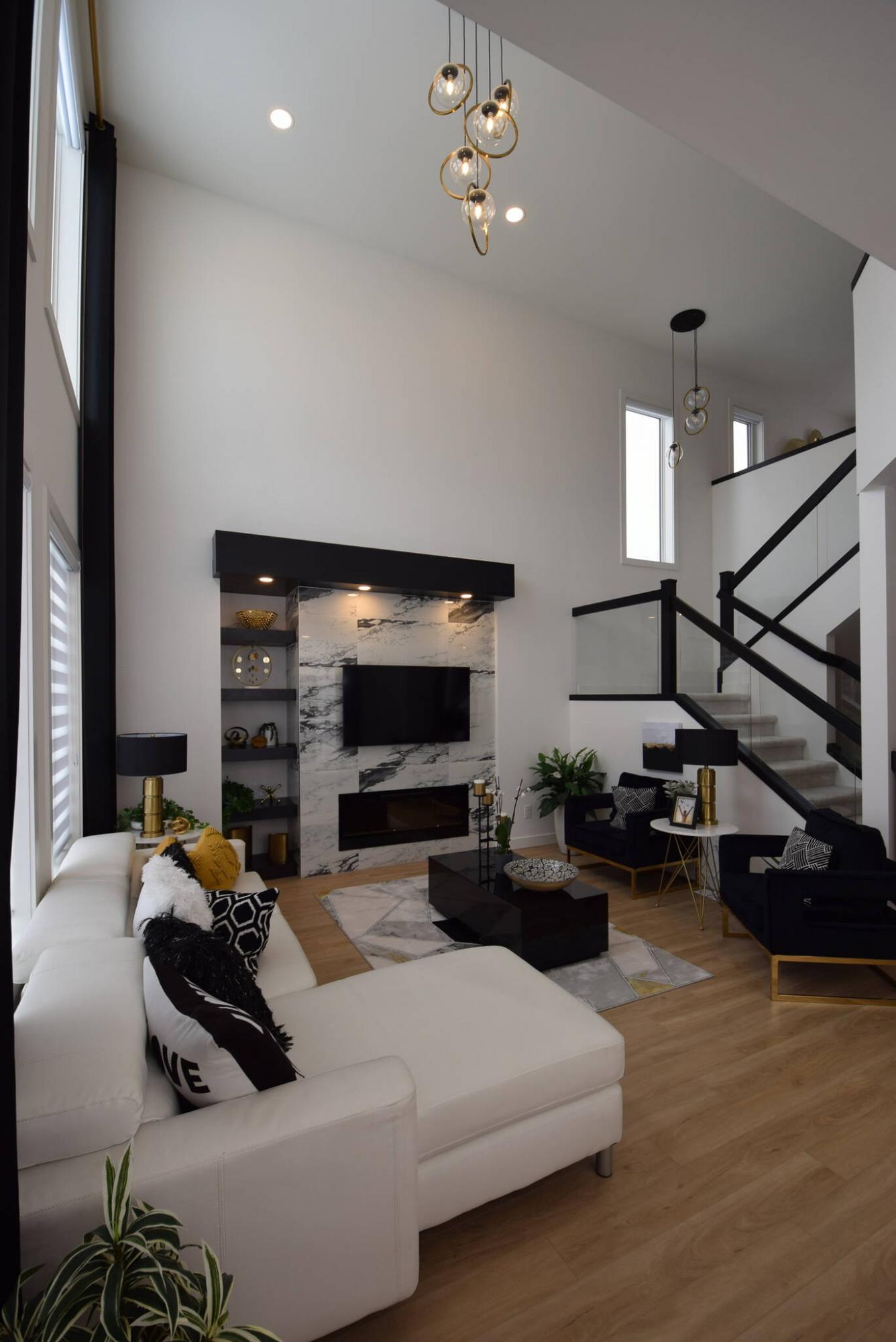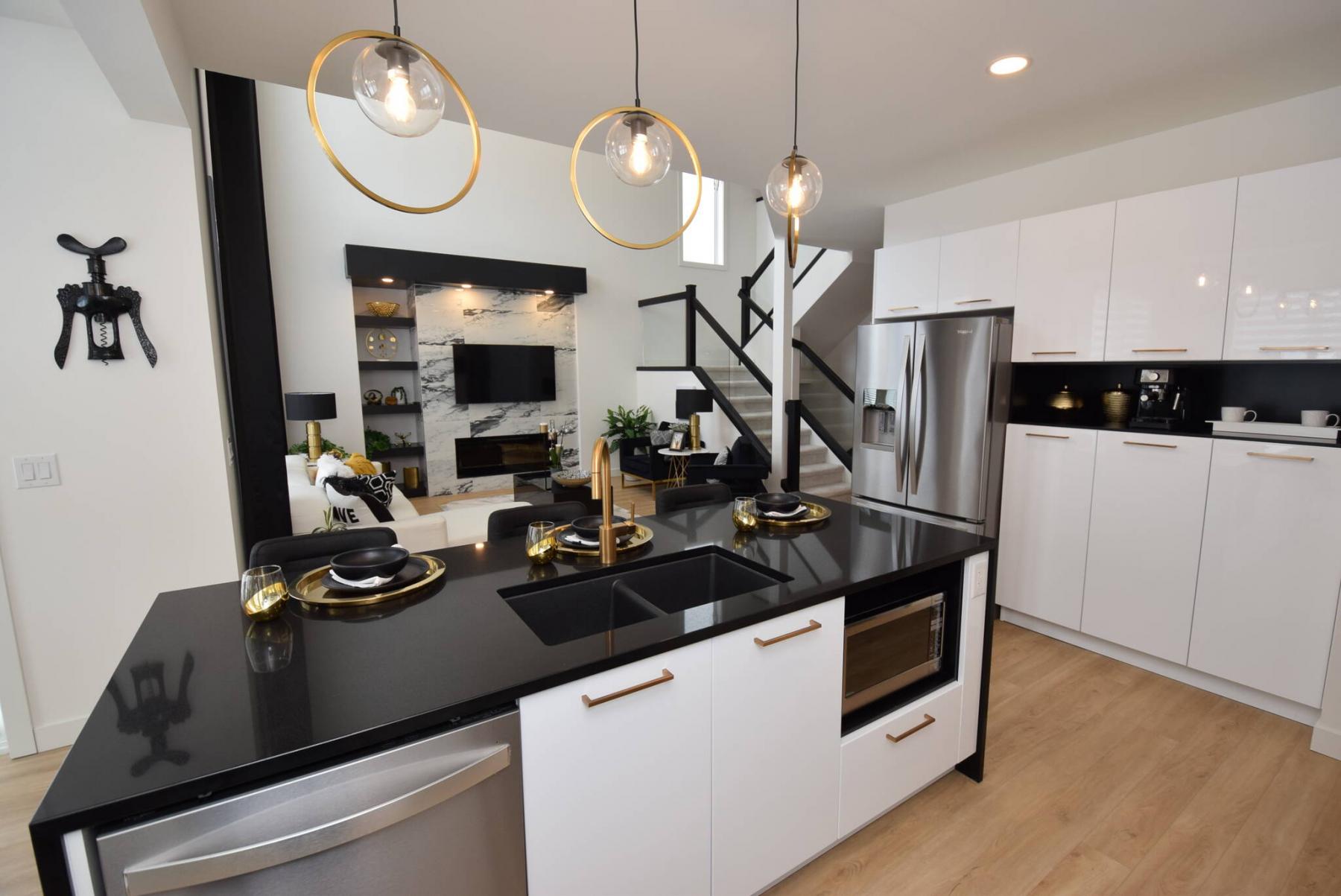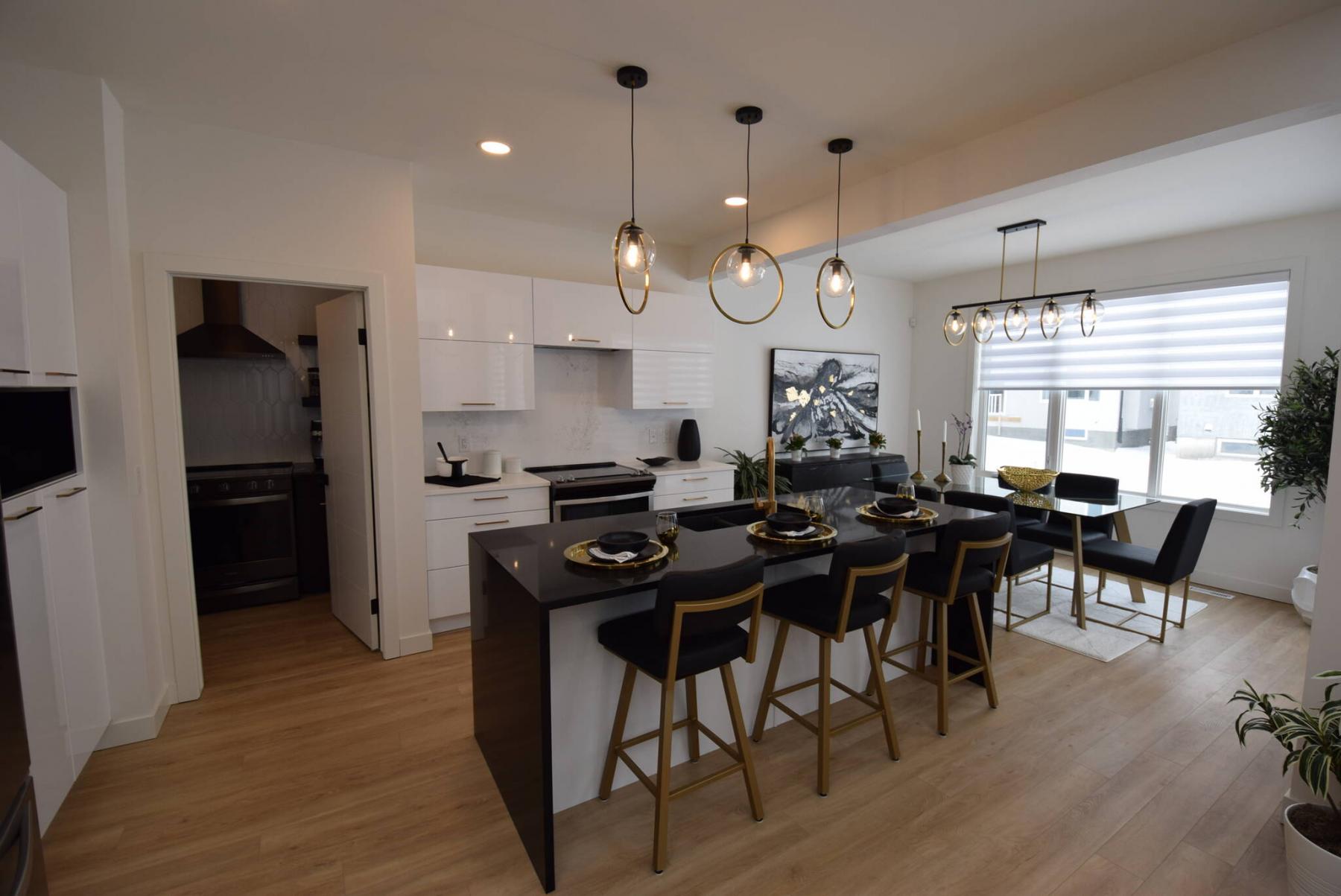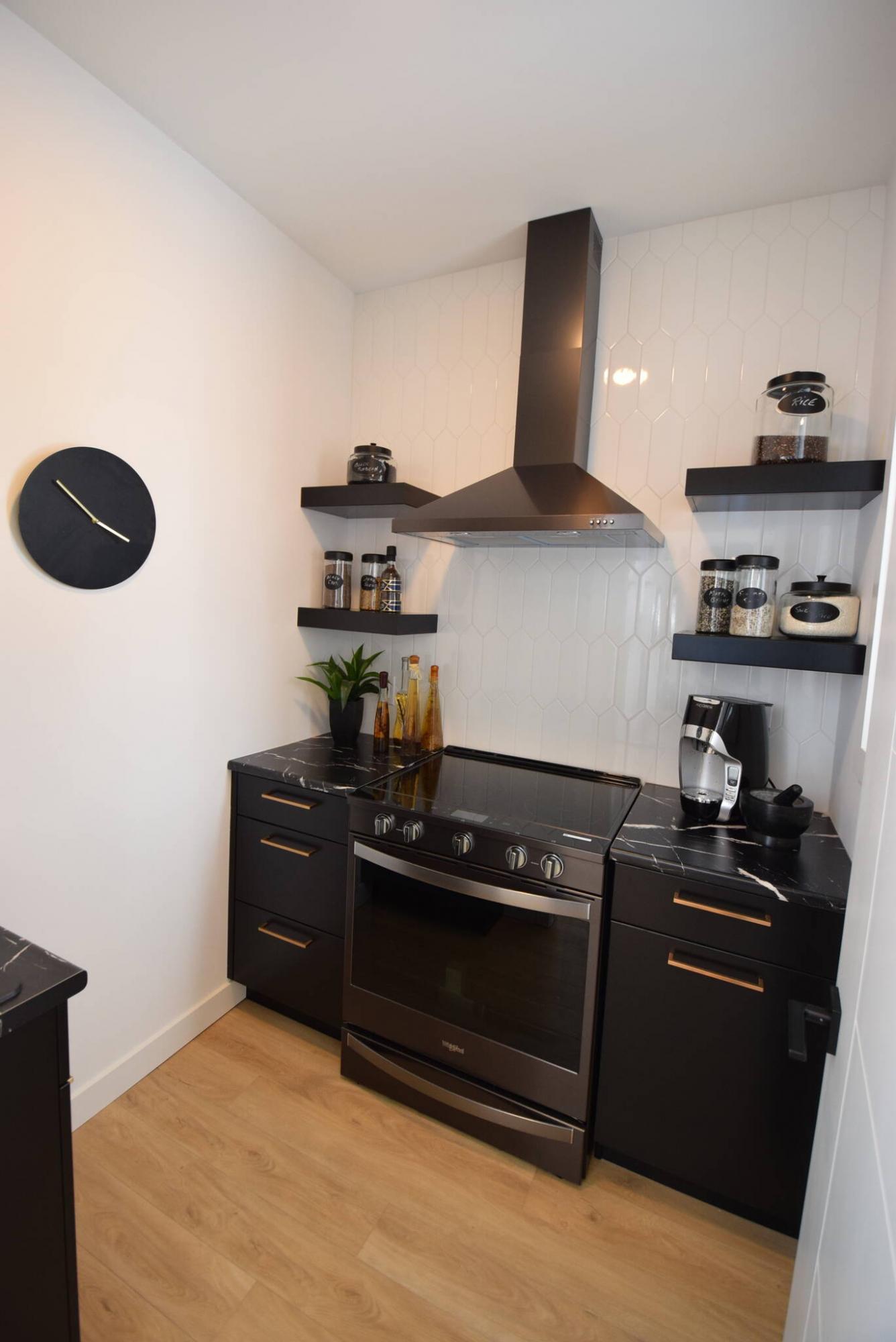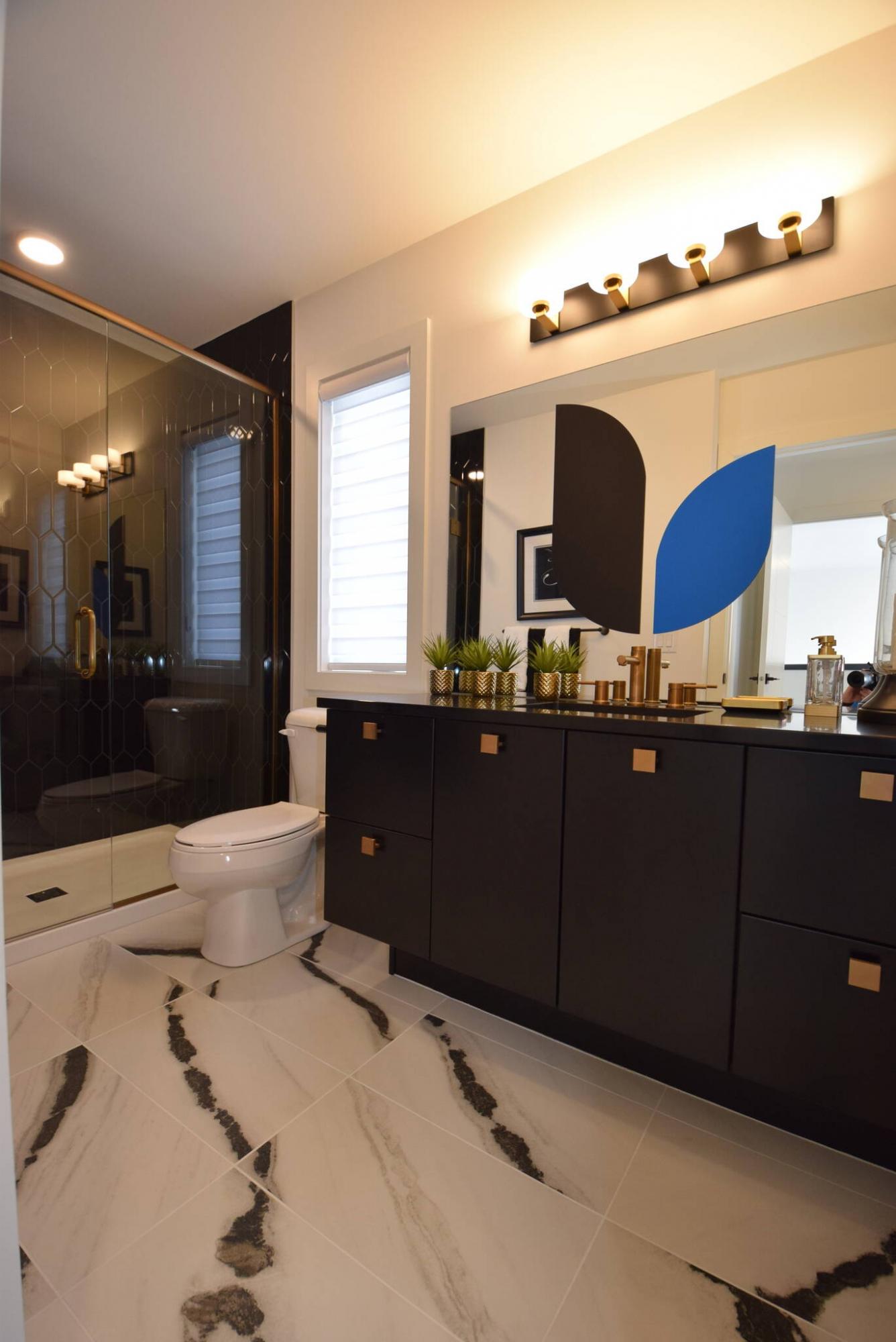 Builders are always looking to make a statement when they conceive a plan for a new show home.
However, there's an element of risk associated with trying too hard to turn heads: that a bold design theme might not appeal to prospective buyers if it's just a little too ambitious.
Consequently, when Broadview Homes' design team went with a distinctive black-and-white colour scheme in her show home at 241 Ken Oblik Dr. in Prairie Pointe, new homes sales representative Lisa Castro wondered how the home would be received.
Turned out, any worries she had were unfounded.
"Everyone who's gone through the home has loved the modern colours," she says. "Broadview's design team did a wonderful job. The home looks incredible throughout."
Looks aside — the striking modern colour palette adds style and character without being overbearing — the 2,057 sq. ft., two-storey Upton is also a supremely functional home.
"Its layout was designed to provide families with convenience and versatility," Castro notes. "It features wonderful design touches on both the main floor, and upstairs."
The first of those design touches comes into view the instant you step into the Upton's spacious and very thoughtfully designed foyer.
Somehow, Broadview's design team found room for a hallway to its left that leads to a well-appointed four-piece bath.
There's a reason why it was placed there, says Castro.
"It's next to a flex space that can either be used as an office or bedroom. Many multi-generational families tend to buy a home in this area, so most of them use it as an in-law bedroom."
Take a five-foot-wide entrance into the kitchen from the foyer, and design feature number two — a spice kitchen can be found tucked away neatly in the left-hand corner of the roomy island kitchen.
"People just love it," she says. "With its range, sink, cabinets and floating shelving, it can be used as an extra cooking space for multi-generational families. It could also be used as a cooking and prep space for entertaining."
Step into the kitchen proper, and you find yourself in a space that's striking yet sensible in its design.
"An eight-foot island with white base and black quartz countertop with waterfall quartz sides contrasts beautifully with glossy white cabinets, off-white quartz countertops and a one-piece marble-style backsplash," Castro says. "Matte gold handles on the cabinets and lights surrounded by matte gold trim add an extra touch of class."
Meanwhile, the adjacent dining area, a solarium-like space that's bathed in natural light courtesy of a huge window behind it and sliding balcony doors on the sidewall, can comfortably seat up to eight guests.
Then there's the exquisite great room, which completes the main area with its perfect balance of flair and function.
"It offers a grand appeal with its 18-foot ceiling, floor-to-ceiling windows and a gorgeous, optional entertainment unit with a marbled grey, black and white feature wall with oversized electric linear fireplace down low and TV nook above," she says. "It ties in perfectly with the black railing and trim that defines the upper-level staircase."
Take the extra-wide staircase upstairs, and you find an efficiently-laid-out second floor that features a sparkling synergy of function and style.
"There's a loft to the left of the stairs that can be used as a fourth bedroom or a media/study area for the kids. The main bath was placed in the center, which naturally separates the kids' bedrooms from the primary bedroom. There's also a big laundry room, too."
Further isolated from the kids' bedrooms by a catwalk that provides an elevated view of the grand great room, the primary bedroom truly is one sweet space.
"A luxurious ensuite and big walk-in closet were placed by the doorway to make the bedroom even more private," says Castro. "The ensuite, with its black vanity, light gray tile floor and walk-in shower with white floor and gorgeous black tile surround is spectacular."
As impressive as the Upton's modern wow factor is, it might be trumped by its overall function.
"Above all, this is a very functional plan. Broadview's design team never forgot about that. The result is a wonderful home that provides families with the function, and style, that they're looking for."
lewys@mymts.net
Details
Builder: Broadview Homes
Address: 241 Ken Oblik Dr., Prairie Pointe
Style: two-storey
Size: 2,057 sq. ft.
Model: the Upton
Bedrooms: three plus loft
Bathrooms: three
Price: from $698,513 (includes lot & GST)
Contact: Lisa Castro, Coldwell Banker Real Estate, 204-952-2675