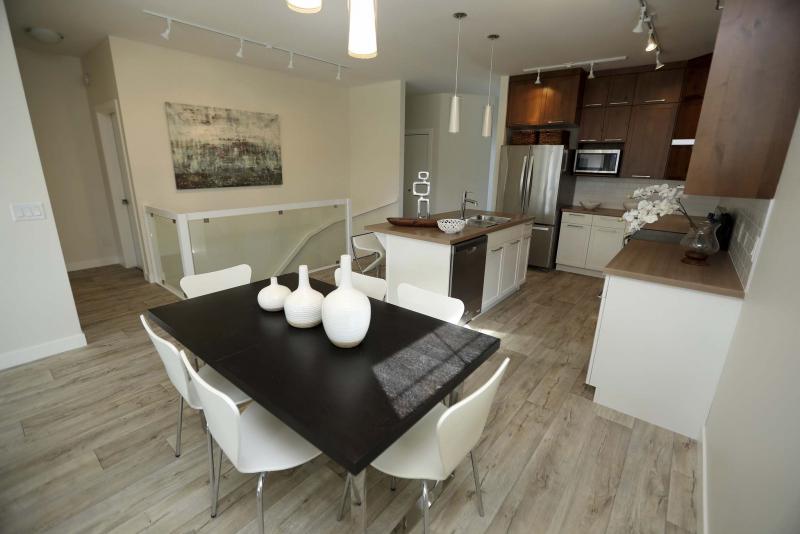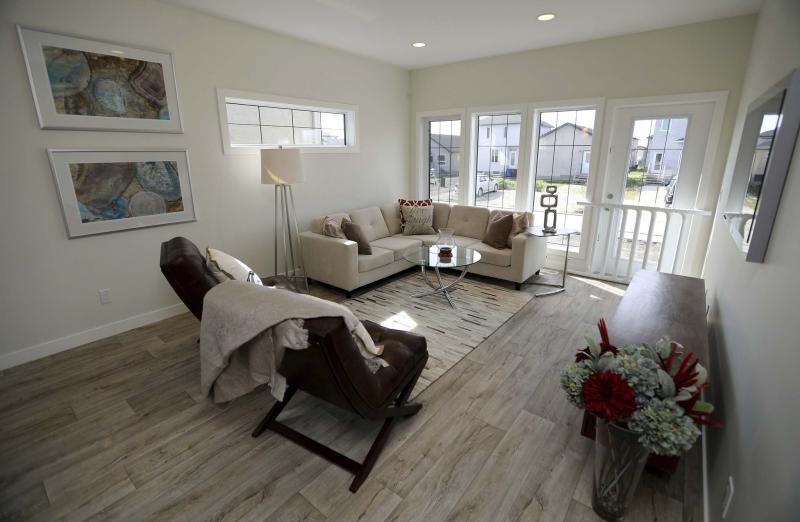 Although they are at different points in their lives, the housing needs of empty nesters and young families aren't that disparate. Take empty nesters, for example. After raising a family in a 2,500 square foot home — one that now has two occupants, rather than five or six — they are looking for a stylish home that, while spacious — is small enough to be able to maintain with minimal effort.
Then, there are young families. With a young child in the fold and possibly another on the way, they've outgrown a mid-sized apartment, or perhaps a 700 to 800 sq. ft. starter home. Consequently, a livable home with more space — and, hopefully, more than a smidgen of style — is a priority.
That's exactly where the 1,300 sq. ft. bungalow found at 45 Angela Everts Dr. in Crocus Meadows comes in, said Discovery Homes' sales and marketing manager, Sylvia Apostolakis. "This home has been designed specifically to meet the needs of empty nesters and young families," she said. "It features a simple yet efficient floor plan that can capably meet the needs of either demographic. It also has enough style to satisfy empty nesters, and to provide young families with a few luxurious touches they didn't have in their previous home."
Two design features stand out the moment you set foot in 45 Angel Everts generous (eight-foot by five-foot) foyer: the fact it isn't entirely open to the great room — and the flooring that runs from it through the entire main floor (with the exception of the bedrooms). "Discovery's design team thought it would be nice to have some separation between the foyer and great room — so many of today's designs are open-concept from the foyer on in. Not everyone wants their guests to see everything as soon as they walk in the home."
While the foyer is essentially a space unto itself, flow from it into the great room is still excellent, due largely to an angled wall on its right-hand side that opens it up nicely onto the great room — and a hallway to the right that contains a discreetly-placed, yet accessible mudroom with built-in locker/coat closet (with shoe rack and side shelving to boot).
Then, there's the flooring, which projects a weathered yet warm aura that is at once eye-catching and soothing. "It's a wide-plank laminate product that was designed to mimic the weathered look of old barn wood," said Apostolakis. "It's a wonderful product that looks good, and that's also very durable. It's very easy to maintain, so it would work well for a young family. At the same time, it's rich enough to appeal to empty nesters."
Meanwhile, the long, deep great room is loaded with features most anyone would appreciate: a nine-foot (painted) ceiling, a wealth of well-place windows — and fetching finishes. No lack of space, light or style here. "The nine-foot ceiling runs through the entire main floor, and makes each space feel larger than it is," she said. "Not only that, there are large windows everywhere — two oversized windows on the exterior wall (to the left when you walk in), as well as three large (vertical) windows on the rear wall along with a patio door that would lead to a backyard deck. Discovery Homes is known for its large, well-placed windows."
When you put everything together, the result is a very welcoming, livable great room that's neither too dark or too bright — and that's also very tastefully finished. "I love the kitchen," said Apostolakis. "It features light and dark maple cabinets that pop on a cream tile backsplash, a three-and-a-half by seven-foot (white) island with eating nook for three, double sink and beautiful laminate butcher block-style countertops. All the finishes go beautifully with the flooring, and you get modern pendant lights over the island and pot lights over the family room."
Situated between the kitchen and living room is a sizeable informal dining area that can be outfitted to be intimate, or to host large gatherings, she added. "Right now, there's a table for six in it. There's room to expand out in either direction to accommodate a table for 12 if you're entertaining. Or, you could put a table for two to four in it if that's all you need. The family room is also a good size, too."
Finally, there's the bedroom wing, which features two bedrooms placed either side of a well-appointed four-piece bath. "The second bedroom is quite large with a huge window and double closet," Apostolakis said. "The master suite — which is separated from it by the bathroom — is a big, beautiful space with three-piece ensuite, mid-sized walk-in closet and two vertical windows on its back wall that let in all kinds of light."
Head downstairs, and you find a bright, open-concept basement that offers all kinds of possibilities, given that it offers approximately 1,100 sq. ft. of livable space. "Again, it has a high ceiling plus three oversized windows that let in lots of light," she said. "There's space for two bedrooms, a rec room, bathroom and storage. An empty nest couple could partially develop it and use the rest for storage, while a young couple could use it for storage until their kids were older, and they needed the extra space. This is a practical, stylish home that offers room for expansion. It's a wonderful design from top to bottom."
lewys@mymts.net
Builder: Discovery Homes
Address: 45 Angela Everts Dr., Crocus Meadows (Transcona)
Style: Bungalow
Size: 1,300 sq. ft.
Bedrooms: 2
Bathrooms: 2
Price: $405,000 (Includes lot, net GST)
Contact: Sylvia Apostolakis, sales/marketing manager, 204-960-0010