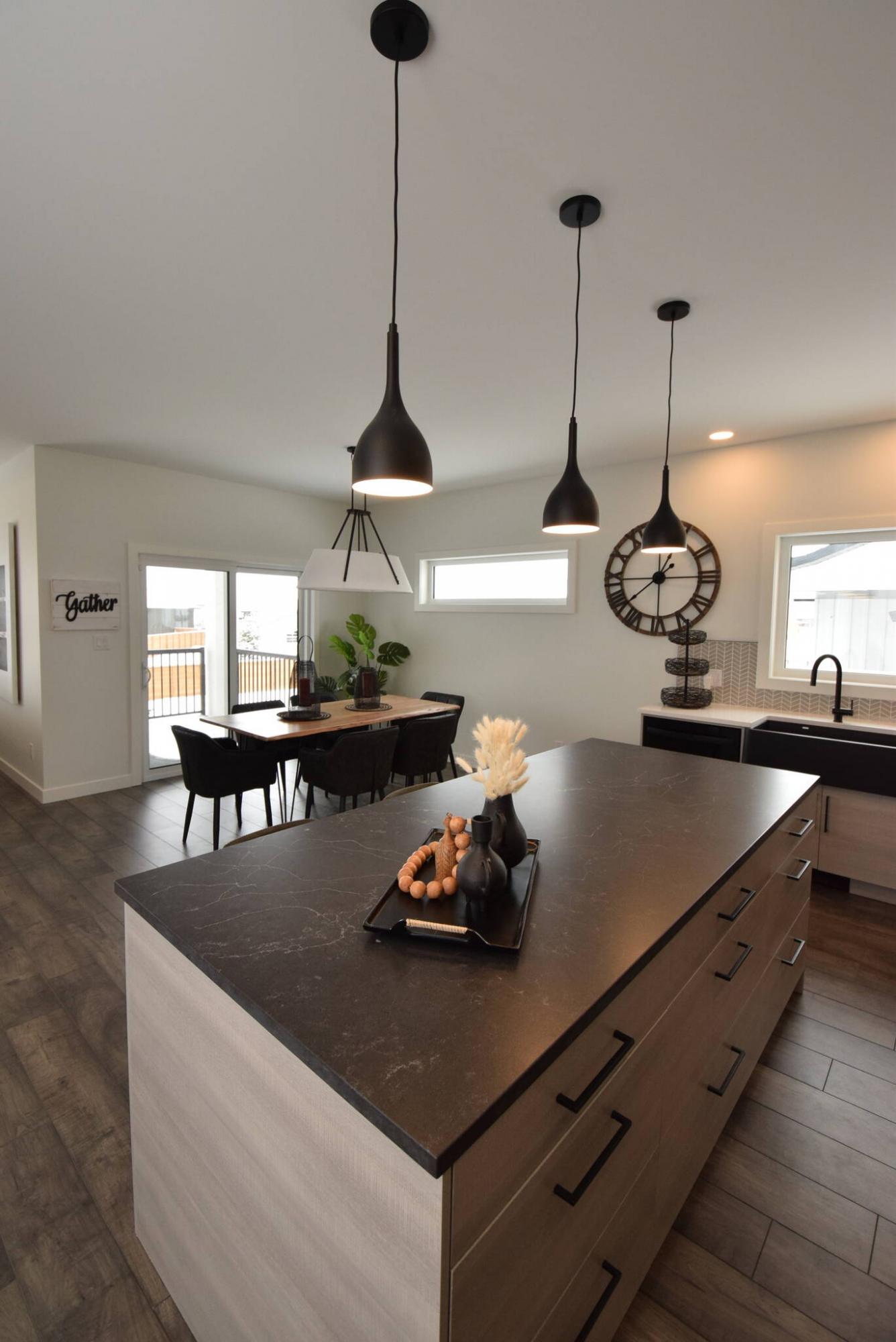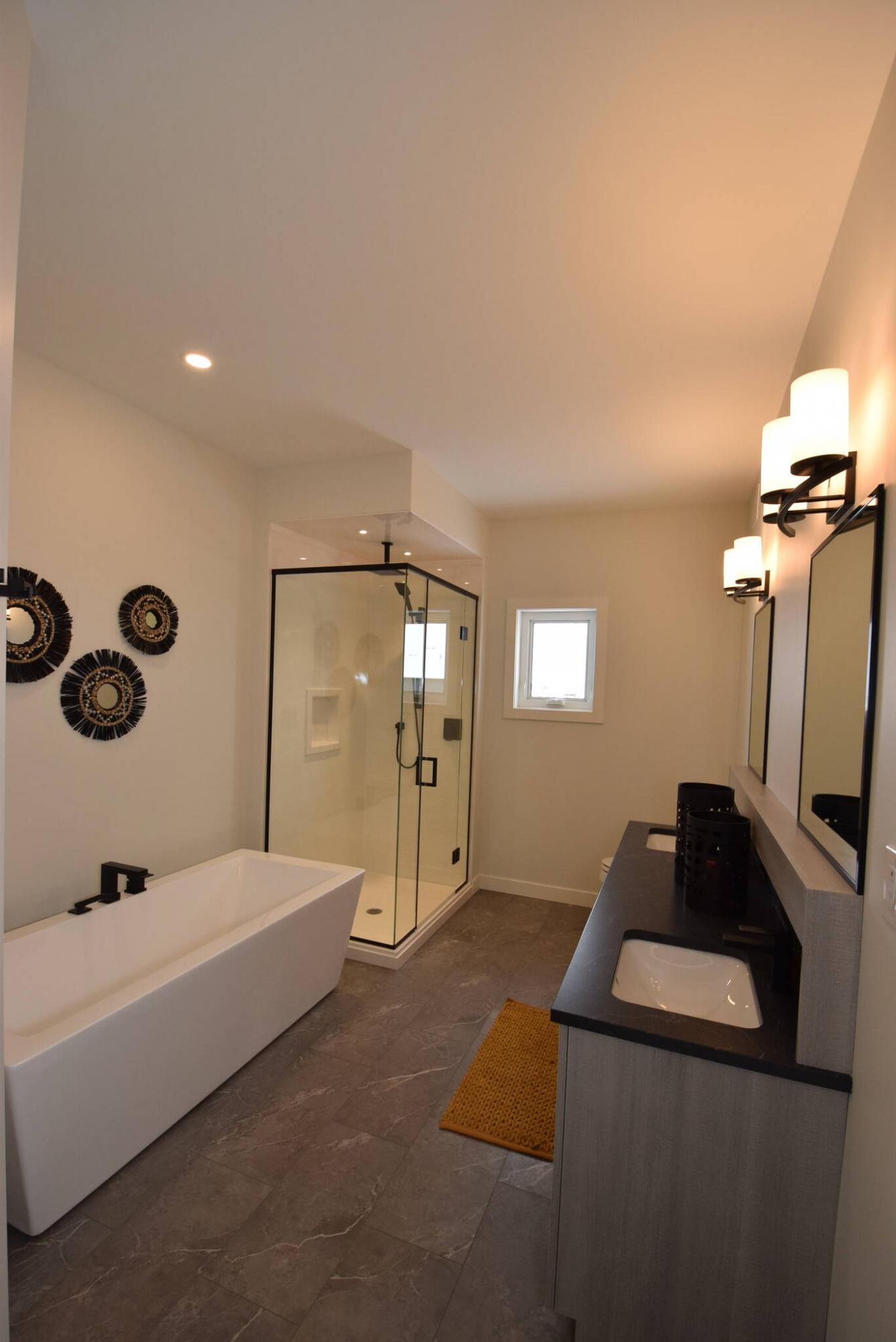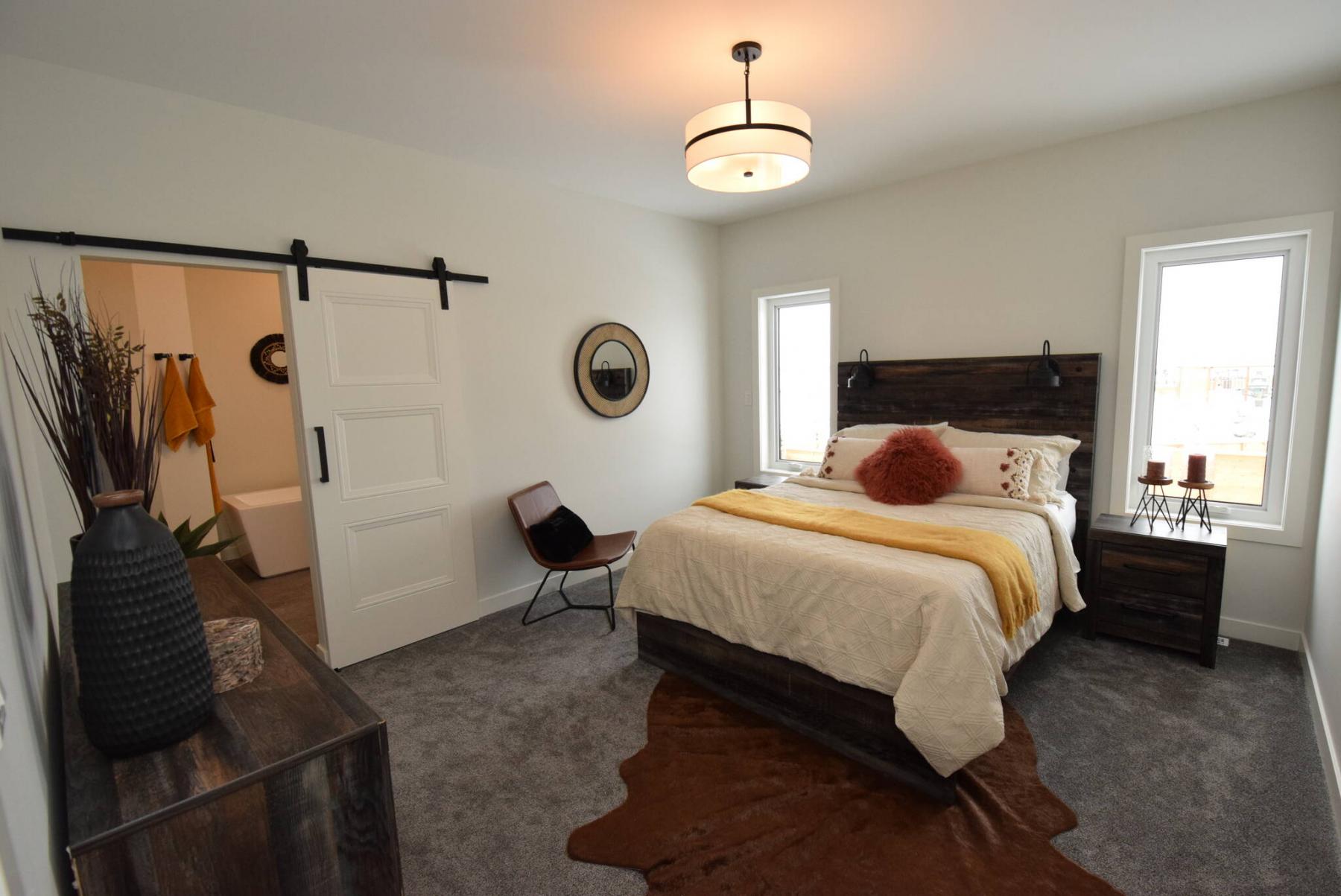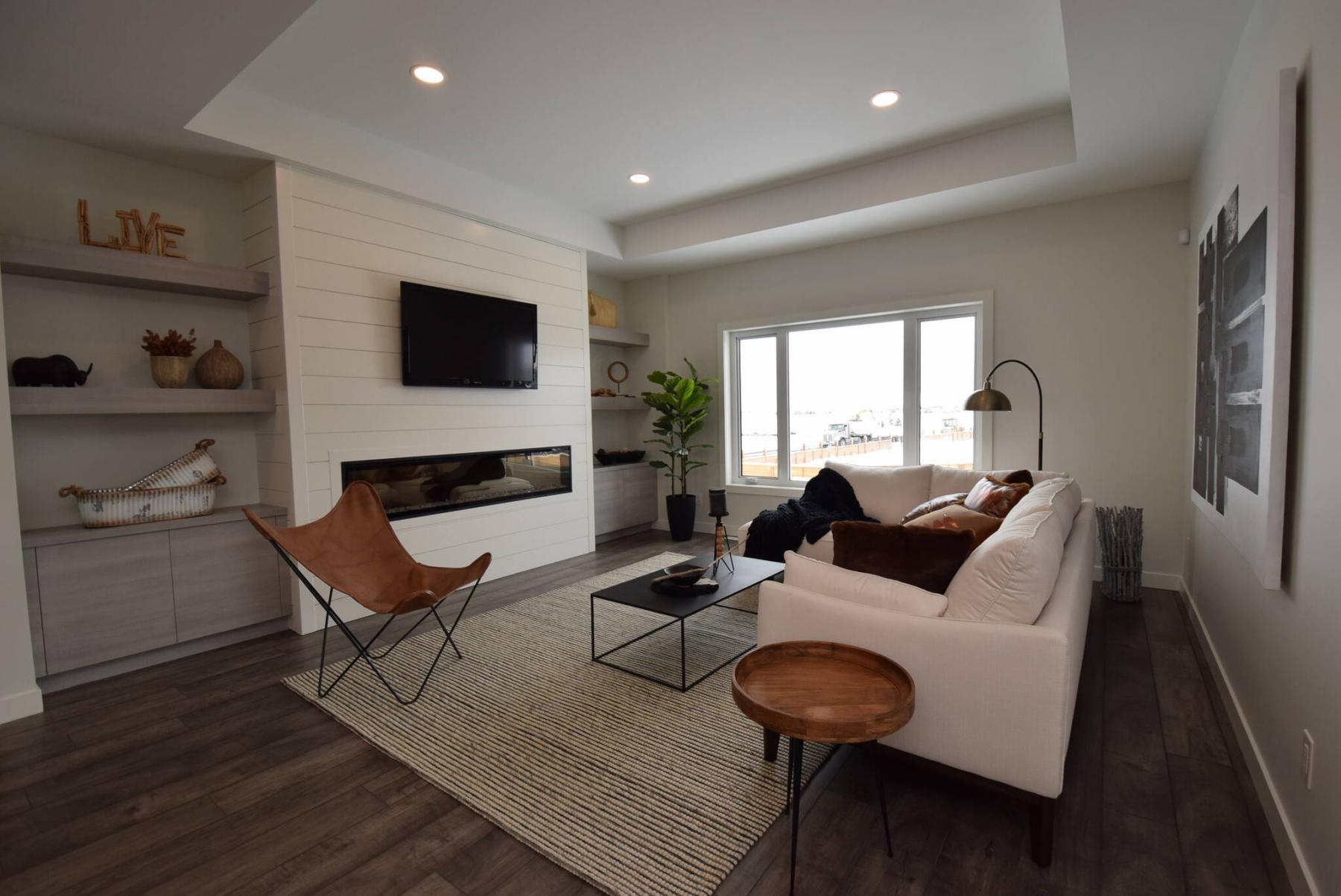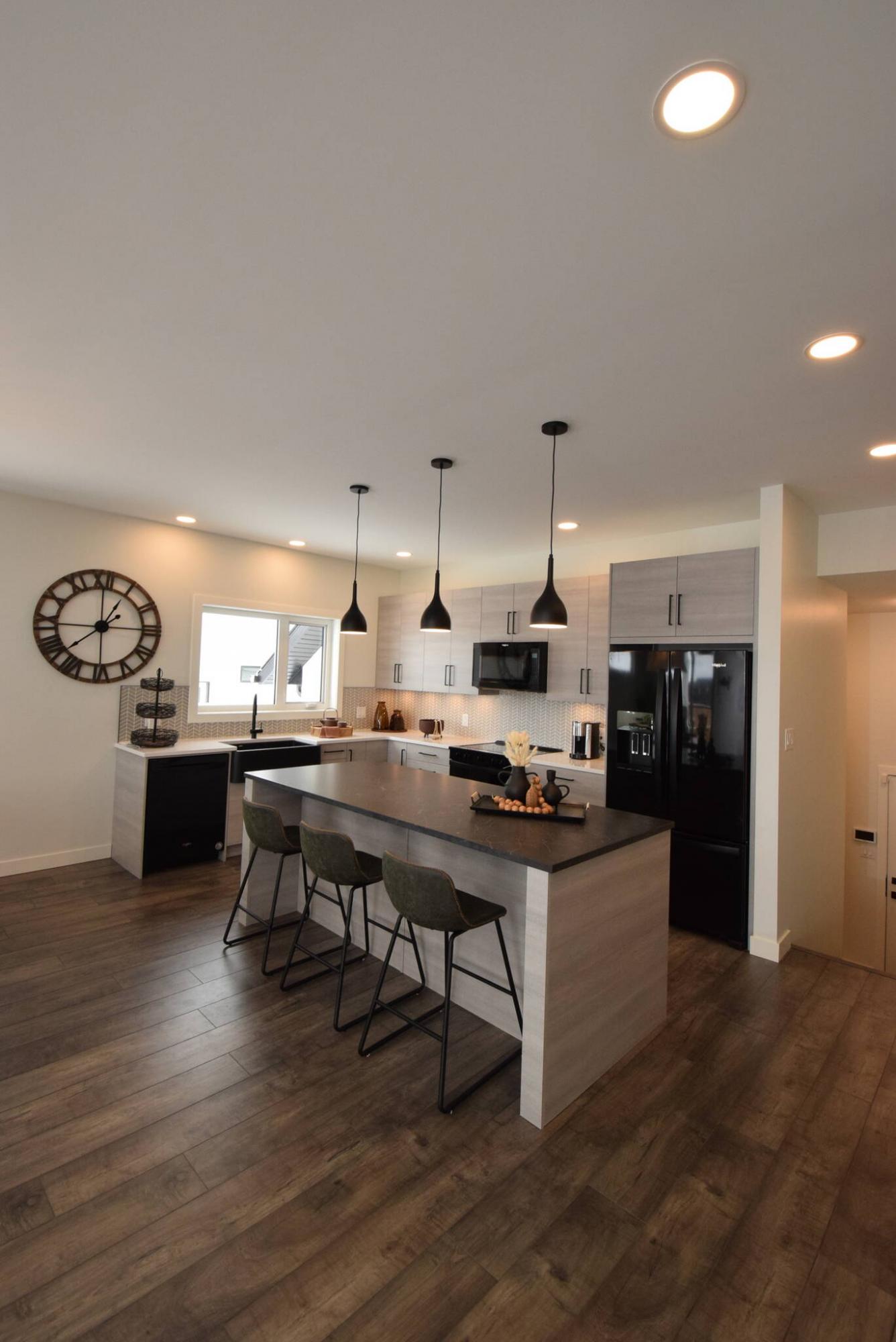 Builders tend to walk a fine line when they conceive a design of a new show home.
On the one hand, they want to infuse it with ample style to impress prospective home buyers. On the other hand, they know that the home must also be functional.
Paradigm Custom Homes' design team had those two thoughts at the top of its mind when they designed their new show home at 15 Stone Hearth Lane in Oak Bluff West, says the sales representative for the 1,970-square-foot raised bungalow, Sean Kirady of RE/MAX One Group.
"While Paradigm never builds the same home twice, they're always looking to improve function," he says. "To accomplish that with this new design, they focused on the rear of the kitchen."
The first order of business was to give the back of the kitchen a more streamlined look. That meant doing away with a walk-in pantry.
"To improve aesthetics, Paradigm's design team put a pantry in on the side wall and added more cabinets to increase storage space," explains Kirady. "They then capped things off by putting in a clean-looking island that seats three."
The second order of business was to provide families with more function.
"A stairway behind the kitchen connects it with an enlarged mud/room with a locker/bench cubbie area and closet," he says. "There's also a huge, separate laundry room with a window. All that space and function will make it easy for families to come inside from the garage with hockey equipment or groceries."
Make the brief ascent back up to the main floor, and you find yourself looking out at a great room that offers an environment that offers a perfect balance of natural light, space, style — and warmth.
"Tons of natural light comes into the great room through a host of well-placed windows — a large window over the kitchen sink, oversized transom window next to the dining area, a patio door behind the dining area and a big window on the family room's rear wall," Kirady says. "It's a bright yet welcoming area."
That welcoming feel comes from the way finishes were used to give the area an appealing, rustic warmth: smoky brown laminate plank flooring (which runs through the entire great room), grey/taupe thermofoil cabinets and a combination of light and dark quartz countertops in the kitchen.
Meanwhile, a white shiplap entertainment unit in the family room adds a subtly modern focal point into the design mix.
"The flooring, cabinetry and countertops provide a warm farmhouse/ranch feel, while the white entertainment unit, with its modern glass fireplace and open shelving on either side, provides a nice, modern touch. The patio doors behind the dining area also lead out to a covered deck."
He adds that plenty of attention to detail was applied to the design of the home's bedroom wing, which was placed neatly between the family room and sunken foyer.
"I really like how well-separated the primary bedroom is from the two kids' bedrooms — it was placed to the right of the main bath, which naturally separates it from the kids' bedrooms, which are down at the opposite end of the hall," he says. "That's a feature parents will appreciate."
Doubtless, parents will also appreciate the primary bedroom's seamless synergy of style and function.
The bedroom is big enough to be comfortable, yet small enough to feel cozy and comforting.
Vertical windows placed on either side of the bed let in plenty of natural light, while dark taupe carpeting endow the mid-sized space with a cozy, comforting feel.
A stylish barn door on the side wall then demarcates the ensuite's entrance in modern-rustic style.
"It's a stunning space with its gorgeous tile floor, frameless walk-in shower, big soaker tub and thermofoil vanity with dual sinks and matte quartz countertop," says Kirady, adding that the walk-in closet comes with loads of built-in storage. "I love the black faucets, too — they look great."
Kirady says the thoughtfully-designed bungalow — which also comes with a huge, light-filled lower level with high ceiling — impresses throughout with its luxurious yet logical design.
"The quality of its craftsmanship, design and finishes are tremendous. It's an impressive home that offers families the style, function and character they're looking for on a huge lot in a great community that has a country feel, yet is close to the city."
lewys@mymts.net
Builder: Paradigm Custom Homes
Address: 15 Stone Hearth Lane, Oak Bluff West
Style: bungalow
Size: 1,970 sq. ft.
Bedrooms: three
Bathrooms: two
Price: $844,399 (includes lot & GST)
Contact: Sean Kirady, RE/MAX One Group, 204-997-1065