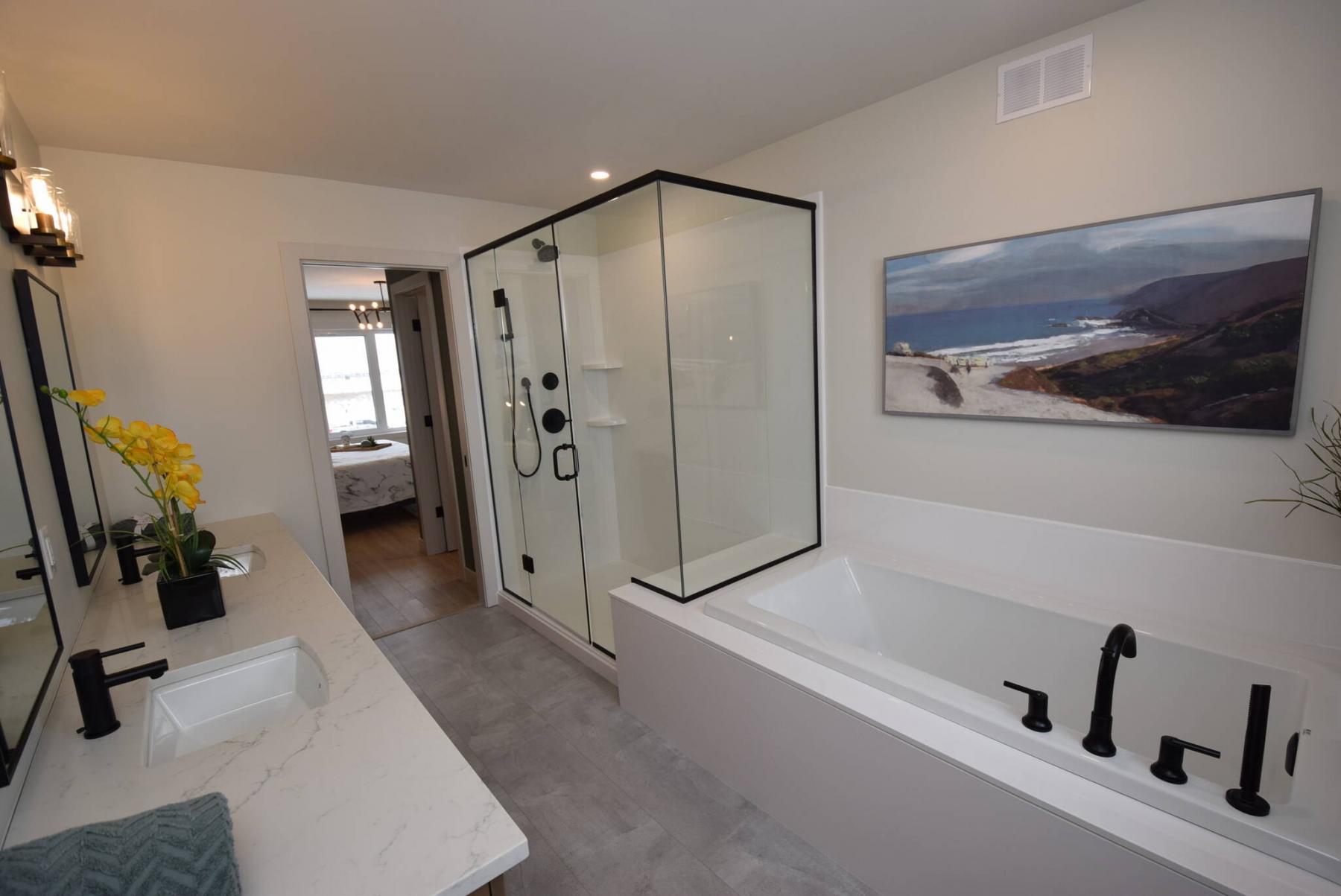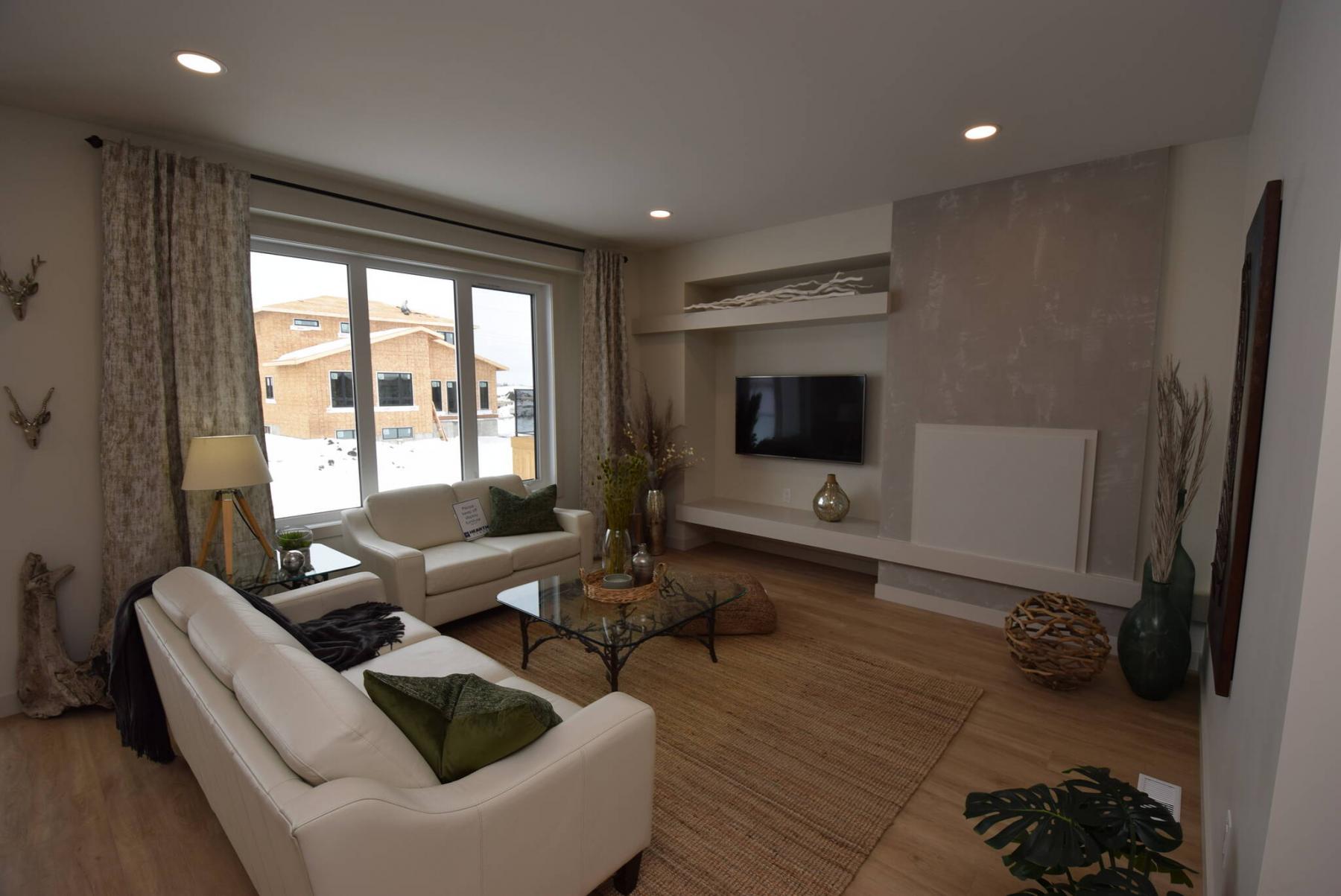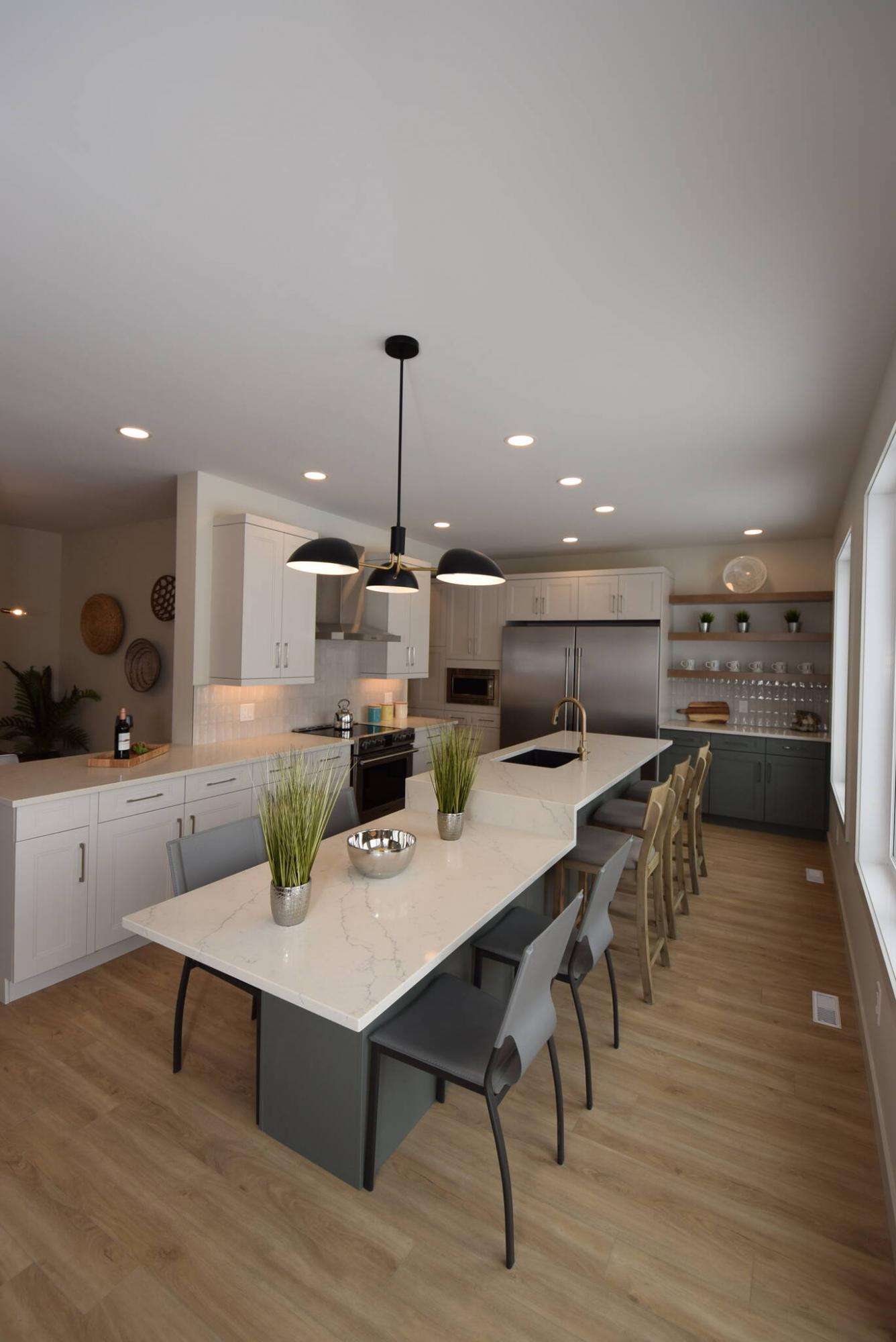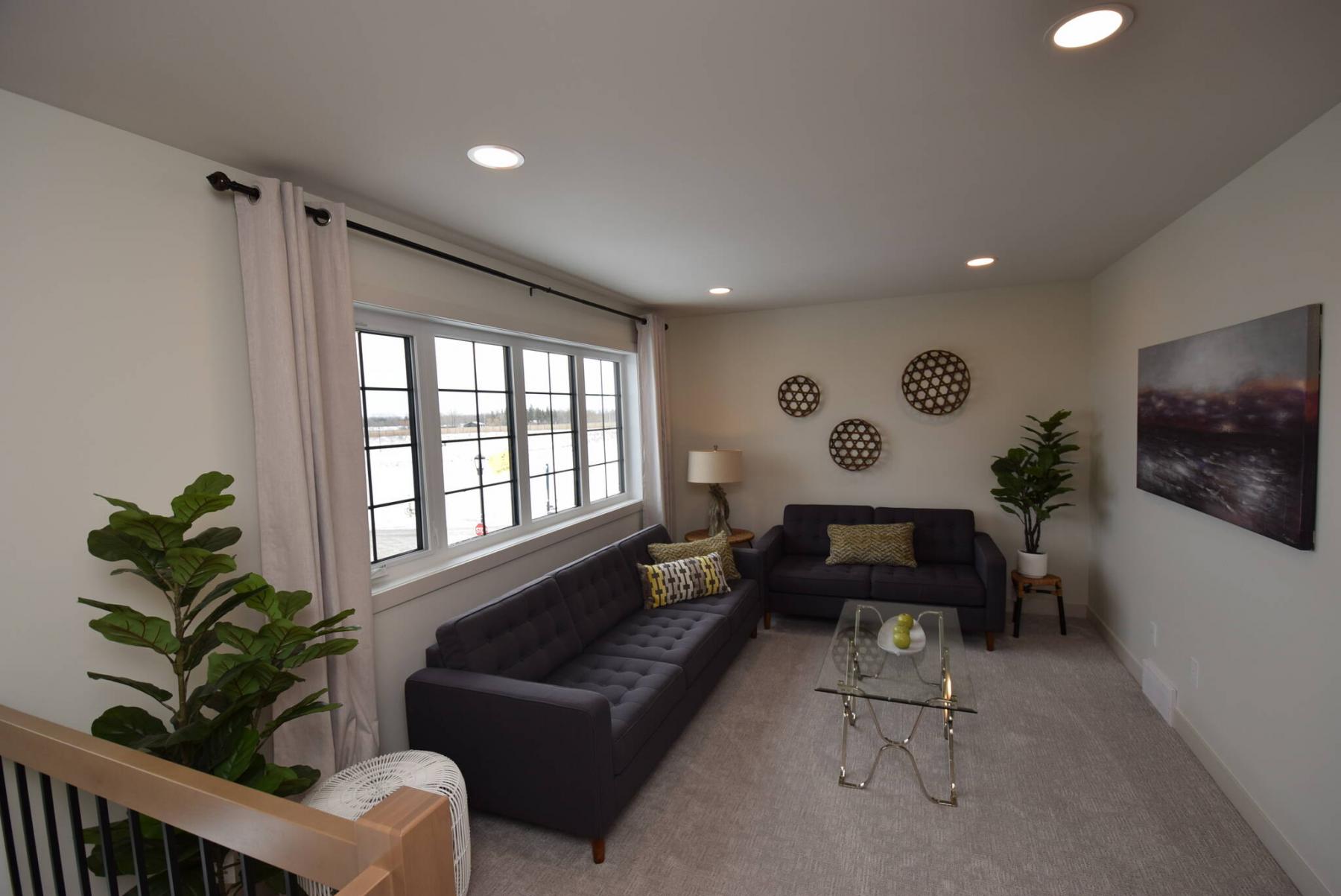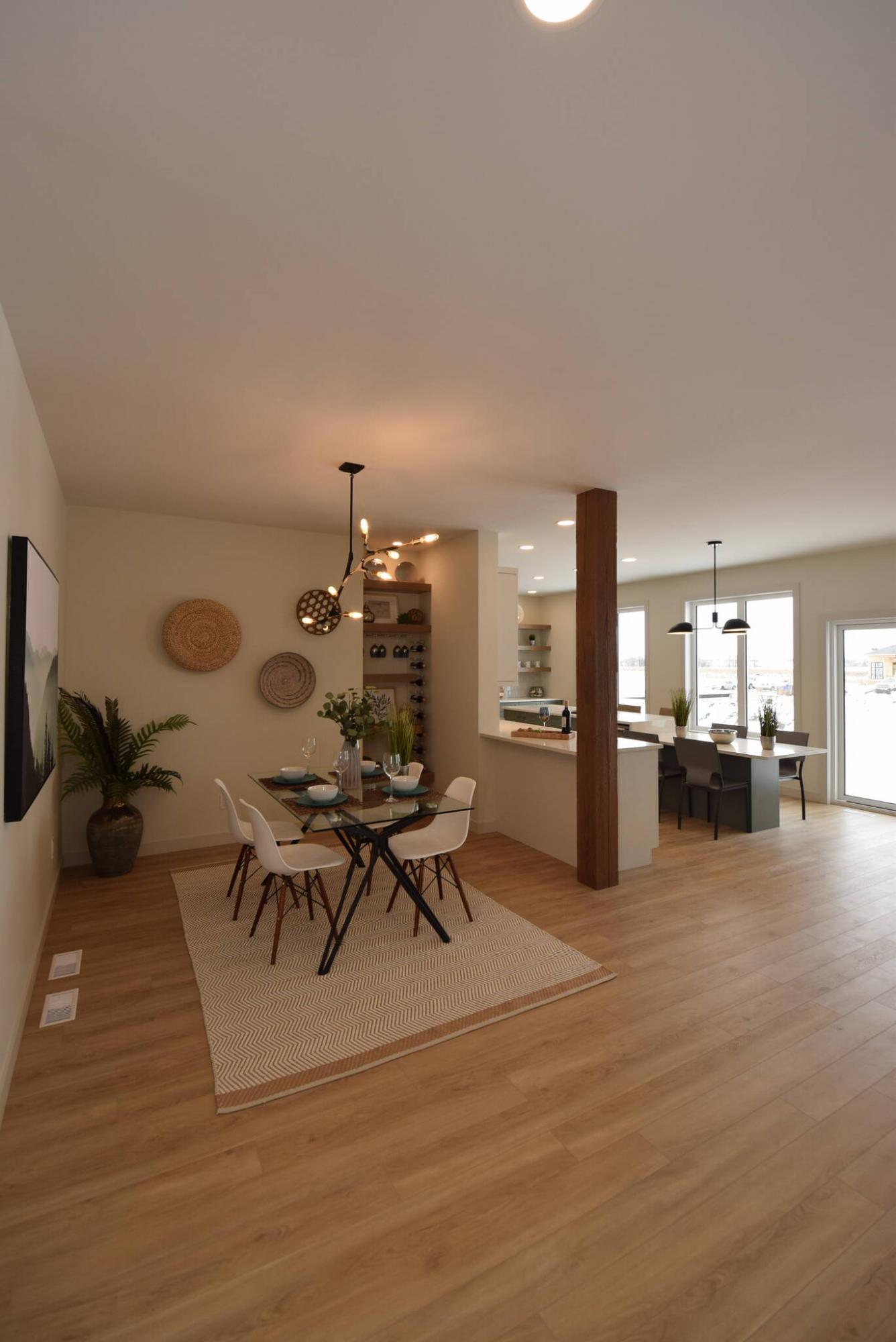 Hearth Homes took note of two trends when they drew up the blueprint for their new show home at 8 Siskin Bay in Sage Creek.
The first trend they took note of was the fact that not everyone wants a main living area that's wide open.
Then — thanks to feedback from their sales representatives — they noted a second trend: that while most people were fine with a modern white colour palette, they wanted it to be balanced off by elements that added texture and warmth to the design mix.
Ryan Miller, Hearth's design and marketing coordinator, says that the 2,177 square-foot, two-storey home takes its inspiration from the laid-back California style.
"We call this design California casual," he says. "Wide plank floors, tactile features and lots of white paint create a minimalist yet warm feel that welcomes you inside. And while the main living area features an open-concept design, it's open-concept with a neat little twist."
In short, while each space in the great room — kitchen, dining room and family room — are open to each other, they are all well-defined.
Miller says a creative design twist makes for a visually appealing and highly functional dining/kitchen area.
"Instead of putting a wall between the dining room and kitchen, the wall was pulled back and replaced by a counter with a wooden pillar next to it; that allows light to come through from the kitchen. The counter is also great for serving, while the pillar provides a nice touch of warmth and texture along with the warm laminate plank flooring."
Turns out, there's a reason, actually, three of them, why the dining room is so naturally bright: a glass-filled wall behind the kitchen.
"A patio door and two huge windows make for an incredibly bright space," he says. "And it's also a very functional space."
That function comes from the kitchen's 13-foot-long island, which features a cool design feature.
"Not only does the island seat three at its eating nook, it also comes with an attached casual dining space that seats four to five people," notes Miller. "So, when you're entertaining, you can seat seven to eight guests in the kitchen. There's no need to put up a card table for the kids."
He adds that a plethora of country white cabinets, light grey quartz countertops, a textured white tile backsplash and stainless appliances give the kitchen a modern farmhouse feel.
"There are more cabinets because the pantry was moved into the mudroom into a spot where a closet used to be. The cubbie locker area next to the garage provides enough storage space for a family."
Speaking of family, the family room — which is mere steps from both the kitchen and dining room, yet sufficiently separated — offers plenty of space to kick back with the family or visit with guests after enjoying a sumptuous dinner.
"Its focal point is a gas fireplace with venetian plaster surround that adds a sense of age and rustic charm," Miller says. "A huge window on its rear wall lets in even more natural light, while the flooring is just the right shade, and ties everything together perfectly."
Meanwhile, the Hillcrest's second floor was designed to be as family friendly as possible.
"Everyone has loved that it starts off with a flexible loft, a multi-functional space that can be used to meet different needs. Most people use it as a media/study area for the kids, while some use it as an office, though most families have opted to put the office downstairs."
And just as the kids have their own private area to hang out or study in, they also have their own wing, which offers two oversized bedrooms and a spacious four-piece bath that their can claim as their own.
Finally, there's the primary bedroom, which, quite appropriately, is set well apart from the kids' bedrooms to maximize privacy.
"When you step inside, you feel like you're in your own luxurious hotel suite," he says. "It's simply the cherry on top with its wonderful combination of space, light and warmth. It offers a large walk-in closet with adjacent makeup table and a luxurious ensuite with soaker tub, walk-in shower, tile floor and maple vanity with a quartz countertop and dual sinks."
Miller says the Hillcrest's creative yet practical design resonated with families during the recent 2021 Fall Parade of Homes.
"It offers the style, separation and function that families are looking for. A lot of thought was put into its design, and it shows in every area."
lewys@mts.net
Details
Builder: Hearth Homes
Address: 8 Siskin Bay, Sage Creek
Style: two-storey
Size: 2,177 sq. ft.
Model: the Hillcrest
Bedrooms: three plus loft
Bathrooms: 2.5
Price: $745,900 (includes lot & GST)
Contact: Linda Frenz-Cove, New Homes Sales Representative, 204-228-0447