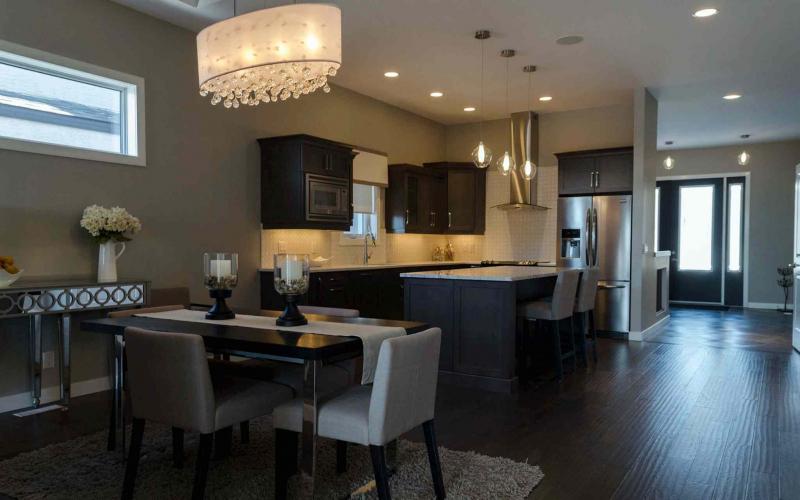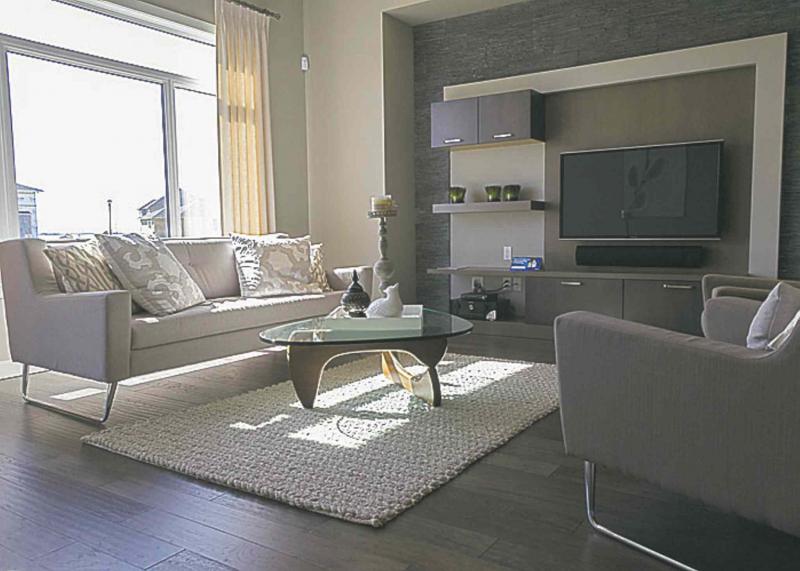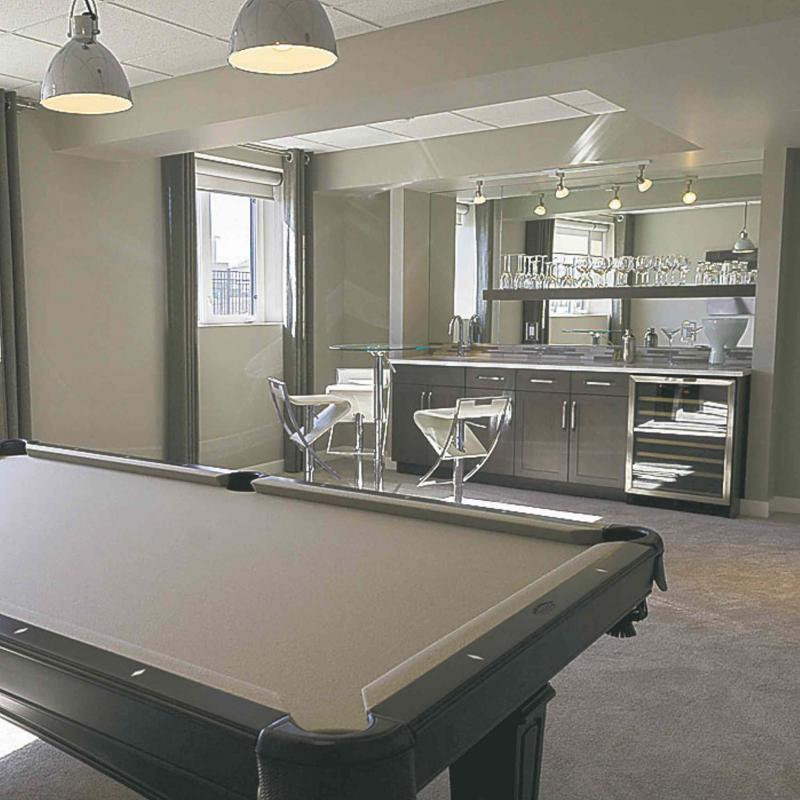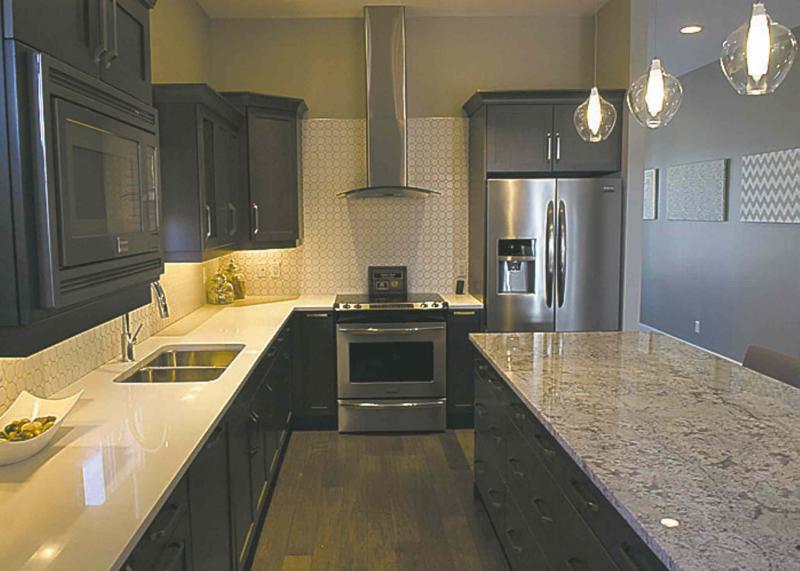 When builders go outside convention with an aspect of a home's design, it's a calculated risk.
In the case of the Hutchinson, a 2,017-square-foot bungalow found at 167 Lake Bend Rd. in Bridgwater Lakes, the design gamble -- a segmented rather than open-concept lower level -- has paid off.
"Pretty much all the comments we've gotten from visitors about the basement's design have been, 'best basement I've seen yet,' " said Discovery homes sales representative Sandra Finch. "It's not your ordinary wide-open basement. Our designers wanted to do something different yet functional, and I think they succeeded."
Indeed, the Hutchinson's lower level (all 1,418 sq. ft. of it) differs from most contemporary open-concept basements. A hallway at the bottom of the stairs takes you past two storage rooms and a mechanical/storage room to something unexpected: a flex room with wide entrance, glass wall insert and large transom window.
Another novel feature, a curved wall, then sweeps you into the games area. A dedicated media room was then placed where the wall curves to create a distinct space that's easily accessed from the games area.
Finch said the games area has been a hit with everyone who's toured the home.
"Our design team put in big look-out windows on the rear wall to give it a walk-out feel; you feel like you're on the upper level with all the light. The best thing about that feature is that you're getting the light, but not paying the extra money for that walk-out feel," she said. "You get a bright, functional and beautifully finished space for a fraction of the cost. And the private media room is only steps away."
Privacy was also the idea behind the design of the lower level's bedroom wing, she added.
"It's important that bedrooms be kept well away from activity areas in the home, so Discovery's design team did that both downstairs and on the main level. That way, when kids go to bed early, they won't be disturbed by their parents if they're entertaining, or if you're studying, they won't hear what's going on in the kitchen, for example. Both lower-level bedrooms are very spacious with large windows and lots of closet space, and there's also a three-piece bath."
An extra-wide staircase set off to the left side of the foyer transports you upstairs, where you find yourself standing in a 12-foot-wide foyer that's demarcated by a taupe tile floor; an eight-foot-high door provides access to the foyer from the covered front entry.
From the foyer on in, space abounds in the Hutchinson, which features a visitable design on its main level. The foyer transitions neatly into engineered, hand-scraped maple hardwoods that run through the great room area.
A logical floor plan combines with all the space to create a highly functional great room area that flows exceptionally well. To the immediate left of the kitchen is a laundry/mudroom that provides access to the oversized double garage; next to that is a huge kitchen pantry with double doors.
Across the way is an eight-foot by four-foot (beige/taupe) granite island that seats two to three and also features a four-foot-wide aisle between it and the counter on the far wall to ensure ease of movement. There's also plenty of room between the island and pantry wall; flow is never compromised at any point in and around the kitchen.
"I think Discovery's design team hit the ball out of the park with this kitchen design," Finch said. "Not only is the island just the right size, they put the sink on the far wall under a large window rather than on the island. That frees up space for food preparation, or for kids to sit at the island and do homework. The finishes are gorgeous, too -- beige quartz countertops, smoke (medium brown) maple cabinets and an off-white tile backsplash all go beautifully with the taupe walls."
Next to the kitchen is a dining area that can easily hold a table for eight: an area that's neatly separated from the family room by a cultured stone dividing wall. Stride over to the family room, and you find a space with a tray ceiling, rear wall filled with glass (picture window and deck door), maple entertainment unit with cultured stone accents and a ribbon-style fireplace set in the centre of the cultured stone dividing wall.
"People absolutely love the fact that the great room is subtly defined, yet each space is easily accessible. Most people have said, 'Wow, I could live here.' It's a design that's comfortable, bright, flows well, and that features nice colours."
Speaking of nice, the private bedroom wing's crown jewel is the master suite, a private space found off its own seven-foot hallway.
"It's a comfortable space that's finished off beautifully by a gorgeous ensuite that features a rectangular jetted tub set in taupe tile beneath an obscured glass window, five-foot tempered glass shower, taupe/tan floor and dual square sinks on a (light taupe) quartz countertop placed on top of a smoke maple vanity. There's also a big, rectangular walk-in closet for all your wardrobe," said Finch.
She added the decision to go outside the box turned out to be a good one.
"It's a very comfortable home with lots of space, great flow and a warm, welcoming interior that appeals to a wide range of buyers from families to empty nesters," she said.
lewys@mts.net