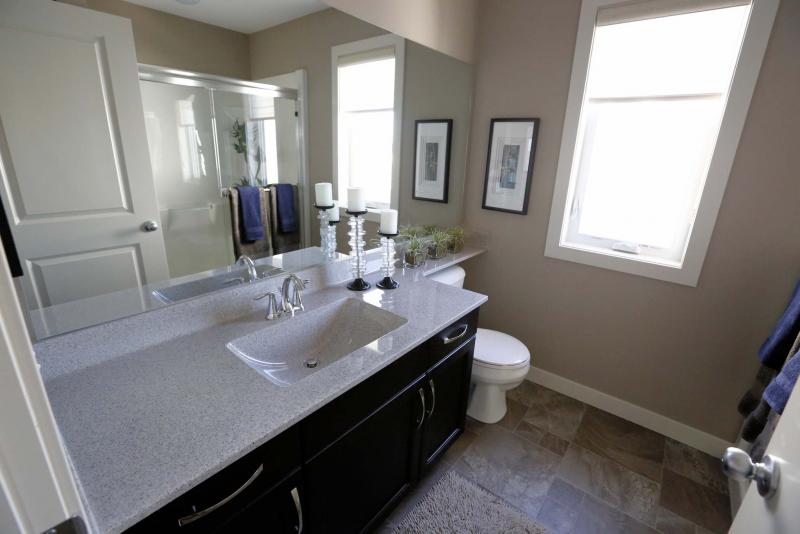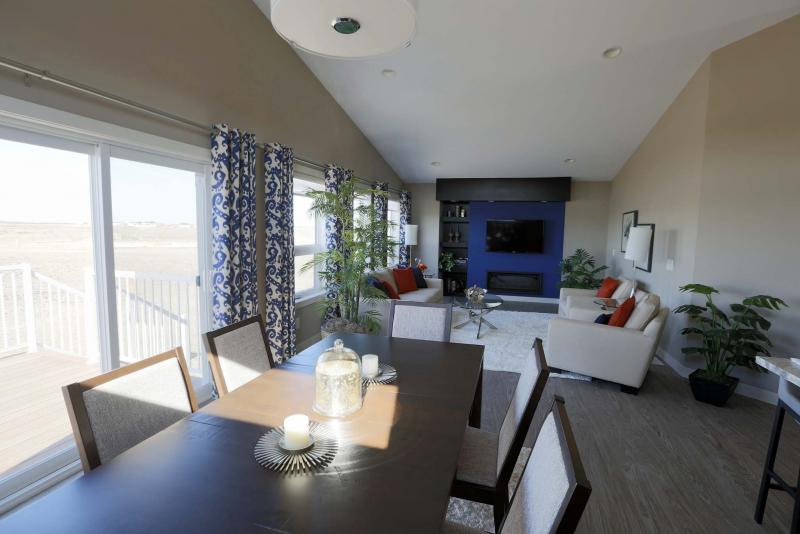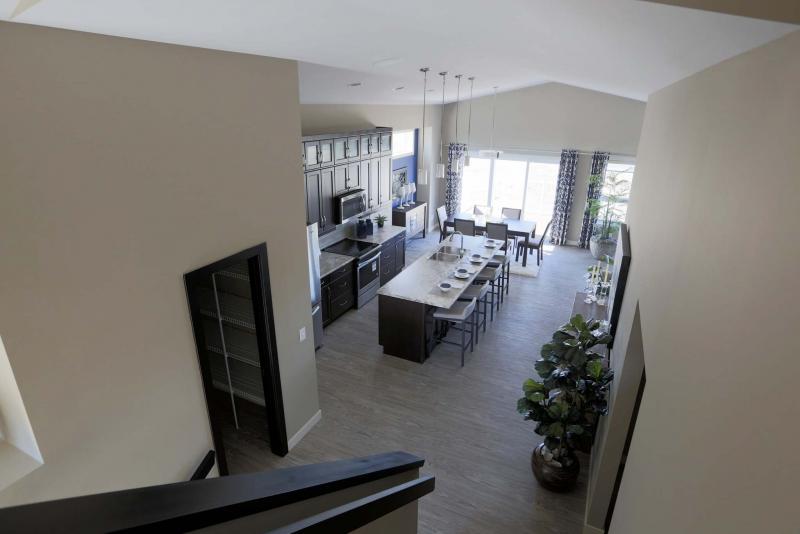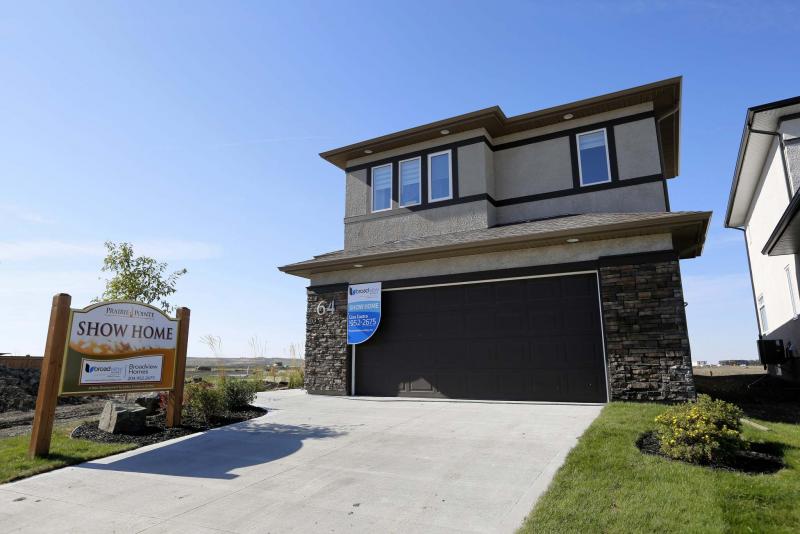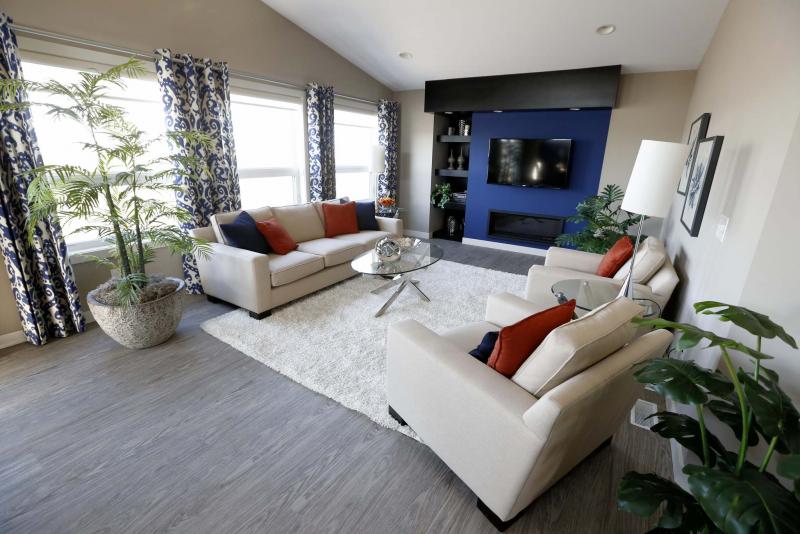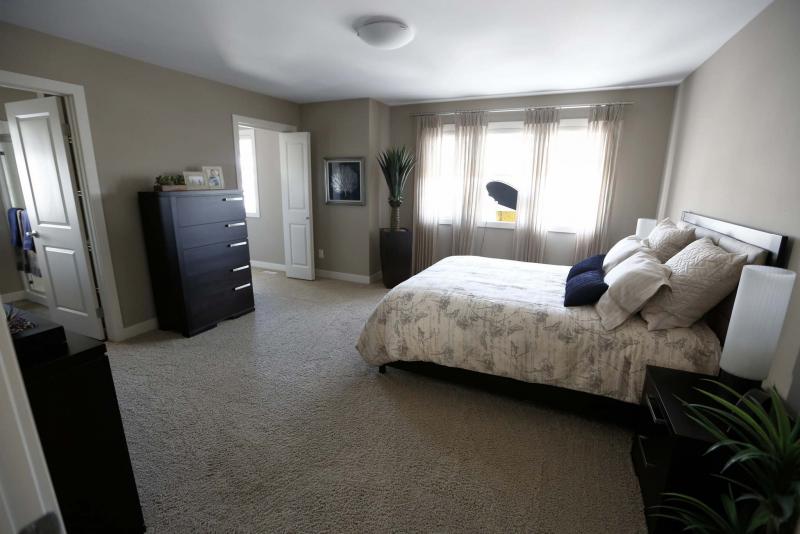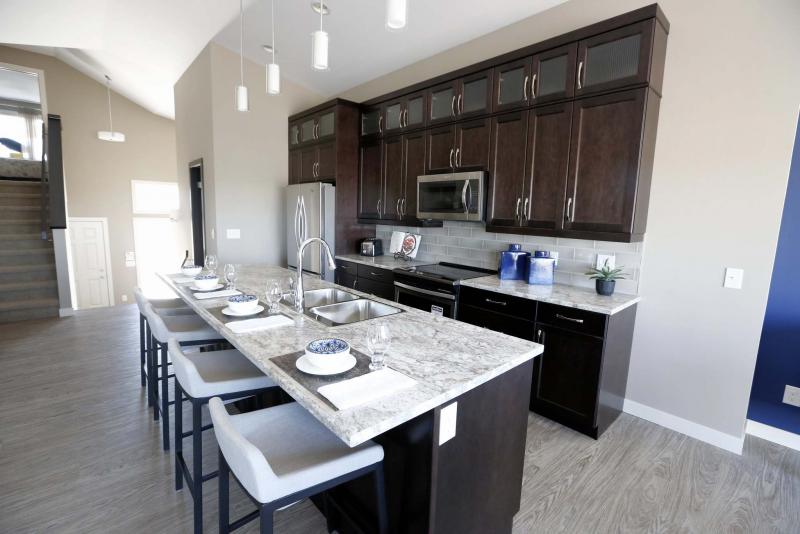 For several years, there was a dearth of cab-over designs in the new home market.
Now, more builders are plugging them back into their lineup of homes. One of those builders is Broadview Homes.
Lisa Castro, Broadview's sales representative for 64 Eaglewood Dr. in Prairie Pointe, says the 1,634-square-foot, three-bedroom, two-bath Highview is a welcome addition to Broadview's deep roster of home designs.
"It's great to see them put a cab-over design back into action — it's a blast from the past, in a good way," she says.
"They're great family homes that provide lots of separation and function, whether you're a family with several kids, or even if your parents come to live with you."
The moment you enter the Highview, you're struck by its spacious feel. That feeling starts in its foyer, which unlike many cab-over designs, features a different configuration, says Castro.
"Not only is it extra-wide (about 15 feet from side to side), but it isn't set down as far as some foyers are in other cab-over designs (only four steps, versus as many as seven). The stairs leading into the great room are also extra-wide (four-feet-plus), making it easy for guests to enter the home, or to bring large pieces of furniture inside. There's space for a bench off to the (left) side, and there's also a big, deep walk-in closet, too."
Quite pleasingly, the extra-wide stairs transition seamlessly into a generous landing area that merges neatly into a wide kitchen that's as practical as it is stylish. That practicality is derived from its ample width — and its excellent use of available space.
"One of the first things you notice is that there's a big walk-in pantry off to the left," she says. "It's a great feature that opens up more cabinet space in the kitchen, which means you'll never struggle to find a spot for a key item."
Because the area is just more than 14 feet wide, there's also ample aisle space on either side of a nine-and-a-half-foot long island. Thanks to that width, four guests could be seated at the island, yet there would still be plenty of room for other guests to pass by, if entertaining. At the same time, two cooks could co-exist in the kitchen without colliding.
"It's an area that offers plenty of function and style. In the show home, you get tons of cappuccino maple cabinets, a taupe tile backsplash, taupe/tan laminate countertops and gorgeous luxury vinyl plank flooring that not only looks great, but is a great choice for an active family with children and pets, due to its excellent durability," Castro says.
To the rear of the kitchen, the dining area and family room — a pair of eminently livable spaces — benefit from a trio of design features.
"First, both spaces are larger than you'd expect (dining area is 11.8 x 11.6 ft., while the family room is 16.9 x 13.6 ft). Second, the rear wall in the great room is filled with glass — a three-panel patio door behind the dining area, plus a bank of three windows on the family room's rear wall. All that glass makes for a nice, bright great room."
Lastly (but not least), there's the vaulted ceiling that soars above the foyer, kitchen, dining room and family room.
"It does two things — it makes all four areas feel much larger than they actually are and allows all kinds of natural light to flow through the great room. Everyone who's visited the home has said it feels much larger than its square footage," she says. "The vaulted ceiling is the reason for that."
Not to be overlooked is the home's family-friendly floor plan. A wing to the right of the foyer contains two good-sized bedrooms, plus a four-piece bath with a soaker tub in-between. Then — as is customary in cab-over homes — the master suite is set well above the main floor over the garage (in this case, nine steps above).
"The master suite in this home is bigger than usual because the garage was enlarged, making for a big (13.8 x 15.5-ft.) space that's not only private, but nice and bright (due to a bank of three windows on its rear wall). It also features a large walk-in closet with window and built-in storage and a three-piece ensuite with five-foot shower and (cappuccino) maple vanity."
Add in a bright lower level (surrounded by three oversized windows) that can effortlessly house a fourth bedroom, bathroom, rec room, mechanical room and storage room, and you have a home that offers about 2,200 sq. ft. of total living space when the lower level is finished.
And while the show home comes with a price tag of $477,900, the Highview can be acquired for less in standard trim.
"With standard finishes (carpet, vinyl, no fireplace/entertainment unit, no backsplash and standard cabinetry), we can get a family on a budget into the home for around $400,000," says Castro. "You can always do upgrades later. The big thing is you're getting a home that's designed with a family in mind — a home that offers great style, separation and function in a wonderful area."
lewys@mymts.net
Builder: Broadview Homes
Address: 64 Eaglewood Dr., Prairie Pointe
Style: Cab-over
Size: 1,634 sq. ft.
Bedrooms: 3
Bathrooms: 2
Price: $477,900 (including lot, GST, growth fee)
Contact: Lisa Castro, Coldwell Banker Preferred Real Estate, 204-952-2675