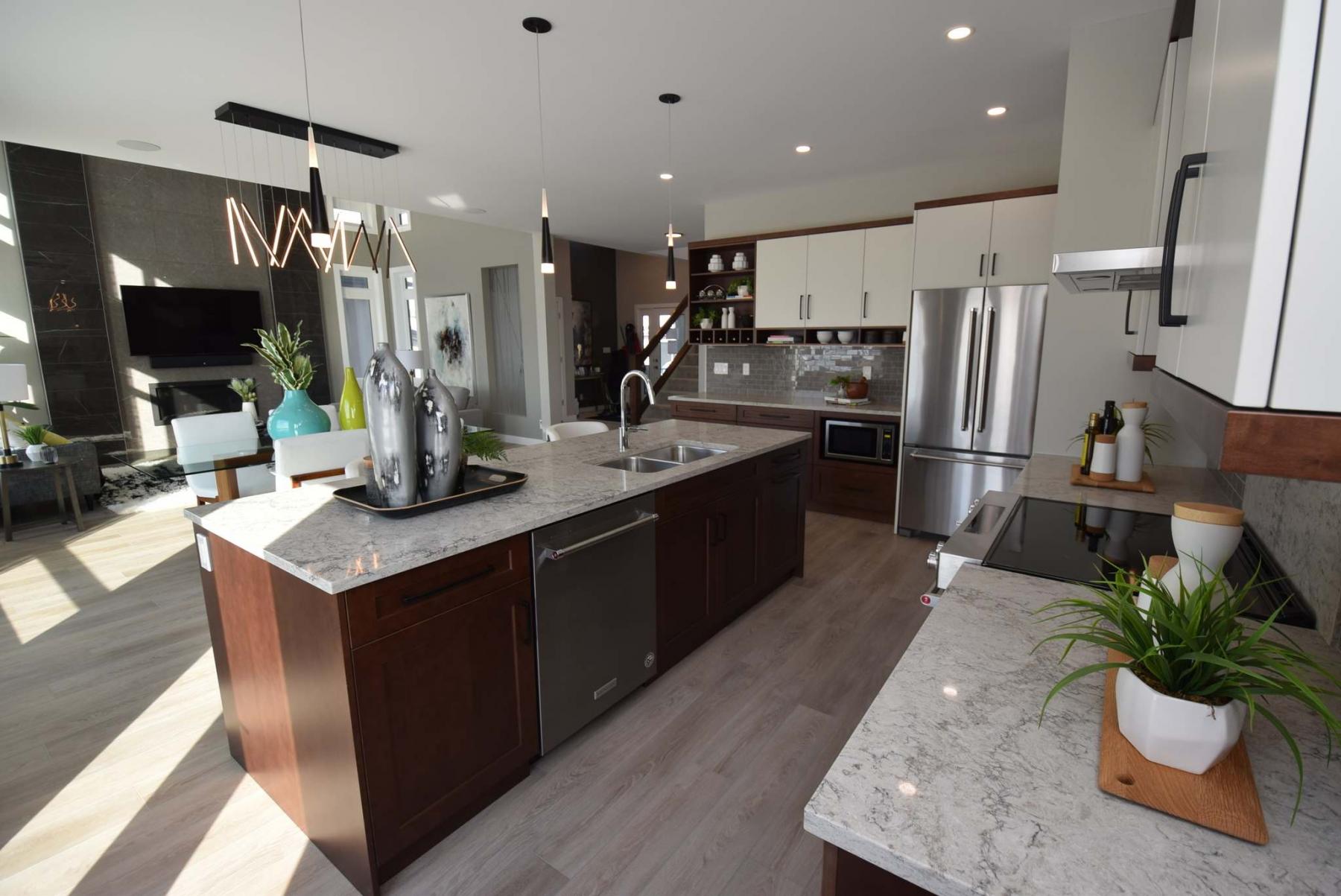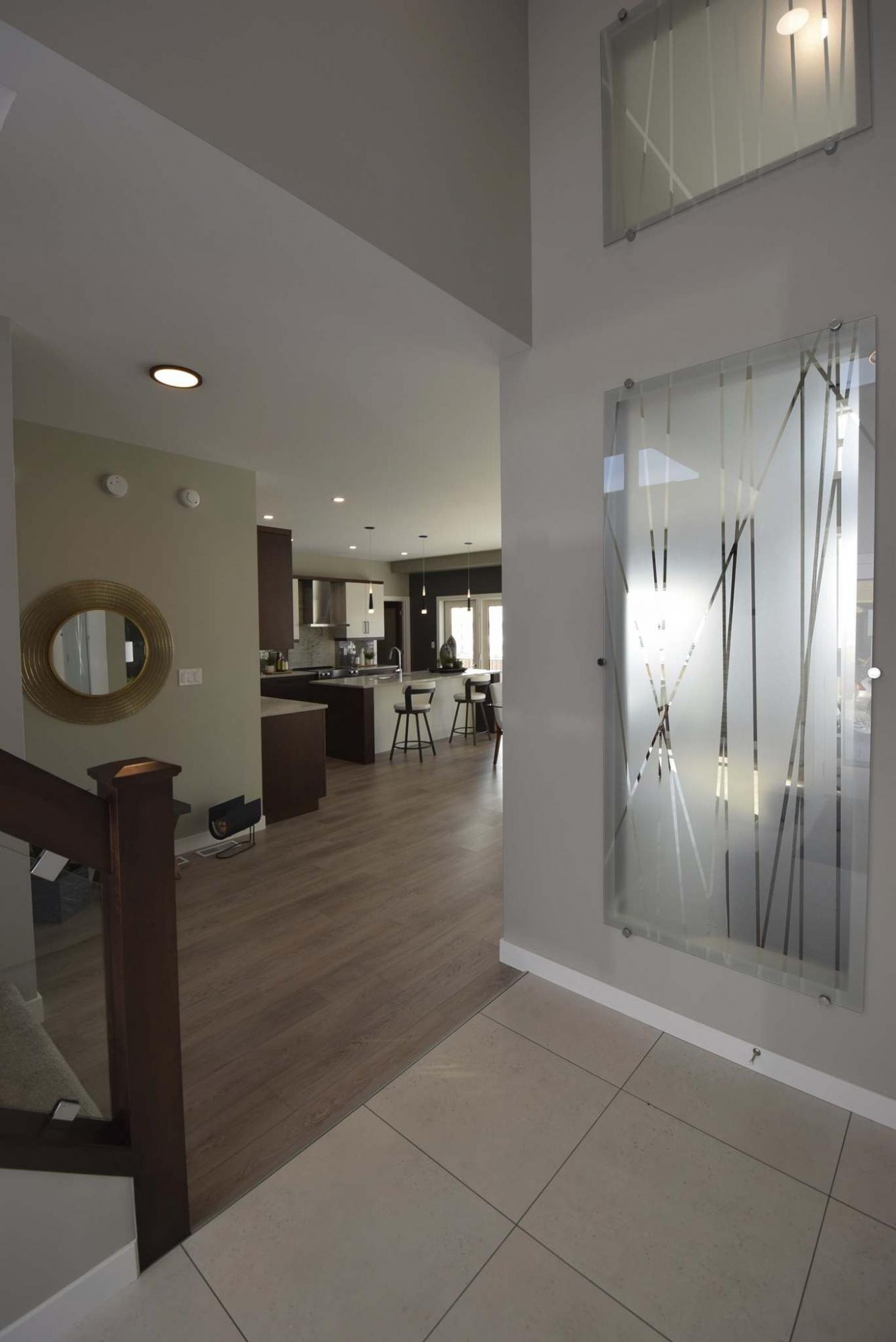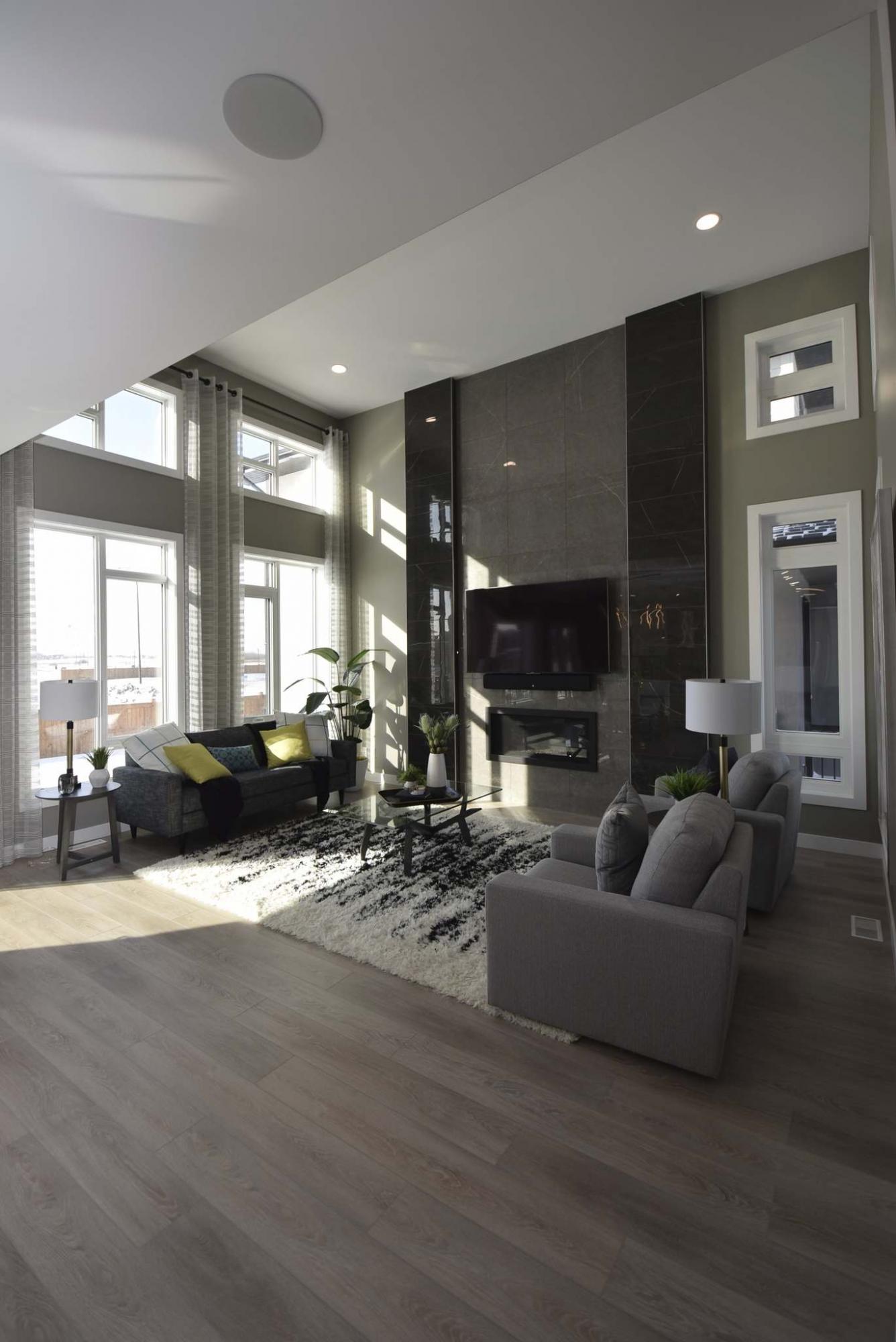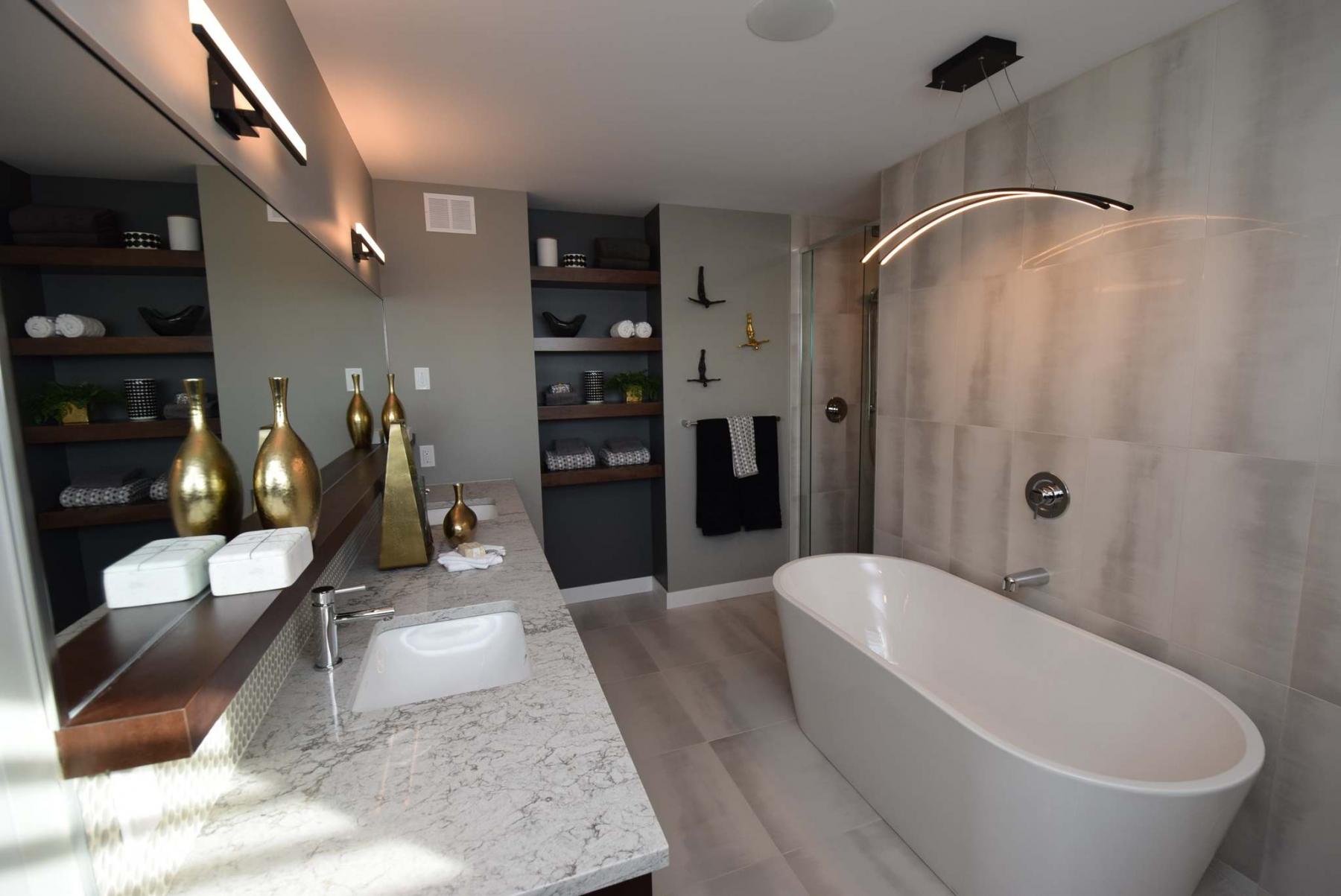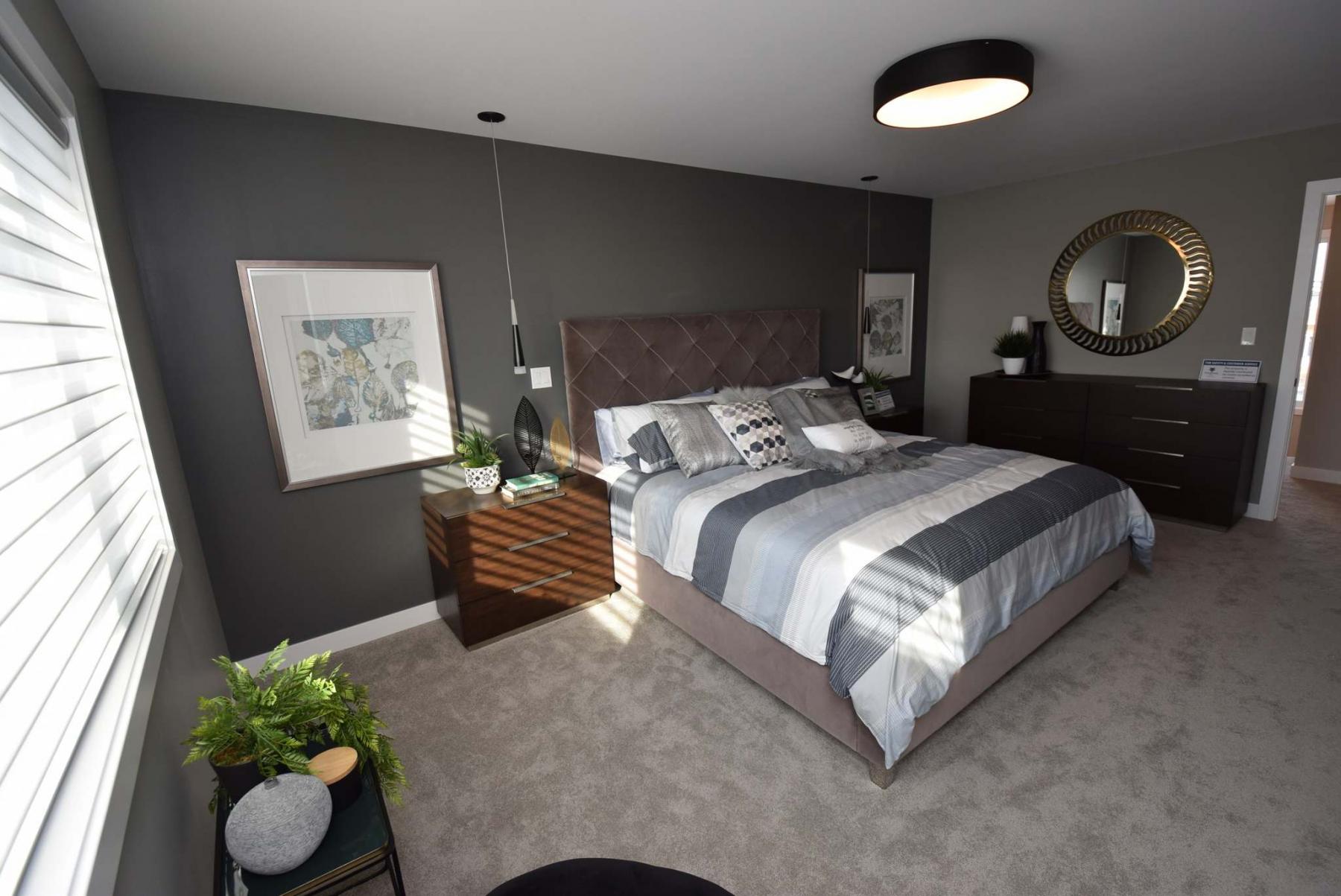 When builders design a home the interior size definitely matters.
For example, when a two-storey home's square footage is, say, 1,800 square-feet, a lighter, more modern colour palette is often utilized to give its main living area a greater sense of space.
However, when a two-storey home exceeds 2,100 sq. ft., the design strategy, by necessity, must change.
If a lighter colour palette and finishes is used chances are the larger great room would feel cold and uninviting.
To ensure that didn't happen the design team at Foxridge Homes chose an earthy colour palette and finishes that feature several different shades of brown interspersed with white to create a wonderful fusion of traditional and modern style, says Fritz Pacag of RE/MAX Executives Realty, the sales representative for 10 Tanager Trail.
"The finishes in the great room are really nice," he says, noting the three-bedroom, 2.5 bath home measures in at a spacious 2,151 sq. ft. "With a home this big, you do want to go with darker colours. Not so dark that they absorb too much natural light, but dark enough so they give it a warm, welcoming feel."
Right from the get-go, it's apparent this is a large home.
A wide, tiled foyer, which comes with a cool table niche carved out of the wall on its right-hand side, provides a spacious, stylish entry point.
It then transitions smoothly into a generous landing area that's subtly defined by the upper-level staircase to the left, and a five-foot wall with artistic tempered glass insert to the right. A wide entryway inserted between the staircase and stylish wall makes it a snap to access the great room.
Once inside, you can't help but appreciate the lengths that Foxridge's design team went to to create a main living area that offers a breathtaking synergy of function, style and warmth.
"Even though there's a lot of space to work with, the main floor is 1,070 sq. ft., there's no wasted space at all," says Pacag. "The great room's design is very well-thought-out."
He adds that the carefully-considered design starts with the kitchen.
"Not only is there lots of room to move around to cook and entertain, but the finishes are incredible. The island and lower drawers feature a warm sable finish, while the upper cabinets are white with sable trim. Upgraded Caesar Stone (quartz) countertops with brown and grey swirls and a mocha tile backsplash with light taupe grout complement the cabinetry perfectly."
Meanwhile, a pair of spaces placed on either side of the cooking area discreetly add function to the kitchen.
"There's a walk-in pantry to the right of the stove, while the area between the fridge and stove holds a powder room and mudroom," he says. "They add lots of utility, while a huge dining area that's just a few steps from the kitchen is perfect for entertaining."
Fortunately, Foxridge's design team didn't overlook the fact natural light light also plays a central role in a great room's allure.
To that end, they placed plenty of glass in strategic spots on the great room's rear wall: a patio door behind the kitchen, a huge window behind the dining area and floor-to-ceiling windows that serve as a backdrop for the spectacular family room.
"Everything comes together perfectly in the family room, the warm paint colours, windows that let in tons of natural light and beautiful finishes," Pacag says. "The two-tone tile wall with built-in fireplace and TV nook is just gorgeous, while additional white-trimmed windows really pop on the taupe walls."
Keeping with the home's sense of space, an ultra-wide staircase - it's bordered stylishly by sable-stained maple railing with tempered glass inserts - angles languidly up to a spacious second floor that occupies 1,081 sq. ft. of well-ordered space.
As might be expected, both secondary bedrooms are huge, with large windows and spacious double closets. To promote separation, the main bath (it rivals many ensuites) and laundry room were placed between the master suite and secondary bedrooms.
The result is a beautifully-isolated — and very luxurious — master suite.
"I like the orientation of the bedroom. It's rectangular, which allows the bed and furniture to fit better, the bed isn't too close to the window," he says.
Then, there's the ensuite, a lavish space that projects a genuine spa-like air.
"We've received a lot of compliments on it. The walk-in closet is up front, leaving lot of room for a good-sized area that offers a stand-alone soaker tub with a tile feature wall behind it, six-foot custom walk-in shower, tile floor and sable-finished vanity with quartz countertop and dual sinks. It's such a relaxing space."
Add in a lower level that provides over 750 sq. ft. of space to develop, and you have a well-designed home that would offer over 2,900 sq. ft. of total livable space once the lower level is finished.
"I think this home proves that a home can be big, yet warm," says Pacag. "When you add that warmth to a wonderful floor plan and a great use of space, you have a wonderful family home that comes in at $750,000 with all upgrades and home automation system, or for about $650,000 with standard features."
lewys@mymts.net
Detiails
Builder: Foxridge Homes
Address: 10 Tanager Tr., Sage Creek
Style: two-storey
Size: 2,151 sq. ft.
Bedrooms: three
Bathrooms: 2.5
Price: $750,000 (Includes lot, upgrades, & GST)
Contact: Fritz Pacag, RE/MAX Executives Realty, 204-294-8520