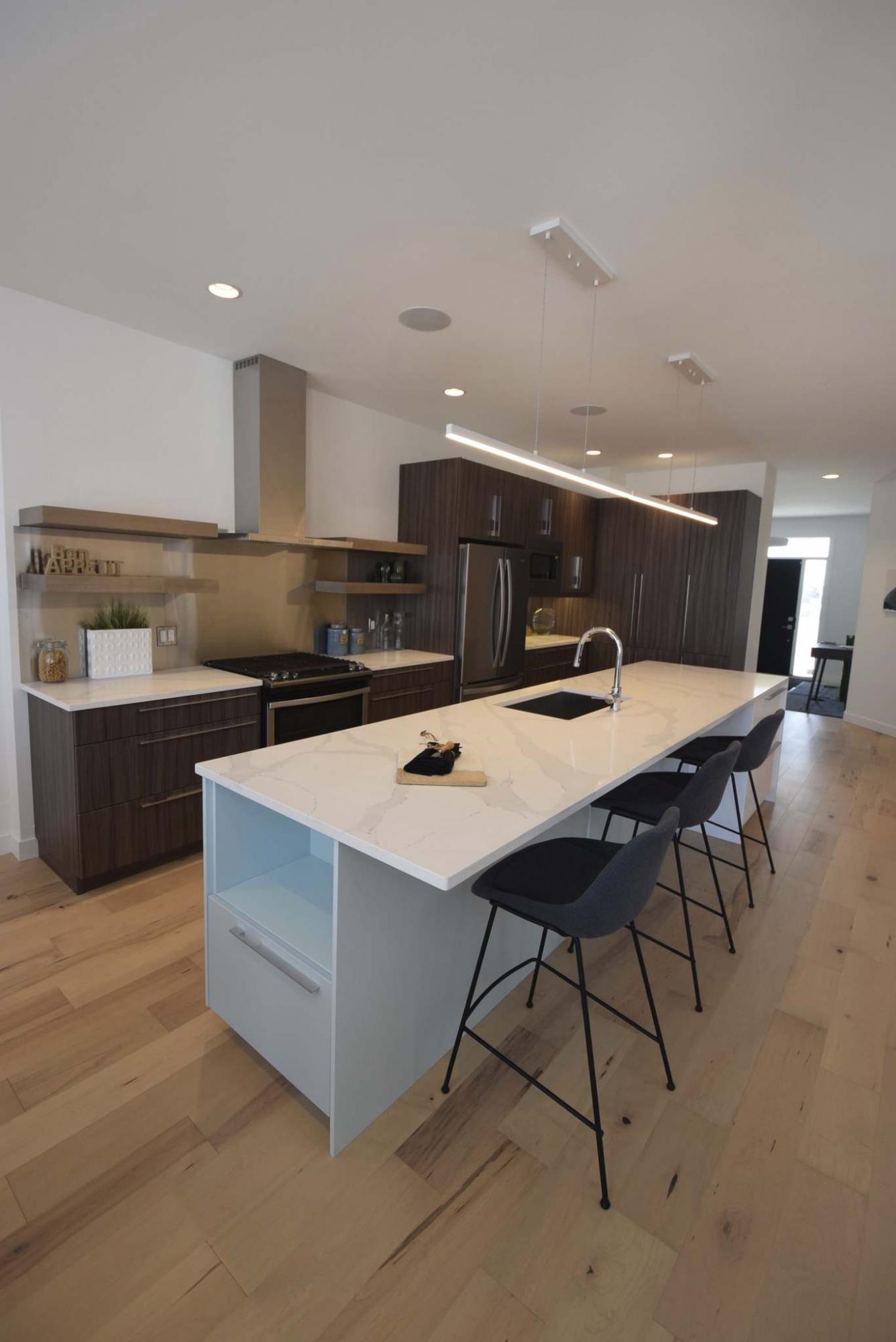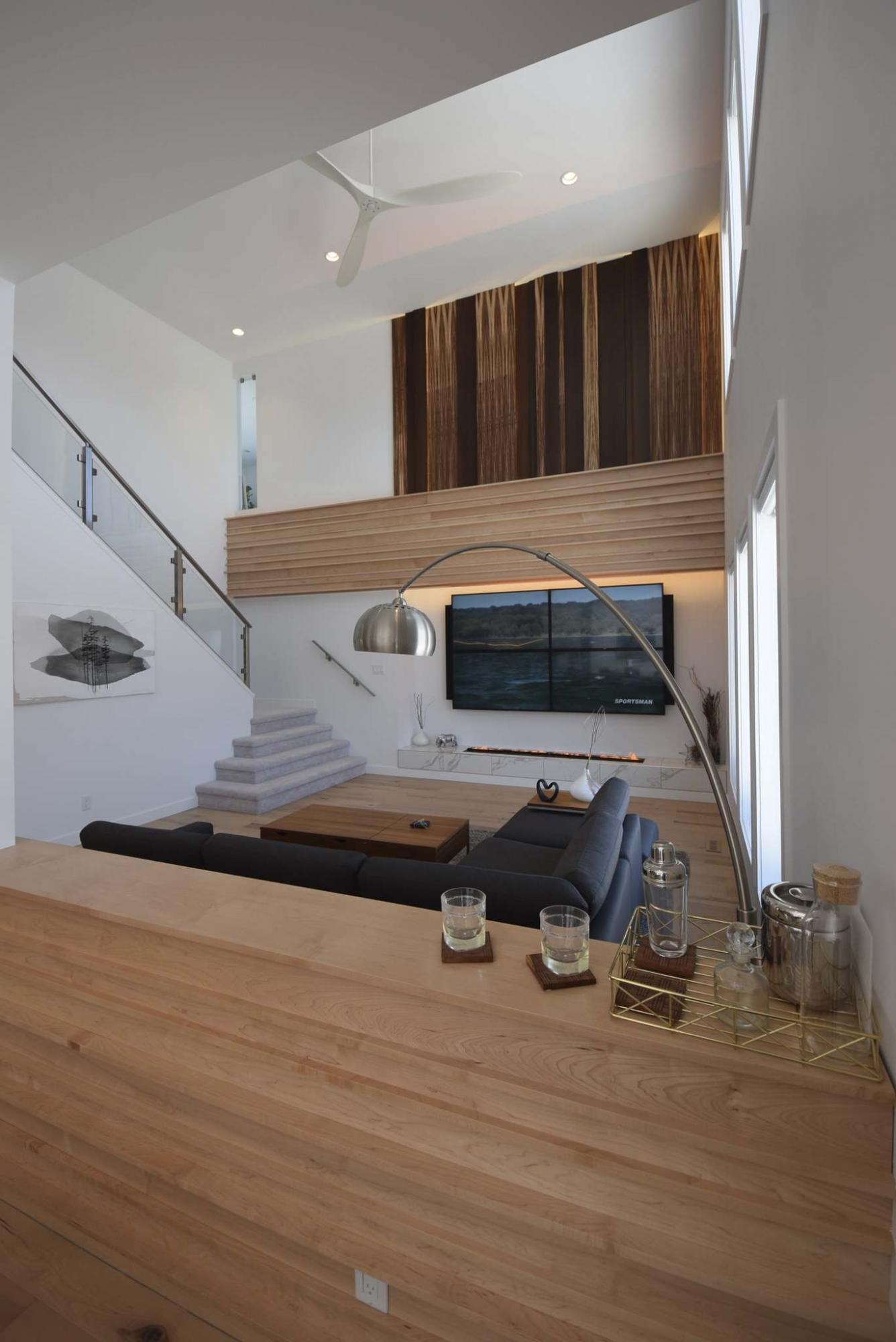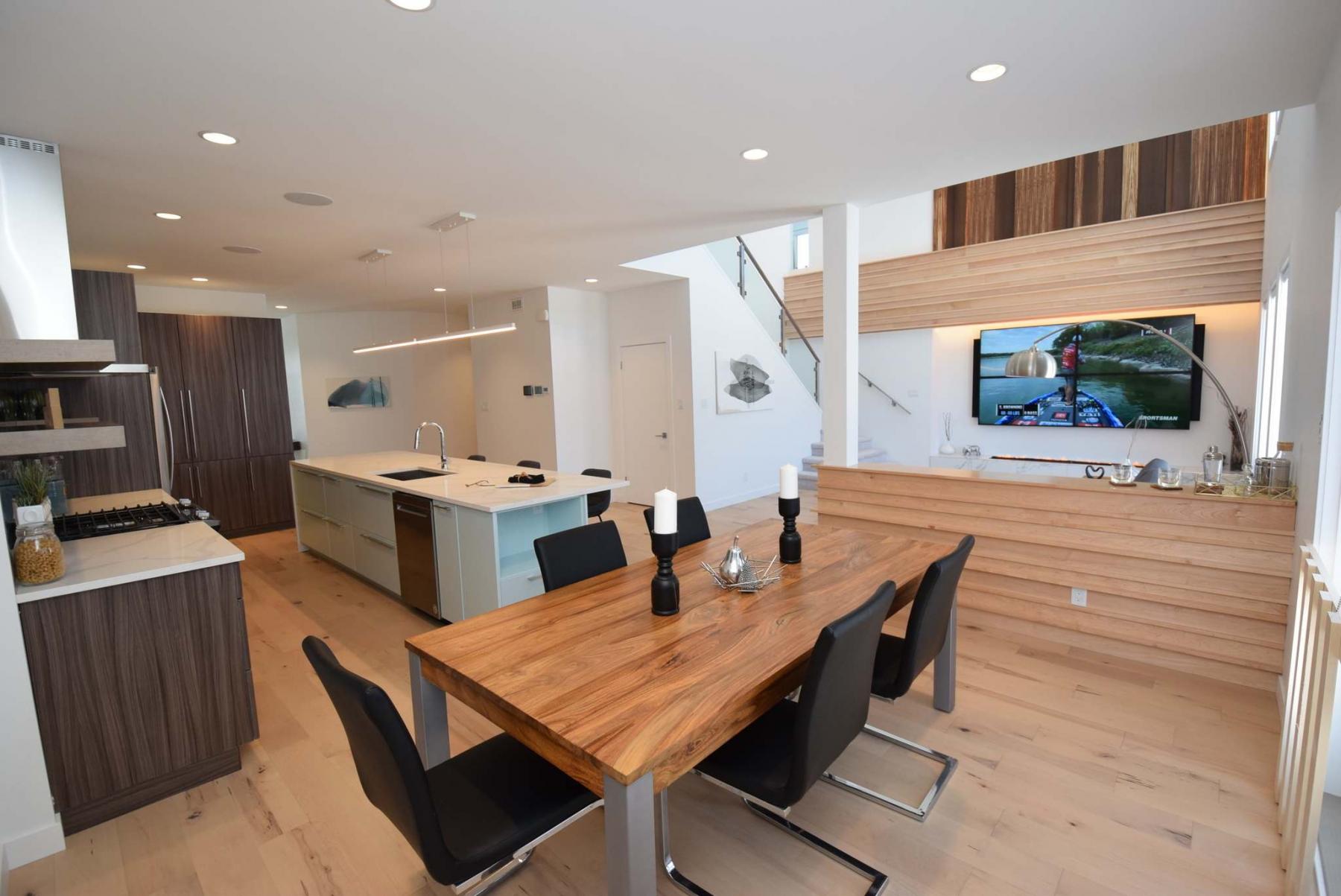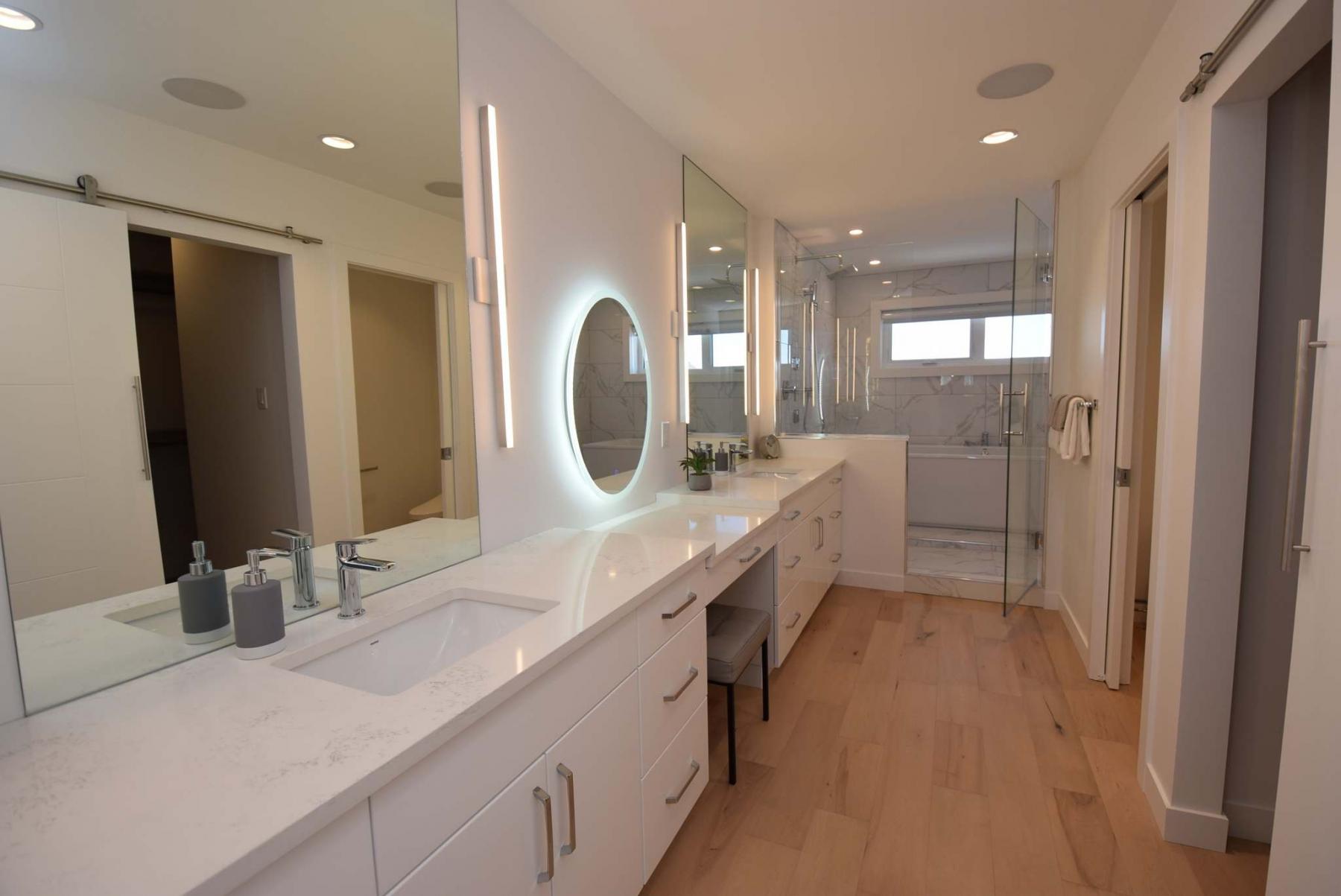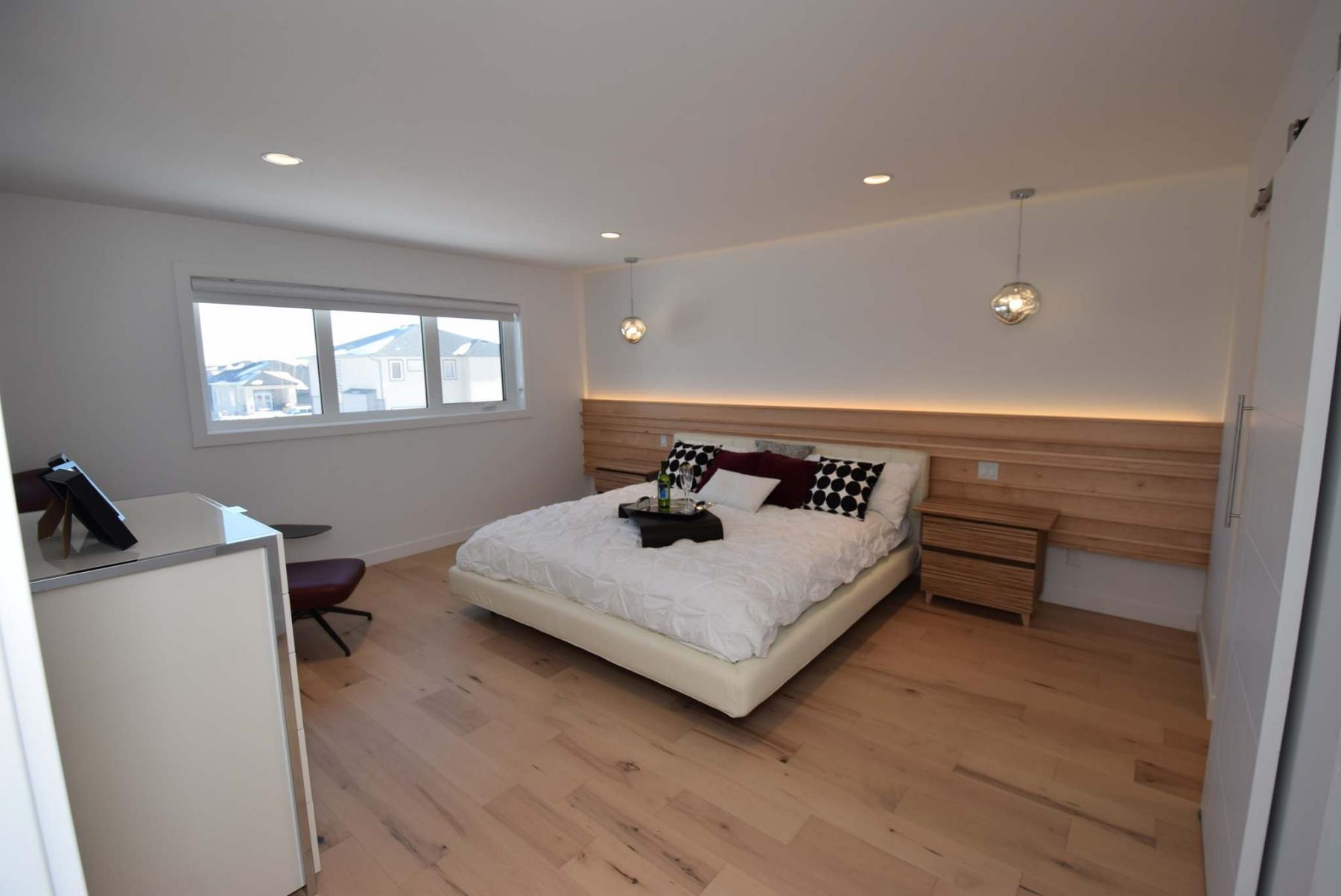 It goes without saying that conceiving the plan of a brand new home design is a painstaking process.
In the case of 440 Cherrywood Rd. — Signature Homes' newest show home in Bridgwater Trails — the mission of the company's design team was twofold.
First, they wanted to create a king-sized home that would work well either for a large family, or multi-generational family. Second, they wanted the home to be sustainable and environmentally-friendly — no easy task considering the two-storey home was to be 2,713 square-feet in size.
Cindi Burak, sales and marketing manager for Signature Homes, says the first order of business was to create an envelope that would make the enormous home as energy-efficient as possible.
"To that end, we insulated the exterior with an Aero barrier and then put Halo Exterra siding over it," she says. "The combination of the barrier and siding gave the home a very good R rating. We then insulated it extensively to make it as air tight as possible, and put installed upgraded the mechanical systems. The result is a very energy-efficient home."
Next, Signature's design team turned their attention to the home's floor plan.
Although they had lots of space to work with, they couldn't take it for granted. If they didn't use it well, such a large house could feel disjointed and lack function.
Thankfully, all that space was well-utilized.
The home starts out with a huge, angled foyer that transitions smoothly into a generous landing off which a long hallway runs to its left.
Burak says the area — it holds a bedreoom, three-piece bath, a large closet and door that provides access to the triple-attached garage — could serve two purposes.
"It all depends on a family's needs. The bedroom, it's way down at the end of the hall, could be used as a home office. Or, it could be used as an in-law suite. The bathroom is next to the bedroom, the closet gives you extra storage space, and the door to the garage gives you a private entrance that would allow you to come and go as you please."
The next order of business was to design a great room that was spacious and functional, yet didn't feel cavernous.
A trio of design features were employed to ensure the area possessed an ideal balance of space and coziness, she adds.
"Both the kitchen and dining area were placed under a nine foot ceiling to give them a warm, functional feel. The kitchen was then defined by a 14-foot-long island that seats three. A beautiful one-third maple feature wall with white pillar was then used to define the dining area. It divides it from the family room without compromising sightlines."
Meanwhile, the finishes in the kitchen are at once crisp and warm.
"There's tons of cabinets," she says. "The use of light and dark colours - glossy white cabinets, off-white/grey quartz countertops and walnut style thermofoil cabinets next to the range — gives the kitchen a nice modern/traditional feel. The Floresta Pallida maple-style flooring that runs through the entire great room is just gorgeous."
The great room is then finished in fine style by a spectacular family room.
"It has all the elements you'd want in a family room — floor-to-ceiling windows that let in lots of natural light, a soaring ceiling, and a gorgeous entertainment unit," Burak says. "A two-tone wood feature wall above provides warmth, while a cool-burning Opti-Myst water vapour fireplace — it's set beneath the TV niche in a gorgeous tile surround — looks incredible when you put it on."
A wide staircase tucked away to the side of the family room, bordered by stainless steel railing with tempered glass panels, then leads upstairs to the home's upper level.
As might be expected, it's also expansive, holding a total of six spaces: a spacious main bath, laundry room, three huge bedrooms and a bonus room.
"The home's generous square footage allowed us to put in a big bonus room to provide extra utility and value," she says. "Every space is generously-sized. Both secondary bedrooms provide lots of space for kids to grow into, and the master suite is simply amazing."
Big, bright and pleasingly warm, the master suite is a calming space that's set well apart from the other bedrooms. As beautiful as the bedroom is, its ensuite is even better, if that's possible.
"It's a complete show stopper," says Birak. "The dual vanity, with its make-up area, is gorgeous, the walk-in closet is huge, and the tempered glass enclosure, with all its tile and showers on either side of a big soaker tub, is quite something."
It took a complete team effort to create a king-sized home that offers such great quality, function and livability, she concludes.
"Everything came together perfectly. I think it's one of our nicest show homes to date."
lewys@mymts.net
Builder: Signature Homes
Address: 440 Cherrywood Rd., Bridgwater Trails
Style: two-storey
Size: 2,713 sq. ft.
Bedrooms: four
Bathrooms: three
Price: $812,415 (Includes lot, upgrades, & GST)
Contact: Damian Sokolowski, Royal LePage Alliance, 204-997-9084