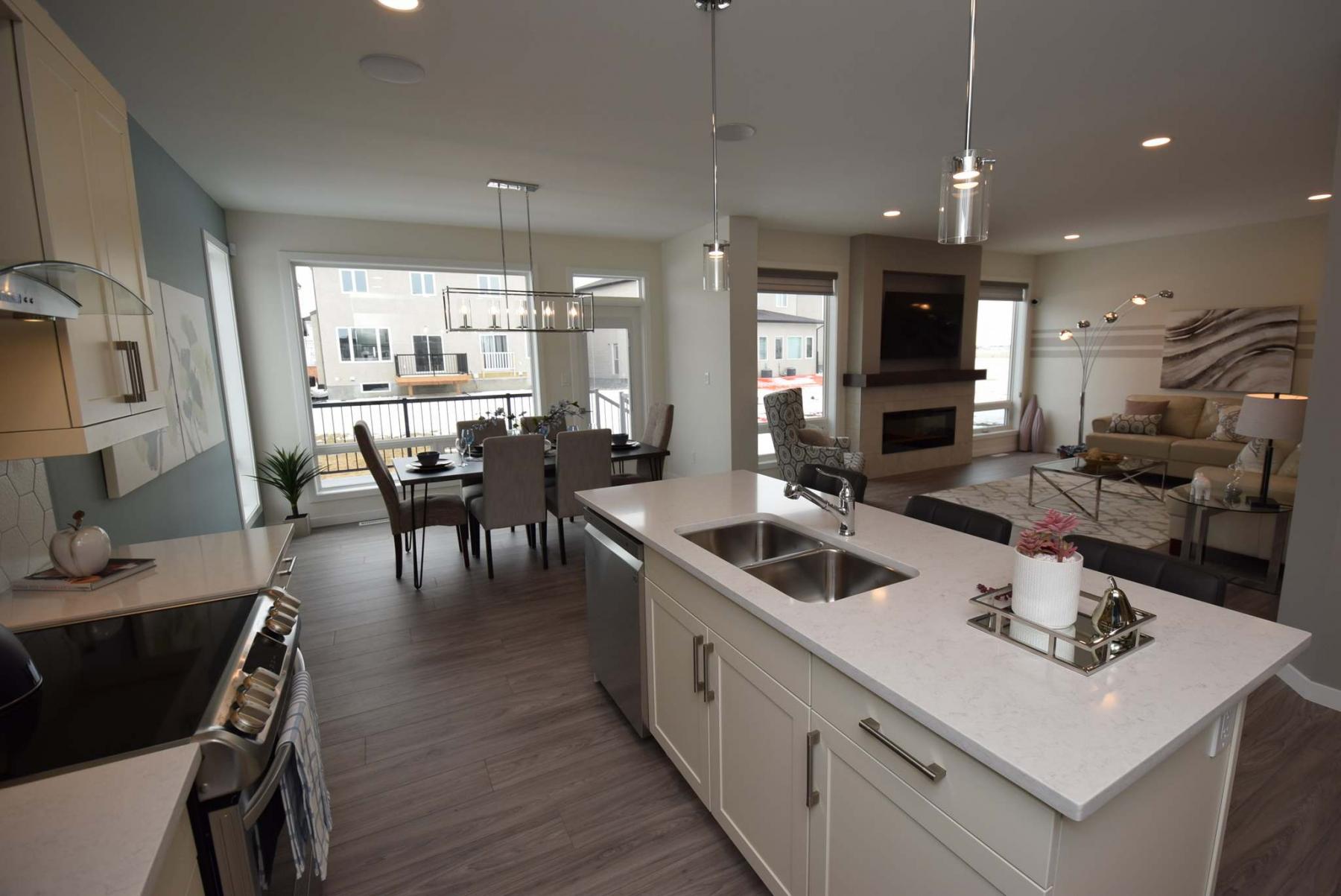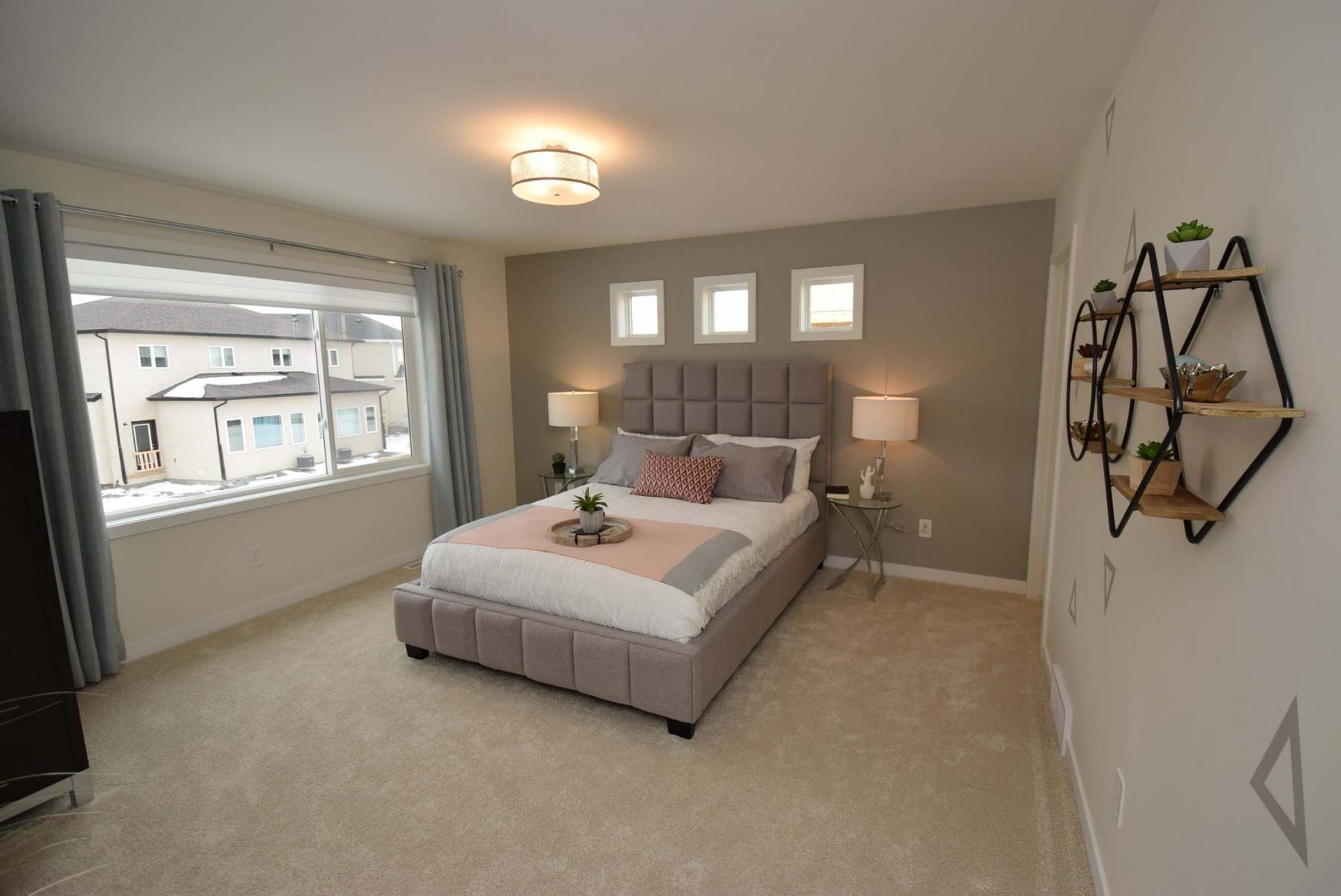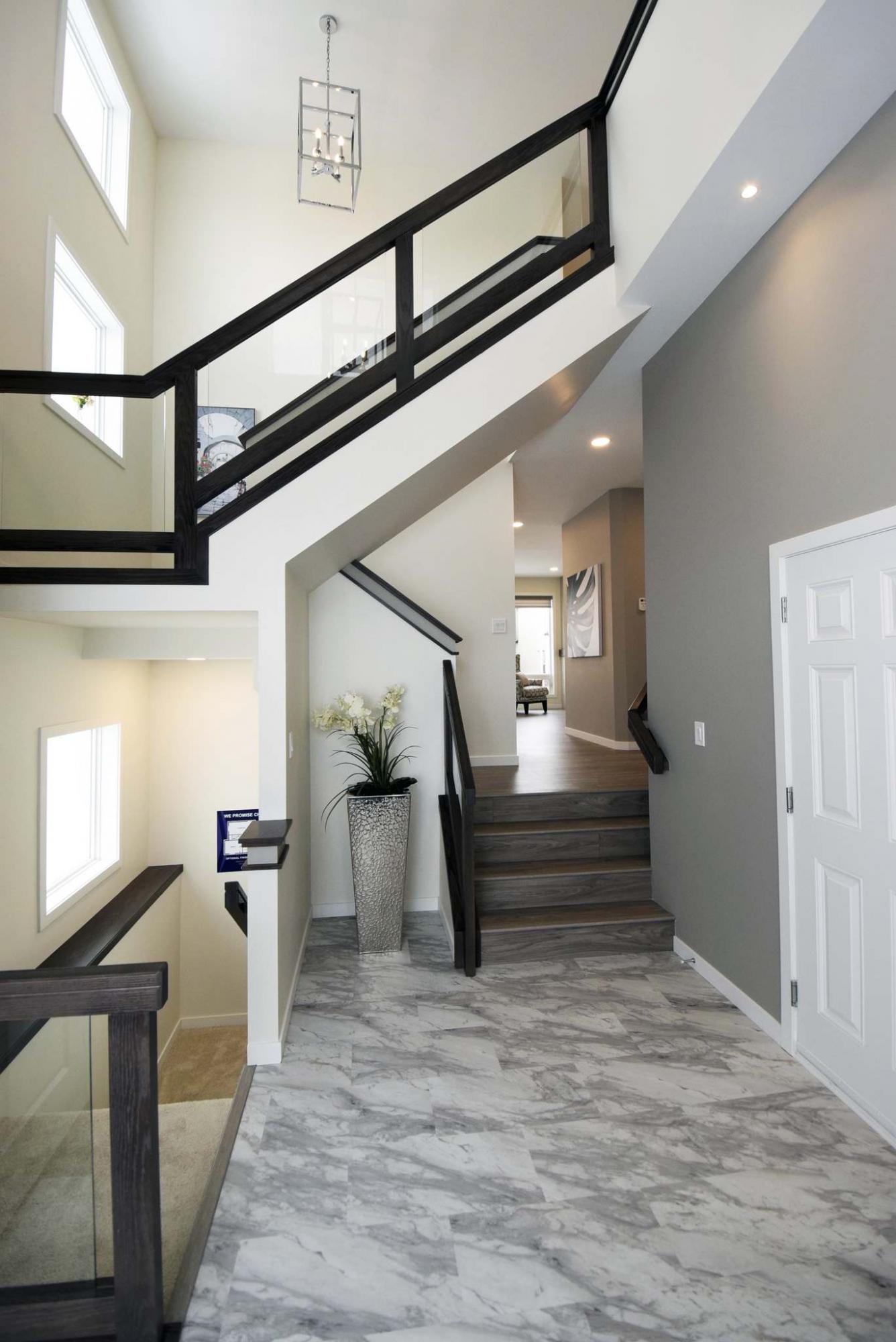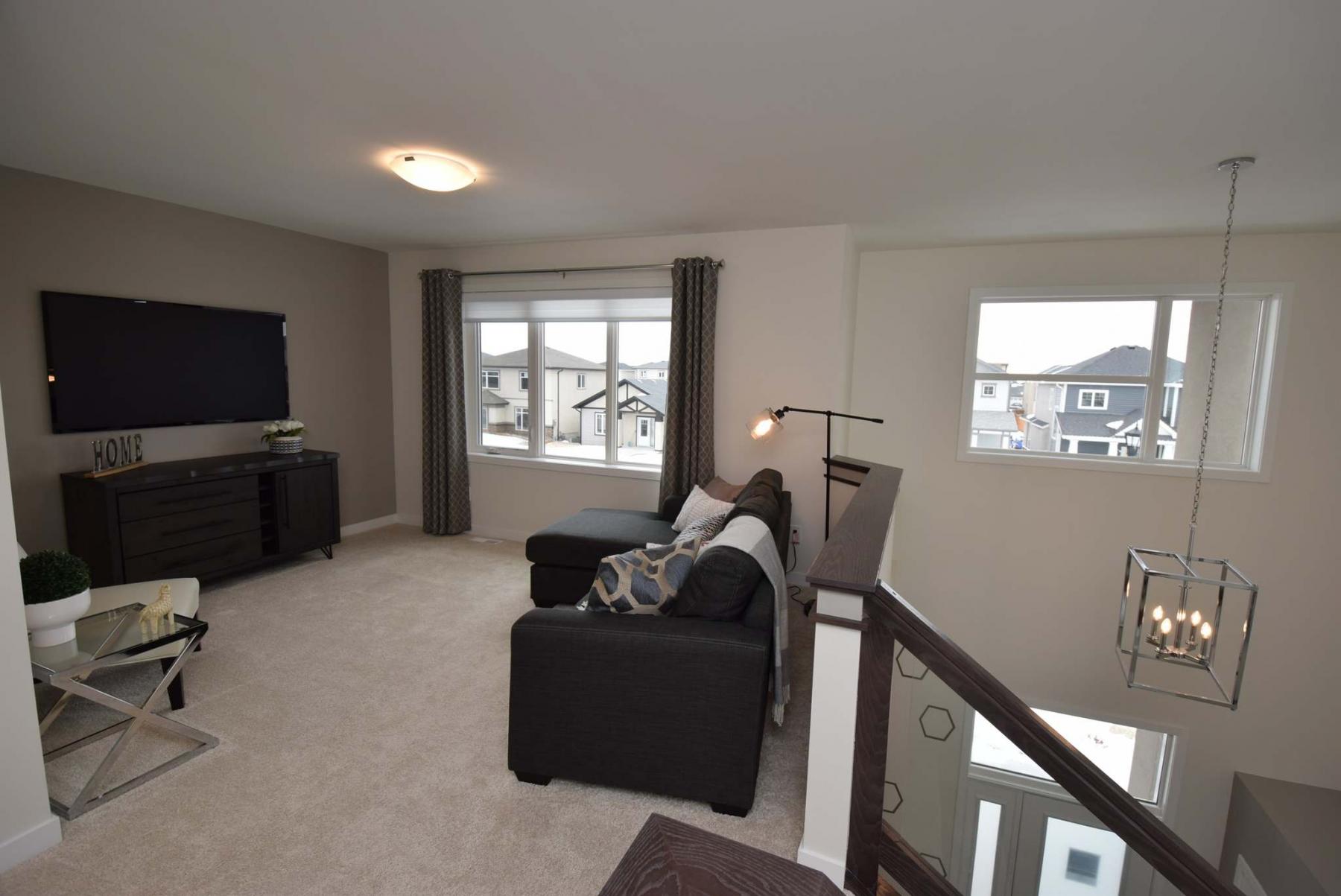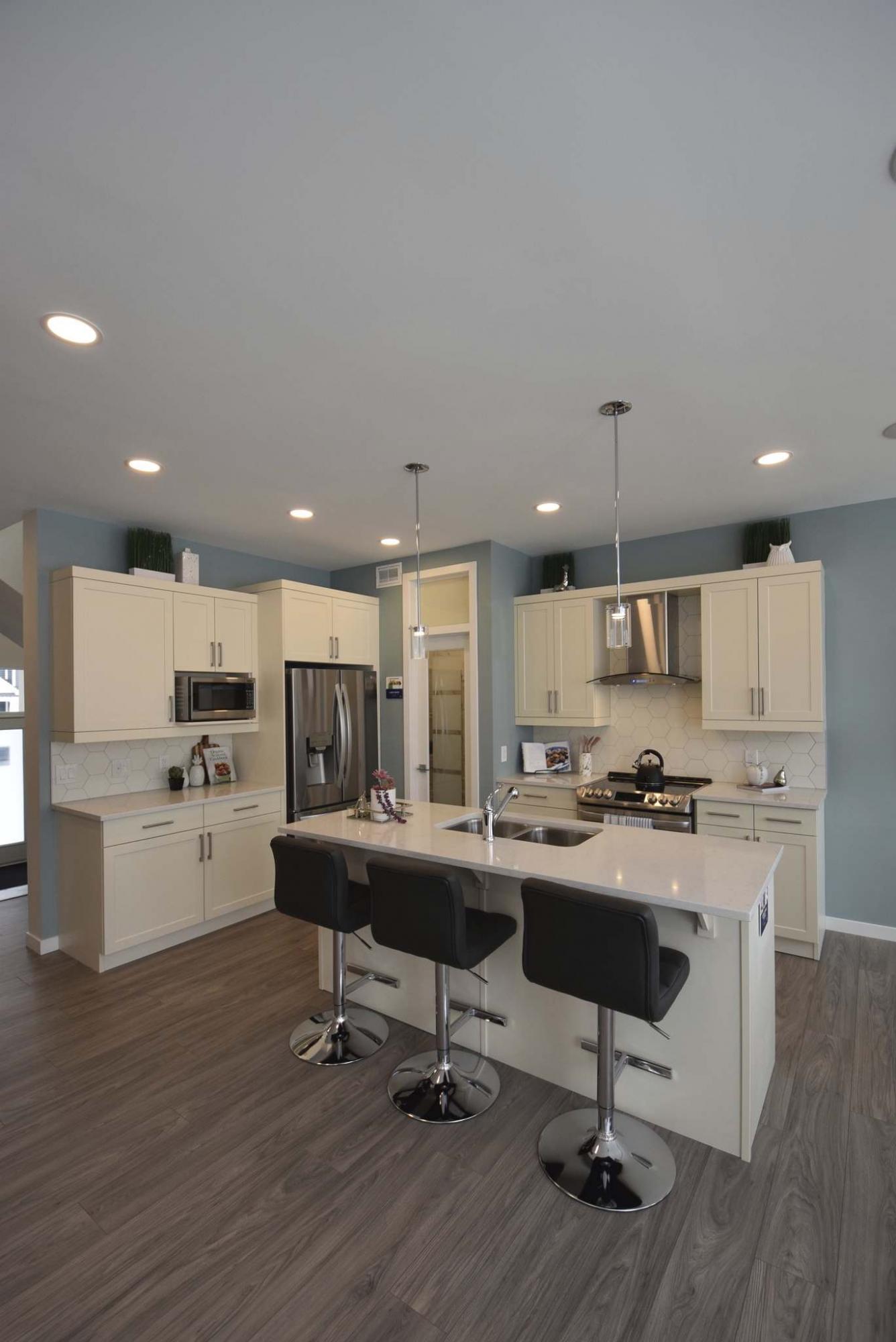 In years gone by, a lot at least 50 feet wide would have been required to accommodate a 2,046-square-foot, two-storey home.
That's no longer the case today, says Dave Mick, new home sales consultant for the Hampton, Randall Homes' 2021 Spring Parade of Homes entry at 410 Windflower Rd. in Bridgwater Trails.
"This home is built on a 40-foot-wide lot, and is actually 31.6 feet wide," says Mick, who added it was designed to meet the needs of active families. "It not only comes with three bedrooms and a loft upstairs, but it also comes with a main-floor lifestyle room."
The fact the versatile space was incorporated into the design of the Hampton's main floor is a testament to the wizardry of Randall Homes' design team, he adds.
"Because the Bridgwater communities have a unique architectural guideline where every home has to have a recessed garage, it's a real design achievement to fit a room that can be used as either a bedroom or den, plus a two-piece bath, into the main floor of a 31.6-foot-wide home that was built on a 40-foot-wide lot."
In fact, the entire home is at the pinnacle of new home design, subtly blending grandeur, function and style into a family-friendly package.
The Hampton's grandeur is on display the instant you step inside, says Mick.
"It all starts in the foyer. Sunken down four steps from the main floor, it's a spacious, light-filled area that comes with a 20-foot ceiling and stunning staircase. It sets the tone for the rest of the home with all its style, space and functionality."
Once up on the main level, there's a hallway to the right leading to the lifestyle room and a spacious two-piece bath.
"There's room in the powder room to put in an angled shower if a family wants to use the bedroom as an in-law suite," he says, noting that most families use the lifestyle room as a bedroom. "It's in its own private area, just a few steps from the garage and front door."
A wide hallway then leads into the Hampton's main living area, which is notable for its naturally bright ambience, and an open and navigable layout, while still offering three distinct (and roomy) spaces and a pleasing cross-section of colours and finishes.
"There's just so much natural light," Mick says. "It comes in through a big window and patio door with transom behind the eating area and two huge windows on either side of the entertainment unit on the family room's rear wall. All three spaces are accessible yet separate, and the finishes, which are a bit different, create a warm, welcoming feel."
Turns out, those finishes are different in a very good way.
In this instance, Randall's design team went away from trendy whites and greys, opting to go with light and medium shades of taupe, a seafoam green/blue feature wall in the kitchen and white trim that meshes magnificently with the taupe, off-white and grey tones that run through the island kitchen/eating area.
"The cabinets — they're extra-long at 36 inches, and are a beige/taupe colour — go nicely with an off-white honeycomb tile backsplash, light grey quartz countertops and the seafoam feature wall," he says. "And even though the kitchen is very spacious, there's plenty of room to fit a big table into the eating area and still have lots of space left over to move around."
Finally, there's the great room's third and final space, a generously-proportioned and quietly elegant family room.
"With all its space and a classy entertainment unit with huge windows on either side, it's a perfect spot to gather with family and watch a movie, or entertain guests."
Head upstairs via the spectacular staircase, and you find a bright second-floor layout with a loft, laundry room, four-piece bath and three bedrooms.
"Like the main floor, all the available space is extremely well-utilized," Mick says. "There's a spacious loft next to a big laundry room with window to the right of the stairs, and a wing to the left that holds the main bath and all three bedrooms."
To promote separation, the two secondary bedrooms — both huge with massive windows and double closets — were placed to the left side of the hallway.
The master suite was then slotted neatly into its own private corner behind the main bath on the opposite side of the hallway to give it a heightened feeling of seclusion.
"Its colour scheme, a medium taupe feature wall behind the bed, with light brown carpeting and a light taupe rear wall, really gives it a warm, relaxing feel," he says. "A picture window on the rear wall, along with three white-trimmed piano windows over the bed, let in lots of natural light. A three-piece ensuite with five-foot shower and generous walk-in closet finish it off perfectly."
The lower-level, if finished, would add another 600-plus square feet, taking its total livable space up near the 2,700-square-foot mark.
"It's an efficiently designed home that offers the versatility, style and livability that families are looking for," he says. "It hits the mark in every area."
lewys@mymts.net
Builder: Randall Homes
Address: 410 Windflower Rd., Bridgwater Trails
Style: two-storey
Size: 2,046 sq. ft.
Bedrooms: three plus lifestyle room
Bathrooms: 2.5
Price: $589,900 (Includes lot, upgrades, & GST)
Contact: Dave Mick, New Home Sales Consultant, 204-218-7373