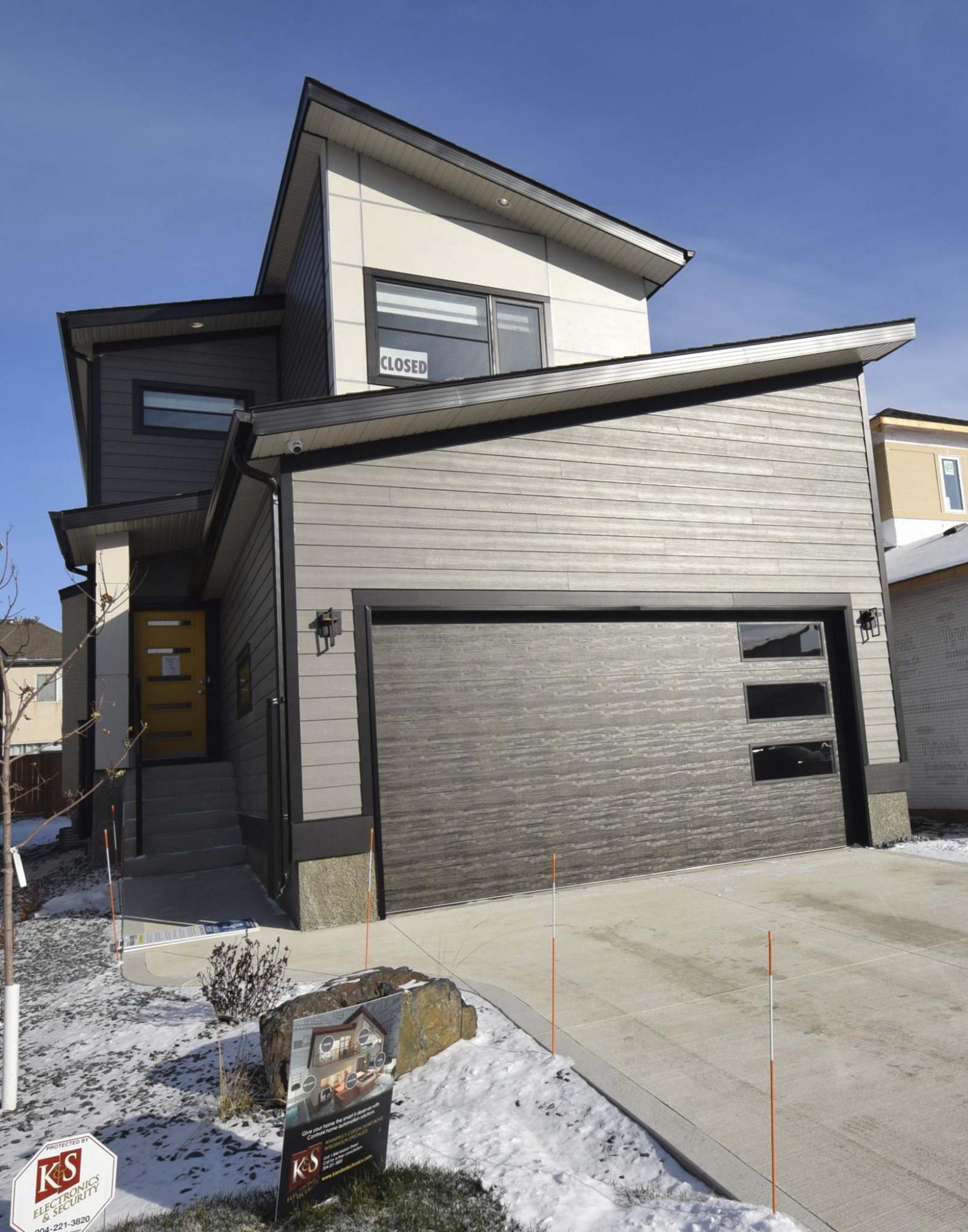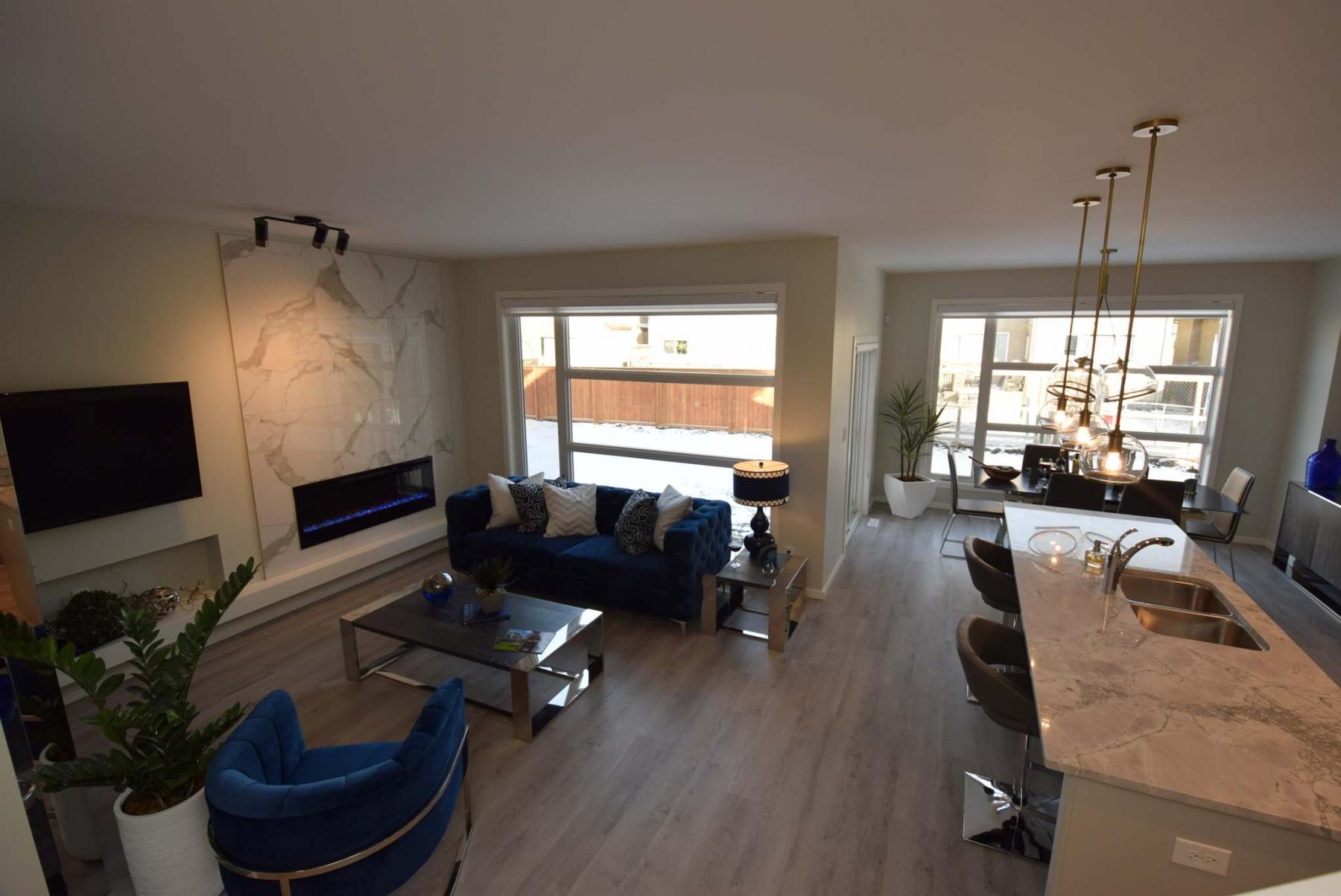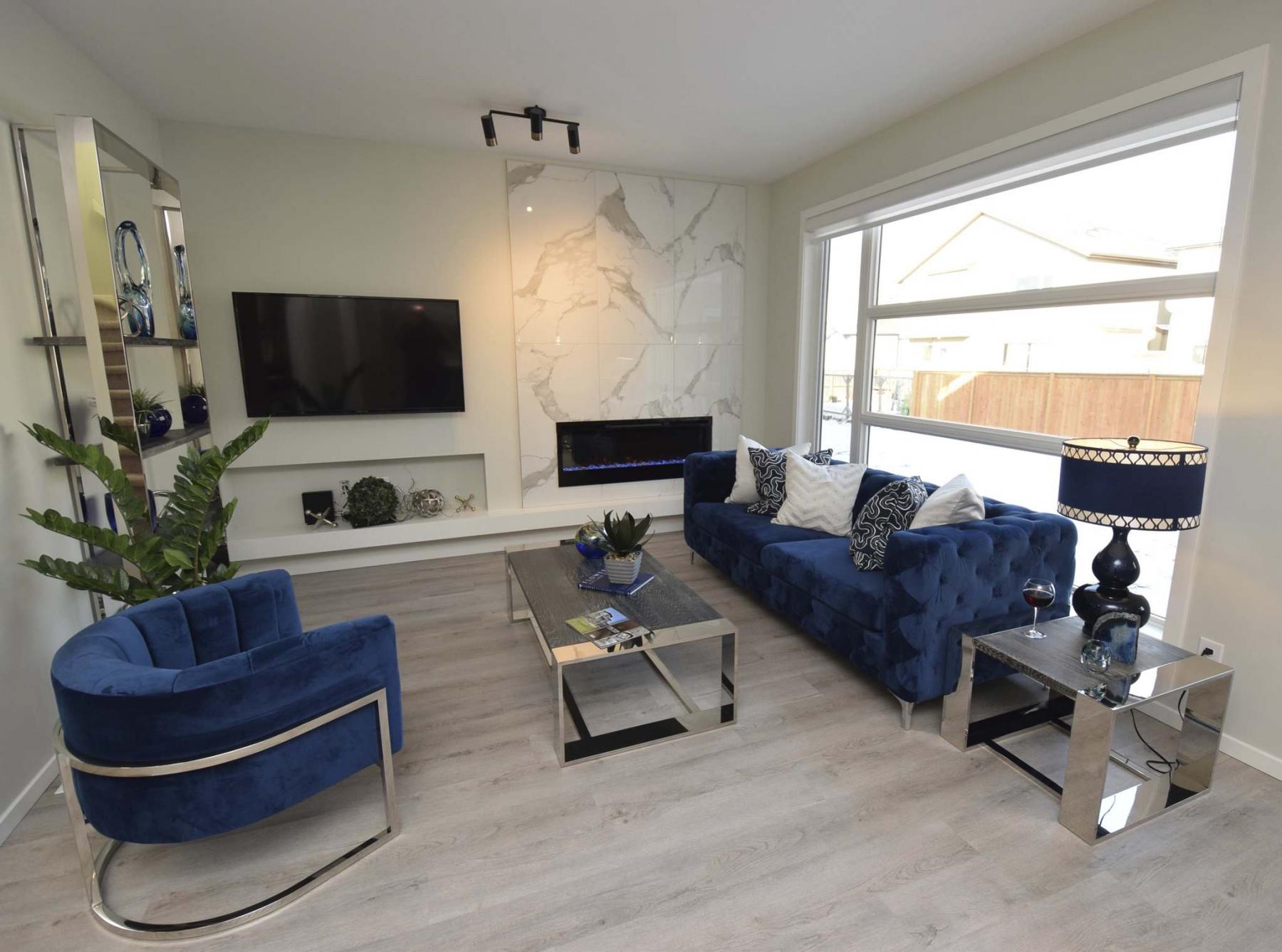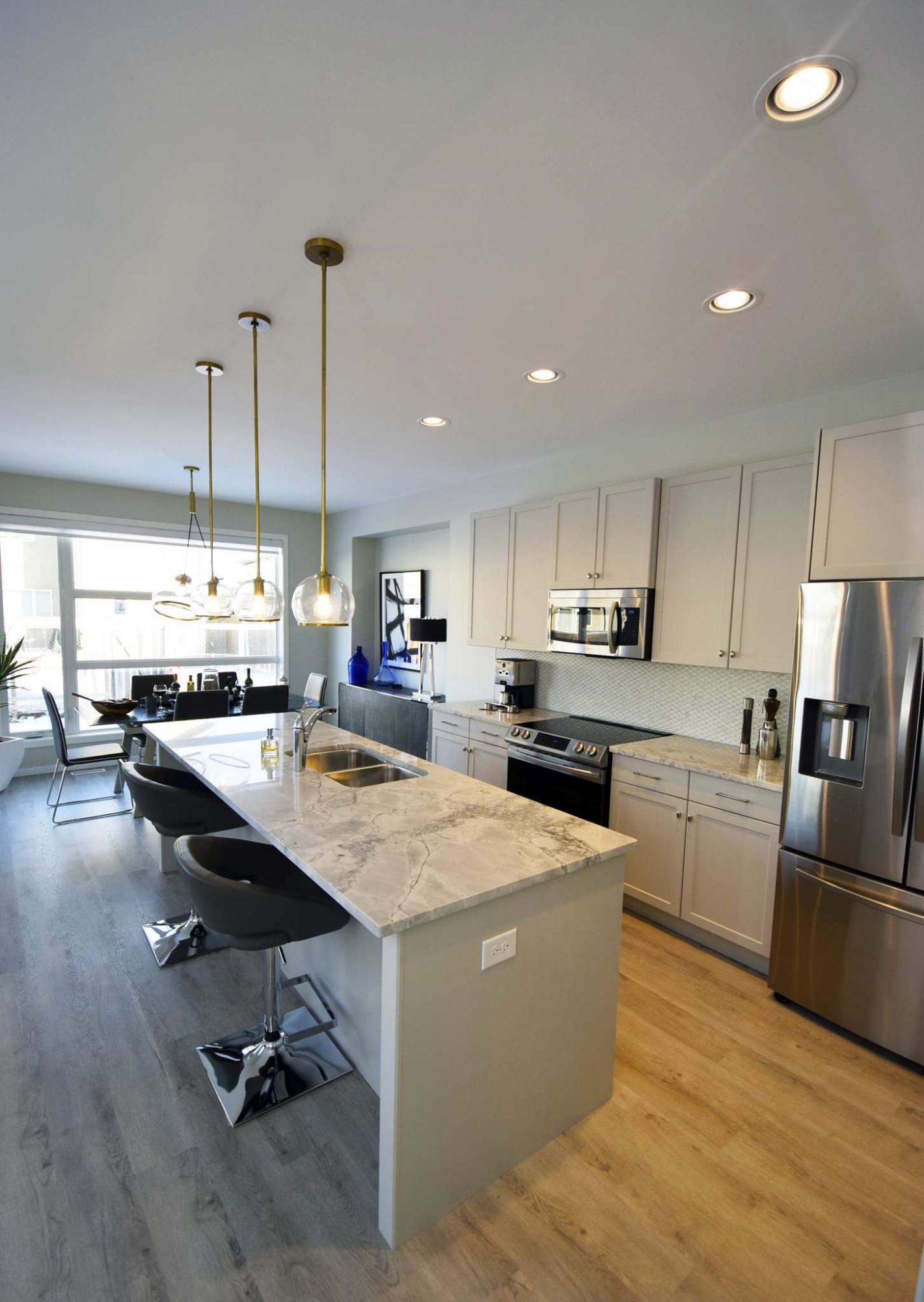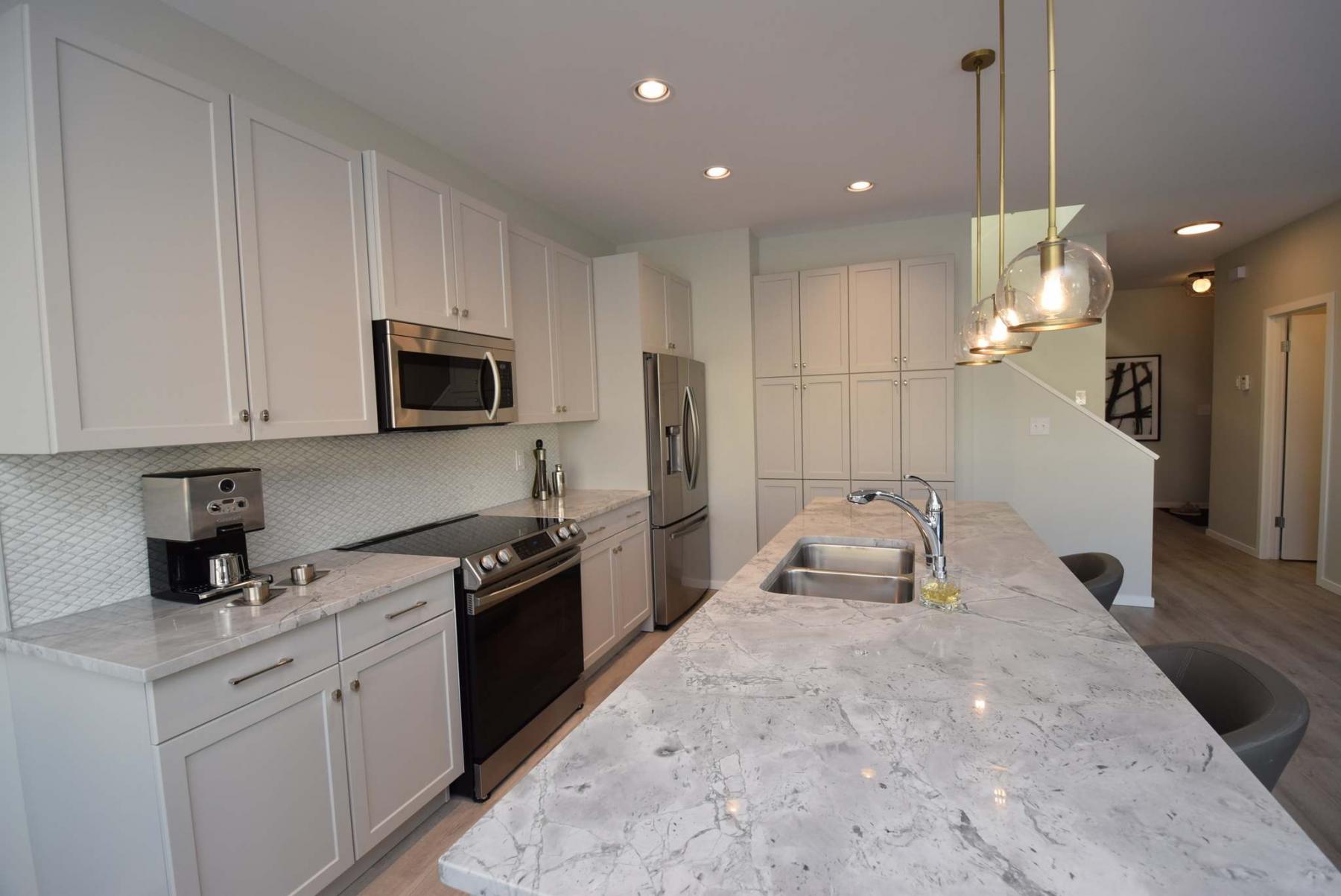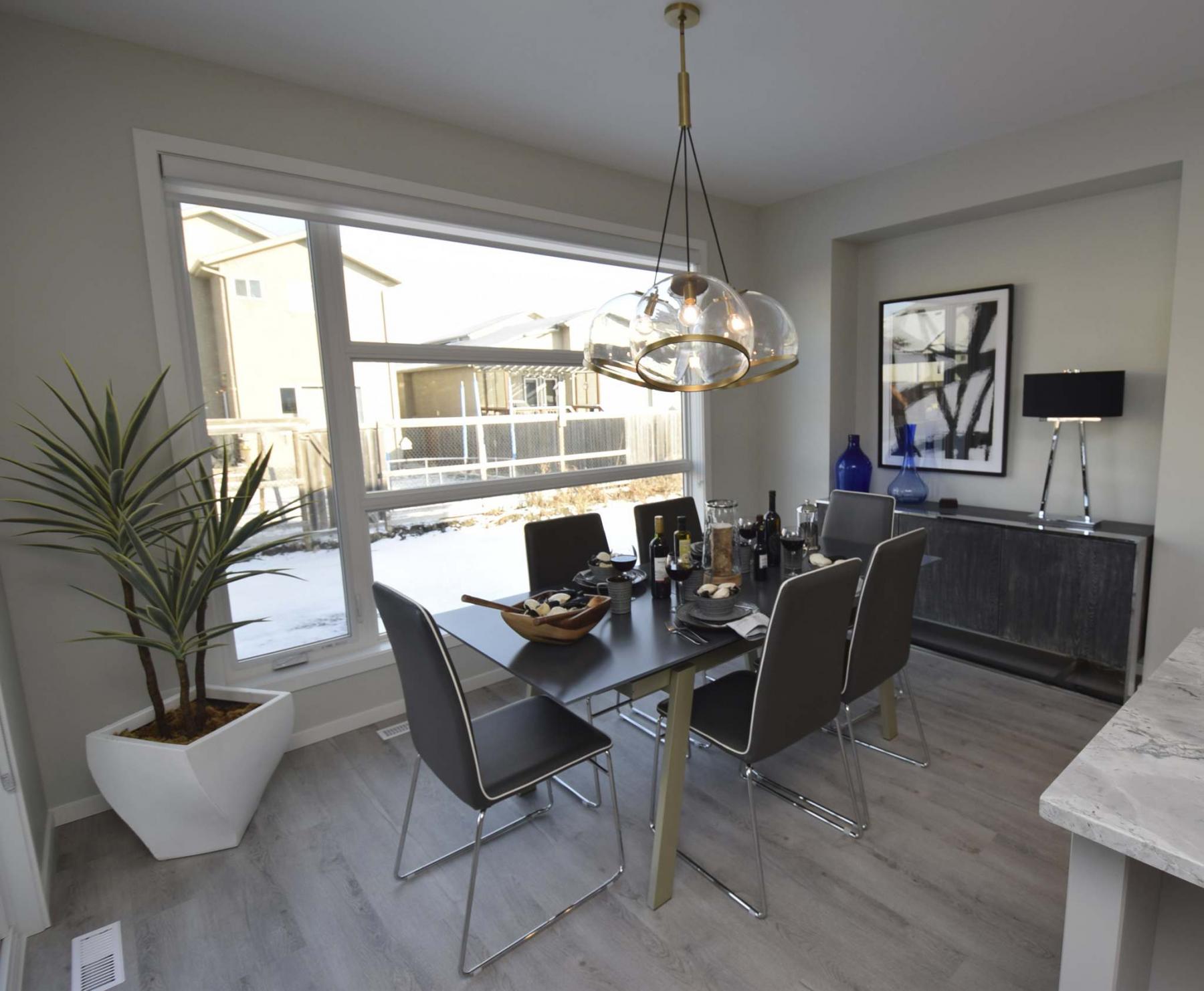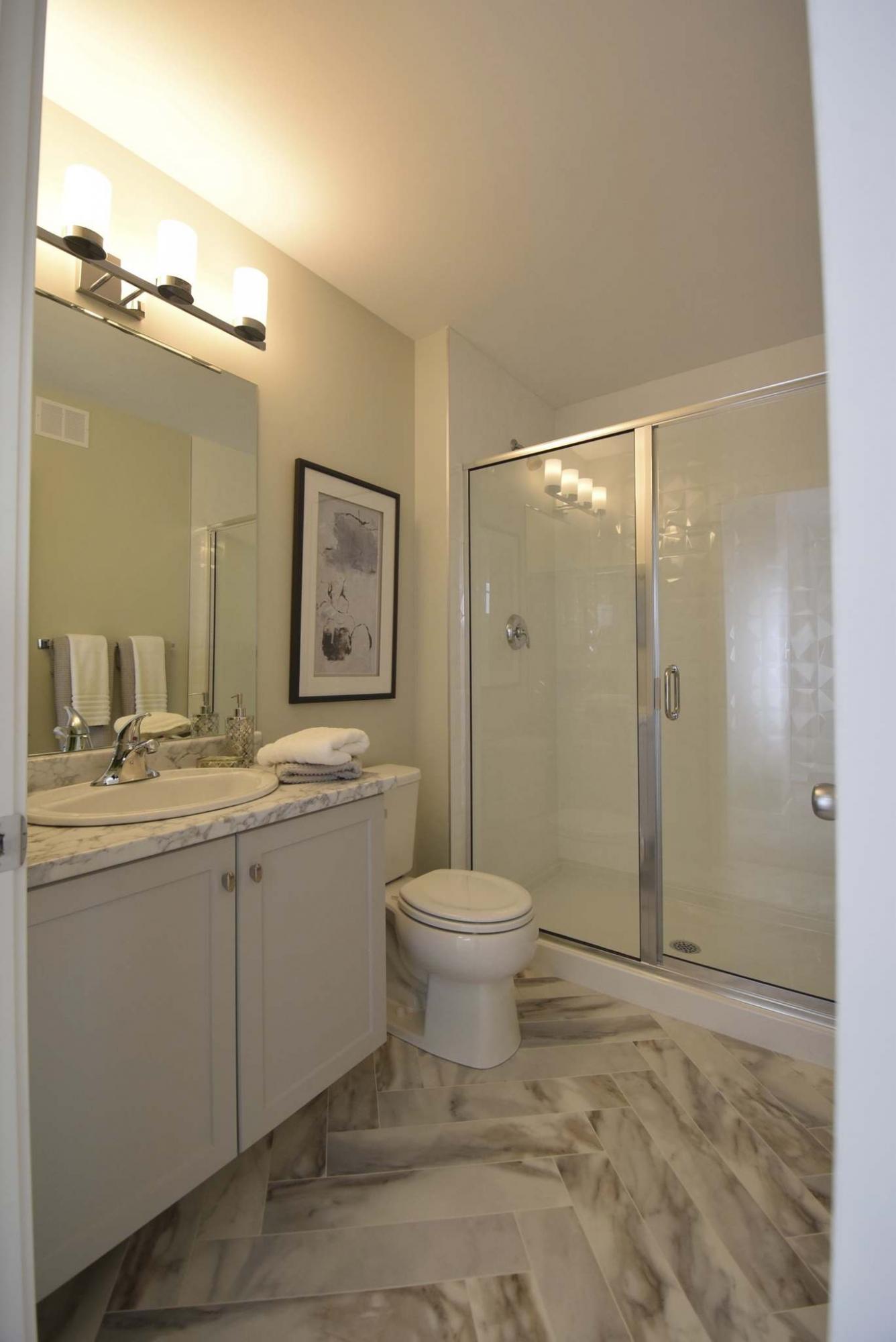 Growing families need a home that delivers the looks and livability they desire at an affordable price.
Spencer Curtis of Hilton Homes says the Julia — a brand-new, 1,600 sq. ft. two-storey design — was conceived to address those needs and more.
"The goal was to design a more affordable, modest-sized home that didn't sacrifice the amenities that families need," he says. "We also wanted the home to have some panache. That started outside with an exterior that features vinyl siding and acrylic stucco cladding, angled rooflines and well-placed windows that not only look good, but let tons of light into the home."
And while the foyer of many mid-sized designs tends to be on the small side, that isn't the case with the Julia, says Curtis.
"We made it nice and big with a walk-in closet with laundry area to the right and a slick little powder room to the left — it's a great space that's really nice to walk into. We're really proud of that, as it offers families the function they're looking for right off the hop."
Not surprisingly, that ultra-livable feel carries right into the Julia's main living area, which — thanks to a superb layout — feels like it belongs in a much larger home.
"Our design team did a great job of distributing the available space," says Curtis of the naturally-bright, open-concept area. "There's a big family room to the left, the kitchen is nice and roomy, and there's a generous dining area that was carved into a boxed-out spot to the rear of the kitchen."
Although the great room is impressive, the kitchen — with its seamless blend of style and function — is the one that stands out most.
"We actually managed to fit in a 10-foot island with double sink that seats three — it's perfect for day-to-day family life or entertaining," he says. "There's also a huge pantry, gorgeous grey-quartz countertops, light grey soft-close cabinets and drawers, a marble-style tile backsplash with diamond pattern and stainless appliances that go beautifully with the modern colour scheme."
Meanwhile, the other two spaces that occupy the bright, airy great room aren't bad, either.
"Both are defined by huge windows on their rear wall," notes Curtis. "It's those two windows that give the great room its naturally bright feel. Light just pours inside, making for a wonderfully livable area that's warmed up nicely by gorgeous taupe laminate plank flooring. I love the family room with all its light, and its electric fireplace set in an optional marble tile surround."
The Julia's ultra-efficient floor plan continues upstairs in the form of a second floor that comes with four surprisingly large spaces: a generous four-piece bath, two oversized secondary bedrooms and a beautifully-designed master suite.
"Again, there's absolutely no wasted space," he says. "Both kids' bedrooms are a good size with large windows and double closets and the main bath comes with with a deep soaker tub and cool taupe/grey vinyl floor with herringbone pattern. The master suite was positioned and laid out to maximize privacy and function."
Situated to the left of the upper level staircase well away from the kids' bedrooms, the master was further isolated by placing it down its own four-foot hallway — and altering its layout.
"Instead of walking straight into the bedroom, you walk into another short hallway," says Curtis. "The three-piece ensuite was placed to its left, providing additional separation. There's also a nice, open walk-in closet on the other side with a nook for a table or dresser to its left, along with an oversized transom window that lets in lots of natural light."
Finally, there's the bedroom, tucked away neatly to the rear.
"It's just the perfect size, a cosy retreat with plenty of room for a king-sized bed, furniture and a big window that lets in more natural light. It's a wonderful, relaxing space."
With a generous lower level that offers an additional 600 sq. ft.-plus of livable space when developed, plus standard features that include I-joist systems for both the main and second floor plus bigger baseboards, a wider array of colour options and soft-close cabinets and drawers in the kitchen, the Julia is packed with value in either show home or base form.
"In upgraded show home trim, it's priced at just over $483,000," says Curtis. "That said, if a family were to go with more basic finishes, we could get them into the home for $400,000 and up, depending on which upgrades they choose. No matter which way they go, this marvel of modern design is sure to impress and meet their every need."
lewys@mymts.net
Details
Builder: Hilton Homes
Address: 87 Crestmont Dr., Bonavista
Style: two-storey
Model: the Julia
Size: 1,600sq. ft.
Bedrooms: three
Bathrooms: 2.5
Price: $483,097 (Includes lot, upgrades & GST)
Contact: Kim Fyles, RE/MAX Executives Realty, 204-291-2220 or Soren Frederiksen, RE/MAX Executives Realty, 204-226-3571