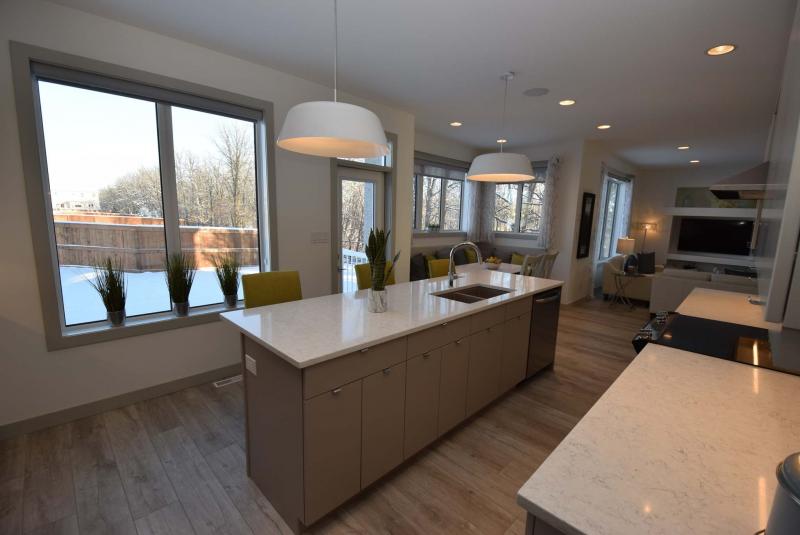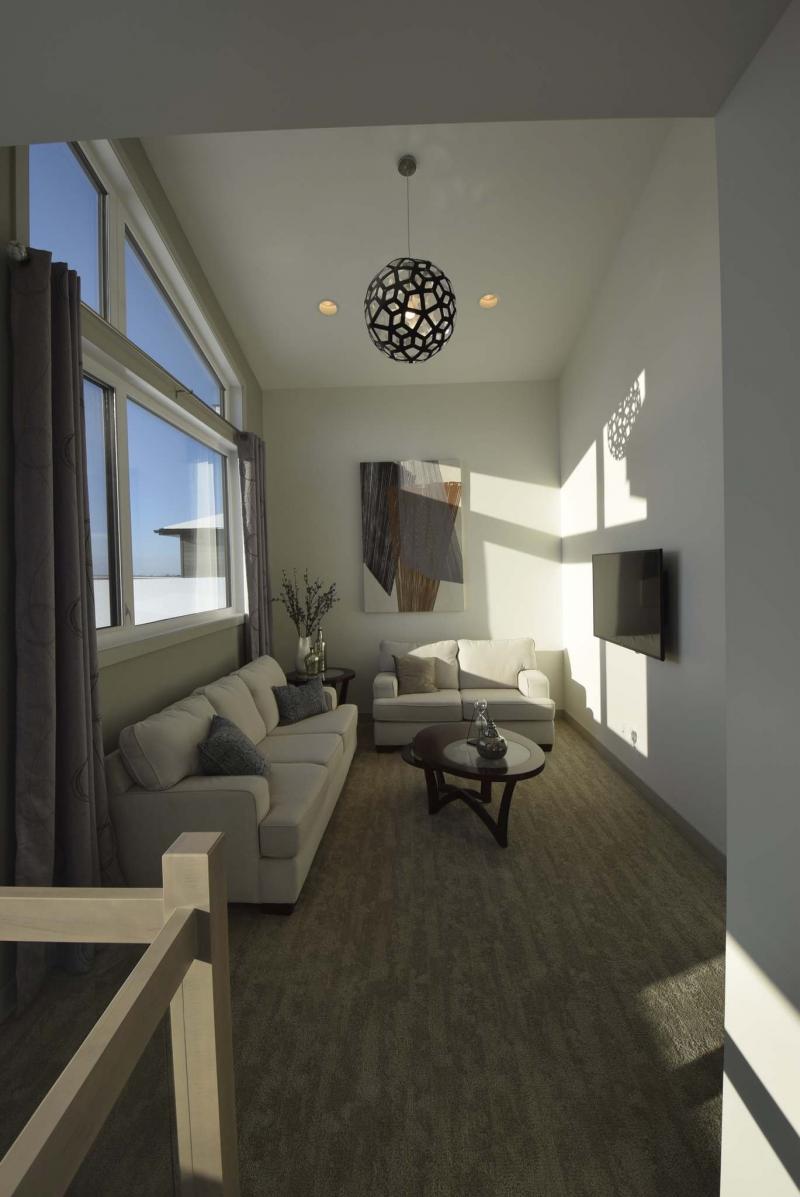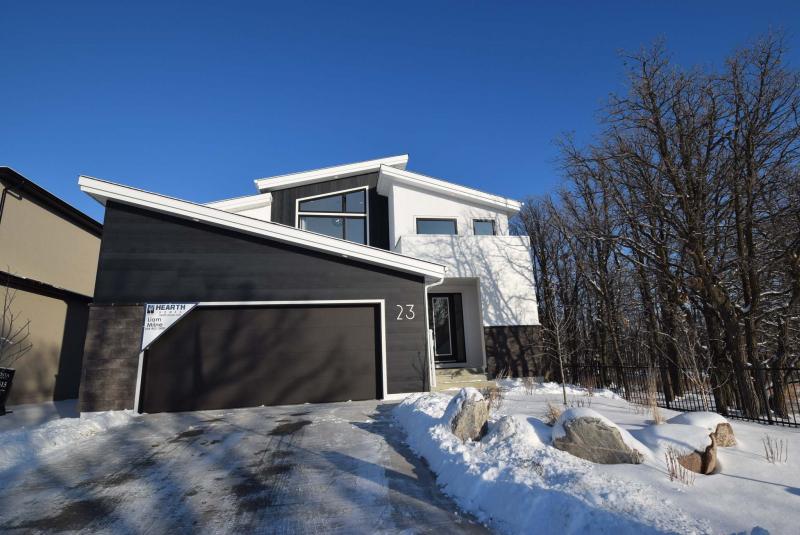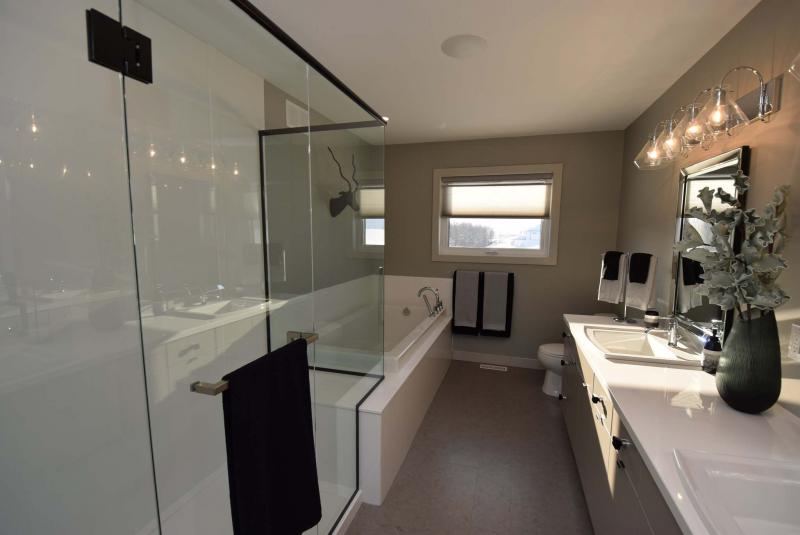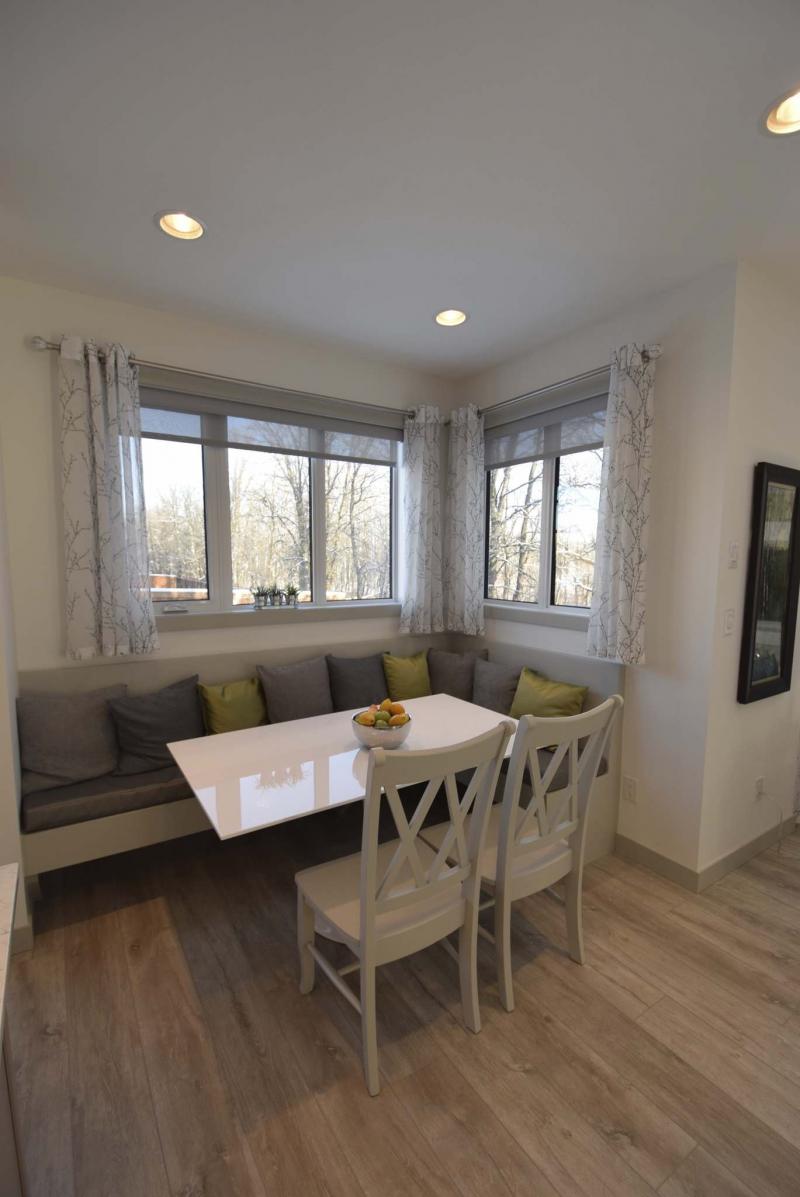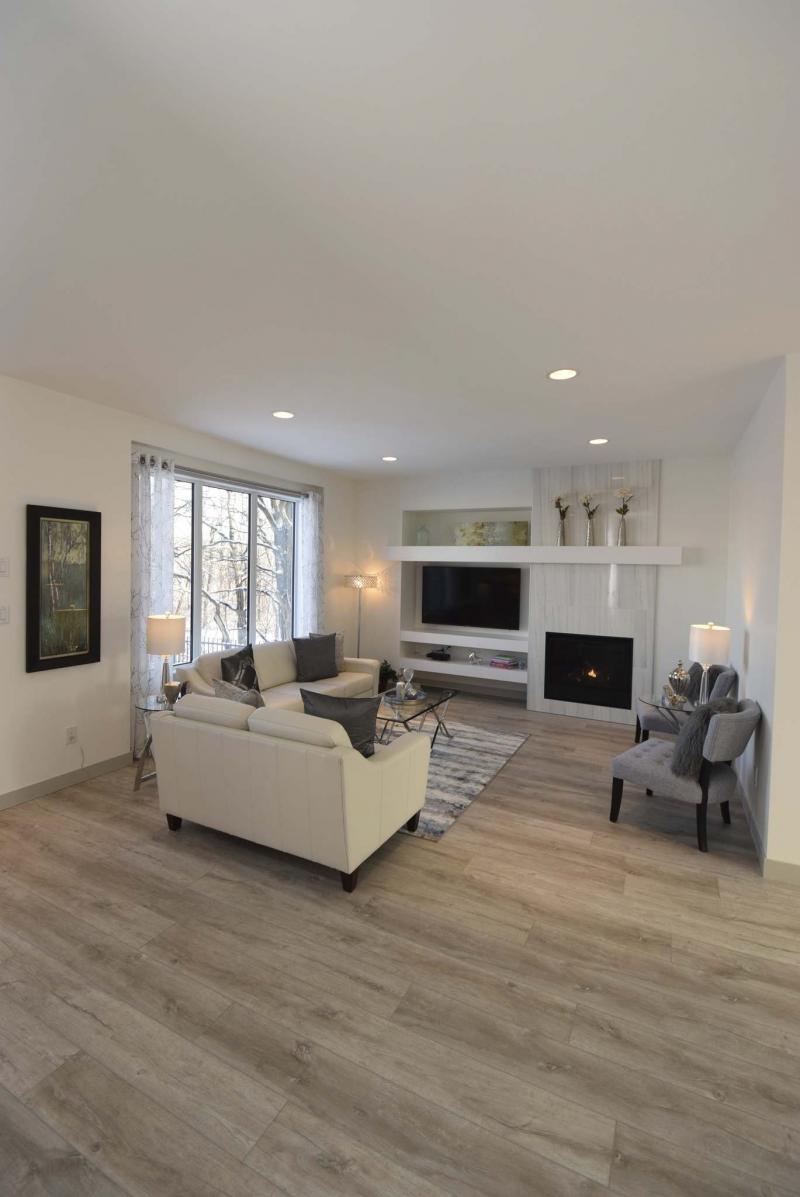 There are certain advantages associated with building only 12 homes per calendar year, says Liam Milne of Hearth Homes.
"When you build only a limited number of homes per year, you're never in a hurry," he says. "You're not only able to put focus more on quality, but you're also able to put thought into plugging more creative touches into the design of a home."
The result of that deliberate, unhurried approach was 23 Munnion Rd., a 2,175-sq.-ft. two-storey design nestled next to mature forest in Charleswood's newest community, RidgeWood West.
"It's actually a brand-new plan," Milne says of the Hillcrest, which possesses tons of curb appeal thanks to an exterior design that incorporates a tri-angled roofline and a fetching combination of light and dark exterior finishes. "Our goal was to create a home with a River Heights feel designed around a modern floor plan that made for an amazing family home."
Turns out, that River Heights feel starts outside the home.
"We were very fortunate to have drawn the best lot on the street," he says.
"It's next to a beautiful collection of mature trees, so we wanted to highlight the gorgeous tree views — views that you get so often in River Heights, where the homes are often surrounded by trees."
Suffice it to say, the tree views from both the family room and dinette bankette are sensational.
"To highlight the tree views, we placed large windows on the home's rear wall — a huge picture window in the family room, and a series of windows above the dinette bankette, which comes equipped with a built-in bench and table. Because the windows are high up, you're in a private spot, yet you get the views. It's a gorgeous spot to start your day in."
The adjacent island kitchen, meanwhile, is a space that's fashionable yet functional, Milne says.
"Of course, the Silestone quartz countertops and Cirrus cabinets — which feature a pale mushroom tone — go beautifully with the stainless appliances and luxury vinyl plank flooring, which looks like a rustic, distressed barn board. However, while we always try to design interesting homes, we never compromise functionality or livability."
With that thought in mind a handy space — a mudroom with a butler's pantry — was placed off to the side of the kitchen.
"There's no laundry area in the mudroom, so you're never boxed in," Milne says. "There's a bench, built-in custom cubbies and a door that provides access to the garage. There's also a butler's pantry between the mudroom and kitchen that leads directly to the dining room. It has a serving area and its doorway can be closed off by a gorgeous grey barn door on rollers."
The great room is then completed by a subtly-spectacular family room.
"Its huge picture window lets in tons of light and provides beautiful tree views while the entertainment unit, which features a gas fireplace set in cream and grey tile, finishes off the great room in simple yet elegant style."
Head upstairs, and you find a second floor that's as efficiently laid out — and light-filled — as the main floor.
"We started it off with a fabulous loft with vaulted ceiling and a gigantic window with transom," he says. "The amount of natural light that pours in through it is ridiculous."
A thoughtfully laid-out bedroom wing then runs off the loft toward the front of the home.
"We put the main bathroom at the beginning of the wing not only for convenience, but to also insulate the kids' rooms from TV noise. It also holds a huge laundry room, two carpeted kids' bedrooms, and of course, the master suite."
Set off in its own private spot, it's one sweet master suite.
"With its warm luxury vinyl plank flooring and huge window that lets in tons of natural light, it's a bright, spacious retreat," Milne says. "A doorway off the bedroom provides a wonderful surprise with an area that holds a make-up table, walk-in closet with tons of built-in IKEA storage — and ensuite with cork floor, extra-deep soaker tub and five-foot shower."
When you add in a basement that can accommodate a huge rec room, fourth bedroom and bathroom, you have a family-oriented home that offers over 2,900 sq. ft. of livable space.
"We're really pleased with how the home turned out," he says. "Everyone loves its character and layout, and how it's unique, yet functional. By taking our time, we were able to design a home that's creative, yet livable."
lewys@mymts.net
Details
Builder: Hearth Homes
Address: 23 Munnion Rd., Charleswood (RidgeWood West)
Style: Two-storey
Model: The Hillcrest
Size: 2,175 sq. ft.
Bedrooms: 3 plus loft
Bathrooms: 2.5
Price: $714,900 (Includes land, GST)
Contact: Liam Milne, Hearth Homes, 204-802-3400