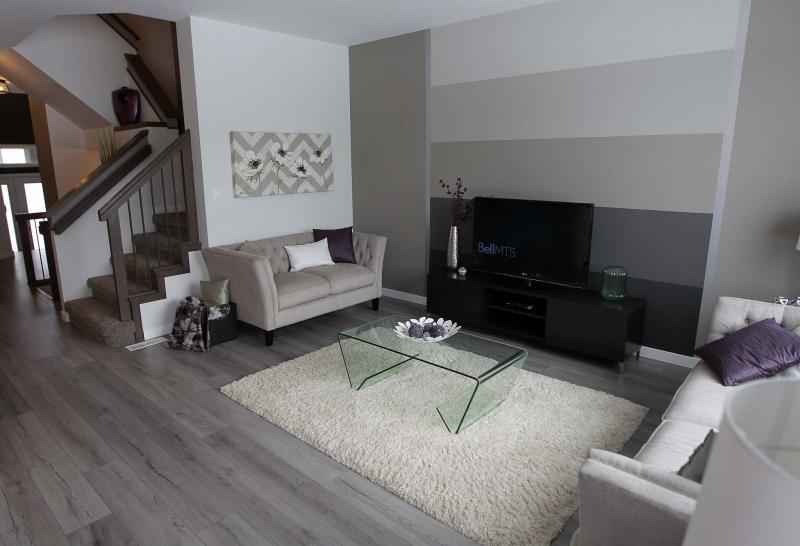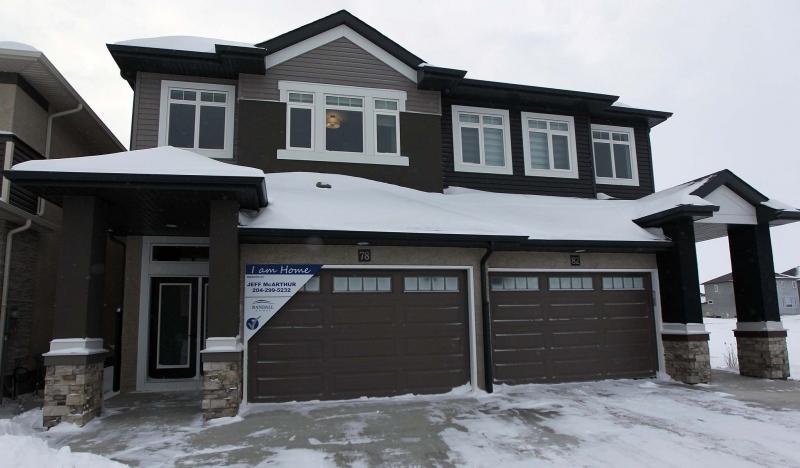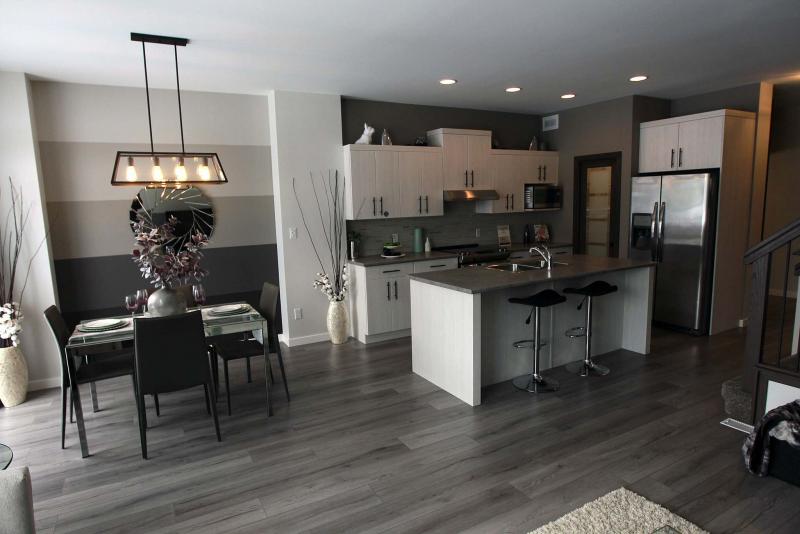 New home sales representatives rarely sell the same home model four times in one month, but that's exactly what Jeff McArthur of Maximum Realty recently did.
McArthur has sold four of the six available Victoria models, an attached two-storey design featured at the show home at 78 Rowntree Ave. in Bridgwater Trails.
"The response to this home has been great," he says. "When you design a home that's so affordable and livable, that's the reaction you get. I only have two homes left for sale."
McArthur isn't overstating the Victoria's affordability. Its price comes in at $372,900, which includes lot, impact fee and net GST.
Most importantly, the 1,654-sq.-ft. abode — which also offers another 500 sq. ft. of livable space downstairs — is also beautifully finished.
"The only options included in the show home are the spindled railing that borders the loft upstairs, and a pocket door with glass centre on the corner pantry in the kitchen," he says. "Otherwise, all the finishes you see in the show home come included in the price."
Those finishes include rich wide-plank laminate flooring, a flat painted ceiling, medium-brown oak stair railing and wall capping, textured thermofoil cabinets, taupe laminate countertops, a glass tile backsplash and mod light fixtures.
And while light taupe thermofoil cabinets are featured in the show home's kitchen, they aren't mandatory.
"If you want to go with maple cabinets, you can, they're also a standard finish," McArthur says. "Even though the Victoria has been designed to be an entry-level home, you don't feel like you're in a cheaper home by any stretch of the imagination."
That substantial, spacious feel is derived from a well-thought-out floor plan that starts in the Victoria's foyer.
Set down four steps from a wide, angled hallway that provides seamless access to the great room, it gets the home off to a functional — and surprisingly fashionable — start.
"The only way to describe is that it's a grand entrance," he says. "Not only is it nice and wide, but it has a soaring ceiling that makes it feel even more spacious. It's something that you don't necessarily expect in an entry-level home."
The generous hallway that connects the foyer to the great room also yields a trio of very pleasant surprises, he adds.
"A lot of thought was put into the home's design, and that shows here. A powder room and built-in desk were tucked away neatly to the right, while the lower-level and upper-level stairwells to the left feature beautiful oak railing with matte spindles and oak capping on the walls. There's also a niche for a bench with display area between the two staircases."
Then there's the ultra-livable great room.
"Visitors have just loved its feeling of space and its natural brightness," McArthur says. "The large windows let in lots of light, and the well-designed floor plan uses all the available space really well. All three spaces, the island kitchen, dining area and family room are a good size, and flow from space to space is really good."
The main floor's functionality extends to its second level, which, due to some sort of design wizardry, contains not only three bedrooms and a main bath, but a laundry room and a loft space.
"Somehow, Randall's design team found a way to put a little loft area in to the left of the stairs. It overlooks the foyer, and could be used as a sitting area, office or play area."
Both secondary bedrooms are plenty big, providing ample room for kids, from toddlers to teens, if required. At the same time, the laundry room is no afterthought; it possesses ample space to do laundry without feeling boxed in.
Finally, there's the master suite, which is set off in its own private area next to the laundry room at the end of the hall.
"It's a generous, naturally bright space that comes with a good-sized walk-in closet and three-piece ensuite with five-foot shower and thermofoil vanity," he says. "The Victoria's second floor offers the function and style of a much larger home."
With another 500 sq. ft. of livable space downstairs and an attached, oversized single garage, The Victoria offers incredible livability, style — and value, McArthur says.
"I truly believe the Victoria is the wave of the future. I think it's going to bring a whole new wave of buyers out into the market with its affordability, livability and standard, beautiful finishes. It gives you everything you need in a family home for under $400,000."
lewys@mymts.net
The details
Builder: Randall Homes
Address: 78 Rowntree Ave., Bridgwater Trails
Style: Two-storey attached
Model: The Victoria
Size: 1,654 sq. ft.
Bedrooms: 3 plus loft
Bathrooms: 2½
Price: $372,900 (Includes lot, impact fee, GST)
Contact: Jeff McArthur, Maximum Realty, 204-299-5232