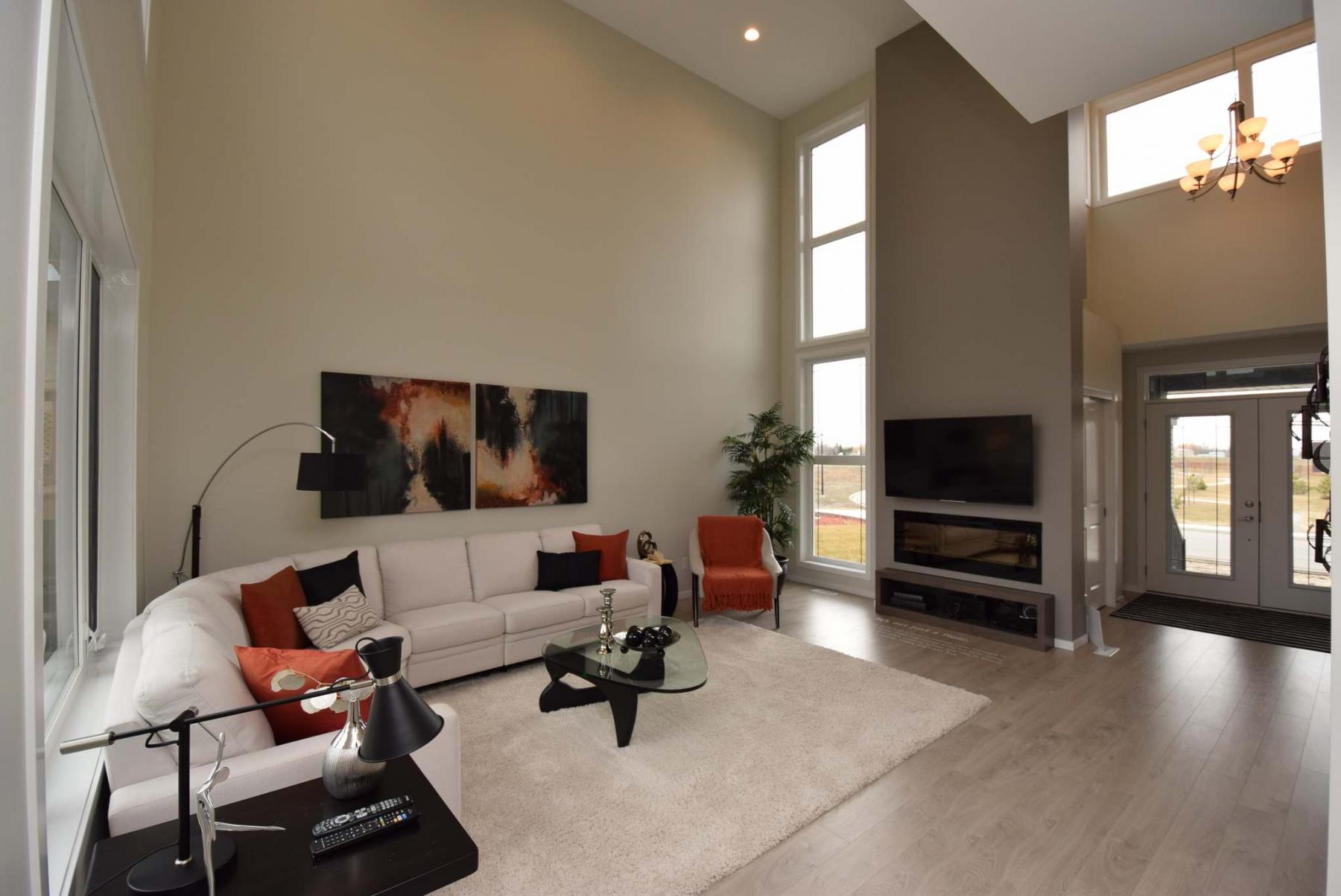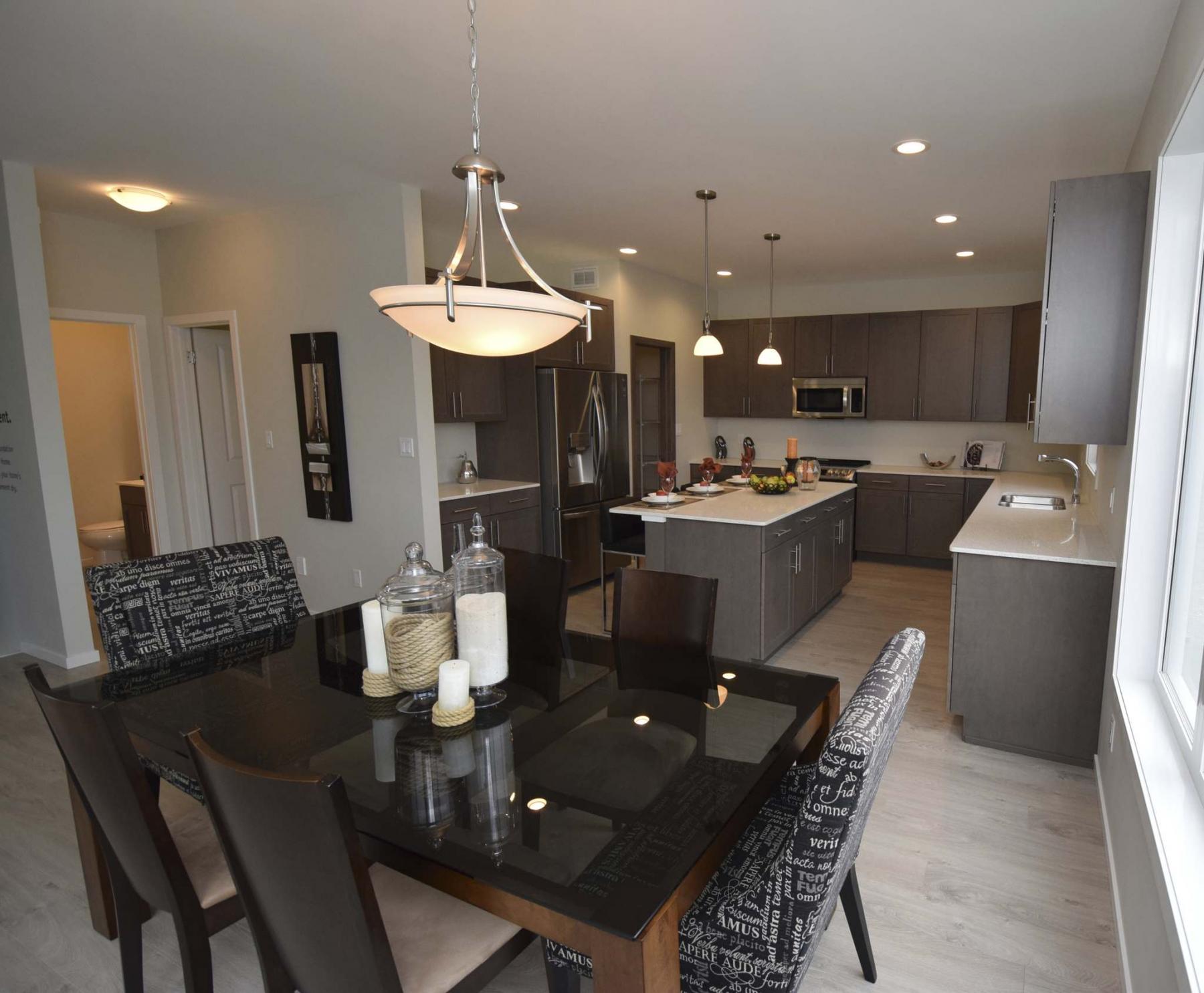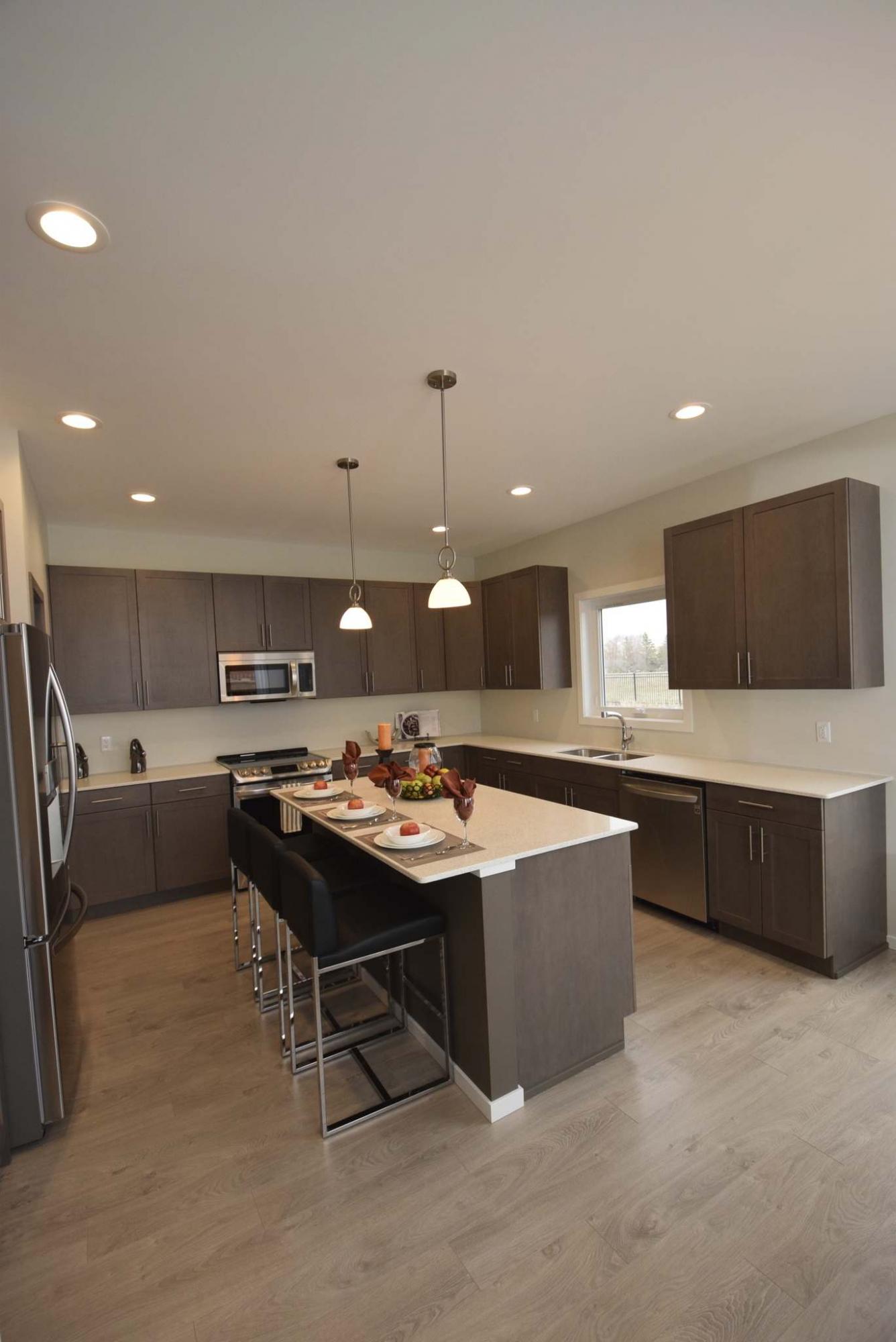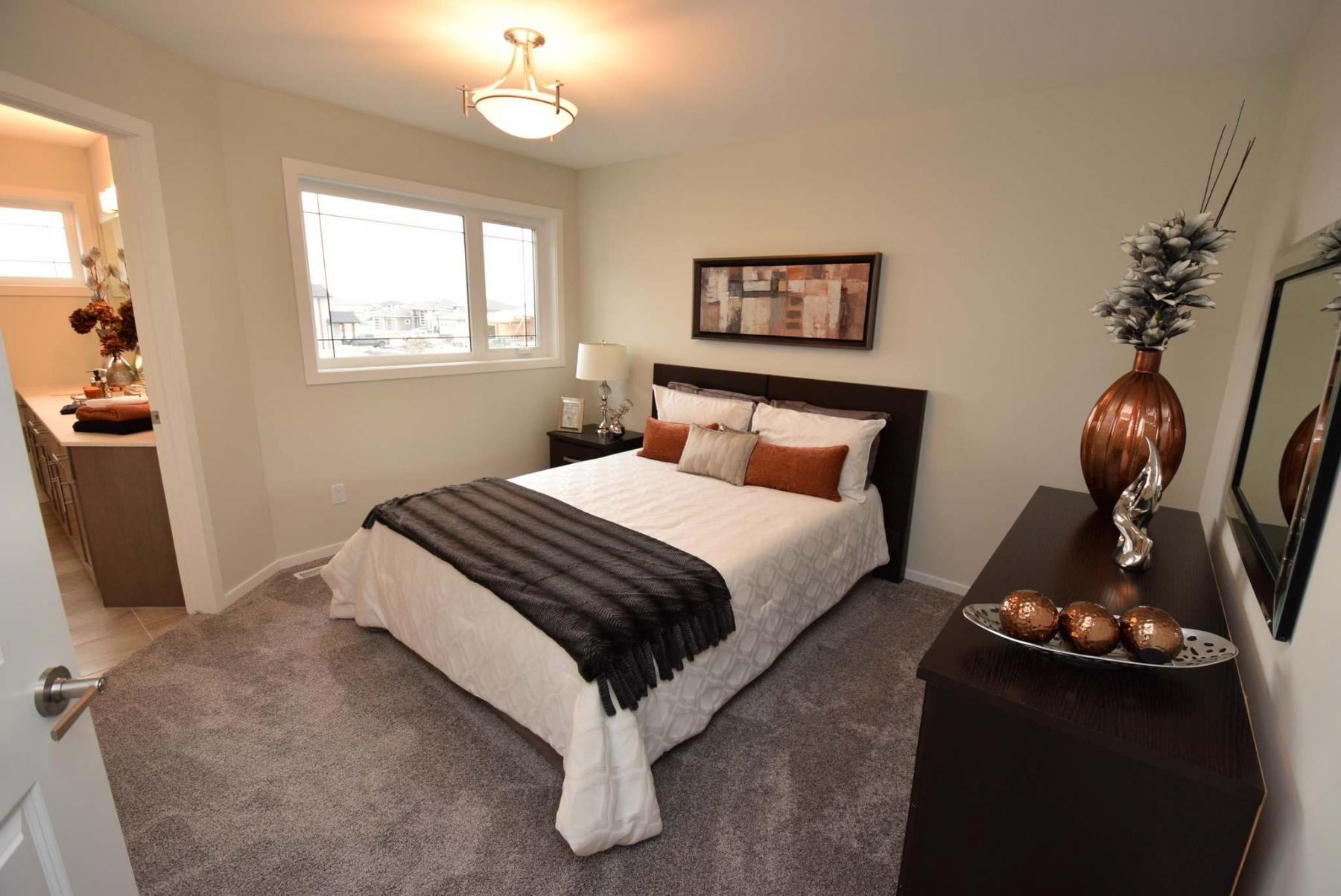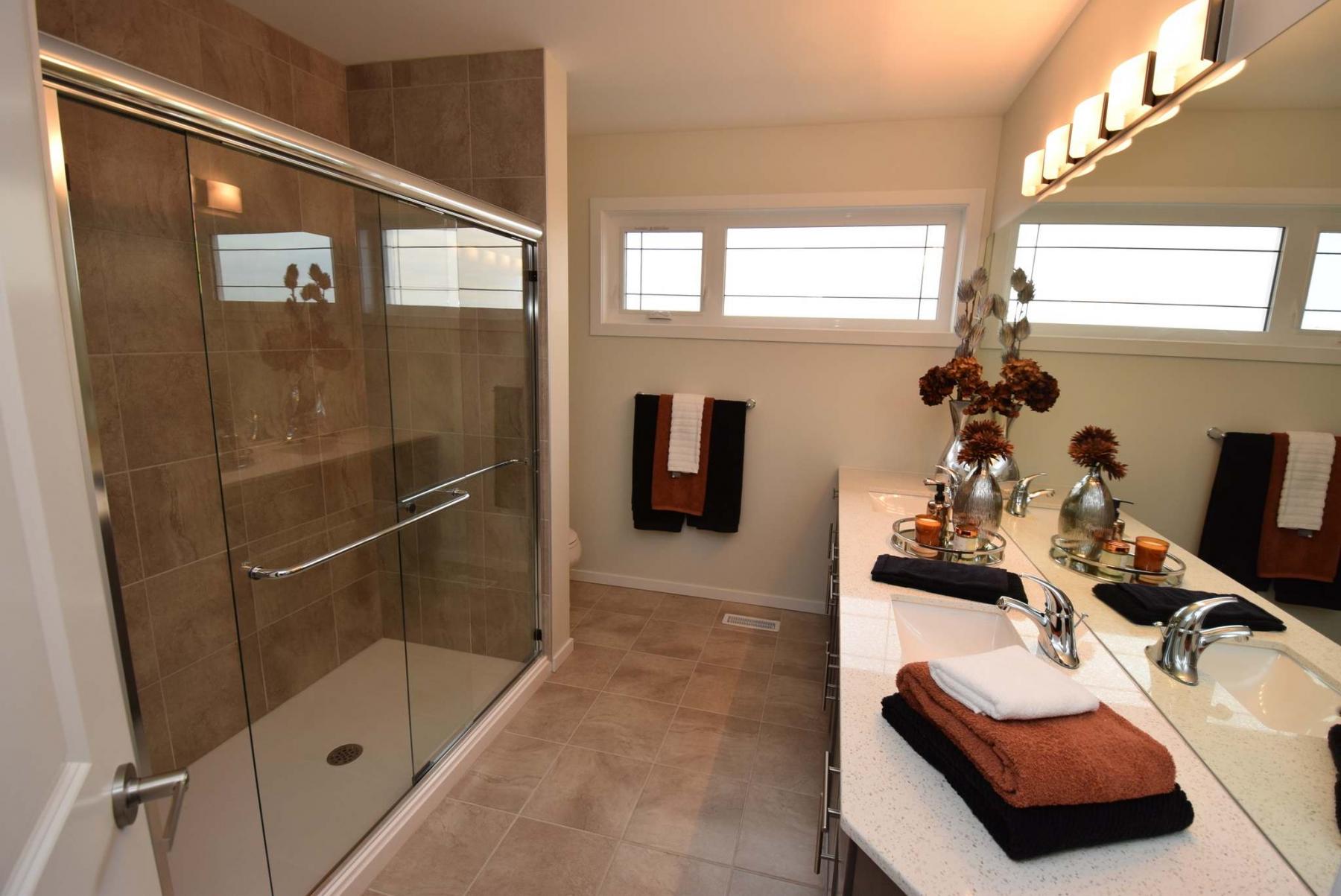 One of the advantages associated with building a home in a community outside the city is being able to build on a larger lot.
The Polaris — a new A & S Homes show home at 5 Chimney Swift Way in St. Adolphe's Tourond Creek — is a prime example of how building on a larger lot can greatly increase a home's function, says Chris Dudeck of Coldwell Banker Real Estate, who's co-marketing the 1,833 sq. ft., two-storey home with Garry Loewen.
"Simply put, the extra width and depth of a bigger lots allows for a greater variety of homes," he says. "The Polaris is a great example of that. The lot it's on is 57 feet wide by 135 feet deep. That allowed for a wider, deeper home that features an extremely livable floor plan from start to finish."
That high level of livability is apparent the moment set foot in the foyer.
Not only is it wide and inviting, but there's an immediate sense of volume courtesy of an 18-foot ceiling overhead and a grand staircase to the left that possesses an open feel due to its great width and tempered glass inserts that allow its side wall to be a viewing portal rather than a partition.
Loewen says the great room design is nothing short of brilliant.
"It's just a gorgeous area," he says. "The soaring ceiling and lots of huge windows, two huge windows on the rear wall, and a stack of four windows next to the fireplace makes for a bright family room that has an excellent sense of volume. Light streams in from all sides, especially from the south at the rear of the home. It's a wonderful space."
The same could be said for the dining/kitchen area to the left of the family room, says Dudeck.
"Everyone has loved its layout. A spacious dining area was placed at the front of the area with a huge picture window behind it and patio door on the side wall to its right. It's perfect for entertaining, while the kitchen is perfect for cooking up a storm."
With plenty of space to create and a seven-foot island acting as its anchor, the king-sized kitchen is ideally-suited to be the staging point for many a fine meal.
"There's plenty of room to move about, and there's also tons of counter and cupboard space," says Dudeck. "The thunder maple cabinetry is beautiful, the large island seats three and the quartz countertops go perfectly with the cabinets. A large walk-through pantry offers extra storage space and connects with the mudroom, allowing you to bring groceries straight into the kitchen."
The view from a future backyard deck off the dining room promises to be special in more than one way, adds Loewen.
"Because you won't have any neighbours in behind the home, you can sit out back on your deck in total privacy. The country views from the backyard are absolutely gorgeous."
The grand, open staircase then leads up to the home's second level. A quick once-over confirms that its design is just as efficient as the main floor.
In this case, four spaces, the master suite, a four-piece bath and two secondary bedrooms, arc around the landing in an orderly fashion.
The clever design accomplishes two things. First, there's plenty of room for a family to move about on busy weekday mornings. Second, because there aren't hallways to waste space, the main bath and all three bedrooms are generously-sized.
Dudeck says the master suite is especially impressive.
"It was placed to the left with the main bathroom between it and the secondary bedrooms," he says. "That will provide good separation from the kids' bedrooms. The bedroom itself is very spacious, has a big walk-in closet and a luxurious ensuite with wonderful five-foot tiled shower and beautiful vanity with double sink."
Not only does the Polaris offer incredible value at $459,000, but it's located in Tourond Creek, a new bedroom community that's just 10 minutes south of the city from the junction of the Perimeter Highway and St. Mary's Road.
"This community is just getting started," says Dudeck. "You'll eventually be able to enjoy lakes, trails and parks just steps from your front door, and there's already a school here, as well as day care and athletic facilities. And you're only 10 minutes from the Perimeter, so the commute to and from the city is minimal. Tourond Creek checks all the boxes."
lewys@mymts.net
Details
Builder: A & S Homes
Address: 5 Chimney Swift Way, Tourond Creek (St. Adolphe)
Style: two-storey
Model: the Polaris
Size: 1,833 sq. ft.
Bedrooms: three
Bathrooms: 2.5
Price: $459,900 (Includes lot & GST)
Contact: Garry Loewen, Coldwell Banker Preferred Real Estate, 204-227-5744 or Chris Dudeck, Coldwell Banker Preferred Real Estate, 204-293-3399