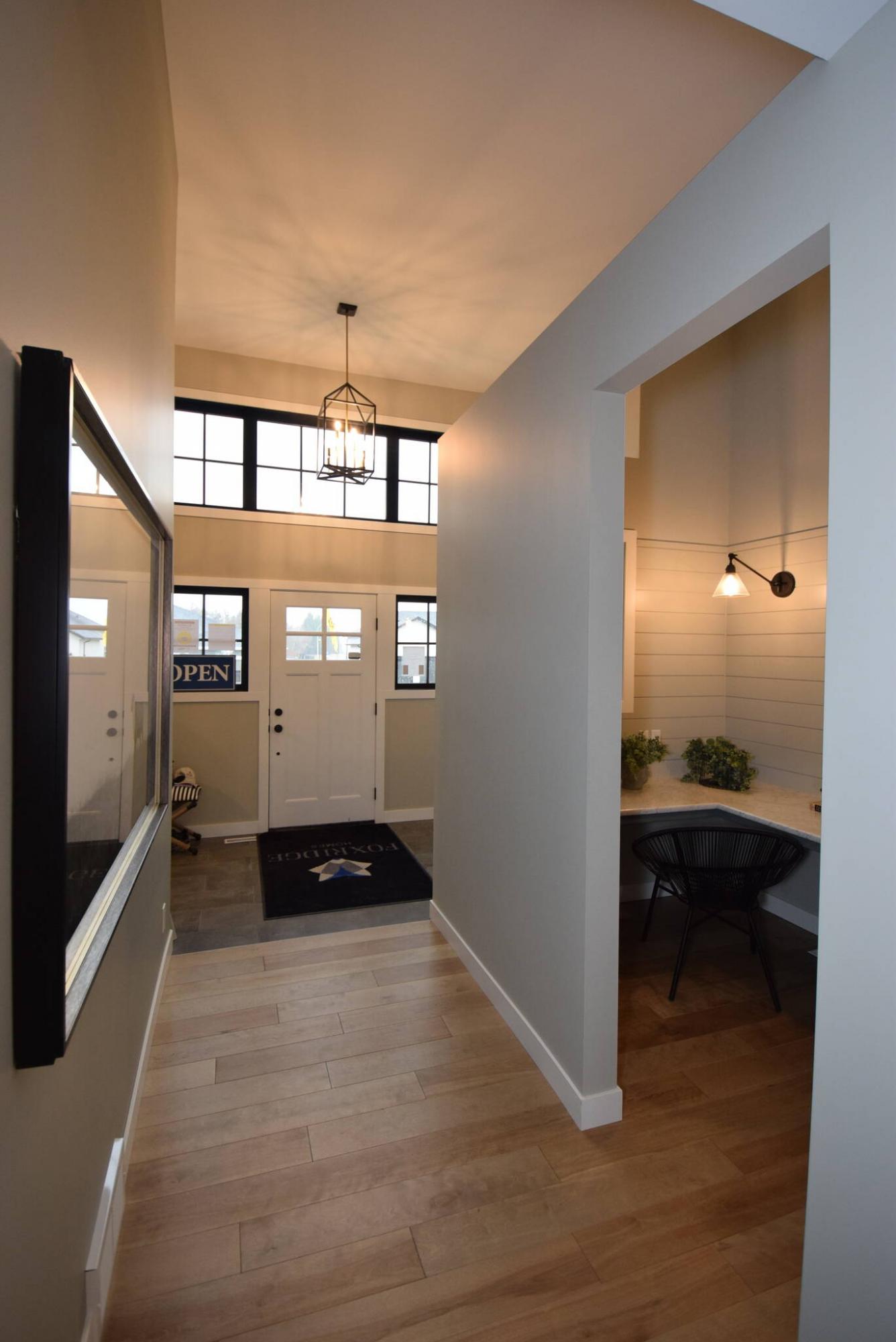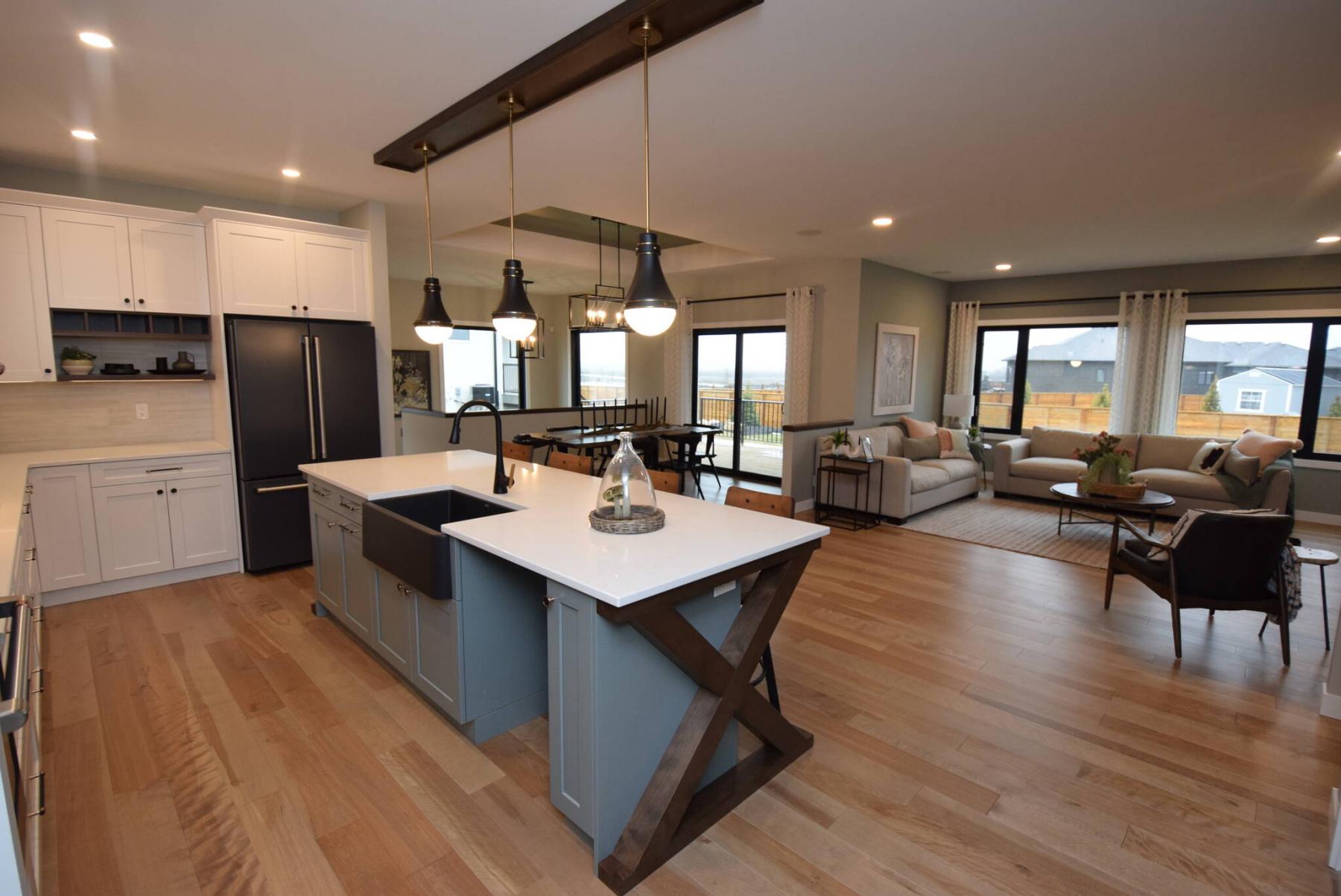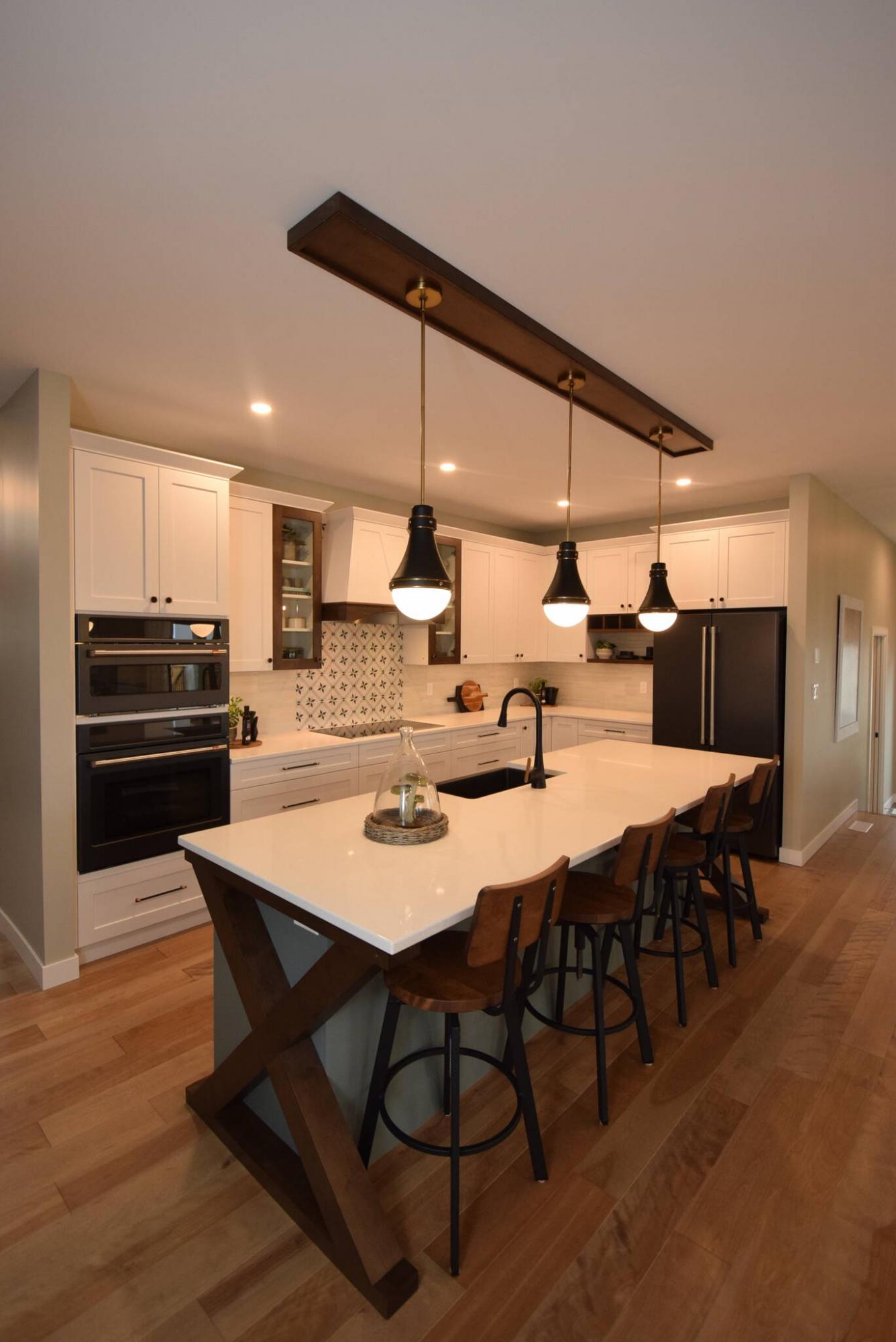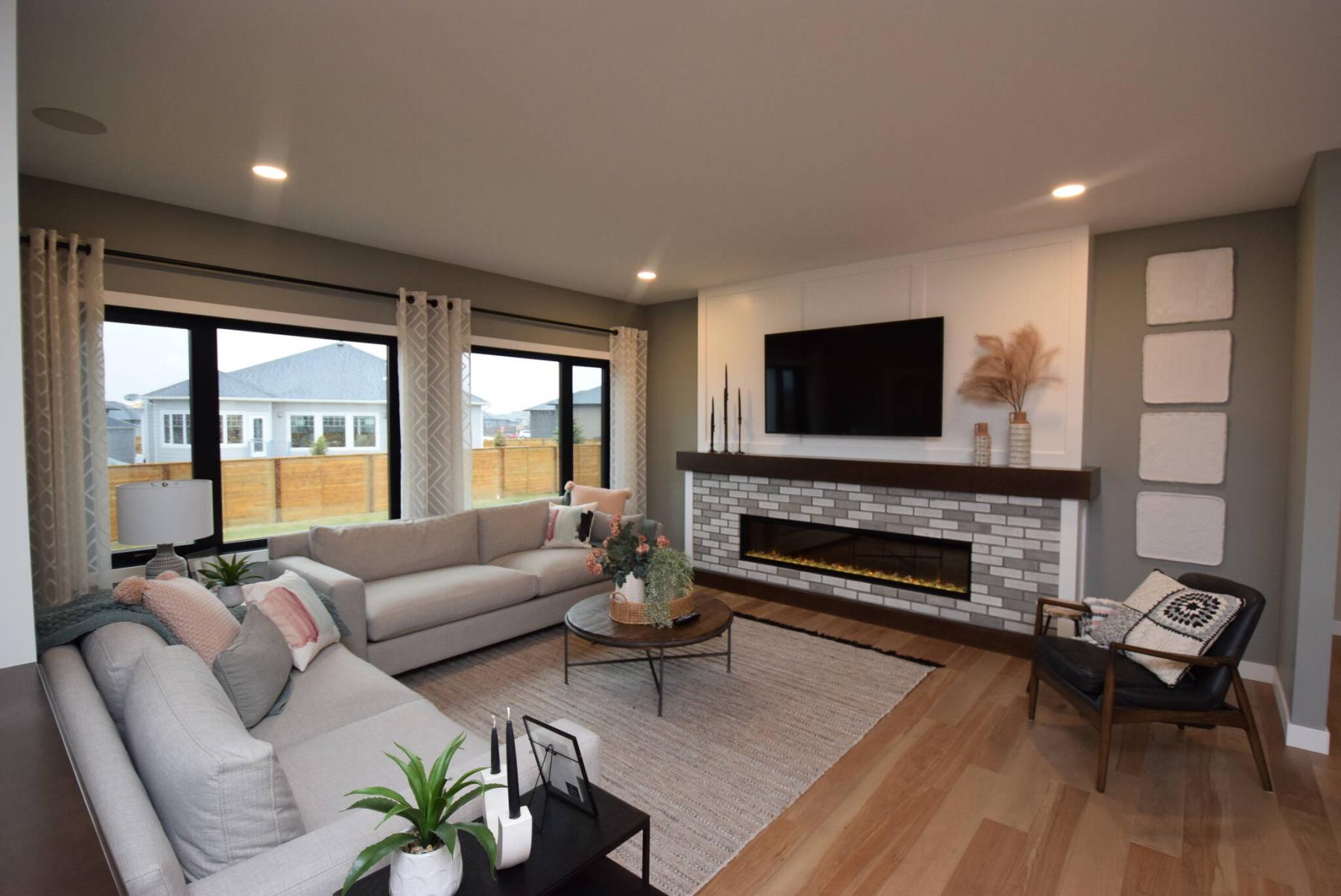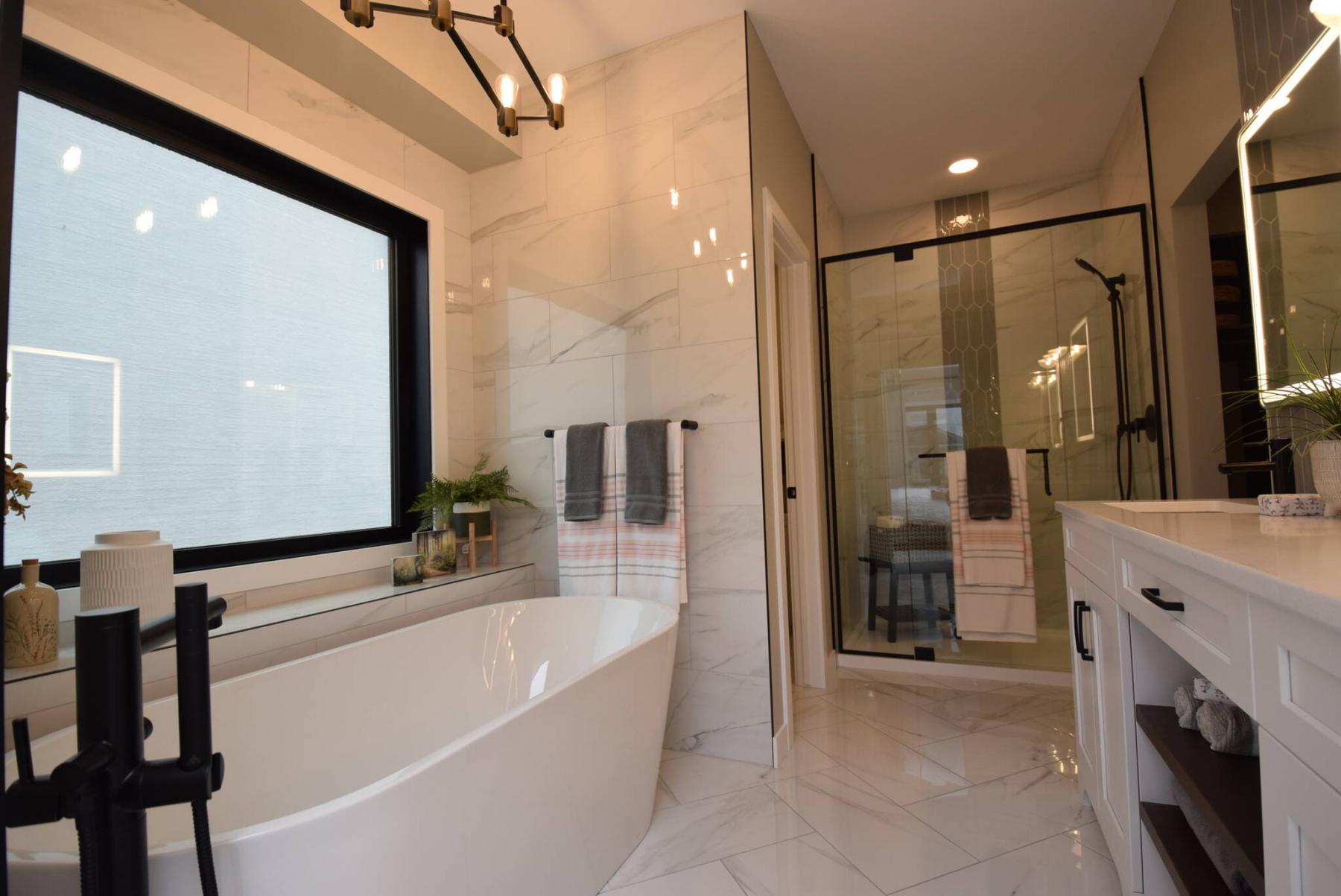 For some reason, some new home designs have the "it" factor, while others don't.
Suffice it to say a striking modern farmhouse bungalow at 13 Stone Hearth Lane in Oak Bluff West has it in spades.
"A lot of people have been intrigued by the home," says Lisa Lawrence, Foxridge Homes' new homes sales consultant for the innovative, 2,076 square-foot., three-bedroom, two-bath plan. "While this is a farmhouse bungalow, it's a very modern one."
That modern take on a farmhouse bungalow starts with the home's front elevation, where natural borders — a double garage to the left and boxed out portion of the home to the right — created an inviting, semi-enclosed front porch.
From there, the front entrance leads into a wide, tiled foyer with 13-foot-high ceiling – and no staircase in sight.
"People have loved how the staircase was pushed off to the side of the home in the main living area next to the dining room," says Lawrence. "Doing that opened up both the foyer and the main living area. Two windows and a side door next to the staircase add extra light to the main living area, too."
At the same time, another space was placed opposite the staircase, which is neatly defined by a one-third-height, maple trimmed wall.
"It holds a separate mudroom with a bench, a window and four separate areas to hang coats," she says. "The laundry room is in its own distinct space off to the side, and the door on the rear wall allows you to take groceries straight inside from the garage."
Step into the main living area, and you can't help but marvel at how such an expansive area can feel so warm and inviting.
"The engineered hardwoods, with their different shades of brown, really warm up the entire area. They're an upgrade, but a very worthwhile one."
Meanwhile, a pair of subtle design features were woven into the main living area's design to endow it with additional warmth.
In the dining room, a tray ceiling with taupe faux treatment contrasts beautifully with its white border.
A linear electric fireplace with taupe/beige brick surround and maple mantel also gives the family room a nice, cozy feel.
Finally, there's the spacious island kitchen, which is decidedly contemporary, notes Lawrence.
"Modern white soft-close cabinets and drawers provide tons of storage space, while off-white quartz countertops, a mosaic tile backsplash behind the built-in cooktop and gunmetal appliances add to the modern feel. The 10-foot island has a grey base that perfectly matches the huge, three-door pantry on the side wall."
The home's exceptional layout doesn't end in the family room.
Reverse course toward the front of the home, and you find a cool micro-office and two separate bedroom wings.
"The secondary bedrooms were placed in their own wing along with a four-piece bath to the right of the foyer," she says. "The primary bedroom, which is naturally separated from the secondary bedrooms by its walk-in closet and ensuite, is down a short hallway off the family room."
An immediate air of calm envelopes you as you enter the bedroom.
A huge, black-trimmed window on its rear wall lets in loads of natural light, while a two-tone wallpaper feature wall around the bed adds depth and warmth.
Lawrence says the ensuite, which can be closed off by a sliding barn-style door, is an inviting, elegant space.
"It has a double vanity with a beautiful custom-tiled wall, tiled walk-in shower, free standing soaker tub set against a gorgeous tile wall and a matching tile floor. The walk-in closet is huge and comes with lots of built-in storage."
Add a lower level that offers over 1,800 sq. ft. of livable space to the mix when developed, and you have a fashionable yet functional family home that yields nearly 3,900 sq. ft. of total livable space.
"Foxridge's design team really thought out the design of this home," she says. "It's a wonderful, modern take on the farmhouse bungalow from start to finish."
lewys@mymts.net
Details
Builder: Foxridge Homes
Address: 13 Stone Hearth Lane, Oak Bluff West
Style: bungalow
Size: 2,076 sq. ft.
Bedrooms: three plus micro-office
Bathrooms: two
Price: from $1,005,000 (includes lot & GST)
Contact: Lisa Lawrence, New Homes Sales Consultant, 204-291-9305