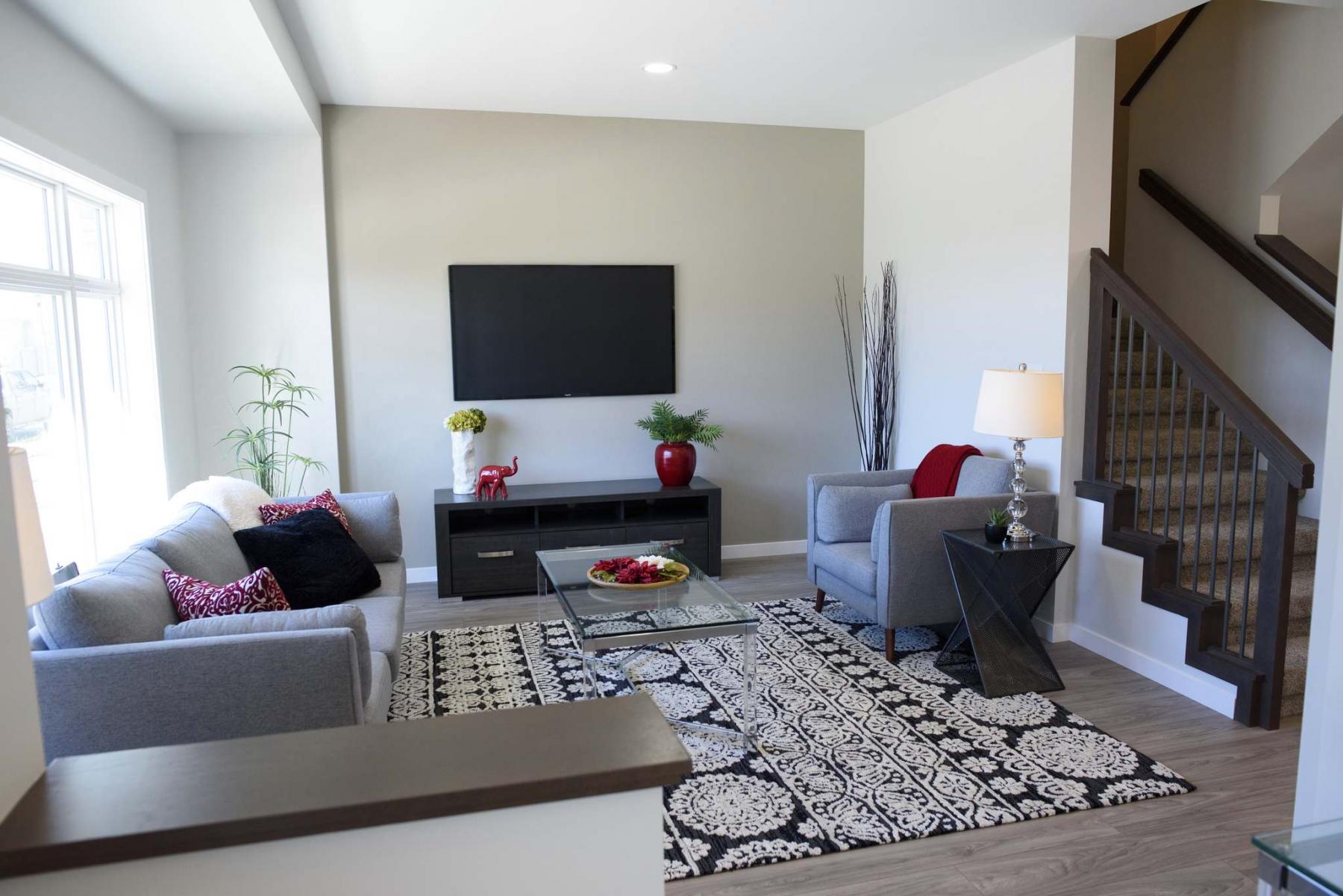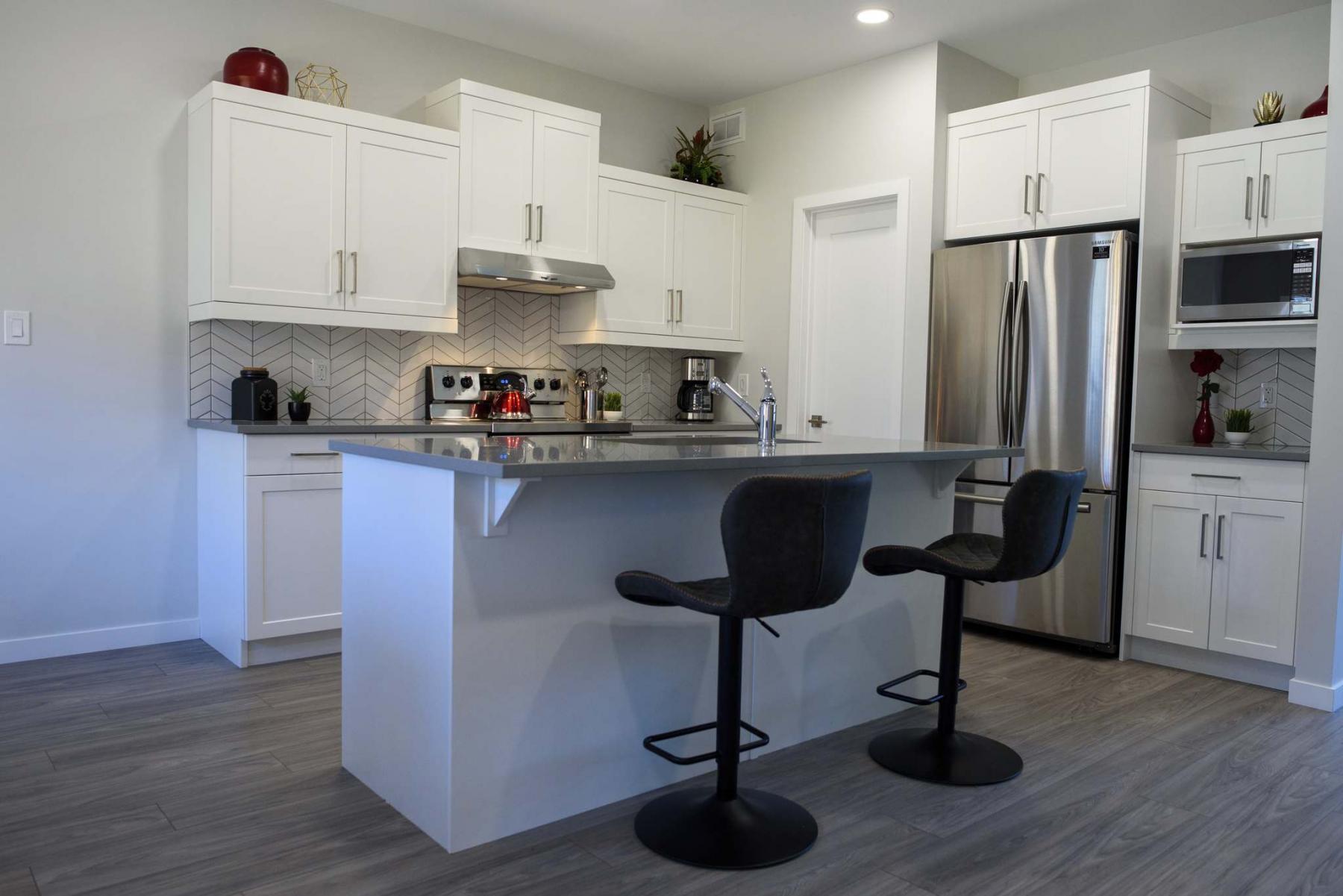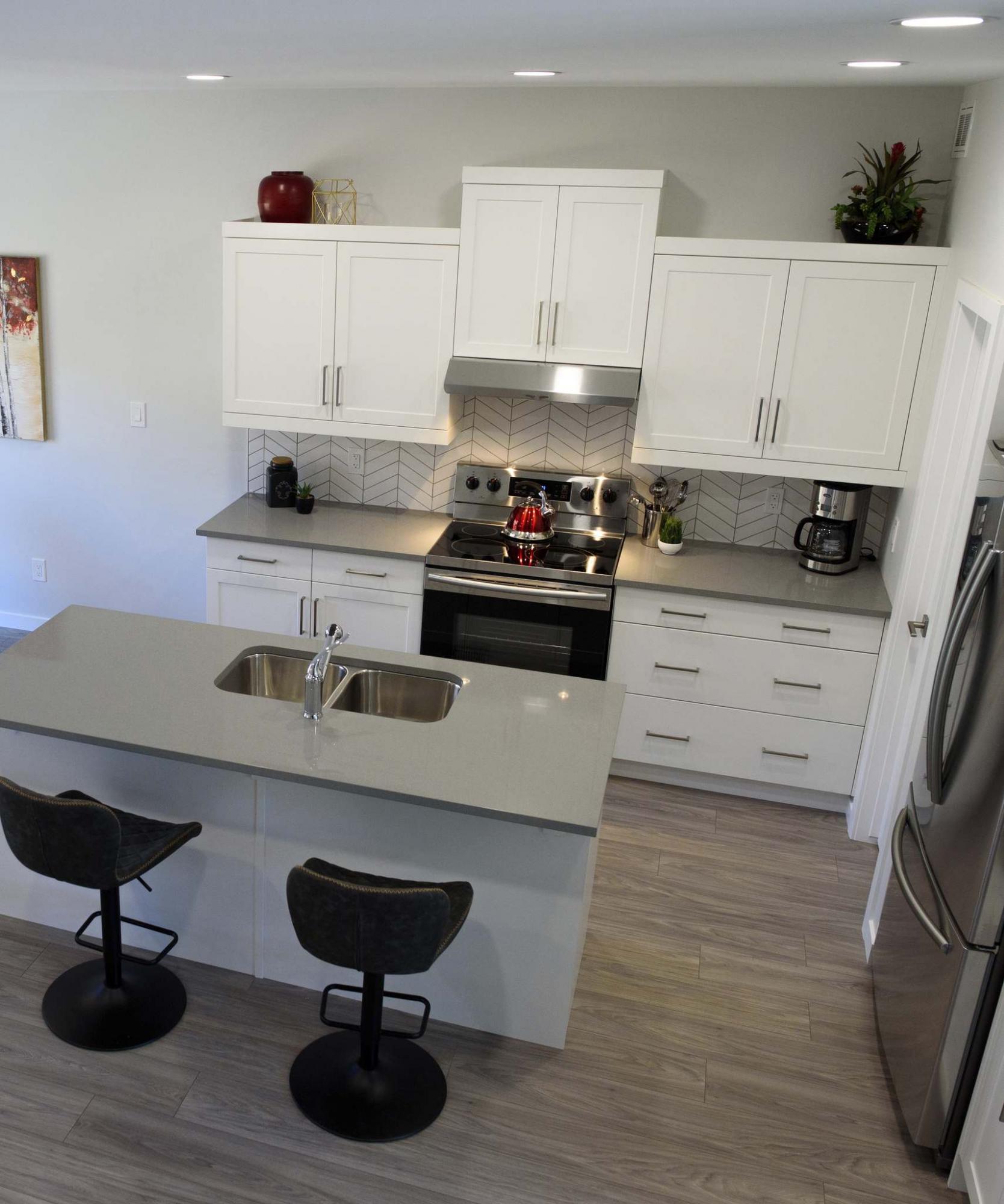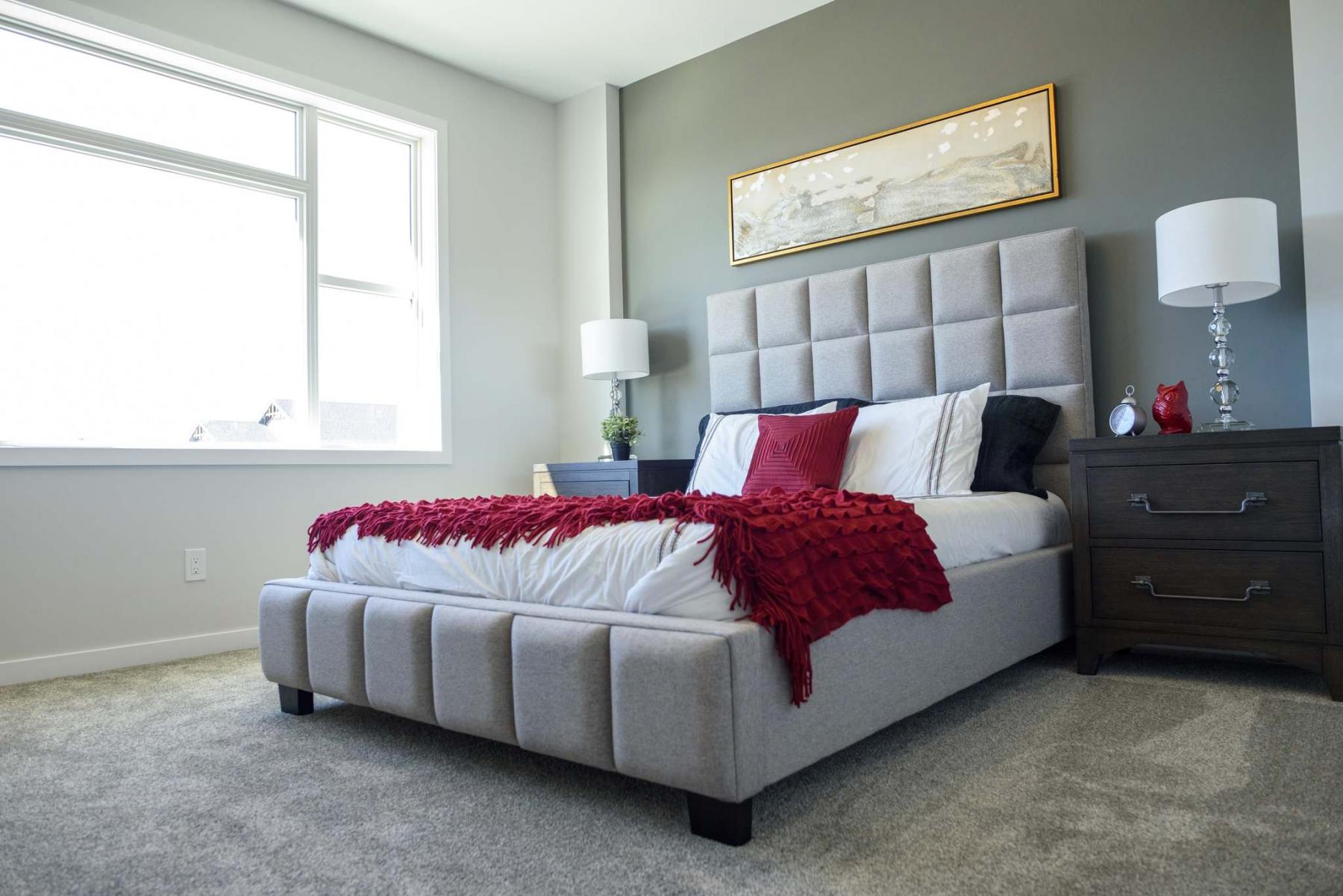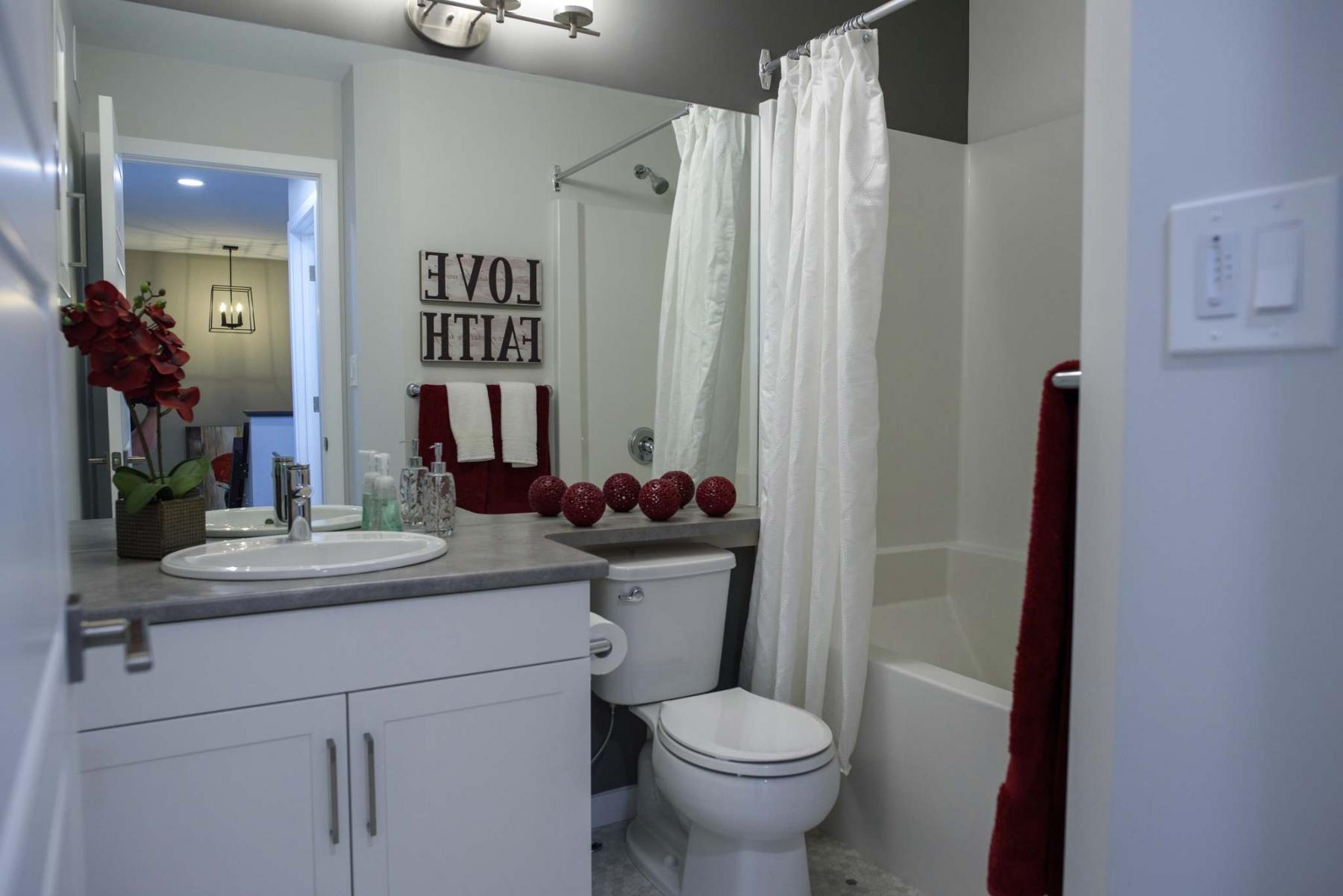 Size definitely matters when determining how livable a townhome-style condominium is.
The design team at Randall Homes hit the bullseye with the square footage of the 10 townhome-style condominiums at LaFrance Condominiums in Sage Creek, says Michael Dubienski of RE/MAX Professionals.
"If you look at the difference between a 1,200-sq.-ft. unit and a 1,500-sq.-ft. unit, the difference is huge," he says. "The extra square footage makes a big difference in overall livability."
That said, extra square footage amounts to nothing if a floor plan isn't well-executed, adds Dubienski's sales partner for the new Randall Homes development, Viktoria Fazekas.
"The unit really has a grand feel to it — all design features are on point and on trend," she says. "At just over 1,500 sq. ft, this unit is basically the same size as a single family home. Everything feels the same. That gives it a real house-like feel."
First impressions of the home are overwhelmingly positive.
Defined by a one-third wall that subtly defines it from the adjacent family room, the foyer is wide and welcoming. Meanwhile, the family room is everything it should be: bright, spacious and positioned so it opens beautifully onto the kitchen/dining quadrant, promoting smooth flow between the two areas.
"The great room is made for entertaining," says Fazekas. "There's lots of room — nine-foot ceilings add to the sense of space — and huge windows all around the great room let in lots of natural light, making for a nice, bright interior."
Most importantly, all the space in the great room is well-distributed. The island kitchen is huge, and the dining area, which measures in at 13.9-by-10.6 feet, is pleasingly spacious.
"Right now, there's a table for six in it, but if you put in a leaf, you can expand it to seat 10. And I love the kitchen. It features an island with a breakfast bar for two, loads of white cabinets, grey quartz countertops, a herringbone tile backsplash, stainless appliances and a corner pantry, which is a feature many townhome condos don't have."
Dubienski says there's another subtle feature not found in townhome condos.
"There's a sunken back landing with beautiful light fixture that not only provides access to the private backyard and double-detached garage, but that also holds a powder room. Again, Randall's design team found a way to use the available space in a creative yet practical way."
The commitment to sensible style continues upstairs.
Thanks to the extra square footage, it easily contains three bedrooms, a spacious main bath and a good-sized laundry room.
"You don't feel like you're in a condo, you feel like you're in a house when you're upstairs," Fazekas says. "The layout is very efficient. Both secondary bedrooms are larger than normal, the main bath is spacious and nicely appointed, and the laundry room isn't an afterthought — there's lots of room to do laundry without feeling boxed in."
A huge master suite then completes the second floor in quietly spectacular style.
"It has all the bells and whistles," says Dubienski. "Not only is it big and bright with a large window on its rear wall that lets in tons of daylight, but it also offers a big walk-in closet with built-in storage and a beautiful three-piece ensuite with a five-foot shower, white vanity, cool grey/white vinyl hexagonal tile floor and an obscured glass window that lets in an extra bit of natural light."
Fazekas says the intuitively designed townhome condo, which also comes with a full basement that can be used for storage or developed, possesses universal appeal.
"I think first-time buyers, young families and empty nesters will be drawn to the functional, stylish design," she says. "Everything is included in the price, all you have to do is pick your colour package. It's a wonderfully designed townhome that offers value, style and a great location that's just steps from shopping, services and great walking trails."
lewys@mymts.net
Details
Builder: Randall Homes
Address: 55 LaFrance Lane, Sage Creek
Development: LaFrance Condominiums
Style: Two-storey townhome condominiums
Size: 1,531 sq. ft.
Bedrooms: three
Bathrooms: 2.5
Price: from $398,900 (Includes lot, impact fee & GST)
Contact: Viktoria Fazekas, RE/MAX Professionals, 204-230-7711 or Michael Dubienski, RE/MAX Professionals, 204-981-4101