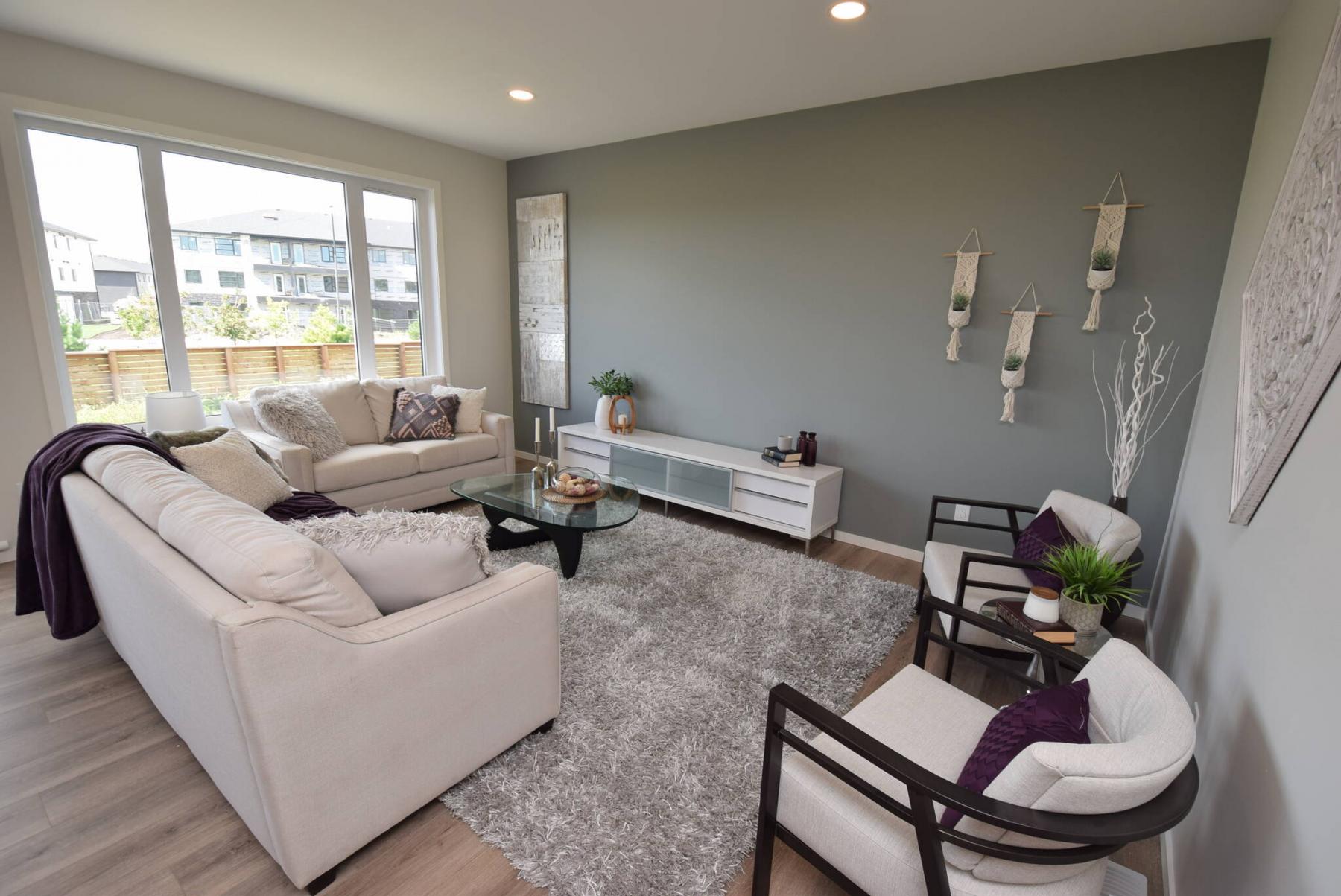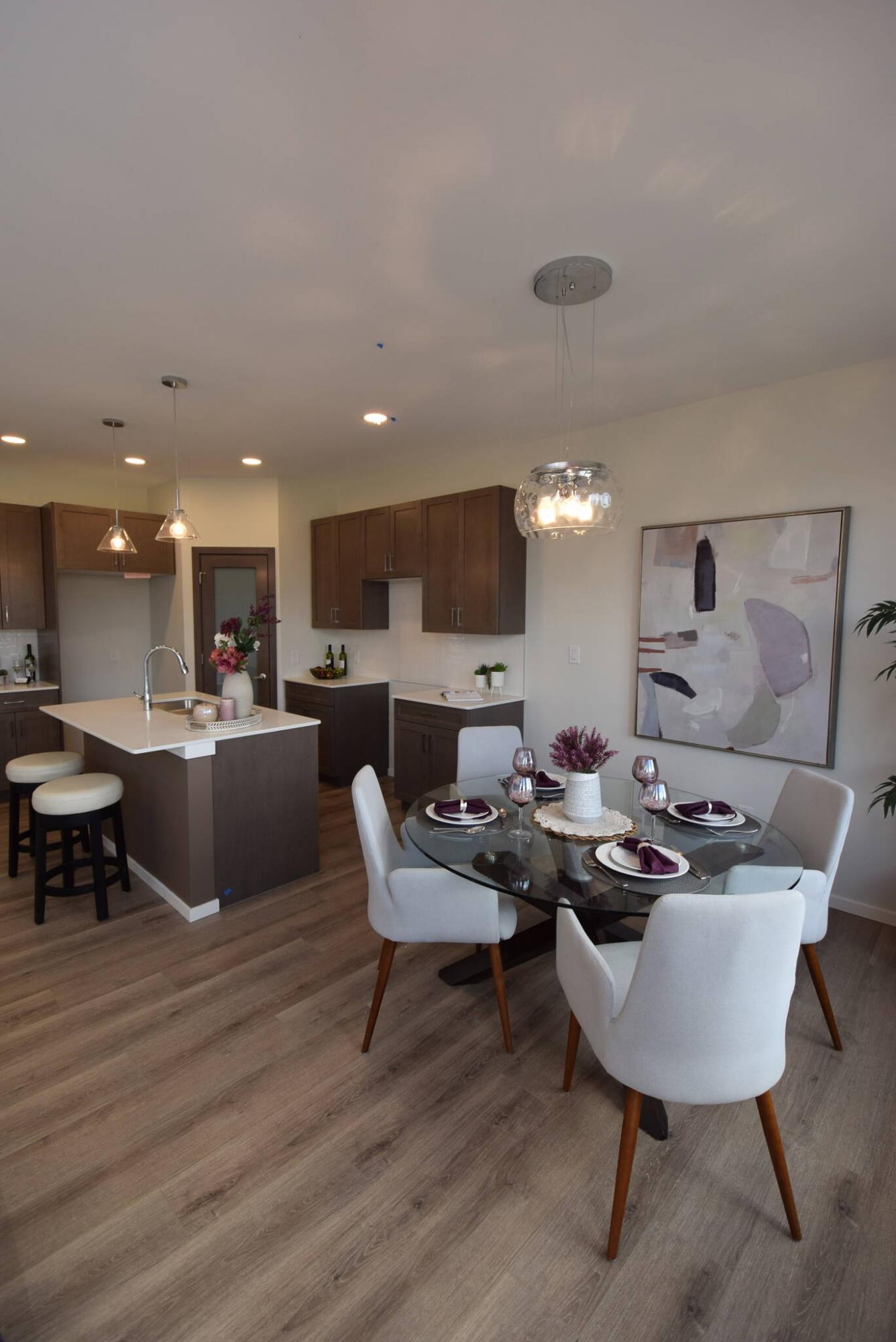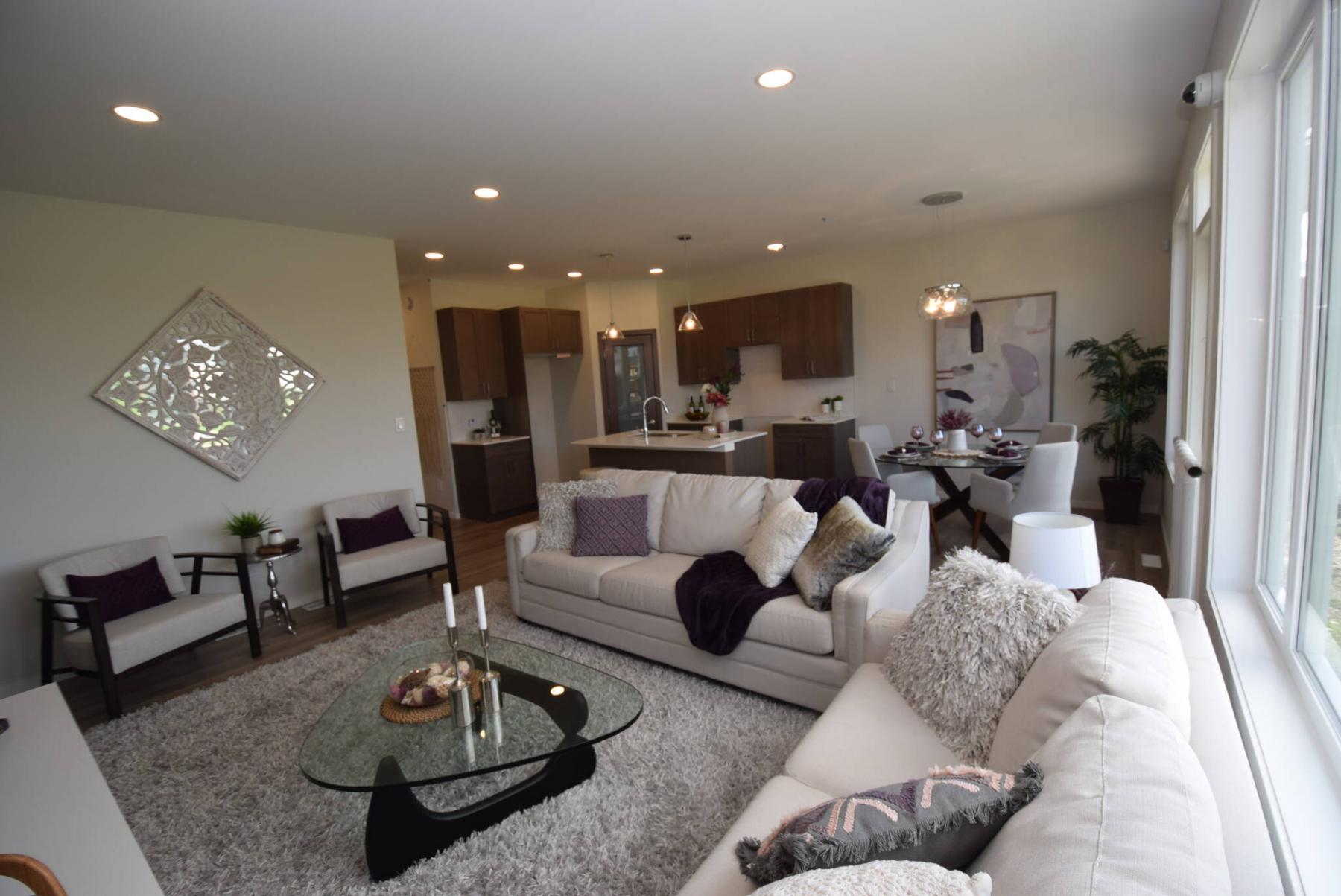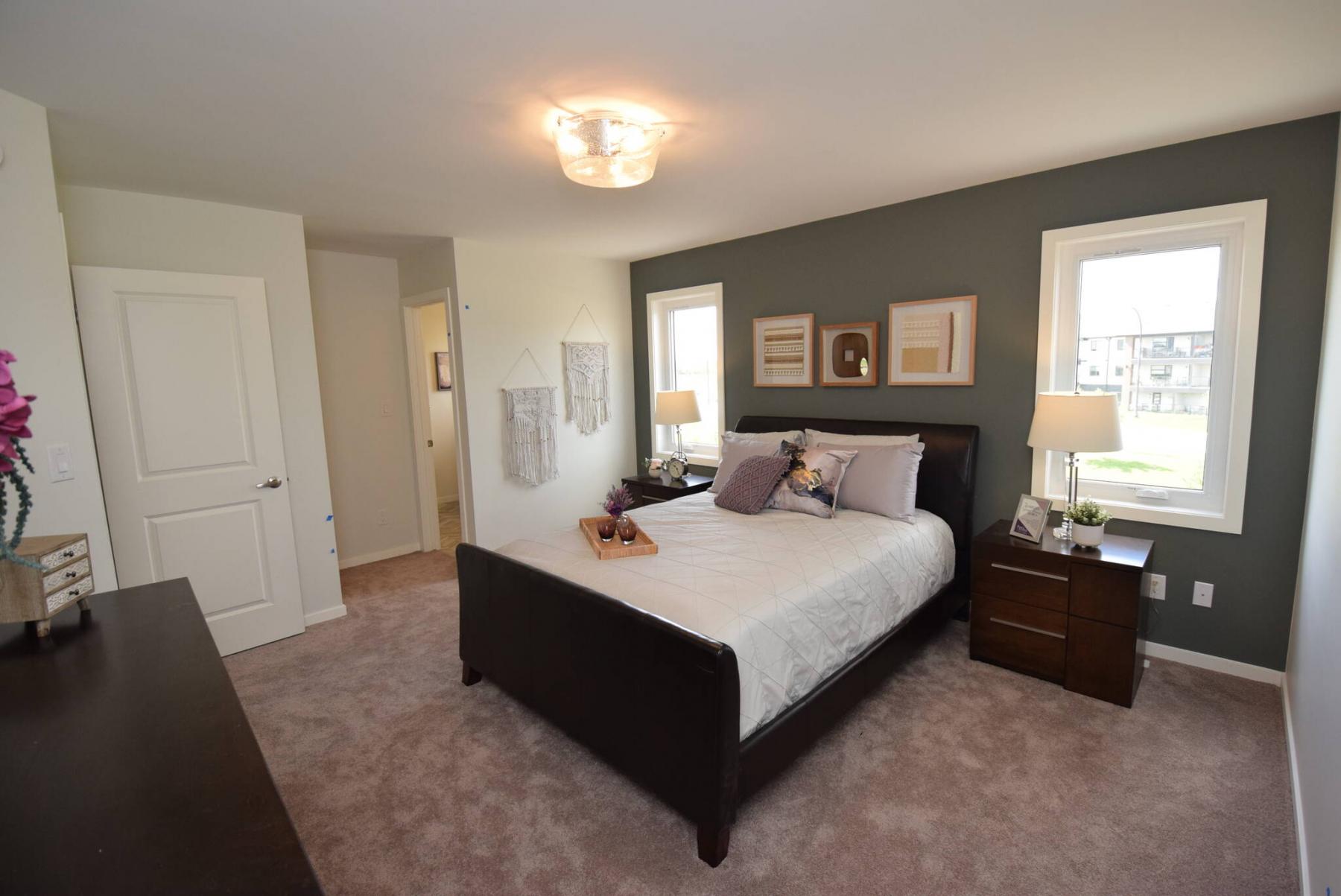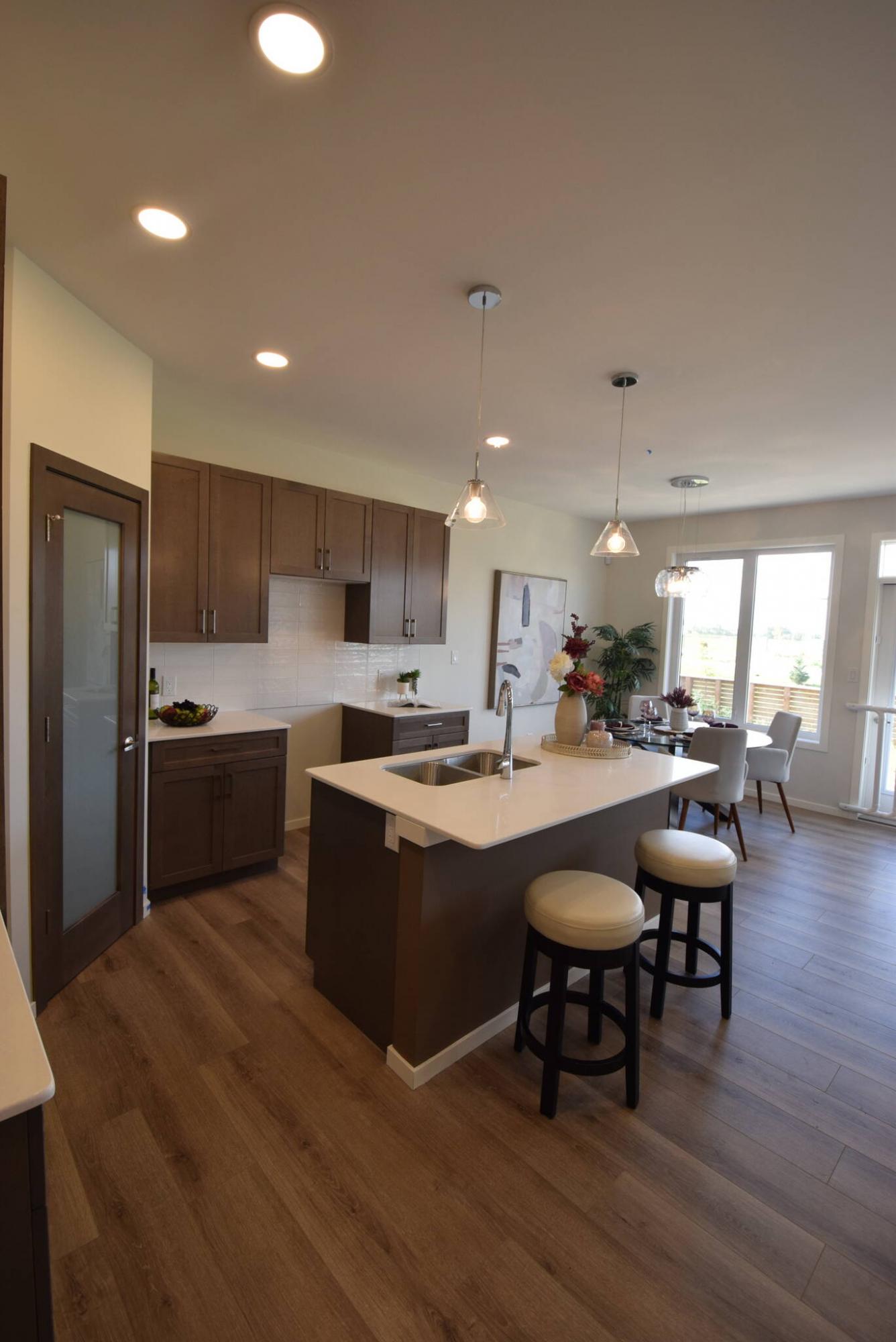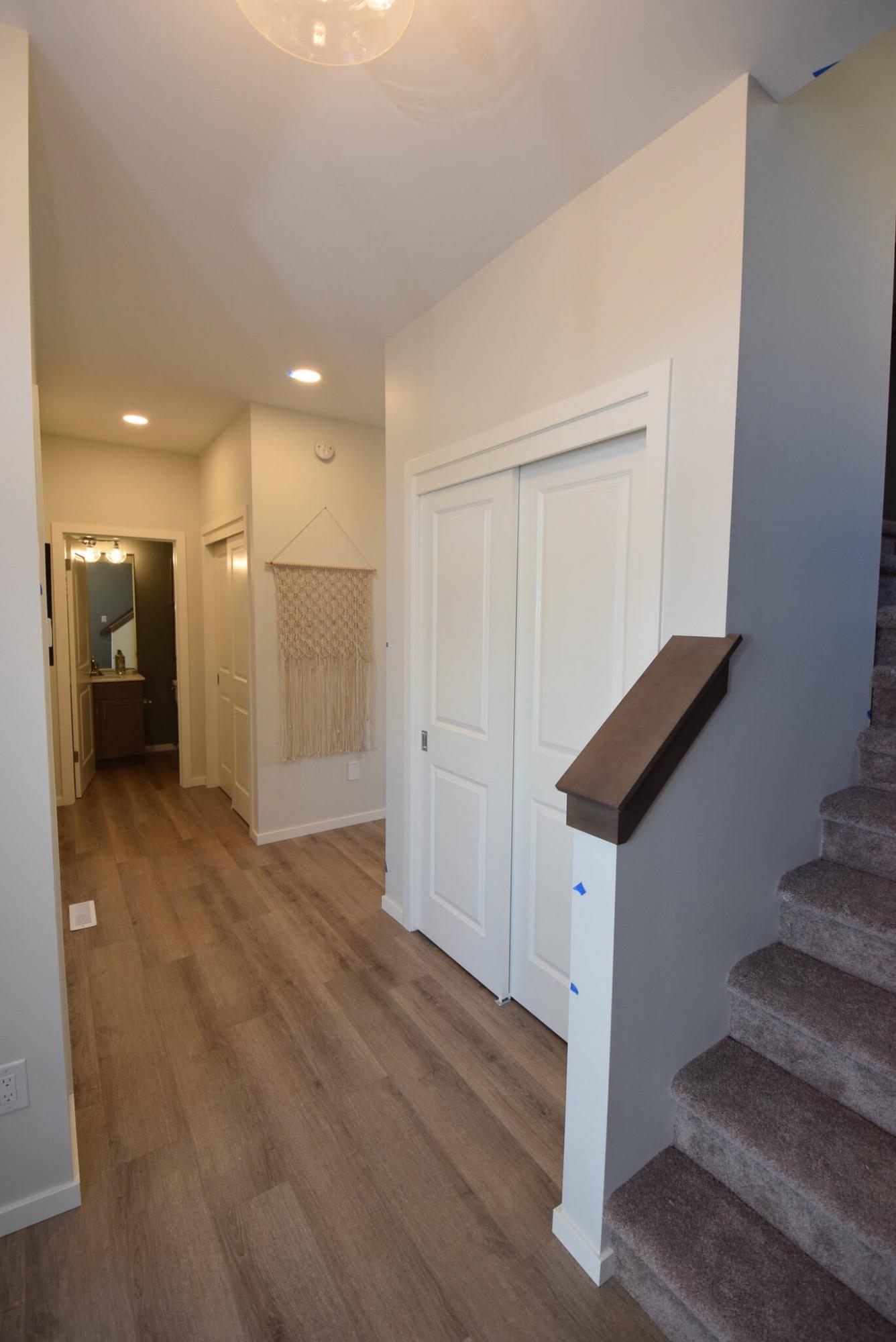 With interest rates climbing steadily and new homes costing more than ever before, families looking for a new move-up home have been hard-pressed to find one that they can afford.
Bearing that in mind, the design team at A & S Homes racked their brains to come up with a solution to the vexing issue.
They've come up with one in the form of the Onyx, a new two-storey attached design found at 13 Harvest Lane in St. Adolphe's Tourond Creek, says Garry Loewen, who's co-marketing the brand-new 1,473 sq. ft. design with Coldwell Banker stablemate Chris Dudeck.
"The concept behind this home is to provide a more affordable option to families," he says. "With new homes selling routinely for over $600,000, there's a real need for homes in the $500,000 price range. This model, with a good selection of finishes, actually comes in at $474,900."
He notes that the secret to the Onyx's affordability – and livability – lies in where it's located.
In this case, the home is in St. Adolphe, which is just 10 minutes from the city.
"For starters, lots just aren't as expensive in communities outside the city. They also tend to be larger, which helped with the design of the home. At just under 1,500 sq. ft., it's not a small home, and it's also very nicely appointed."
One of those appointments – a double garage – stands out the moment you train your gaze on the home.
"It's a very special feature for an attached two-storey home," says Loewen. "In the city, it's a feature you won't get because lots are so narrow. Here, the wider lot allowed for a double garage. It's a wonderful feature, as it gives you a spot to park a second car, plus you get additional storage space."
That extra width asserts itself the moment you walk through the front door.
The foyer is generous with a double closet to the left along with a door that connects to the garage. Somehow, A & S' design team also found space for a powder room and second closet.
Walk into the main living area, and the same functional, well-ordered feel immediately comes to the fore.
Loewen say that's no accident.
"Great attention to detail was paid to the placement of each space. The kitchen was tucked away to the left and is centered around a six-foot island with a generous dining area to its rear next to a large window and patio door. A large window defines the spacious family room over to the right. The rear wall of windows combines with a nine-foot ceiling to create a bright, spacious feel."
He adds that a series of tasteful finishes add to the rich, inviting interior ambience.
"Maple shaker cabinets, quartz countertops and a cream-coloured tile backsplash work with warm laminate plank flooring and beautiful light fixtures to make for a cheerful, naturally bright area you enjoy spending time in, whether it's with the family, or guests."
Meanwhile, access to the Onyx's upper level comes via a streamlined staircase that was placed neatly to the right of the foyer at the front of the home.
A quick trip up the wide staircase reveals a second level floor that families will doubtless appreciate for its sensible layout and generous spaces.
"All three bedrooms are a very good size. The primary bedroom – which is set well away from the kids' bedrooms – is 13 feet by 14 feet. The other two bedrooms are 11 feet by 10 feet and 11.5 feet by 10.5 feet respectively, says Loewen."
Not only is the primary bedroom plenty big, but it's also very well-appointed.
"I just love how the bed is framed on either side by two large windows, which let in lots of natural light while preserving privacy," he says. "The ensuite is a gorgeous space with a vinyl herringbone-style floor, tiled walk-in shower and maple vanity with quartz countertop. And the walk-in closet is just huge."
Add in a lower level with 725 of livable space to develop, and you have a home that offers just under 2,200 sq. ft. of total livable space.
"While this home is going to be used as a show home, we have a home with the same layout and similar finishes next door that's available for immediate possession," Loewen says. "It delivers the same space, style and function this home does, all in a wonderful, family-friendly community that's just a short drive from the city. You won't find better value in a home anywhere else."
lewys@mymts.net