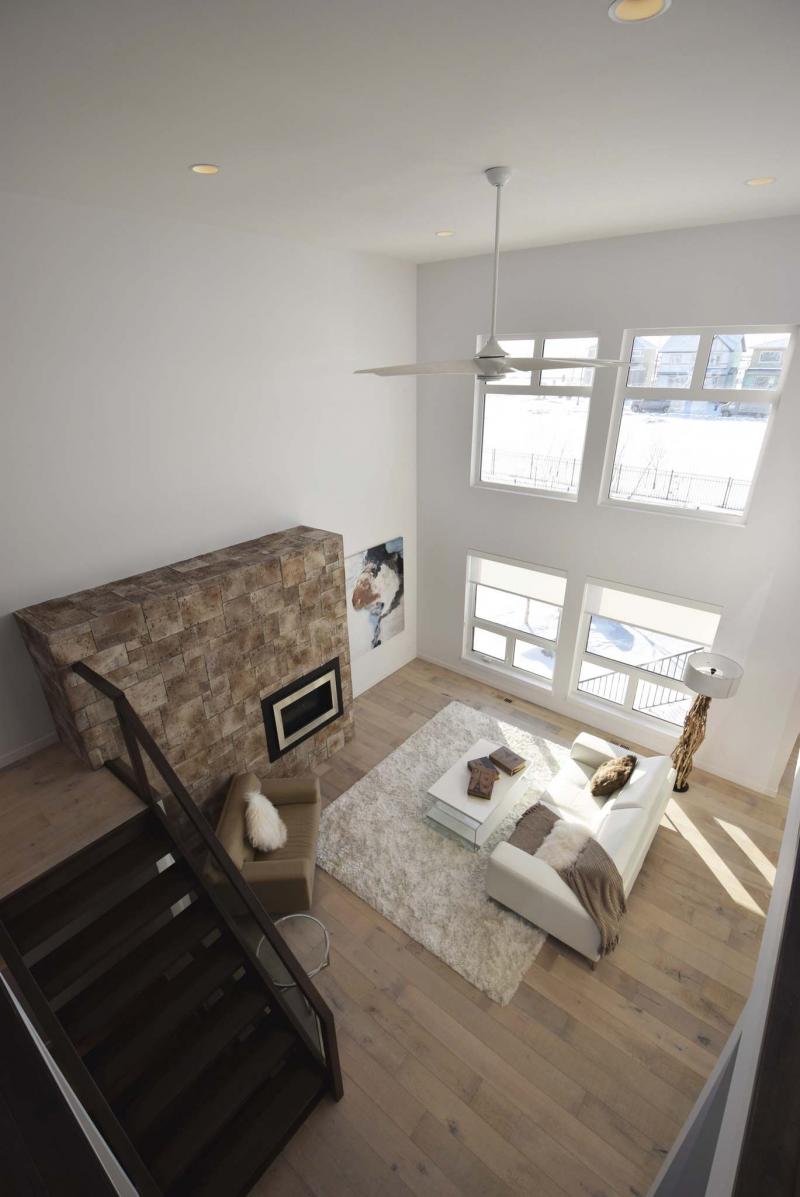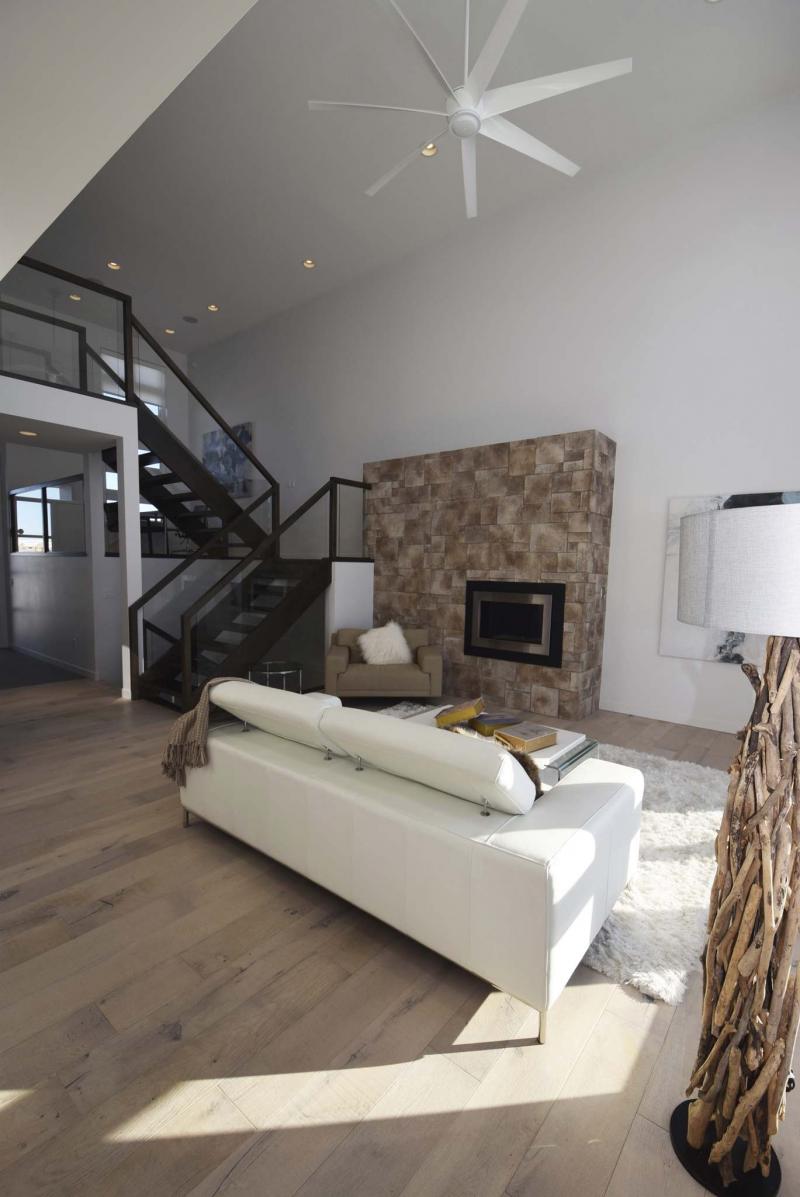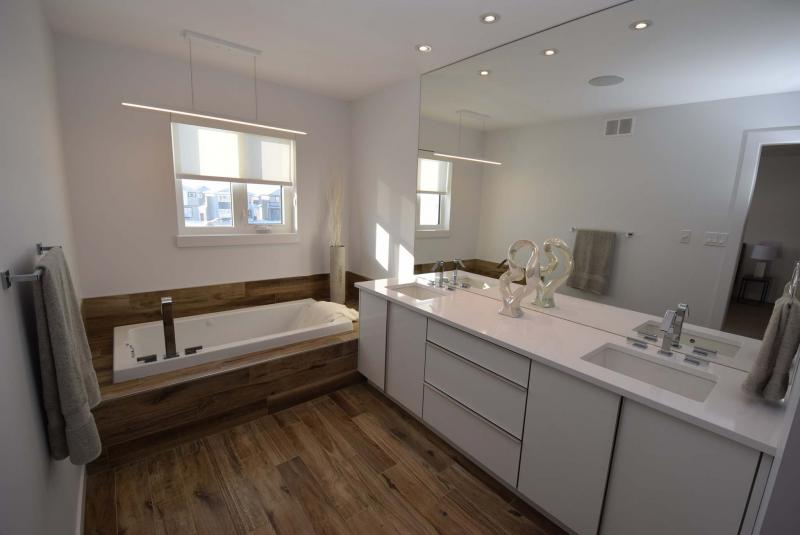 Modern home designs have gained popularity for their clean, bright designs. Yet, builders take a risk when they undertake such a design.
Should a home be too modern in theme, it could lack personality and warmth. Designers with Artista Homes recognized such potential drawbacks before they designed 209 Willow Creek Rd., says Artista's sales representative, Amit Bindra of Century 21 Bachman & Associates.
"While it's a home that features elegant styling with a modern flair, it's still quite warm thanks to finishing materials that have been spotted beautifully throughout the home," he says. "Their placement in key areas makes for a home that's bright and airy, yet sufficiently warm."
Those finishing materials — a manufactured rust/taupe stone that surrounds the fireplace in the family room, a cappuccino maple staircase with cappuccino trim bordering the tempered glass panels that frame the staircase and engineered (wide-plank) oak hardwoods — combine to infuse the 2,122-sq.-ft., two-storey home with just the right amount of warmth.
"In particular, the engineered hardwoods (which run through the entire main living area) add a nice touch of warmth and texture to the area," Bindra says.
"People also love the open-riser staircase, not only because it opens up the area and promotes light flow, but because it breaks up the area with a nice, warm tone. The fireplace surround adds a textured, rustic feel to the mix."
At the same time, all kinds of glass on the great room's rear wall allows loads of natural light to flow into the home.
"Artista's design team did a great job with the windows — they use the southwest exposure in the best possible way. People have been amazed by the sheer amount of natural light that pours into the great room. Even on overcast days, you only have to start turning on the lights when it starts to get dark outside."
Thanks to the huge, well-placed windows, both the family room — with its soaring 18-foot ceiling — and dining area/kitchen are spectacular spaces.
Sunlight slants into the great room at an angle that illuminates it, yet doesn't flood it to the extent that it's too bright. Meanwhile, a bank of three huge windows on the dining area/kitchen's rear wall gives it an airy, solarium-like feel.
"The dining/kitchen area is a wonderful space," Bindra says. "The dining area can seat six to 12, the island can seat three and there's a wet bar with sink that's in a perfect spot for entertaining between the kitchen and family room."
Then, there's the chef's kitchen itself. "It's a stylish yet functional space with wide aisles, an abundance of white acrylic cabinets and drawers and tons of storage space with a huge wall pantry next to an open corner pantry. A grey backsplash provides warmth and contrasts beautifully with the cabinets and stainless appliances."
Not to be overlooked is a space placed unobtrusively off the kitchen's rear portion. "It's actually a huge mud/laundry room," he says, adding there's also a main-floor powder room between the foyer and great room.
"It features a grey tile floor, and holds a closet door to the attached garage, and has a separate laundry area with window. It's easily accessible, yet tucked neatly out of the way."
Ascend the gorgeous staircase to the home's upper level and you encounter a novel design feature midway up (or at mezzanine level) — a loft-like area with a vertical honeycomb of windows on its rear wall. "It's considered a flex space," Bindra says.
"It could be used as an office space, or kids' play area. I think it's a makes a great play area — mom and dad can keep tabs on the kids while they work below in the kitchen."
Set off down its own eight-foot-long hallway overlooking the family room, the master suite is superb.
"Everyone who's been through the home loves all the light that pours in from its rear wall and the fact that it's just the right size," he says. "The ensuite has been a huge hit, as well."
With its faux wood tile-plank floor, jetted soaker tub set in the same warm, textured plank tile and five-foot tile shower with three body sprays (placed at the opposite end of the space) and huge walk-in closet, it's a calming space that makes for a great retreat.
The home is then capped off by a finished basement that offers about 900 sq. ft. of livable space in the form of a media area, games area, bonus room and tons of storage.
"Everyone who's been through the home has loved the bonus room. Because it's below the loft, it has a 14-foot ceiling with windows set up high. It would make a great exercise room, hobby room or office space," Bindra says.
"Overall, this is a well-balanced modern home design. It's bright yet warm, and that offers great style and livability."
lewys@mymts.net
Details
Builder: Artista Homes
Address: 209 Willow Creek Rd., Bridgwater Trails
Style: Two-storey
Size: 2,122 sq. ft. with finished basement
Bedrooms: 3
Bathrooms: 3.5
Price: $779,900 (Includes land, GST, growth fee)
Contact: Amit Bindra, Century 21 Bachman & Associates, 204-293-8899