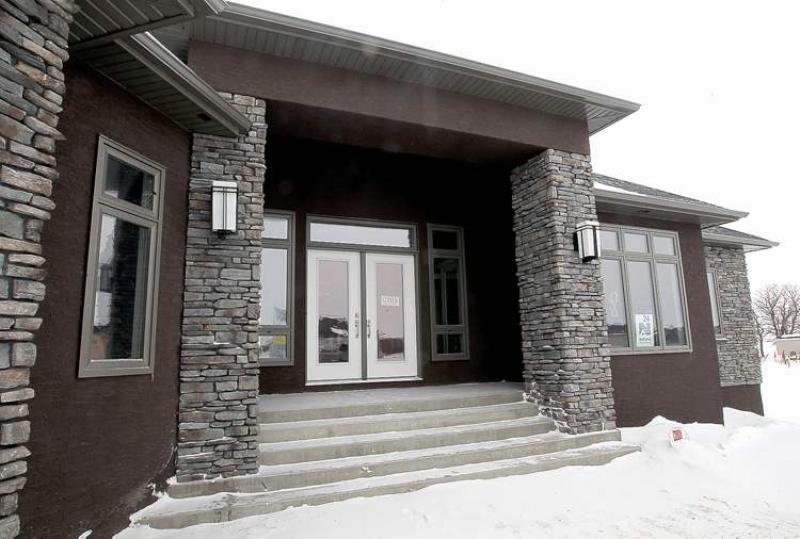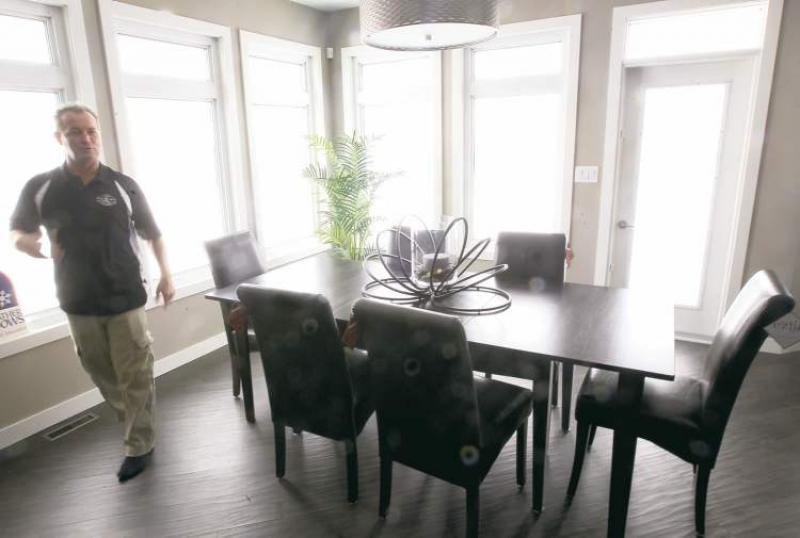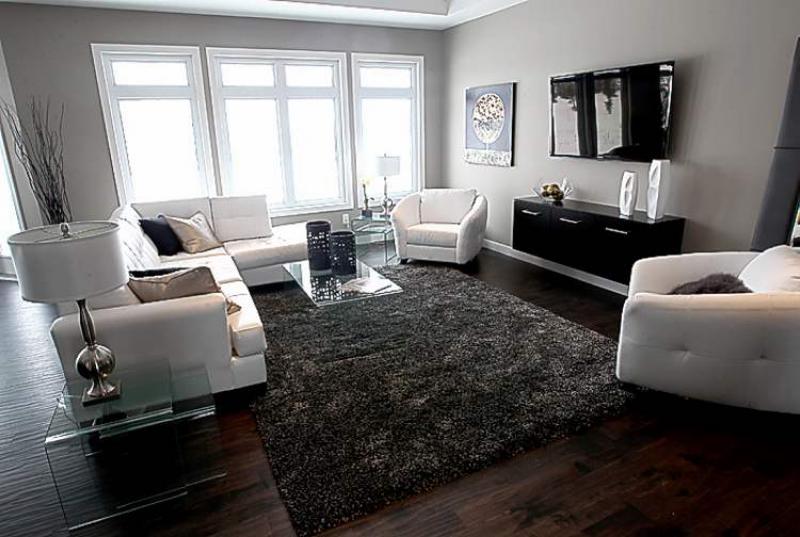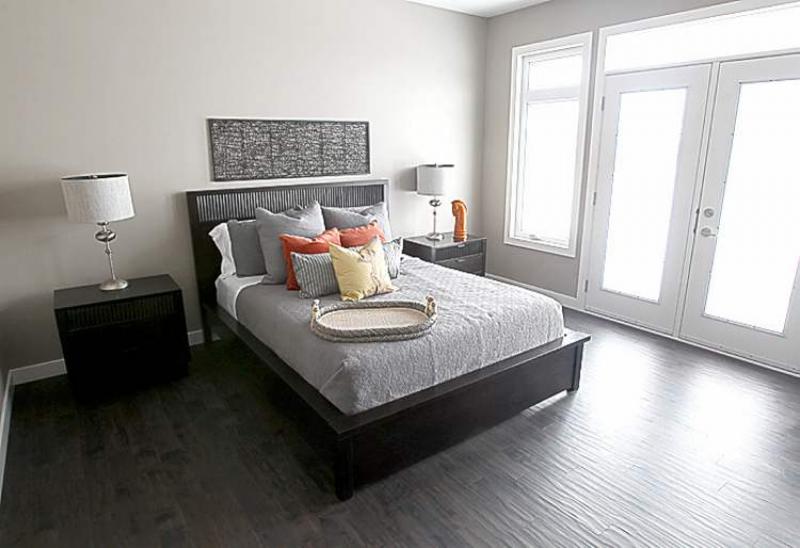 It's fall 2011. Paradigm Custom Homes frontman Jeff Baertsoen is wondering what moniker he's going to use for a show home that's going to appear in the Spring 2012 Parade of Homes.
At 2,933 square feet, the bungalow was one of the largest -- and luxurious -- homes he'd ever built. Still, he was at a loss at what to call his latest creation.
Then, it hit him.
"I was in the shower, and, ding, a light went on," he recalled. "We'd built a 2,000-plus-sq.-ft. bungalow called the Sona Mombasa a few years before. This one was much larger, so I decided to call it Le Grande Mombasa."
Question is, why is this home called Le Grande Mombasa? Elementary, my dear Watson: its extra square footage is derived from a suite that was added on to the home off the kitchen/mudroom quadrant.
"To my knowledge, no other builder has done this, at least on the main floor," he said of the 565-sq.-ft. living quarters. "In this case, our clients wanted a separate living quarters built on to the house so family -- in this case one set of grandparents -- could live there as unobtrusively as possible, yet still be connected to the home."
Situated next to an expansive area that includes a massive mudroom, laundry room and access to the oversized double garage, the suite comes with a bedroom with golf-course view (and huge walk-in closet -- bonus!), three-piece bath and compact great room area with a rear wall of windows, hall, kitchen, dinette area and sitting/TV area.
"It's a very functional area with a private deck out back, and nice finishes such as the same hand-scraped yellow birch hardwoods that run though the great room, kitchen, master bedroom, office, hall and second bedroom," said Baertsoen. "It's a private area, yet you're only steps away from the home's main living area."
The grandparents' suite essentially sums up what Le Grande Mombasa is all about: a functional floor plan that is generously interspersed with style that while luxurious, doesn't go over the top into the realm of gaudy. Most importantly, though this is a large home, all the space (around 5,000 sq. ft. total between the main and lower level) is well-used.
Everything starts off on the right foot in the generous foyer, off which two notable design features run: a den and a see-through, two-sided fireplace that divides the foyer from the great room in understated style.
"First, the den doesn't necessarily have to be a den. It can be easily closed off to make a third bedroom if needed -- the door would be placed at the end of the hallway instead of off the foyer," he said. "And the fireplace has been a huge hit. People love the fact that it creates separation between the foyer and great room, yet allows easy access into the great room area."
The great room itself -- kitchen, dinette area and family room -- is an ergonomic marvel that offers seamless flow, a wealth of natural light, incredible views and rich finishes all around.
"Our design team worked really hard to get the balance between all the design elements just right," Baertsoen said. "The home was actually angled so that it would better capture the golf-course view. The rear wall has nine huge windows plus deck door, so light just floods in, and you get a view of the golf course looking toward the dinette."
With its five-foot by nine-foot granite island, custom dark chocolate maple cabinets, tile backsplash and granite countertops -- and wide aisles -- the kitchen is a gourmet's delight. A huge double-sided butler's pantry off the kitchen adds utility, as does an eating nook for three off the island and an oversized dinette area surrounded by glass.
The family room, with its four huge floor-to-ceiling windows, floating cabinetry and the aforementioned (cultured stone) double-sided fireplace, meanwhile, is a spectacular spot to commune with company after dinner.
Equally spectacular is the master suite, which -- with its rear wall of glass (and deck door) -- offers a panoramic view of the serene surroundings. A tray ceiling and hand-scraped hardwoods provide a preview of the luxury that's to come in the ensuite.
"We really went to town there," he said. "It's a spot designed to help you take down your stress level a couple of notches, with a taupe tile floor, dual Kohler sinks, gorgeous custom-tiled shower and a big walk-in closet with tons of built-in (dark oak veneer) shelving. We put three piano windows in the closet, plus another four over the (granite/maple) vanity to let in more daylight. The bedroom wing also includes a second bedroom, plus a nice, big four-piece bath with soaker tub."
Downstairs awaits a basement that provides over 2,200 sq. ft. of liveable space in the form of a home theatre, games (pool) area, exercise room, media area, wet bar nook, two bedrooms and four-piece bath.
"The home's huge footprint allowed us to go to town down here -- not only is there a theatre room, but there was extra room for another media area. It's a huge, open and bright area that's ideal for entertaining. The two bedrooms are massive and come with walk-in closets. There's all kinds of room for a family -- plus extended family -- to live in comfort and style in the midst of a great setting."
lewys@mts.net
DETAILS
Builder: Paradigm Custom Homes
Model: Le Grande Mombasa
Style: Bungalow
Size: 2,933 sq. ft.
Bedrooms: 4 plus den
Bathrooms: 3.5
Address: 24 Tanglewood Drive, La Salle
Lot size: Irregular @ 107'-125' wide x 150'-230' deep
Lot price: $117,000
Price: $875,500 (including lot & GST; driveway not included in price)
Contact: Jeff Baertsoen, Paradigm Custom Homes @ 736-4686