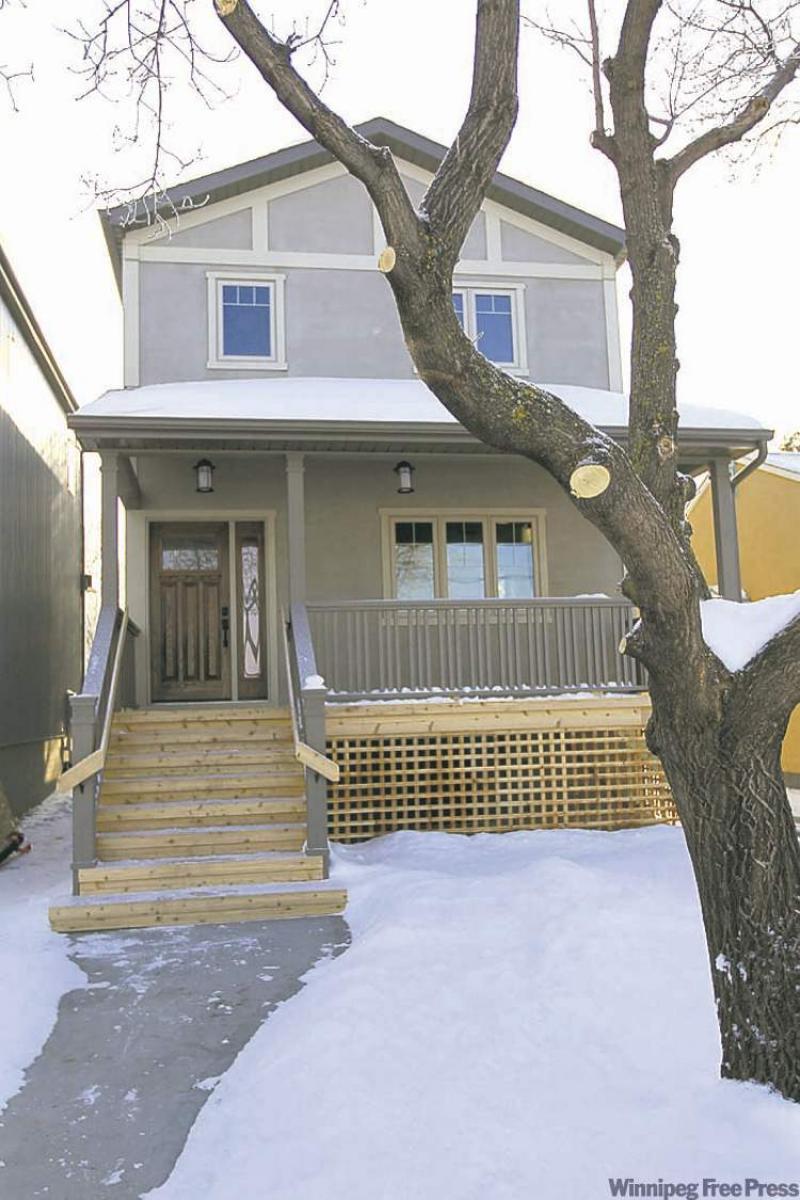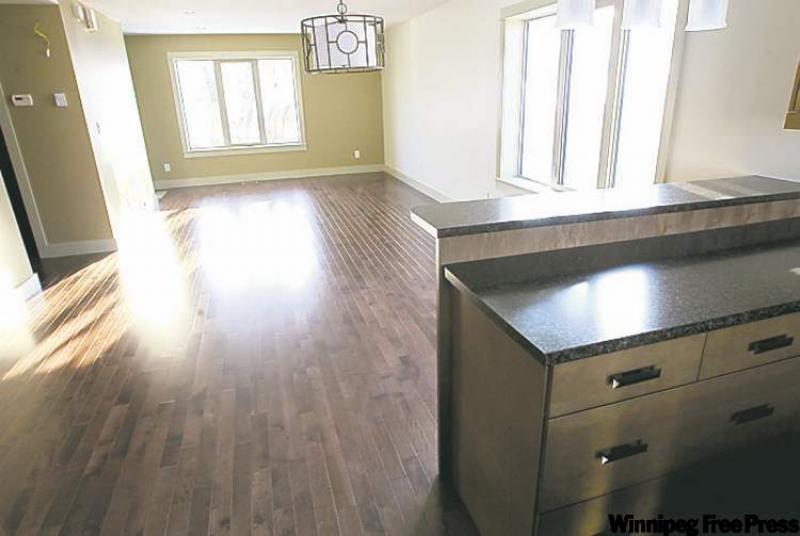 When it comes to new homes, one key aspect of designs is all too often overlooked: what lies behind the walls and underneath the floors.
As exciting as it is to ogle hardwood floors, granite countertops and finely crafted cabinetry, those features are cosmetic. In the final analysis, it's the finer details of a home -- its foundation, construction, insulation values and peripheral systems that determine how efficient it is to inhabit.
In a nutshell, that's Cal Dueck's building philosophy -- to build eye-catching homes complemented by an intelligent design.
Dueck Homes' latest show home -- a two-storey, 1,368 sq. ft. design found at 1059 Parker Avenue in west Fort Garry -- is an example of Dueck's commitment to blending fashion with function.
Everything starts from the ground up, says Dueck.
"We generally use ICF (insulated concrete form) basements in all our homes," he says. "We do that for several reasons. First, it's cheaper than using cement as there's a lot less labour involved. It goes together quickly, and you already have your insulation in place. It's also more soundproof than concrete, too. Once in place, you have a perfectly sealed basement that's incredibly moisture resistant."
Although the basement floor is comprised of concrete, it's warmer than normal thanks not only to the ICF walls, but another subtle feature placed beneath it.
"To prevent cold from radiating up through the floor, we placed a layer of R10 polyiso insulation underneath," says Dueck. "The floor is much warmer with it underneath and the basement is a good deal warmer than conventional basements. Another reason for that is that we put in huge windows to increase passive heat gain. On a sunny day like this, the furnace will only come on once or twice, and it's minus 15 out."
The home's main level is also surrounded by oversized windows to capture as much sunlight -- and heat -- as possible. With dark Canadian maple hardwoods, maple cabinetry and an open-concept floor plan (tons of room for a u-shaped kitchen at one end, dining room and living room at the other), the great room area flows exceptionally well. It's refreshingly bright, and warm (both temperature and finish-wise).
"This home is exceptionally energy efficient -- it tested 300 per cent above the minimum requirements in the Power Smart blower test -- and that comes in part from having the walls insulated with dense pack cellulose and one-and-a-half inches of polyiso for a rating of R-32 (normal is R-20 to R-22)," he explains. "There's also cellulose insulation in the attic with an R-value of 60 to keep heat from escaping upstairs."
As it turns out, the home is loaded with energy efficient features: triple-pane low-e argon-filled windows, energy efficient lighting, dual flush toilets, electric furnace with heat recovery ventilator (HRV), Power Smart hot water tank, car plug timer -- and a grey-water heat recovery system.
"Water goes through the heat recovery system and is warmed up before it goes into the hot water tank, which saves more energy," Dueck says. "We also went with an electric furnace because it's not only quieter, but more efficient (a full 100 per cent) than a natural gas furnace. The benefits are lower heating costs and a reduced carbon footprint."
Meanwhile, the home's upper level is bright and exceedingly functional. The master bedroom is plenty big with a full ensuite and his and her walk-in closets, while the second bedroom is equally spacious, with its own walk-in closet. Between the two bedrooms is a large main bathroom with a deep, inviting soaker tub.
Like the ensuite, it features natural maple cabinetry with a dark laminate countertop and faux tile vinyl flooring. It also comes with an unexpected, yet welcome feature.
"We had extra space in the master bedroom's ensuite and thought of a shower, but most people seem to need the space, so we put in a walk-in closet," he says. "That worked out really well."
Downstairs awaits the bright lower level that adds over 700 sq. ft. of livable space to the equation, making for a home that measures in at over 2,000 sq. ft.
"The basement is designed for another bedroom, kitchenette or bar, full bathroom and rec room so there'll be plenty of room for everyone," says Dueck. "Outside features include a cedar front porch, pressure-treated lumber back landing/steps, 30-year shingles and low-maintenance exterior. This home was built to last and be as energy efficient as possible with an interior that looks good, and is functional."
lewys@mts.net
DETAILS:
Builder: Dueck Homes
Address: 1059 Parker Avenue, West Fort Garry
Size: 1,369 sq. ft.
Style: Two-storey
Bedrooms: 2
Bathrooms: 2.5
Lot Size: 25' x 102'
Price: $325,000
Contact: Ron Derksen, RE/MAX Professionals @ 477-0500