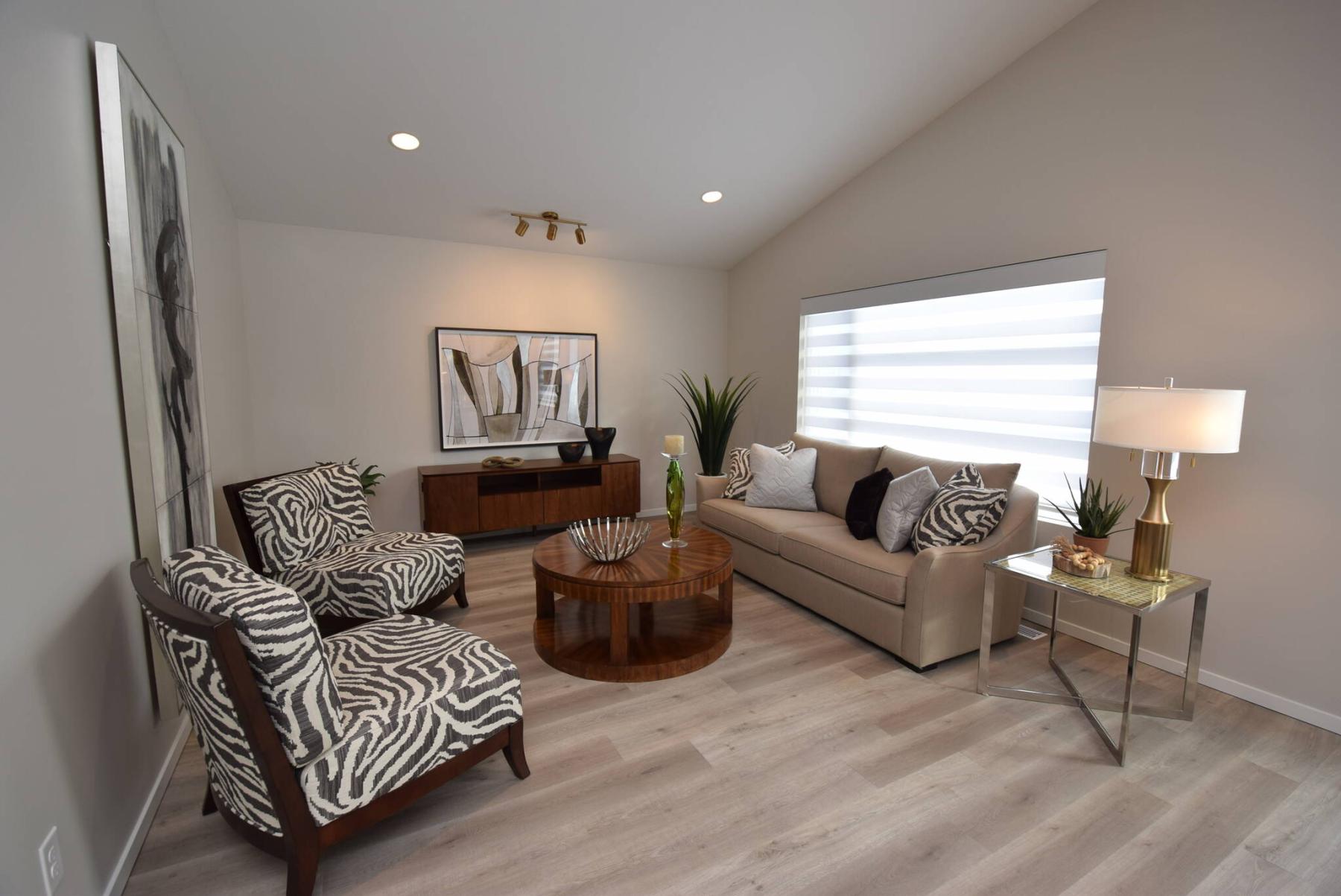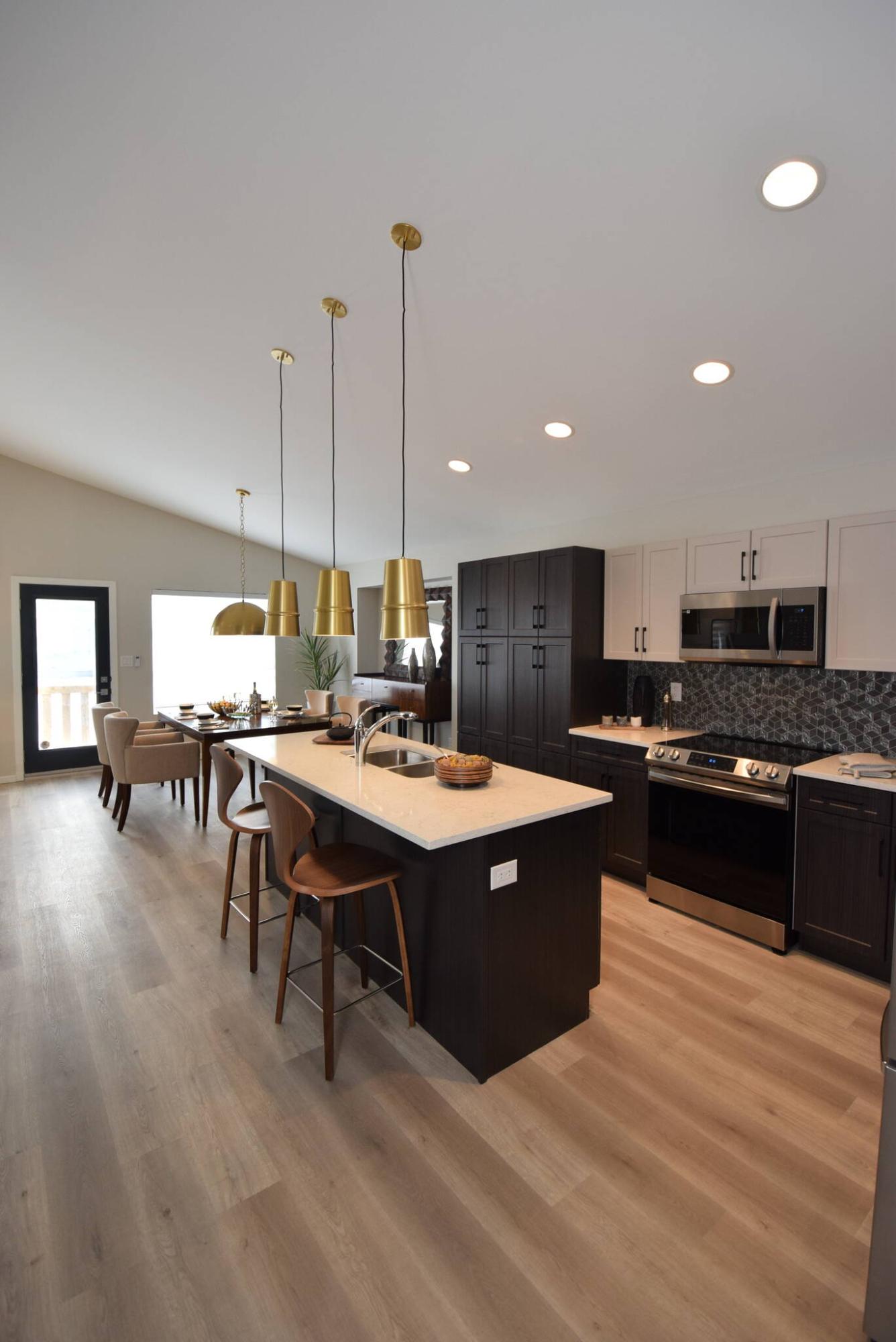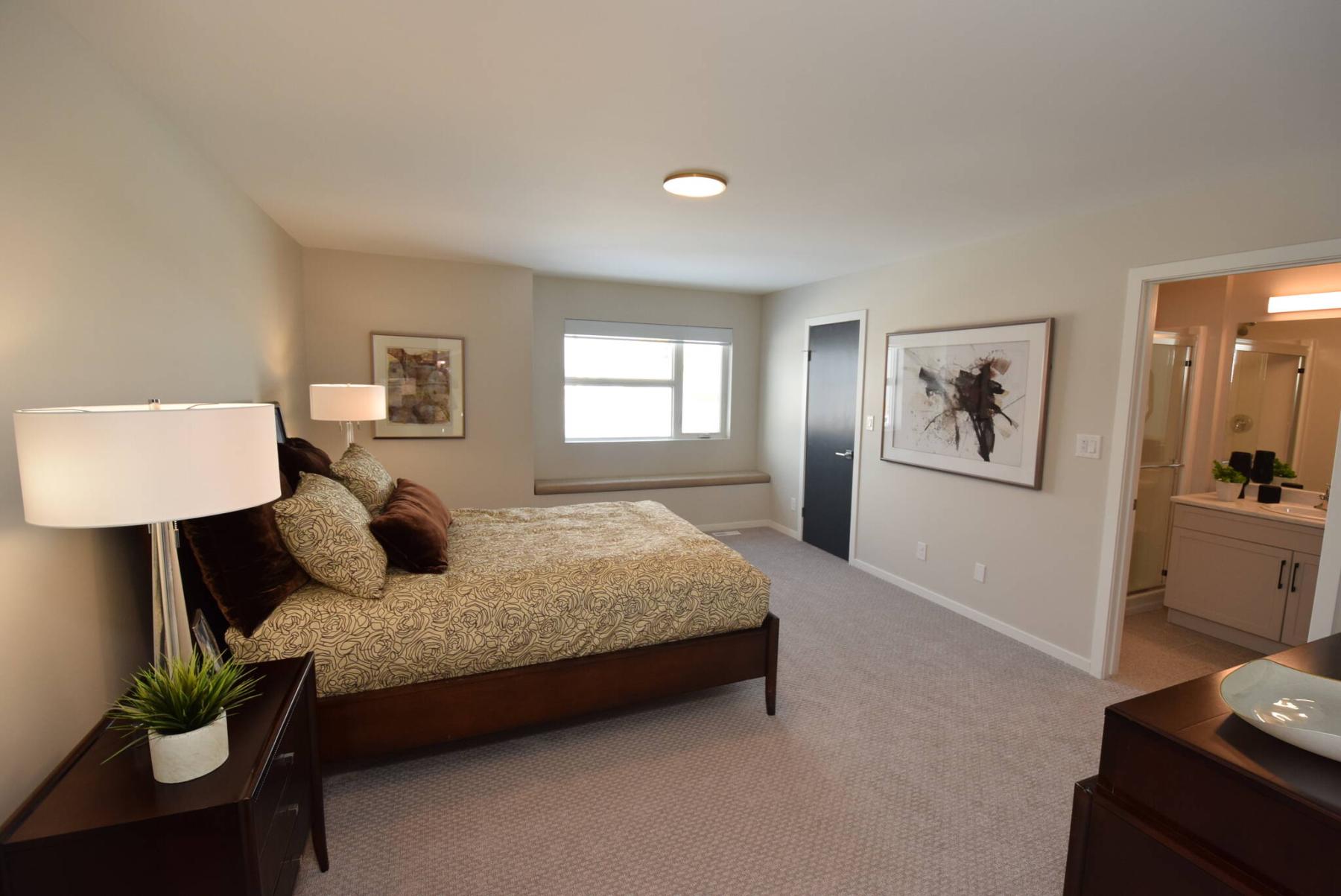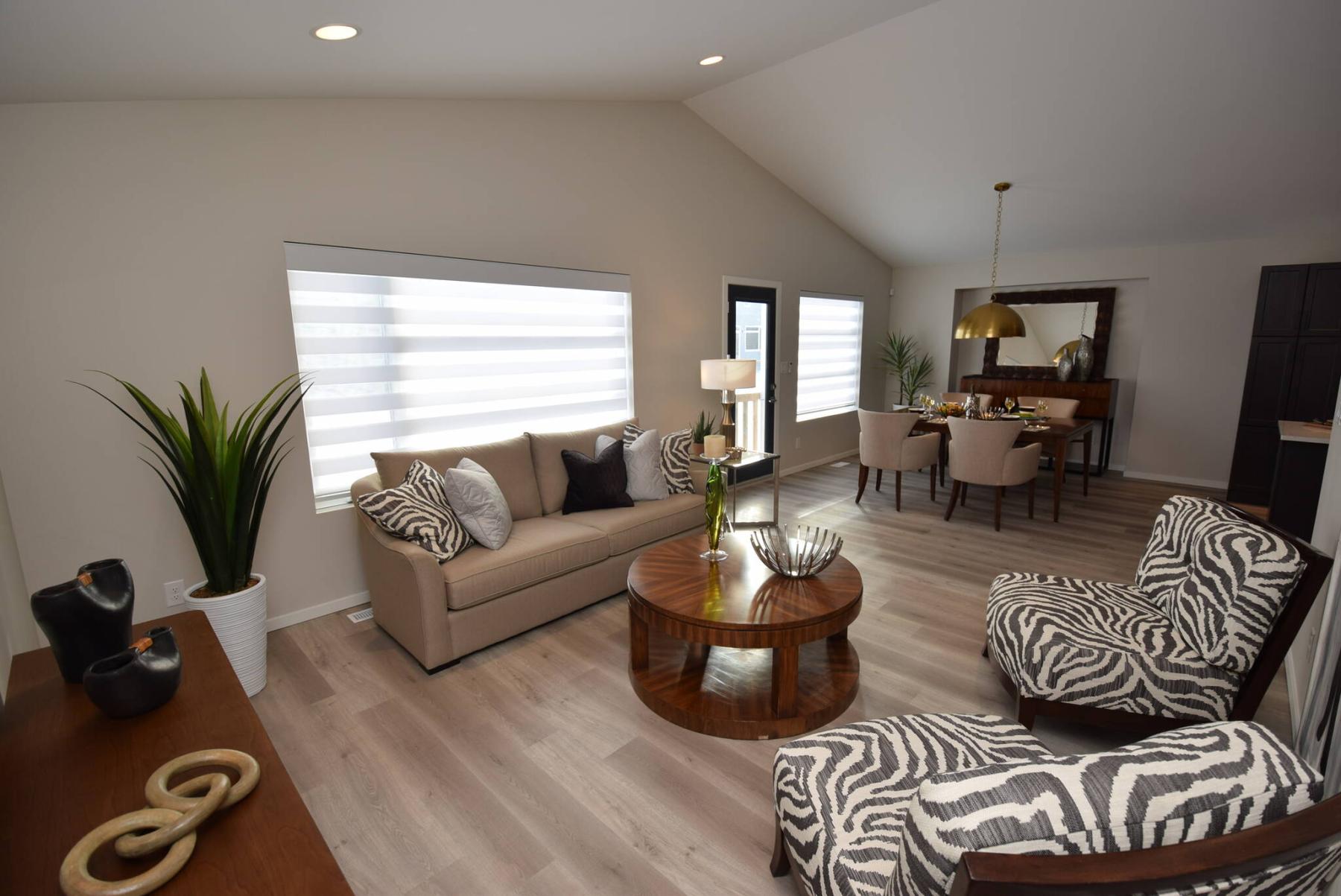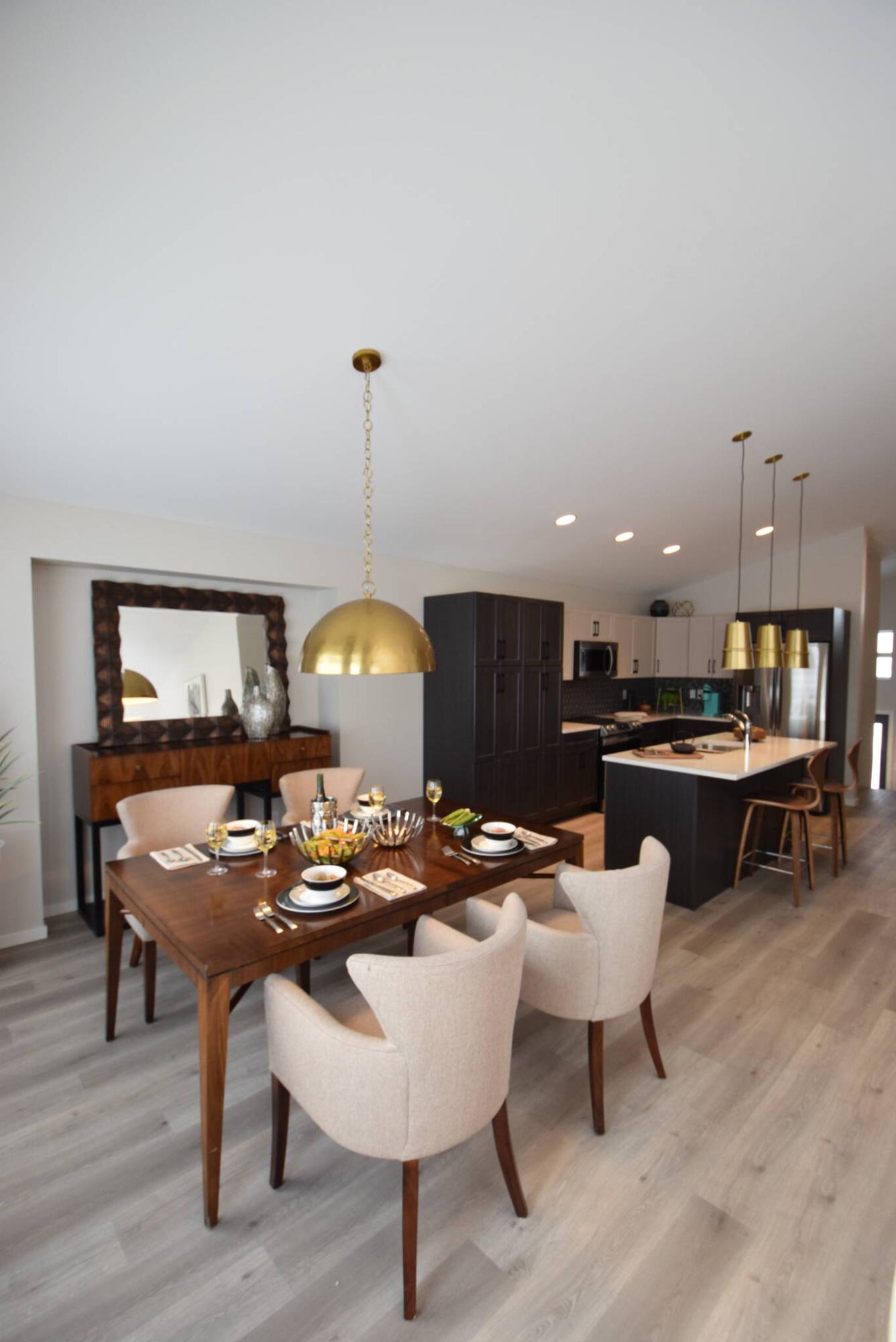 For families, the key to a home's livability isn't necessarily how big it is.
Rather, its livability is derived from how its space is utilized.
Spencer Curtis of Hilton Homes that few models are as functional and family-friendly as cab-over plans.
"That's why we continue to build them – they really use every bit of available space so efficiently," he says. "Even though this home is 1,522 sq. ft., it feels much larger than its listed square footage."
Truth be told, space is never lacking in the Luna.
It starts off with a sunken foyer that sits seven steps down from the main level.
Featuring excellent depth and width, it deftly holds a coat closet, handy key/display ledge, a door to the attached double garage – and the lower level stairs, which are tucked neatly off to the side.
The Luna's main floor starts with a generous landing that's flanked to the right by a main floor laundry room and to the left by a recessed wing that holds two bedrooms and a four-piece bath.
A five-foot-wide entryway then leads straight into a pleasingly spacious, light-filled main living area.
"Even though this home is just a bit over 1,522 sq. ft., all the spaces are a good size," Curtis says. "In the case of this show home, we made it two feet wider, which opened up extra space between the kitchen island and side wall to create a wider aisle way into the family room and dining area."
He adds that another subtle design feature was employed to increase the perception of space in the main living area.
"A vaulted ceiling over the kitchen, dining area and family room really makes the area feel bigger than it is, while large windows behind the dining area and family room combine with a patio door to let in loads of natural light."
The kitchen is particularly sharp, notes Curtis.
"The seven-foot-long island is just the right size, two-tone grey cabinetry creates some really nice contrast with off-white quartz countertops," he says. "And neat little design touches like brushed gold, industrial-style pendant lights and a cool grey backsplash with 3-D box design add style and character."
Then, there is the dining area and family room.
"Both spaces are surprisingly large. The dining area is anchored by a chandelier with mod gold light cover and can easily seat six to eight guests, while the family room – which doesn't have an entertainment unit to open up space – can hold a sofa and two chairs or a love seat. It's a perfect spot to entertain in with its spacious yet cozy feel."
Curtis says that the bedroom arrangement at the front of the home is as family-friendly as you'll find in any home, cab-over or otherwise.
"The kids basically have their own private wing. Not only do they have their own four-piece bath, but the two bedrooms are quite large, with both coming in at about 12 feet by 10 feet. That will provide plenty of space or little tykes to grow into teenagers without any issues.
The primary bedroom was then placed seven steps up from the main floor to create a private, oasis-like retreat.
Add to that the fact it was placed over the garage, and it's not only well-isolated, but it's also incredibly spacious.
"It's 13.6 feet by 17 feet, which gives parents plenty of space to relax in," he says. "There's a huge window on its rear wall with a window seat beneath it, a nice big walk-in closet and a beautiful ensuite with grey ceramic tile floor, five-foot walk-in shower and taupe vanity."
Finally, there's the lower level, which, once developed, can provide families with another 726 sq. ft. of eminently livable space.
"You can put in a huge rec room, big bedroom and bathroom and still have plenty of storage space left over in the mechanical room," Curtis says. "With a finished lower level, the Luna gives a family over 2,200 sq. ft. of total living space to enjoy. Cab-overs still have a lot to offer with all the function and style that they offer families. That's why we continue to build them."
lewys@mymts.net