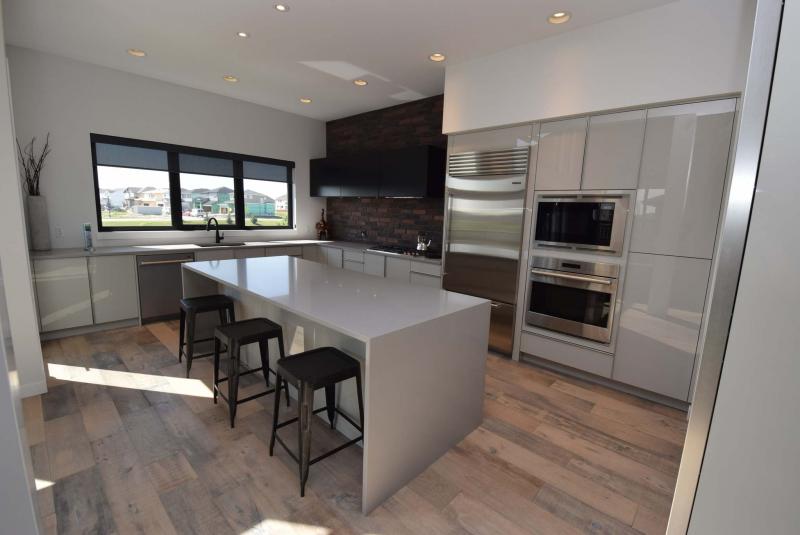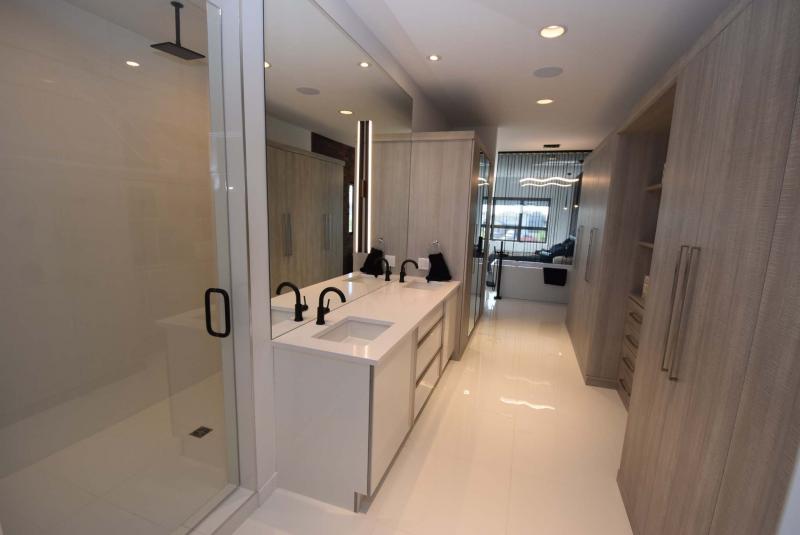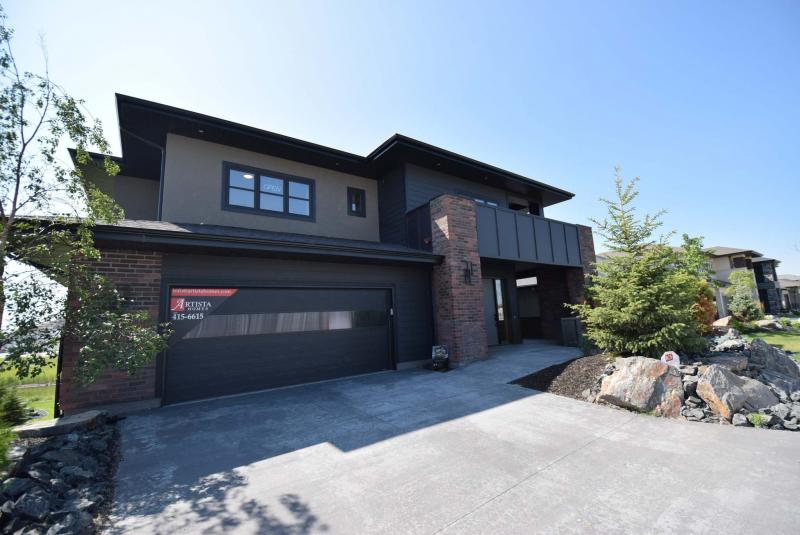 With its clean, linear facade, there's no mistaking the intent behind the design of 40 Willow Brook Rd.
Without a doubt, this is a slick, modern-concept home, you immediately surmise.
Then you spy red brick trim on the corner of the triple garage — and red brick pillars that frame the covered front entrance on either side. The inclusion of such a traditional material in a modern-themed home is, to say the least, mildly perplexing.
There's no reason to be perplexed, says Artista Homes' sales representative for 40 Willow Brook Rd., Phil Amero of Royal LePage Alliance.
"Artista's design team wanted to create a home that, while modern, had rustic touches spotted throughout it to give it a warm, welcoming feel," he says. "They'd used the brick in some previous home designs and decided to bring it back. They took a bit of a chance in doing that, but it really works."
The brick works in the sense that it not only adds an interesting twist to the home's exterior, but tempers the home's interior feel, which is decidedly modern: off-white walls; square, oversized windows (more about them shortly); and well-defined linear spaces.
Step from the ultra-wide foyer into the great room and that red brick comes immediately into play behind a pair of spaces on the right-hand wall.
"It was used to create a feature wall behind the den and the formal dining room next to it," Amero notes. "A tempered glass wall with black-net curtain cleanly separates the two spaces, while the brick lends a nice warmth and texture to the two areas."
Much like the brick-lined feature wall stands out, so do the windows — not only for their size, but the shade of their trim.
"Again, Artista's design team took a bit of a chance, but the black window trim they chose really pops on the off-white walls. The wall of floor-to-ceiling windows on the family room's rear wall looks absolutely spectacular. The view of the wetlands behind the home is pretty spectacular, too."
In fact, all three spaces in the great room — kitchen, family room and sunroom — are spectacular. Not only are they a feast for the eyes, but they're also functional.
Take the kitchen, for example.
Cantilevered at its far end to simultaneously define it from the great room and open up space, the double sink was situated beneath a bank of three big windows that provide a dynamic view of the wetlands out back.
Meanwhile, the cantilevered area opened up space on the side for a patio door that opens on to a huge, elevated composite deck that overlooks the water. At the same time, the kitchen island — its periphery is lined with a wealth of glossy, light grey cabinets — is defined at the front by a wall comprised of the same gorgeous cabinets.
"The cabinets were another area where Artista's design team took a chance. They're a different colour than people are used to, but they went beautifully with the off-white walls, grey quartz countertops and charcoal grey Euro cabinets that were placed over the cooktop."
Then, there's the family room with its soaring ceiling, wall of windows — and rather rustic flooring.
"It's a white-washed, 71/2-inch wide engineered oak. It features a matte finish and great colour variations. It teams with the red brick to give the great room a warm, rustic feel."
The great room's third space is just — if not more — spectacular than its first two, Amero adds.
"A four-season sunroom was placed in the left-hand corner of the great room three steps up from the main floor to define it. The big windows surrounding it provide a 180-degree view of the water, and it shares a vertical, two-sided brick fireplace with the family room. With its great flow and style, the great room is ideal for family life or entertaining."
Access to the home's upper level comes via a rock-solid white maple staircase with tempered glass border that amplifies on the modern theme — and allows natural light to flow freely upstairs.
"The second floor is broken up into three parts: an area with a bedroom next to the four-piece bath, a loft with huge window and patio door to its own private balcony and separate laundry room — and the master suite."
With its modern theme, innovative layout and rich finishing materials, it's a serene space that's private, posh and practical
"It starts off with a 24-inch white tile floor that's complemented by a brick feature wall that runs behind the bedroom and an open-concept ensuite with stand-alone soaker tub separated from the bedroom by another tempered glass wall with black net curtain," Amero says. "The wetland view from the picture window in the bedroom is incredible."
So, too, is the ensuite, which flows from the soaker tub into a galley-style bathroom lined with closets and built-in drawers on either side. A glossy grey vanity with dual sinks and white quartz countertop not only adds style and function, but also deftly hides the shower.
"People don't expect it — it's tucked away off to the side, so it's not right there for you to see. When you walk in the door, you find a luxurious eight-foot tiled shower with rain shower head and body sprays."
Head downstairs to the 1,750-square-foot walk-out basement, and you get the expected features — rec room with spectacular water views, wrap-around wet bar, games area, sitting/media area and home gym with a water view.
What's unexpected is a space tucked away to the right of the stairs.
"When people come around the corner and see the big, dedicated theatre room, they just go 'Wow!'" Amero says.
"It's in its own area under the garage encased in cement. If you put a door on it, you wouldn't hear a thing. With more than 5,000 sq. ft., this home is a masterpiece that blends modern and rustic design elements beautifully. The chances Artista's design team took really paid off."
lewys@mymts.net
Details
Builder: Artista Homes
Address: 40 Willow Brook Rd.,
Bridgwater Lakes
Style: Two-storey
Size: 3,251 sq. ft.
Bedrooms: 4
Bathrooms: 3.5
Price: $1,580,000
Contact: Phil Amero, Royal LePage
Alliance, 204-295-9289