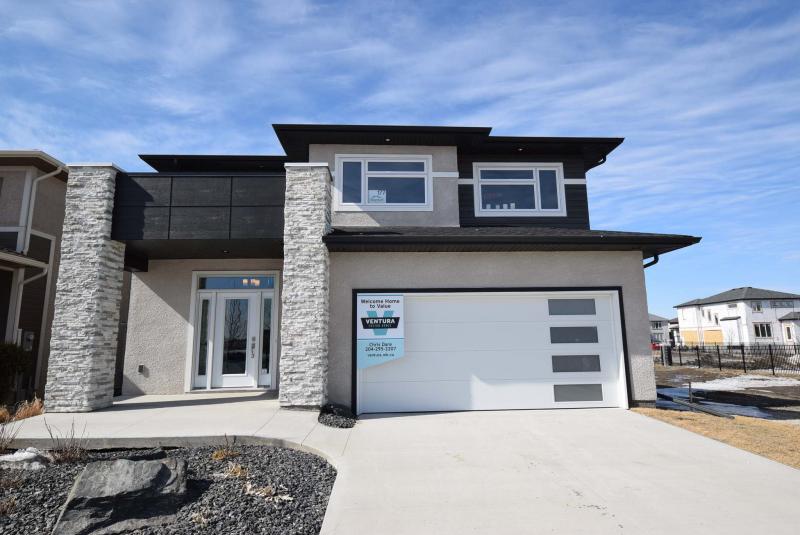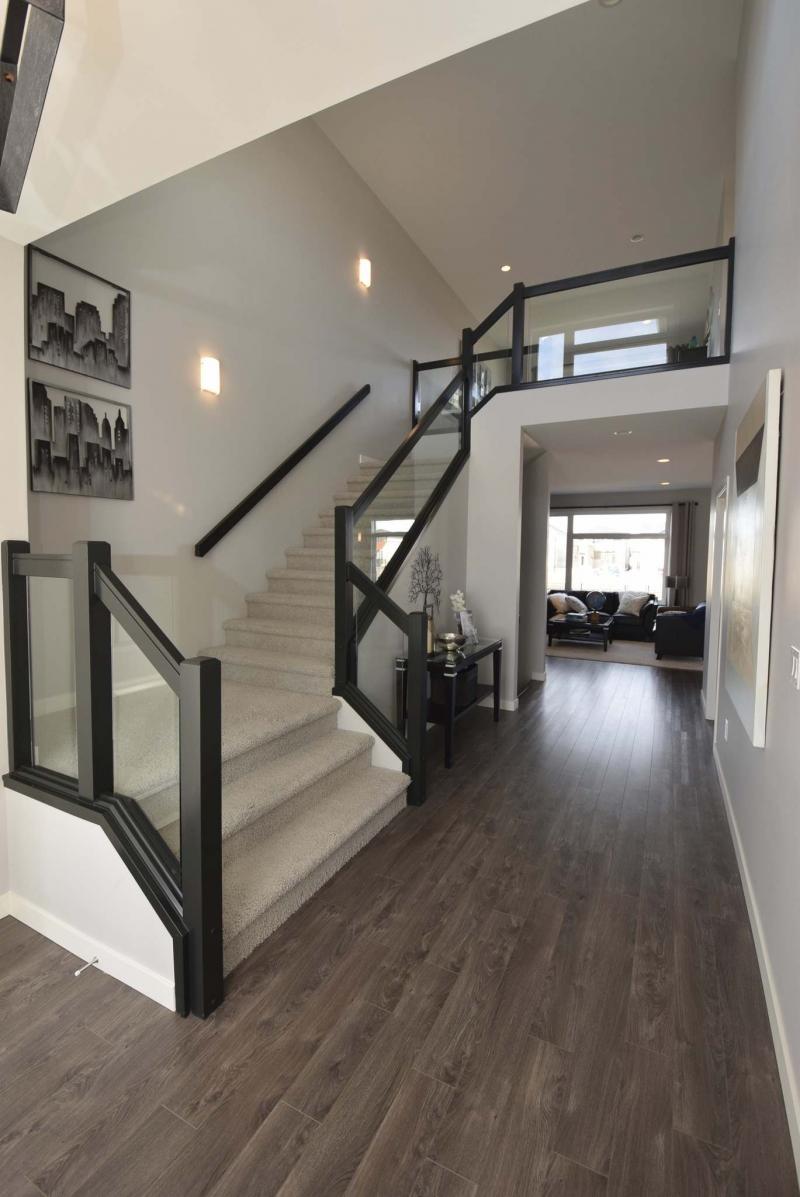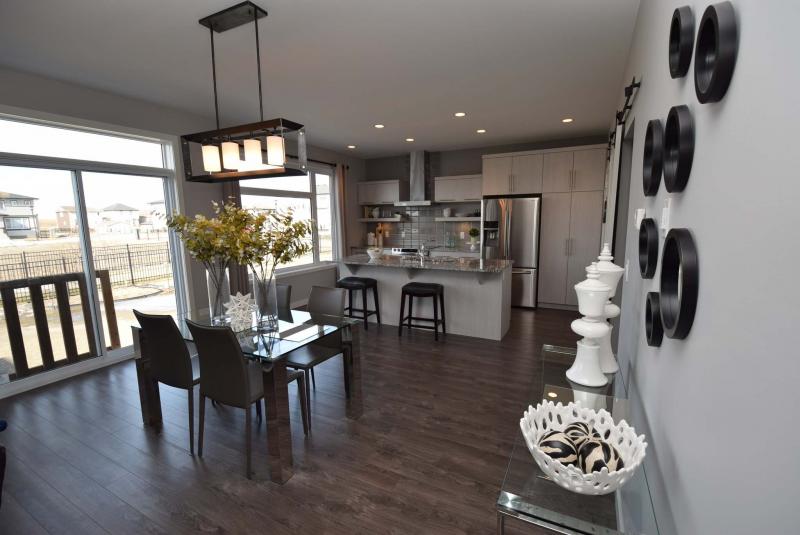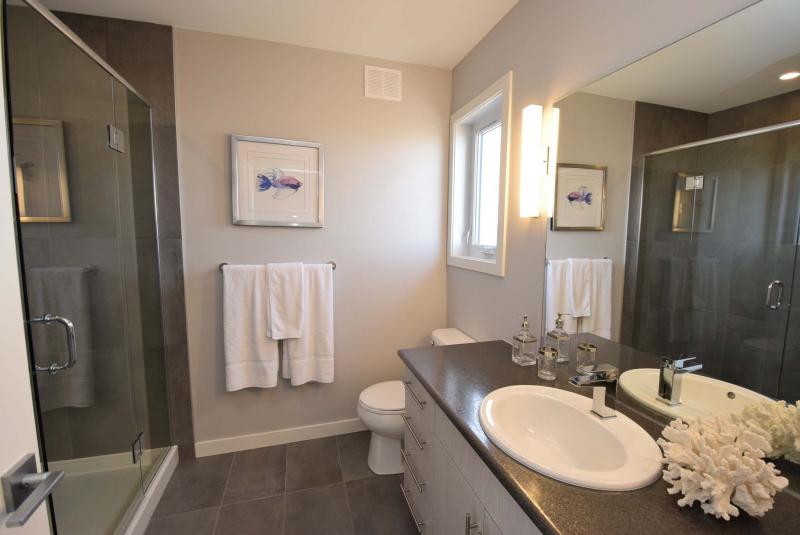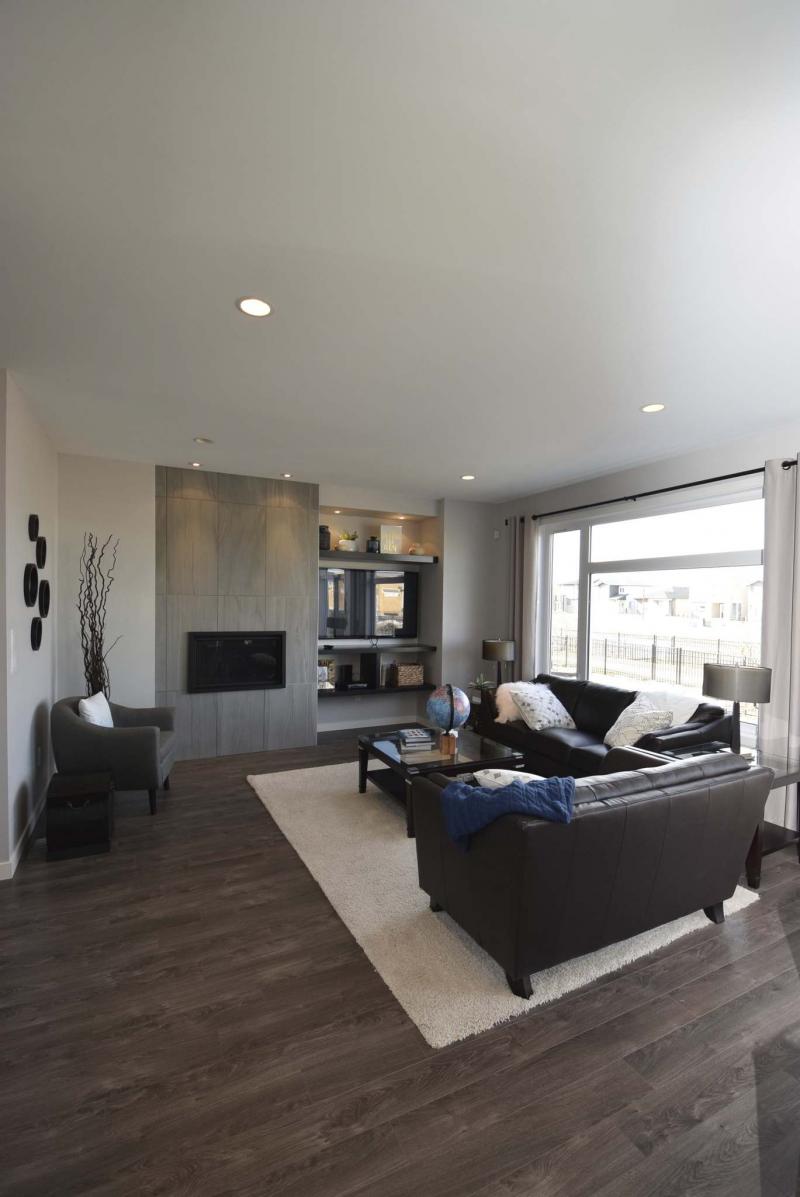 In many instances, you can read a lot into a new home's model name, while with others, a model name doesn't provide a whole lot of insight into what it's all about.
Suffice it to say, the model name of 177 Willow Creek Rd. — the Brookland Visitable — provides plenty of insight into the inner workings of Ventura Custom Homes's latest show home in Bridgwater Trails.
"Ventura's design team did a really nice job on this home," says Chris Dare of Quest Residential Real Estate, Ventura's sales representative for the 2,0660-sq.-ft., two-storey design.
"Its floor plan is as flexible and visitable as you'll find in any new home."
The moment you step into the Brookland's foyer, its highly visitable floor plan is front-and-centre.
Entry comes via an extra-wide foyer that merges smoothly with a 15-foot-long, five-foot-wide hallway that, with its extra width, provides unfettered access into the home's great room.
At the same time, an ultra-wide upper-level staircase bordered by cappuccino maple railing with glass inserts — along with a soaring 18-foot ceiling above — builds on the spacious, accessible feel.
"Everyone who's visited the home has commented on how wide-open and bright the foyer is," Dare says. "The high ceiling creates that open feel, while glass inserts (bordering the staircase) preserve it. Big windows, one over the front door and a picture window on the family room's rear wall, allow all kinds of natural light to flow between the foyer and great room."
Meanwhile, another visitable design feature can be found on the right-hand side of the hallway: a powder room with extra-wide doorway and five-foot turning radius inside.
"It's a great feature," he says. "It's not only nicely positioned (just steps from the great room), but its also very accessible."
Likewise, the great room is also very accessible.
Divided into three distinct sections, family room to the left, dining area in the centre and kitchen tucked away off to the right, it's navigable, naturally bright and beautifully finished.
"Flow between spaces is excellent, while a rear wall filled with all kinds of glass, a huge picture window behind the family room, sliding patio doors behind the dining area and another big picture window behind the kitchen let in an incredible amount of natural light."
Then, there are the finishes.
Textured walnut-like wide plank laminate flooring is just the right shade, lending warmth to the great room without absorbing too much of the natural light that floods the area.
A gas fireplace set in textured taupe tile next to a simple espresso maple entertainment unit with oversize TV niche and display shelving is the family room's focal point, while a white/taupe quartz island that seats three defines the kitchen, which also features textured (soft close) birch veneer cabinets and a smart grey tile backsplash.
"Everyone who's been through the home has loved the size of the island — it's just the right size," Dare says. "They also love the size of the walk-in pantry. At about eight feet by eight feet, it's the size of a small room."
Reaching the top floor is a pleasure due to the extra width of the upper-level staircase, and all the natural light that washes over you as you make your way upstairs.
"We've had a lot of comments on the staircase. It's about one foot wider than most, something that people really appreciate. And all the windows, the one over the front door, plus a big window on the loft's rear wall at the top of the stairs flood the second floor with light."
At 11.7 by 15.1 feet, the loft is a space that can serve more than one purpose, he adds.
"About 75 per cent of the people that buy the home choose to keep it as a loft, while 25 per cent turn it into a fourth bedroom. It all depends on a family's needs. Most use it as a second-floor family room, some as a toy room."
Thanks to the loft — which opens up the second floor — and an extra-wide hallway, room to move is never an issue.
"There aren't any choke points in the home," Dare says. "Not only that, but all the spaces are generous, including the two secondary bedrooms, both of which are larger than normal for a home this size."
Finally, there's the secluded master suite, which has been a hit due to its generous size and natural brightness.
"People love all the space and natural light that it offers, as well as its huge walk-in closet and classy three-piece ensuite with its custom tiled shower and tile floor."
In the basement you'll find another 665 sq. ft. of livable space, which can be developed into a rec room, bedroom and bathroom.
"Developing the basement takes the home to almost 2,700 sq. ft. of livable space," Dare says. "The Brookland is an extremely livable, functional home that offers great value from start to finish."
lewys@mymts.net
Builder: Ventura Custom Homes
Address: 177 Willow Creek Rd., Bridgwater Trails
Style: Two-storey
Model: The Brookland Visitable
Size: 2,066 sq. ft.
Bedrooms: 3 plus loft
Bathrooms: 2.5
Price: $537,500 (Includes lot & GST)
Contact: Chris Dare, Quest Residential Real Estate, 204-295-2207