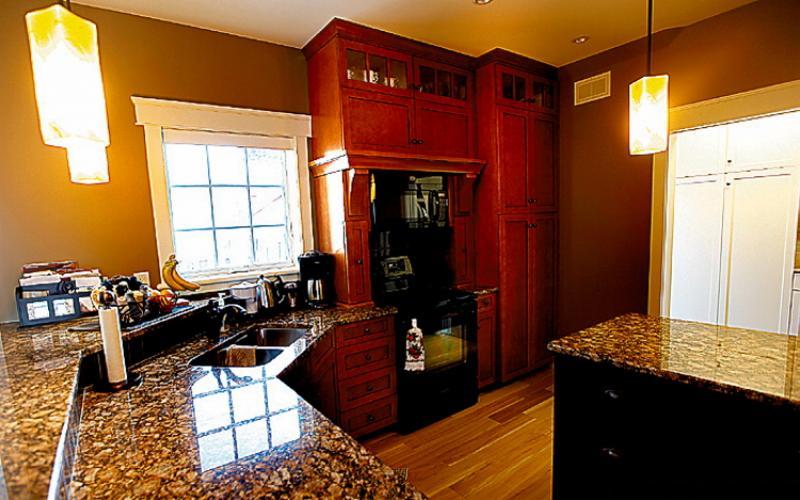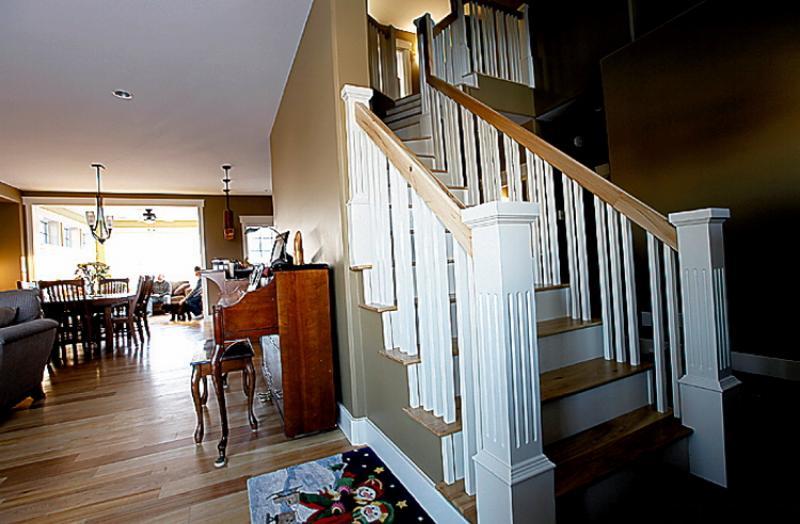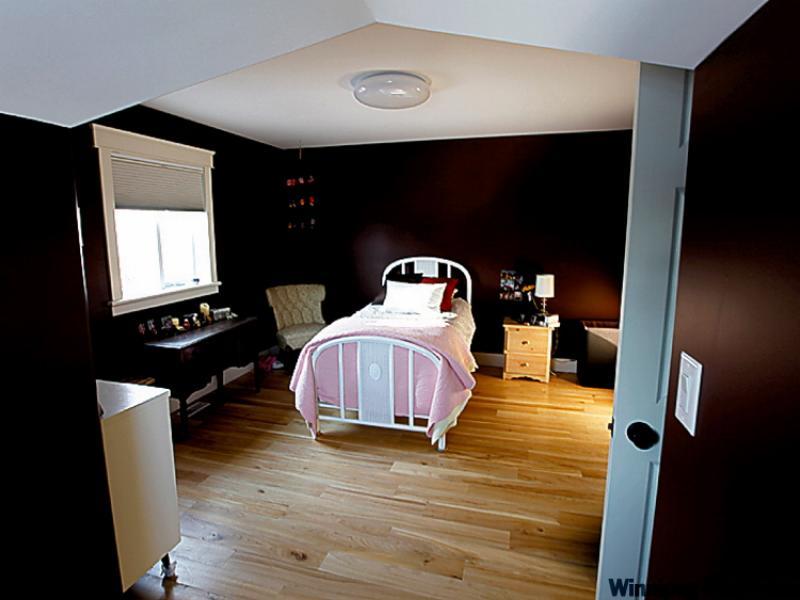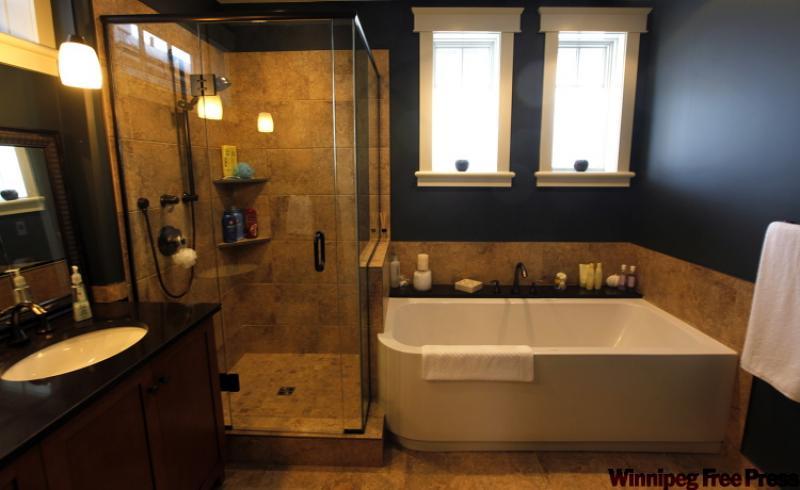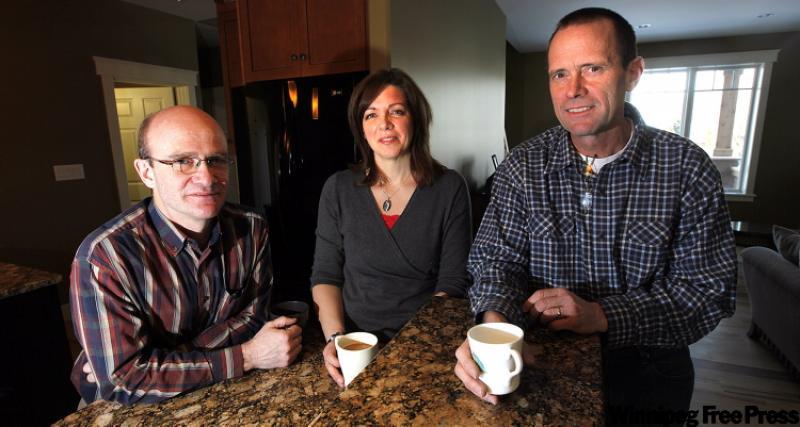 With so many new homes going up in spanking new developments these days (South Pointe, Bridgwater Forest), some noteworthy new--home projects in more secluded areas can get lost in the shuffle.
However, when a builder comes up with a new home that's eco-friendly, energy efficient -- and built on an infill lot, no less -- it's a newsworthy accomplishment.
That home is 1185 Parker Ave., Dueck Homes' latest project -- a quietly elegant 2,100-sq.-ft. one-and-a-half-storey home nestled neatly on an infill lot on the quiet Fort Garry-area street.
It's a home whose interior efficiency matches its understated exterior charm -- all in a package designed to reach a gold LEED (Leadership in Energy & Environmental Design) certification.
"As far as I know, it's the first privately-built single family home in Manitoba," says the soft-spoken Dueck. "I know that Dobie Properties has a LEED-certified condominium (or 4-Plex) in St. Boniface, but to the best of my knowledge, we're the first builder to build a single family home that's LEED certified."
A long list of musts come together to create a LEED-certified home, says Dueck. They include interior features such as sustainable materials used (such as lumber and flooring), volume of sunlight entering the structure, light fixtures used (LED lights in main areas of the home), dual-flush toilets, Energy Star appliances -- as well as an HRV (Heat Recovery Ventilator), Brac greywater recycling system and electric furnace.
Meanwhile, outdoor features such as being built on a low-maintenance infill lot (almost no grass), drought resistant plants and stone landscaping that not only reflects the sun but is porous enough to keep water from rain and snow on the grounds to be absorbed by plants -- also will combine (with a host of other features) to create a score that will add up to what Dueck believes will be a gold LEED certification.
As impressive as the LEED certification is -- the home's wow factor is equally impressive. The warm, spacious layout proves it's a misconception that building green means building drab.
Take the floors and stairs, for example. They're not only green, but very striking -- and come from a very unique local source.
"The hardwood floors, stair treads and stair railings are all made from elm rescued from a city dump," says Dueck. "It's a good, hardy flooring that we treat with a (low VOC, like the paints used) natural varathane to maintain its natural look. It's a lighter colour, so it actually helps brighten up the home's interior -- and unique, because you don't often see elm floors."
Still, the fact floors are outfitted with R20 polyiso insulation is impressive -- as are the R60 ceilings and insulated concrete form (ICF) lower level. While such high building standards make energy efficiency a given -- the homeowners (Dennis, Rose and family) report energy consumption is three-quarters what it was in a home that's 2,100 square feet versus their former residence, a much smaller home -- looks also matter.
To that end, Dueck collaborated with Dennis and Rose (Dennis and his son did exterior work; his brother the cabinets) to create a stylish, green interior. A big part of it, adds Dennis, is the dark-stained front door.
"It's made from wood reclaimed from an Amish farm in Pennsylvania. We also went with all hard surfaces -- the elm hardwoods and porcelain tile -- to reduce mould and dust, and get the best air quality possible."
More sustainable materials are used in the kitchen, which is divided from the open-concept living room/dining room by an eating nook: beige/brown granite, medium-stained maple veneer cabinets and energy efficient windows with fibreglass frames. While this may be a LEED-certified home, it doesn't lack style; the main level is an ideal mix of brightness and warm colours and the layout is efficient; flow is excellent.
Upstairs -- off a generous, angled landing again comprised of the reclaimed elm -- are two bedrooms. For practical purposes, the master suite was situated on the main floor, says Dennis.
"When the kids leave, we don't want to be climbing stairs. And we're really enjoying the master bedroom. It has a nice ensuite with corner (tempered glass with tan porcelain tile surround) and (long, rectangular) jetted tub. There's also our own private screened in porch."
With 1,400 square feet of space (on cork flooring with R18 insulation beneath), the lower level (two bedrooms, den, rec room, mechanical room with pre-wired geothermal hookup) is also packed with potential.
And with all its eco-friendly features, the cost of building such a leading-edge (and big) home will cost perhaps 10 per cent more than building with conventional materials.
"It pays for itself in three to four years," Dueck says. "With lower utility bills, the money saved can go toward mortgage payments. It's actually cheaper to build green overall -- with lots of style built in."
lewys@mts.net
DETAILS
Homebuilder: Dueck Homes
Address: 1185 Parker Ave., Fort Garry
Style: One-and-a-half storey; projected LEED Gold home
Price: $475,000 (includes lot & GST)
Size: 2,100 sq. ft. with 1,400 sq. ft. in lower level
Bedrooms: 5 plus lower level den
Bathrooms: 3
Lot Size: 50' x 102'
Lot Price: $80,000 (infill lot from city)
Contact: Cal Dueck, Dueck Homes @ 794--6572