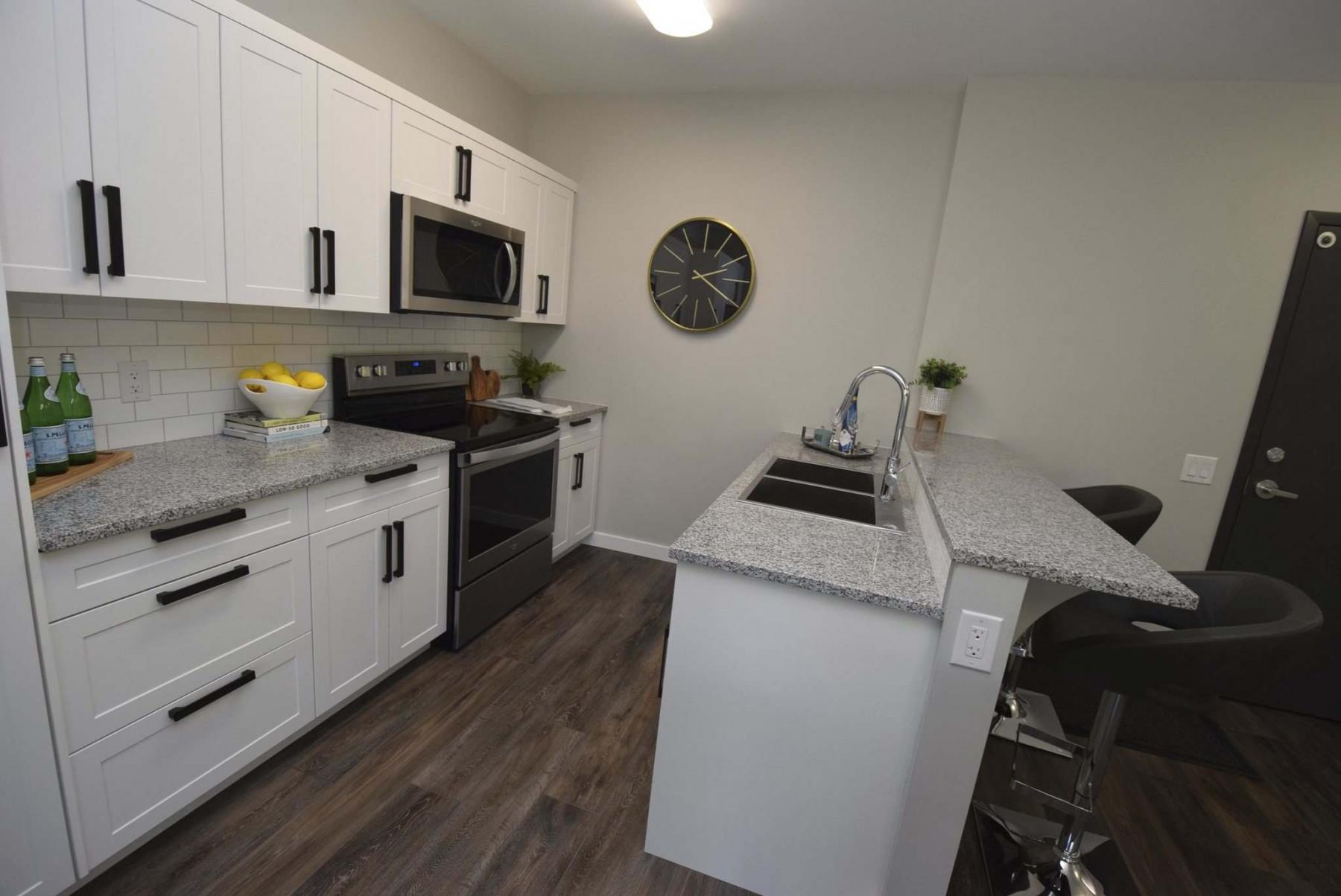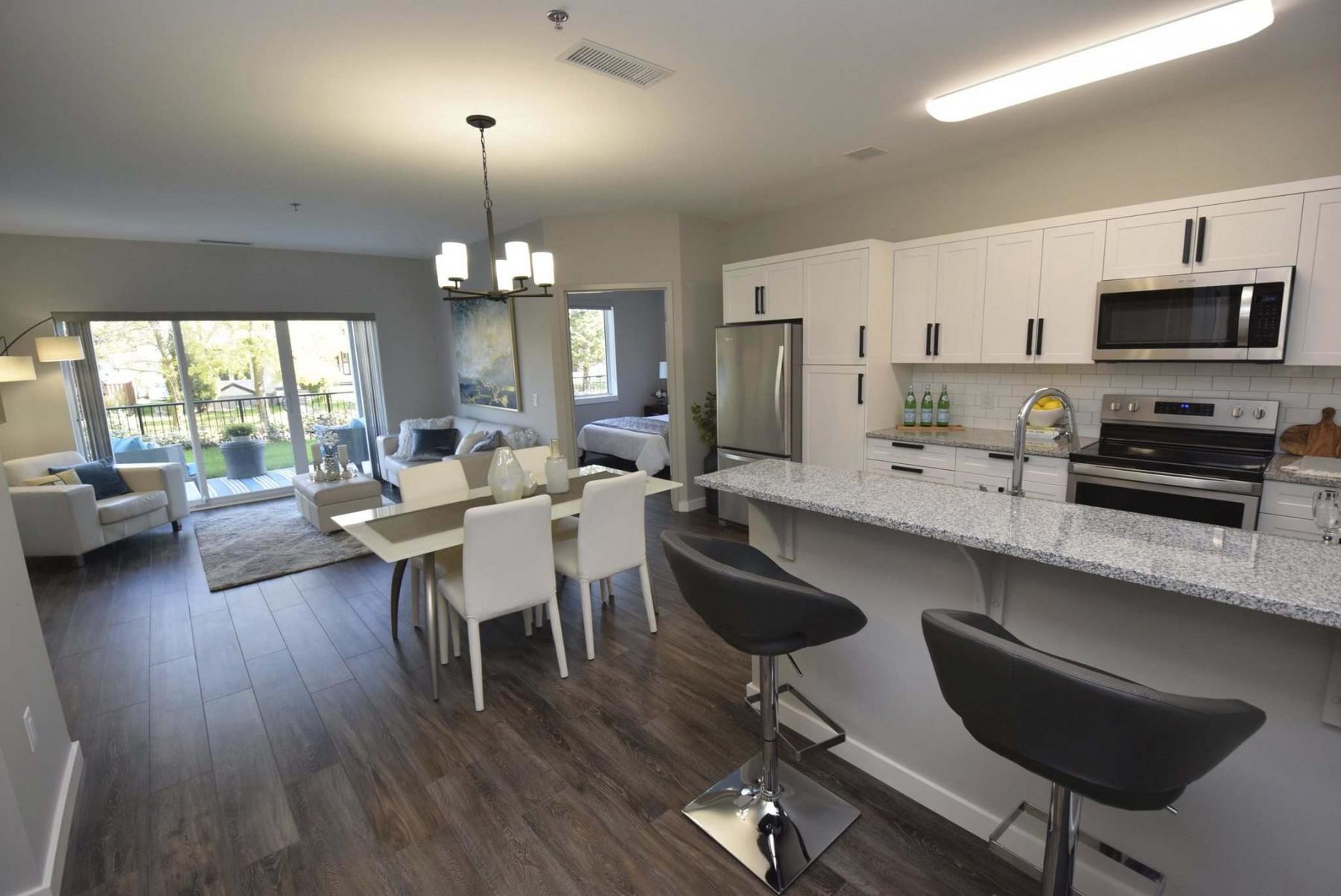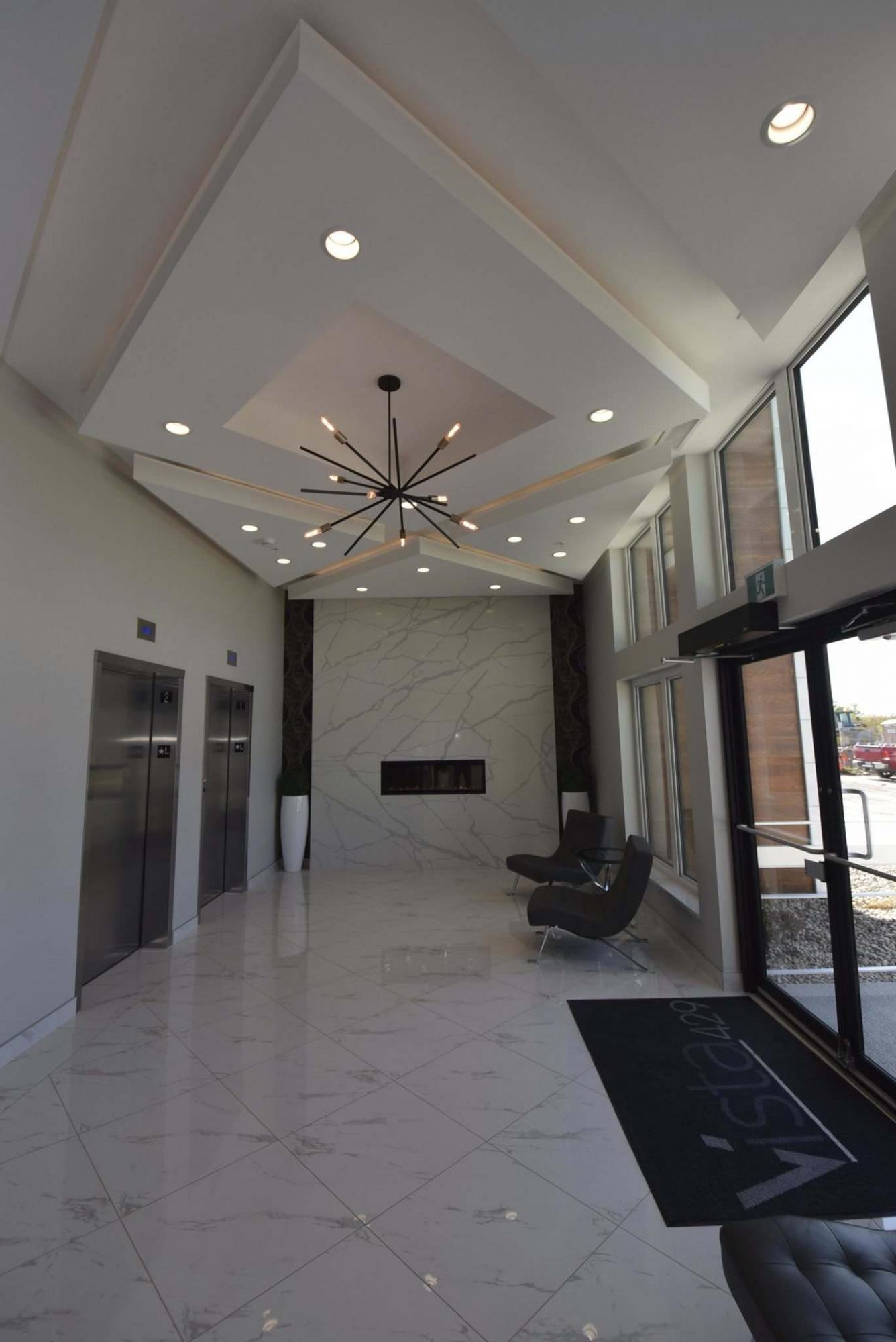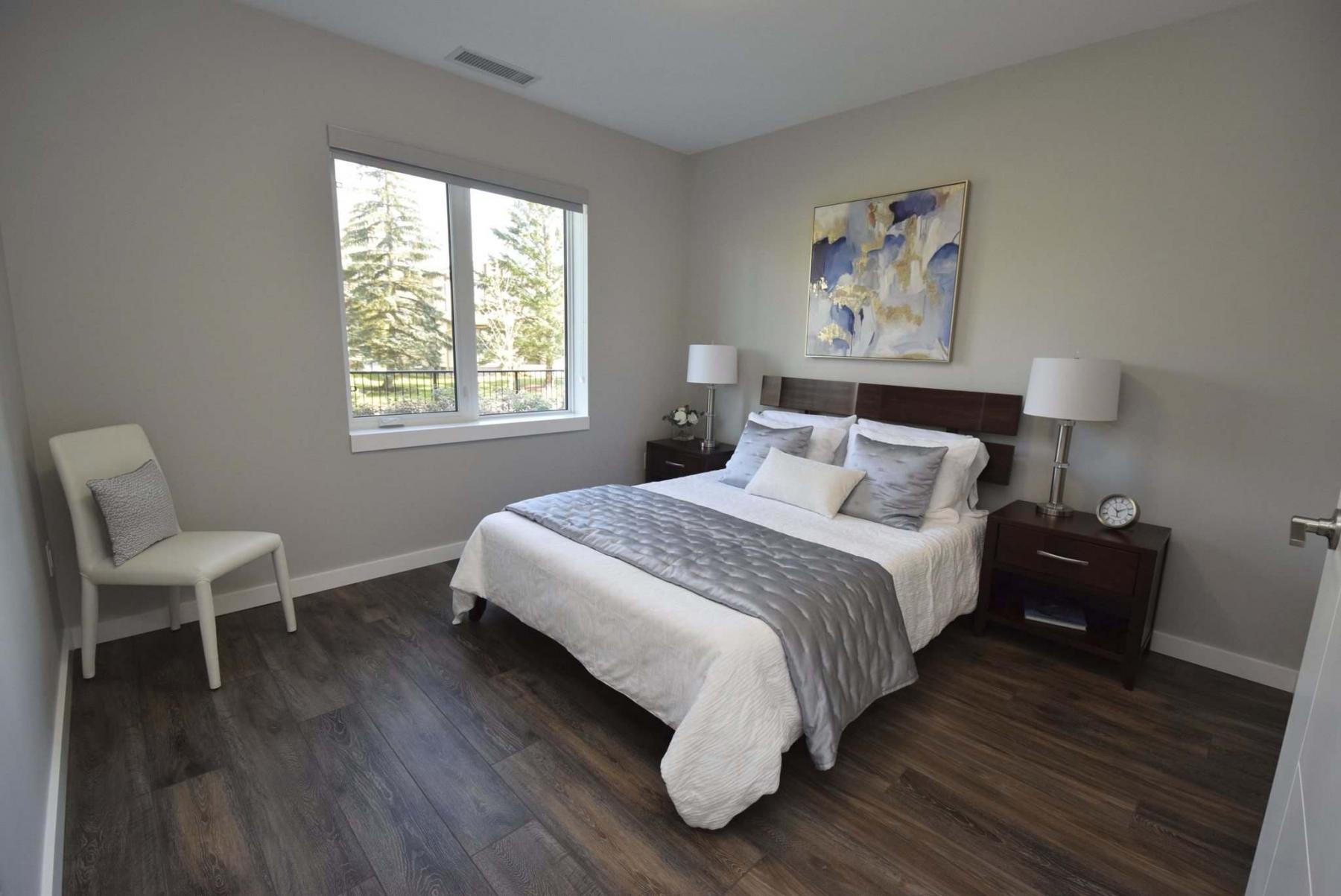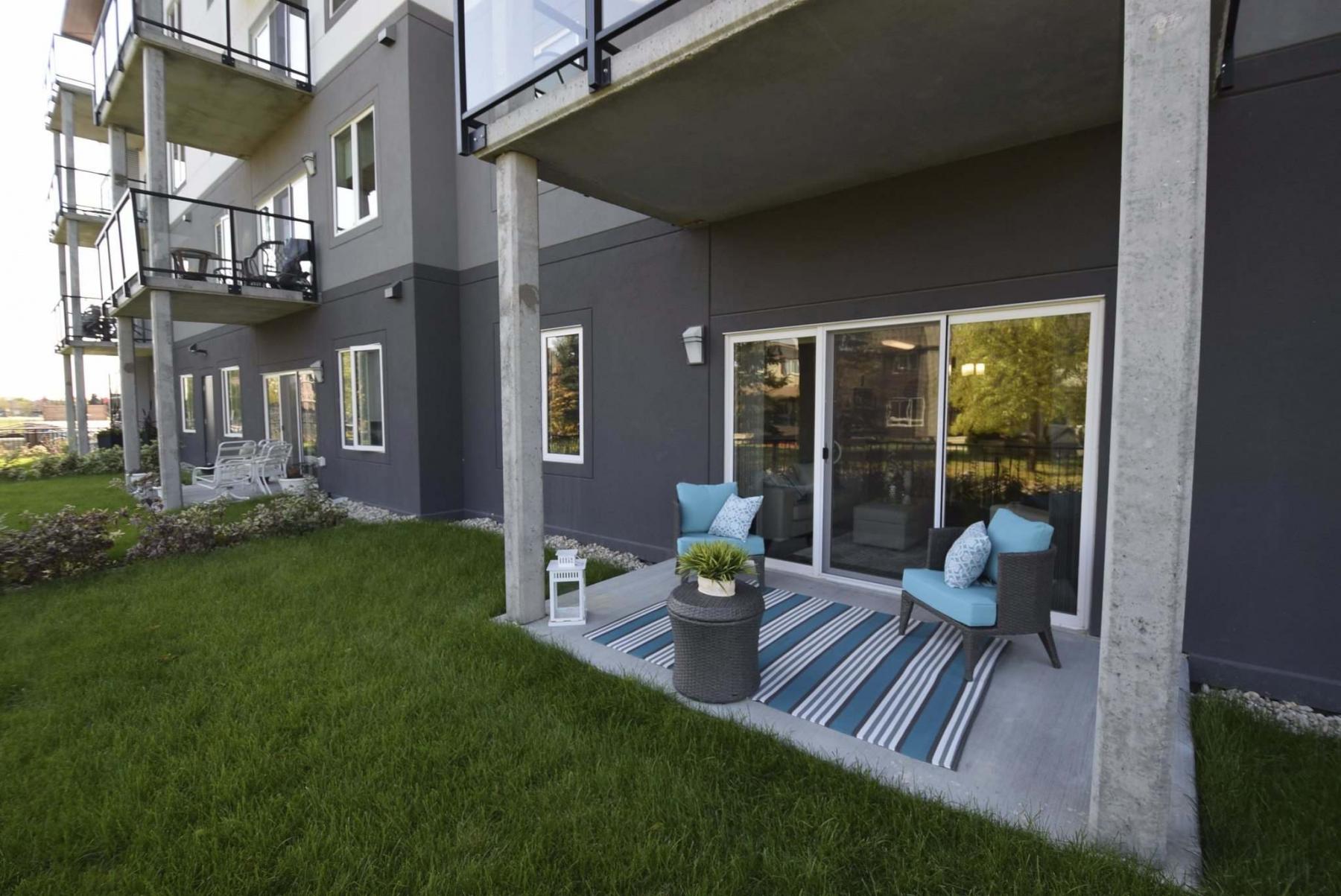 About three years ago, Louis Pereira of Sherwood Developments (2016) Ltd. happened to drive by an expansive lot on Beaverhill Boulevard in Southdale.
He immediately envisioned what he could do with the lot, which was just larger than four acres in size.
"I thought it would be perfect for a 50-plus community that would feature a series of stylish four-storey buildings that would offer a cross-section of beautifully appointed one- and two-bedroom apartments," he says. "Previously, we'd built the Enclave, a similar community in St. Vital. It was very well-received, so I figured there would be similar demand in Southdale."
After extensive public consultations, the project was enthusiastically approved. A single-family home was removed and relocated, and a commitment was made to replace a church that housed Gym Kids day care with a brand-new building.
Fast-forward to October 2019, and Phase 1 of the three-phase project is complete, rented to full capacity. Phase 2 of the project — which is projected to be completed and ready for move-in in fall 2020 — is already 62 per cent rented.
'The community is close to a host of amenities and offers the style and convenience that empty nesters are looking for without the obligation of buying a high-end condo'-- Louis Pereira, Sherwood Developments
Little wonder, as the project — the grounds, buildings, suites — was designed to offer empty nesters a viable alternative to buying a luxury condominium.
"With the Enclave, we found that a high percentage of empty nesters didn't want to spend most of the money generated from the sale of their home on a condo," Pereira says. "Many were happy to rent an apartment, provided it had the space, style and amenities they were looking for."
The first thing that hits you when you drive up to Phase 1 of Vista 429 is its striking three-tone exterior.
With its linear silhouette and an outer shell that comprises grey acrylic stucco, woodgrain-style cement board and silver aluminum panelling, the building exudes a clean modern look that pleases the eye.
Then, there's its spectacular lobby.
Featuring a 13-foot ceiling with triangular bulkheads that are mirrored by a diamond-shaped porcelain tile floor — there's also a ribbon fireplace set in the midst of a 10-foot by 12-foot granite feature wall to the right of the entry doors — it was designed to set the tone, Pereira says.
"We wanted to create a place that people would be proud to call home, and that started with the foyer. It's bright, spacious and beautifully finished with two quiet electric elevators that will take you up to your suite. The idea was to exceed expectations, and I think we did that."
The same thought that was put into the foyer was then put into the design of the one- and two-bedroom suites.
At 1,000 square feet, the display suite is an ergonomic masterpiece. Featuring a wide-open great room with all the spaces located on its periphery, there's no wasted space.
A storage/laundry room and recessed wing with four-piece bath and coat closet was placed to the left of the entrance, while the second bedroom was set in its own recessed spot to the left of the living room toward the rear of the unit.
Meanwhile, the master suite was set off to the right of the living room in its own private spot, while the kitchen was tucked away to the right, with an informal dining area placed between it and the living room to provide subtle separation.
"The area is very open-concept, featuring a nine-foot painted ceiling and nine-foot-wide patio door in the middle of the rear wall that lets in tons of natural light. The master bedroom's doorway was angled to allow light from the oversized window on its rear wall to filter into the great room."
Not surprisingly, interior finishes are impeccable.
The peninsula kitchen — which comes with a raised eating bar that seats two — comes with grey granite countertops, white soft-close shaker cabinets, a white subway tile backsplash and stainless steel appliances. Two-tone brown luxury vinyl plank flooring adds warmth and texture, while white baseboards and grey door trim add style and contrast.
Most importantly, all the suites — from the smallest 795-sq.-ft., one-bedroom plus den model, to the 1,084-sq.-ft., two-bedroom model — are livable, Pereira says.
''Great rooms are naturally bright, featuring excellent flow and easy access to each space. Both bedrooms are larger than normal, with the master suite coming with a walk-in closet with built-in storage and a three-piece ensuite with five-foot shower and white vanity with quartz countertop and raised square sink. All fixtures in the kitchen and bathroom are high-end by Riobel."
Everything else about the project is high-end, too.
Suites feature concrete floors, are extensively soundproofed, and have either 12-foot by seven-foot elevated patios backing onto greenspace or generous covered balconies with low-maintenance railing and tempered glass borders.
There's a fully equipped gym with floor-to-ceiling windows and the choice of either underground heated parking ($100 per month) or surface parking ($50 per month). Once complete, Phase 2 will offer a residents lounge and guest suite.
"We tried to think of everything," Pereira says. "Residents will have access to plenty of indoor and outdoor amenities, amenities that will eventually include a 3,300-sq.-ft. water feature with cascading waterfalls. The community is close to a host of amenities and offers the style and convenience that empty nesters are looking for without the obligation of buying a high-end condo."
lewys@mymts.net
The details
Builder: Sherwood Developments (2016)
Address: 429 Beaverhill Blvd.
Development: Vista 429
Style: 50-plus Apartment Community
Size: 780 sq. ft. to 1,084 sq. ft.
Bedrooms: one plus den, two
Bathrooms: one, two
Monthly Rent: $1,510 to $1,990; indoor parking $100/month, outdoor parking $50/month
Contact: Janelle Kaminsky, Property Manager, 204-230-6015