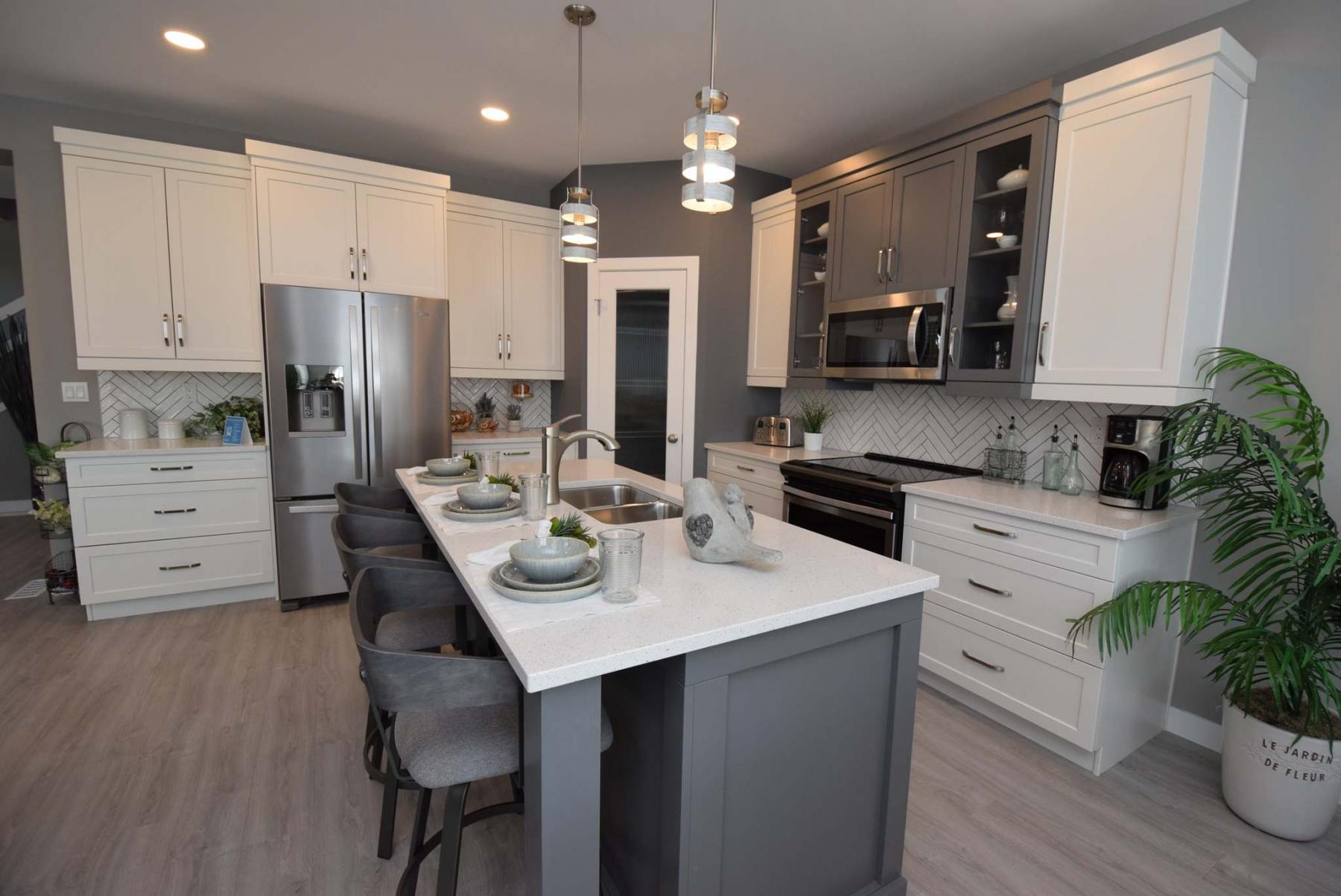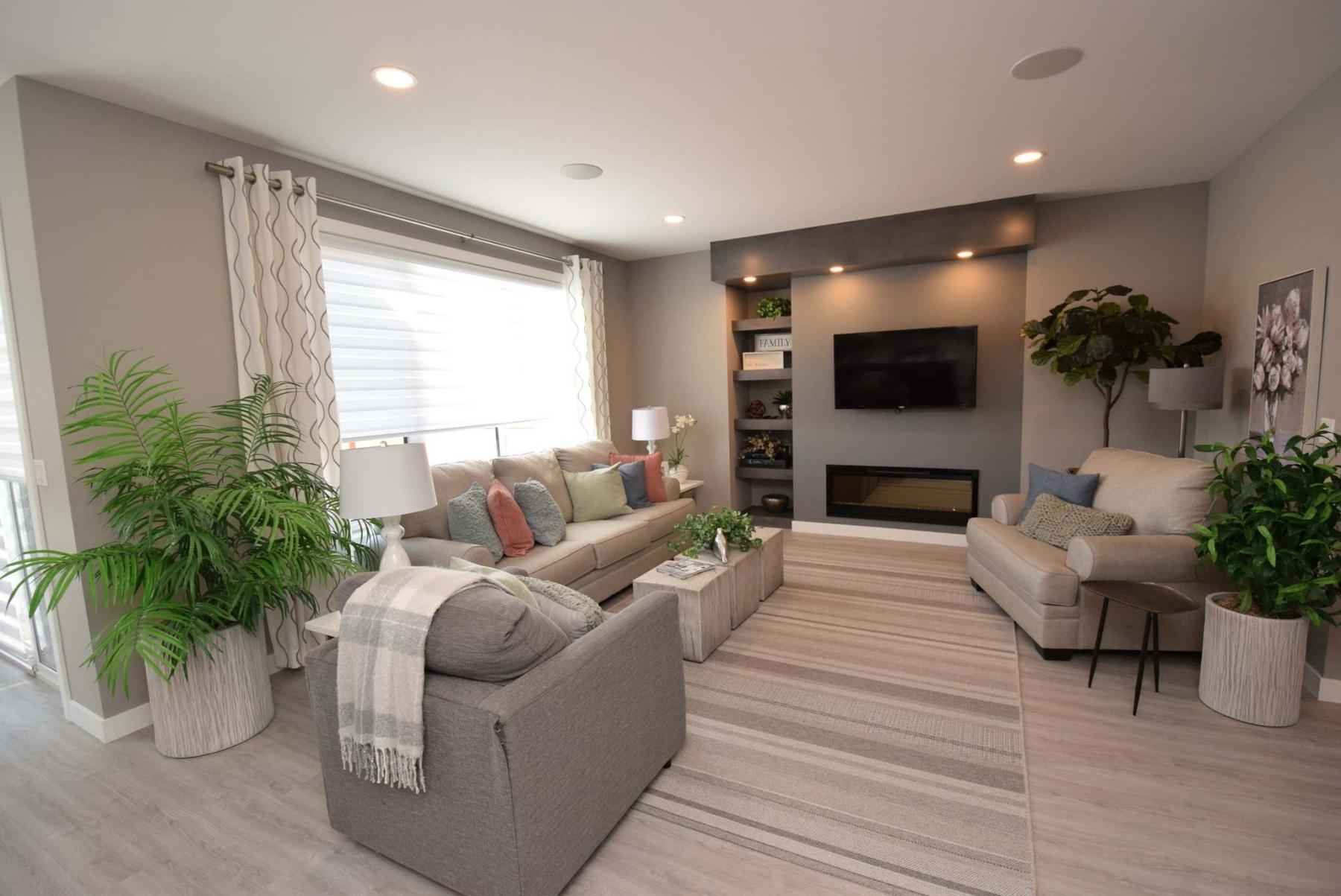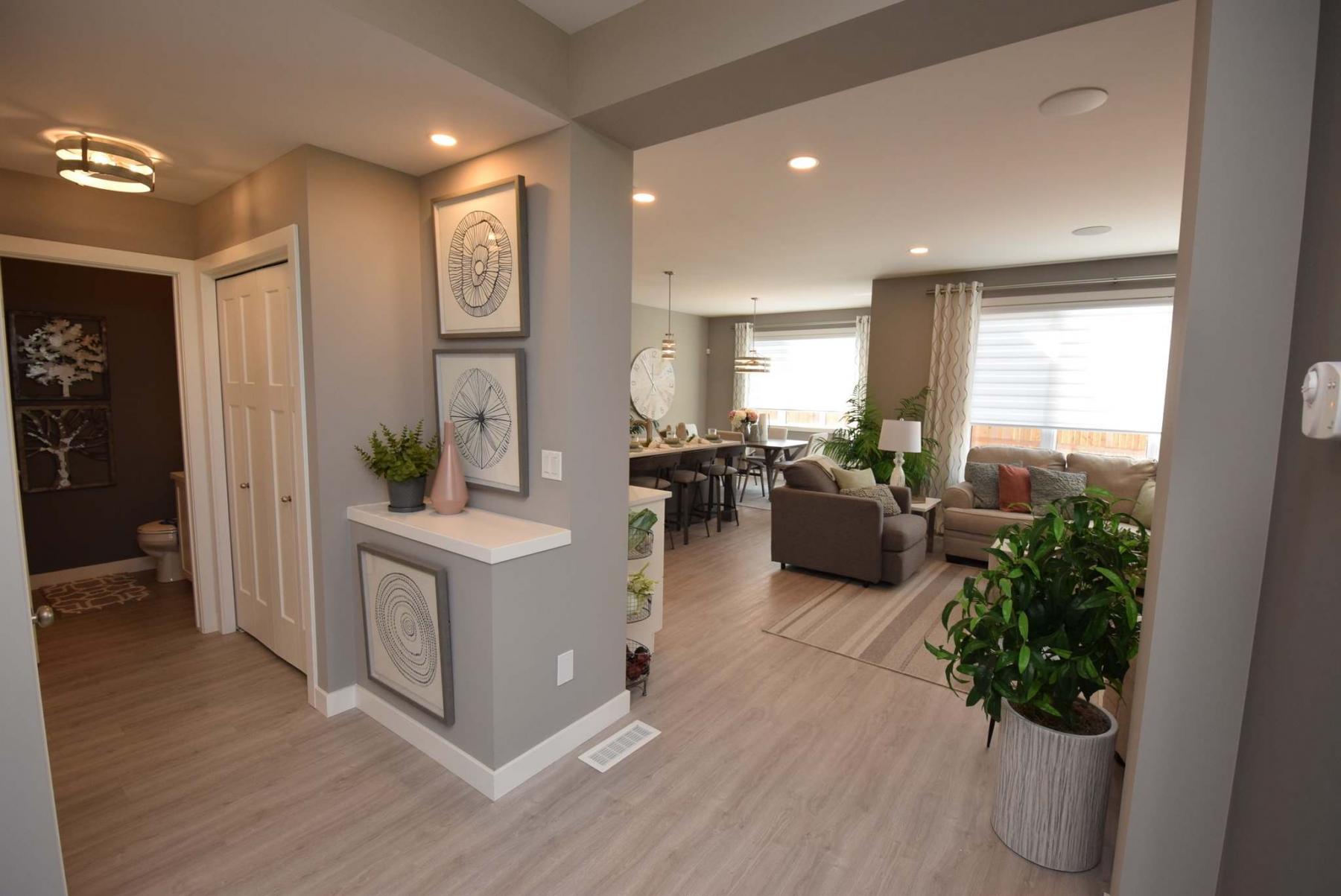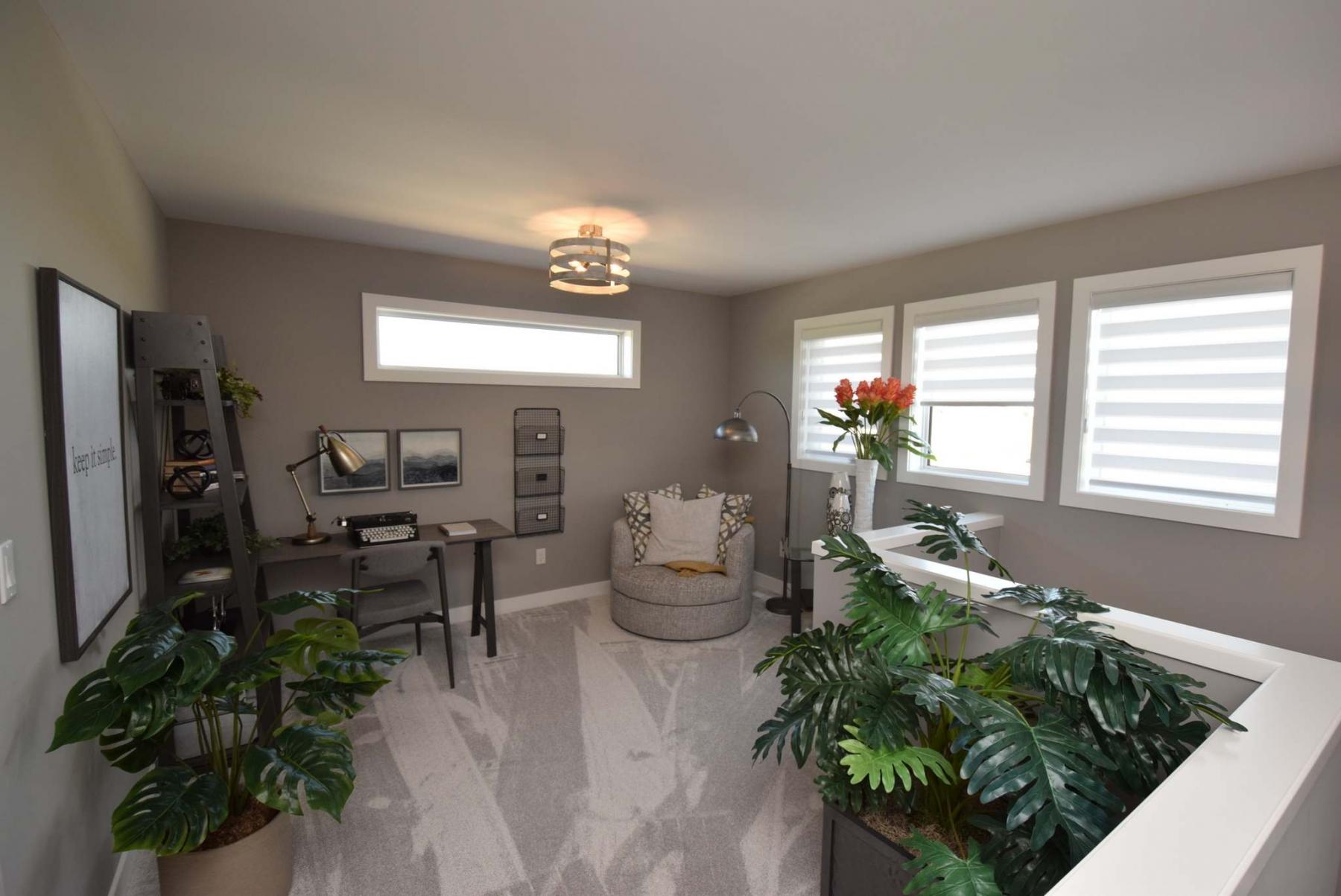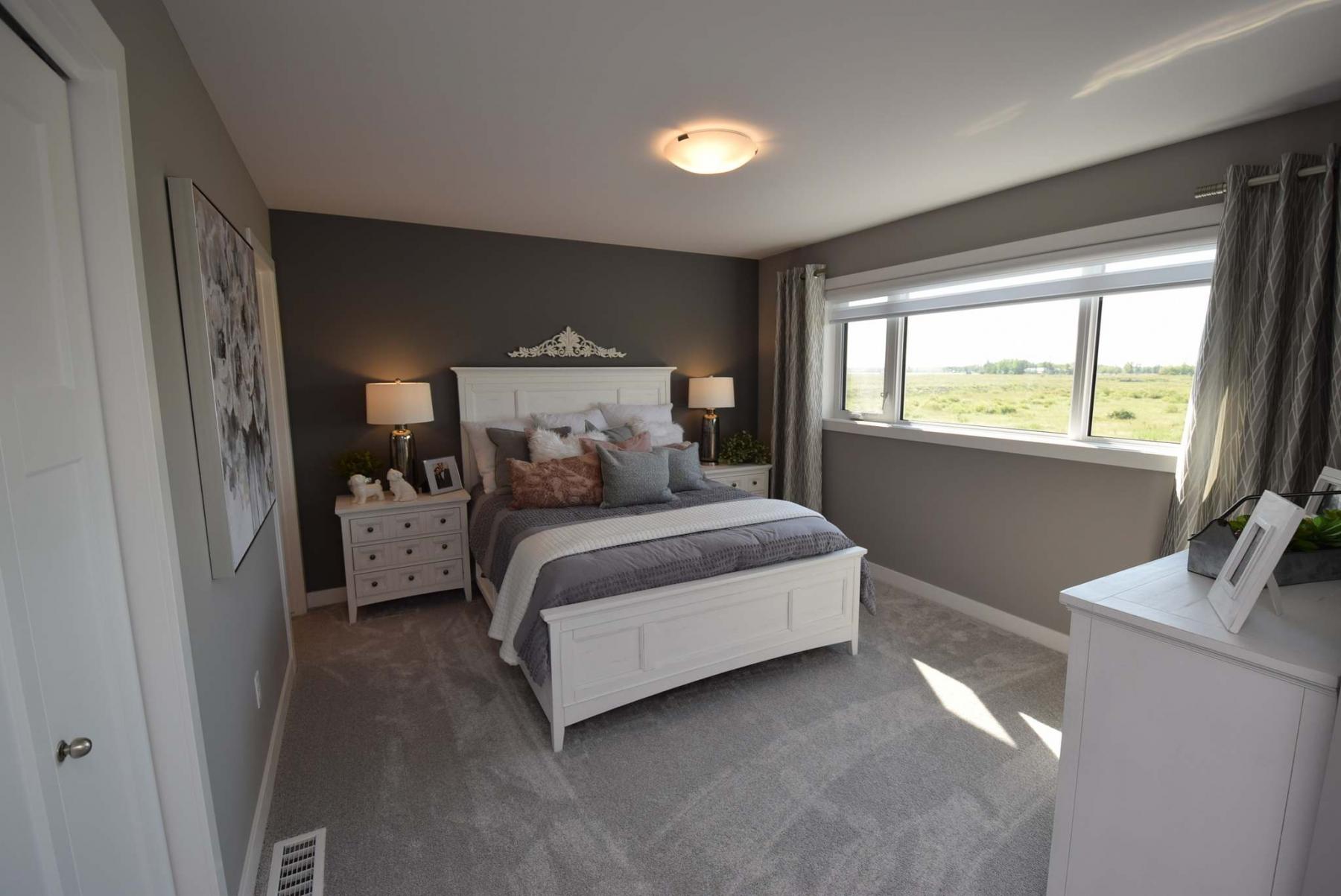 Builders typically have two goals in mind when they come up with a new plan for a show home.
As might be imagined, those two goals are intertwined.
On one hand, they want the plan to be memorable, to distinguish it from other show homes. On the other — while they clearly want to make an impression — the idea is to achieve that lofty goal without compromising function.
Chris Ilagan, Broadview Homes' new homes consultant for 4 Merkel Manza Blvd. in Transcona's Canterbury Crossing, says the company's newest design, the Dawson, is a runaway hit.
"Everyone who's gone through the home has loved it," he says of the newly minted, 1,765-square-foot two-storey design. "It's great design from start to finish."
Although the home is a mid-sized design, it feels larger than its listed square footage. That spacious feel originates in the foyer, says Ilagan.
"With the foyer being so wide and deep, there's a real feeling of freedom when you walk inside," he says. "Then, you notice the upper level staircase to the left. The stairs are extra-wide, a feature that opens the area up even more."
He adds that Broadview's design team really put on their thinking caps when it came to designing the area that precedes the great room.
"Again, there's lots of room to move. There's a wide landing with a hallway to the left. The hallway is nice and wide, and offers lots of function with a powder room and big laundry/mudroom. People have really liked how accessible the laundry room is, as well as the extra storage the area offers with a double closet."
A five-foot-wide doorway with a striking grey/white display niche to the left then provides stylish — and seamless — access to the great room.
Efficiently designed, it employs a pair of subtle design tricks to make it feel bigger than it actually is, says Ilagan.
"First, the ceiling is nine feet high, which gives the area a more spacious feel. Second, the dining area was pushed back. Doing that opened up space in the kitchen, and made for a separate dining area that holds a table that can seat six to eight guests, and has a sliding patio door that leads out to a big backyard deck."
Add huge windows behind the dining area and on the family room's rear wall, and you have a bright, airy great room that offers plenty of style and function.
"The kitchen is really impressive," he says. "It has a big island with double sink and seating for three that provides lots of function, while the finishes — a grey island, combination of white and grey cabinets, light-grey herringbone tile backsplash and light taupe quartz countertops — gives the kitchen a feel that's modern yet warm."
That modern, warm feel then carries over into the adjacent family room.
"Everyone has really liked it because there's lots of space. Yet, it has a nice, cosy feel. There's plenty of room for seating, and the entertainment unit with its ribbon-style fireplace, maple bulkhead with pot lights and maple shelving is a nice, warm focal point."
Meanwhile, the home's upper level not only features three bedrooms and a four-piece bath, but it also comes with a spacious loft, says Ilagan.
"It's perfect for a family — it gives the kids a space of their own to play and watch TV upstairs in, while adults can unwind or visit downstairs in the family room. It could be turned into a fourth bedroom, but most customers keep the loft as is."
All three bedrooms are larger than expected given the home's size.
Both kids' bedrooms are huge, giving toddlers plenty of space to grow into, while the master suite checks in at 13.4 by 11.7 feet.
"It's got lots of room, a big window lets in lots of natural light and a beautiful three-piece ensuite with five-foot shower, laminate plank floor and white vanity. There's also a good-sized walk-in closet, too."
In short, the Dawson — which offers over 2,400 square feet of total livable space when the lower level is finished — is an efficient, elegant design from top to bottom, says Ilagan.
"All the available space has been maximized very well. Its design is clean throughout, and it's also an energy-efficient home. With all its well-used space and beautiful finishes, it's a wonderful family home."
lewys@mymts.net
Details
Builder: Broadview Homes
Address: 4 Merkel Manza Blvd., Canterbury Crossing (Transcona)
Model: the Dawson
Style: two-storey
Size: 1,765 sq. ft.
Bedrooms: three
Bathrooms: two-and-a-half
Price: $521,546 (Includes lot & GST)
Contact: Chris Ilagan, New Homes Sales Consultant, 204-583-1722