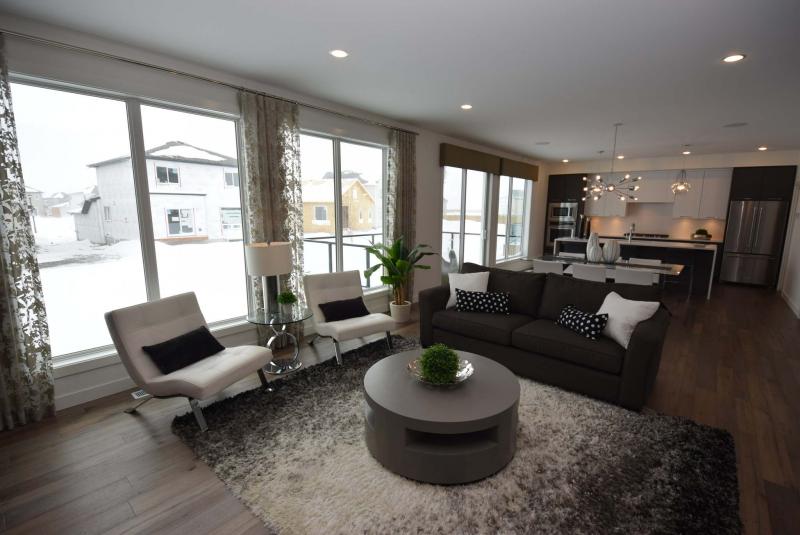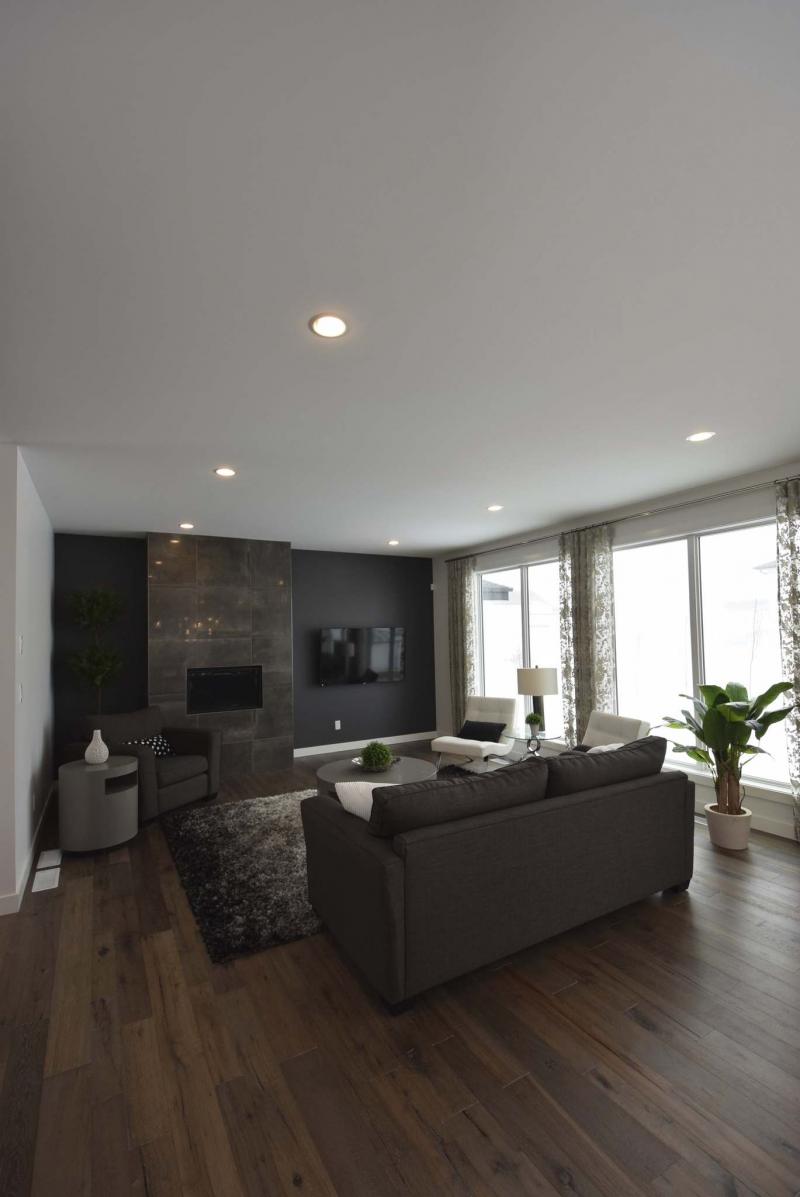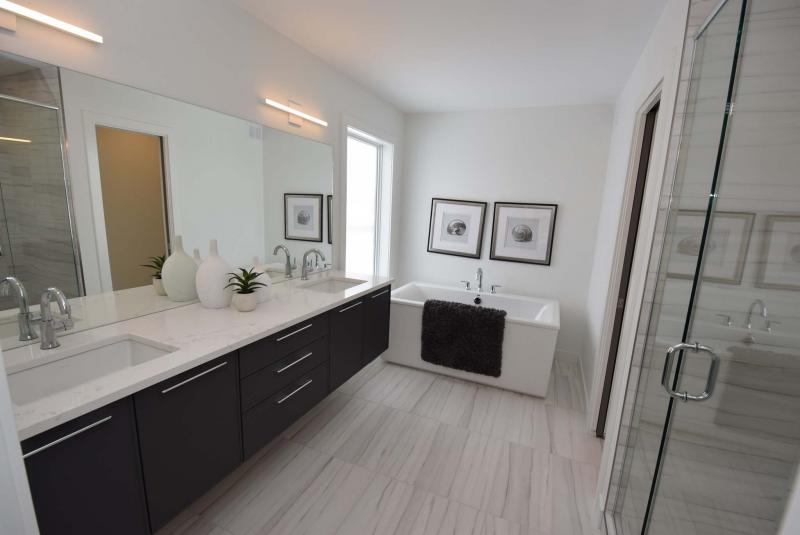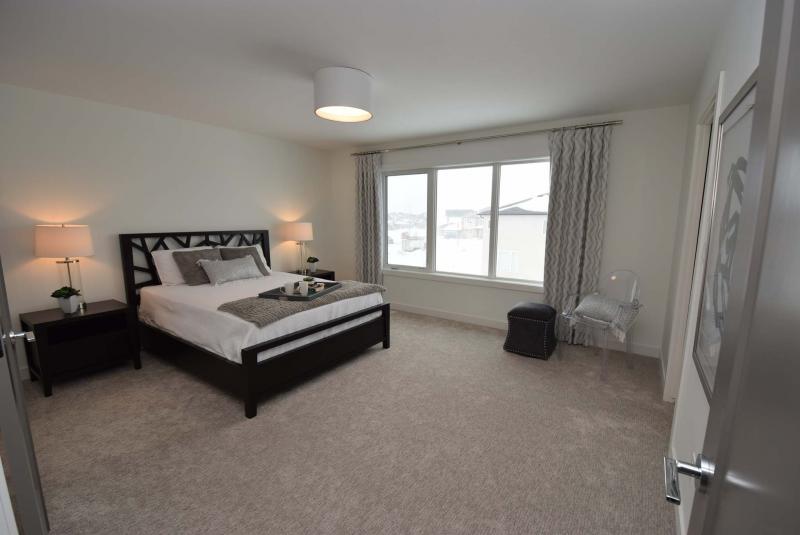 Three features tend to be uppermost in the minds of families looking for a new luxury home — it must be functional, free-flowing and possess a liberal sprinkling of fashion to keep it interesting.
Those three design features are showcased in Arlt Homes' latest show home at 28 West Plains Dr. in Sage Creek, says Jason Arlt of Arlt Homes.
"When we designed this home, we tried to think about how a family would live in it. That thought dictated the layout of both the main and second floors. A family home has to offer great overall function, excellent flow and well-placed style for it to suit a busy family's needs and tastes."
The 2,208-sq.-ft, two-storey home gets off to an ultra-functional start courtesy of a wide, tiled foyer that merges seamlessly with a spacious landing that runs between the upper- and lower-level staircases and great room.
A seven-foot-wide entrance opposite the stairs then provides unfettered access to a huge great room that's notable for two things: its sheer volume and its bright, airy feel.
"We really put a lot of thought into how the foyer merged with the great room," Arlt says. "Both the upper-level and lower-level staircases were tucked off to the side to make for a nice, smooth entrance into the home. The entrance into the great room was then made extra-wide to enhance traffic flow and to promote light flow."
Thanks to a literal wall of windows on the great room's rear wall (it's about 75 per cent glass) and a huge window set over a landing placed midway up the upper-level staircase, a magnificent crossfire of natural light was created between the landing and great room.
"We wanted to bring a ton of light into the home, so the glass-filled rear wall (was) something we visualized right away," he says. "Putting the huge window in over the staircase directly across from the great room allowed for a wonderful interplay of natural light between the two areas."
The next goal was to make a huge space inviting — and flexible.
"Even though the great room is a large space, it's not cold. Gorgeous rustic, wide-plank oak engineered floors give it a warm feel, while grey highlights — particularly the feature wall in the family room — add to the warmth that the oak flooring provides."
Then comes the great room's forte: its exceptional flexibility.
"Its great volume gives you the opportunity to configure spaces like the dining area and family room to meet your exact needs," Arlt says. "There's room to turn the dining table sideways for larger gatherings. Or, if you keep it in the centre, you can slide the sofa back to expand the family room. Patio doors behind the dining area provide a nice connection to the backyard deck, too."
Finally, there's the kitchen island, which was placed neatly off to the right. It's the ultimate chef's kitchen — it's highly functional and quite smashing to boot.
"Again, there's lots of space, two cooks can easily work in it at the same time," he says. "It features two-tone grey/white cabinetry, off-white quartz countertops, a raised white tile backsplash and an island that seats three. There's also a corner pantry next to it that connects to a huge mudroom. A pocket door can be used to close it off from the kitchen."
Head upstairs via an extra-wide staircase defined by medium-brown railing with tempered glass inserts, and you find yourself in front of the ultra-private master suite.
"While it's set back from the hallway in its own private spot, we put a small landing in front of it to increase that feeling of privacy. We also put grey double doors on the entrance to serve as an architectural detail. They really pop with the off-white walls, providing a nice colour break," Arlt says. "White doors would have looked too bland."
Turns out, the master suite is anything but bland.
A huge window allows loads of natural light to cascade inside, while there's ample room for a king-sized bed, furniture and a reading chair.
An opulent ensuite and massive walk-in closet — which exude the same sensible style and function showcased on the main floor — complete the space.
"The ensuite is so spacious that two people can easily use it at the same time," he says. "It comes with an ultra-deep soaker tub, five-foot custom glass/tile shower and a grey vanity with off-white quartz countertop and dual sinks.
"The walk-in closet is the size of a small bedroom, and comes with a window that adds even more natural light to the bedroom."
Finally, a hallway to the left on the master suite leads to a thoughtfully designed bedroom wing.
"To increase privacy, we made sure the two bedrooms, which are huge and come with oversized windows, didn't share common walls. There's also a big four-piece bath for the kids and a laundry room at the end of the hall. I think parents would really appreciate the high degree of separation."
Feedback on the home has been very positive, Arlt says.
"Everyone who's visited the home has really liked the design of the second floor, its overall flow and its spacious, naturally bright interior. It truly was designed for a family and would be a great fit for a family looking for a home that offers a nice blend of function and style."
lewys@mymts.net
The details
Builder: Arlt Homes
Address: 28 West Plains Dr., Sage Creek
Style: Two-storey
Size: 2,208 sq. ft.
Bedrooms: 3
Bathrooms: 2.5
Price: $734,900 (includes lot, GST and development charges)
Contact: Joel Green, Century 21 Bachman & Associates, 204-612-3609, or Andrew Mate, Royal LePage Dynamic Real Estate, 204-223-3354