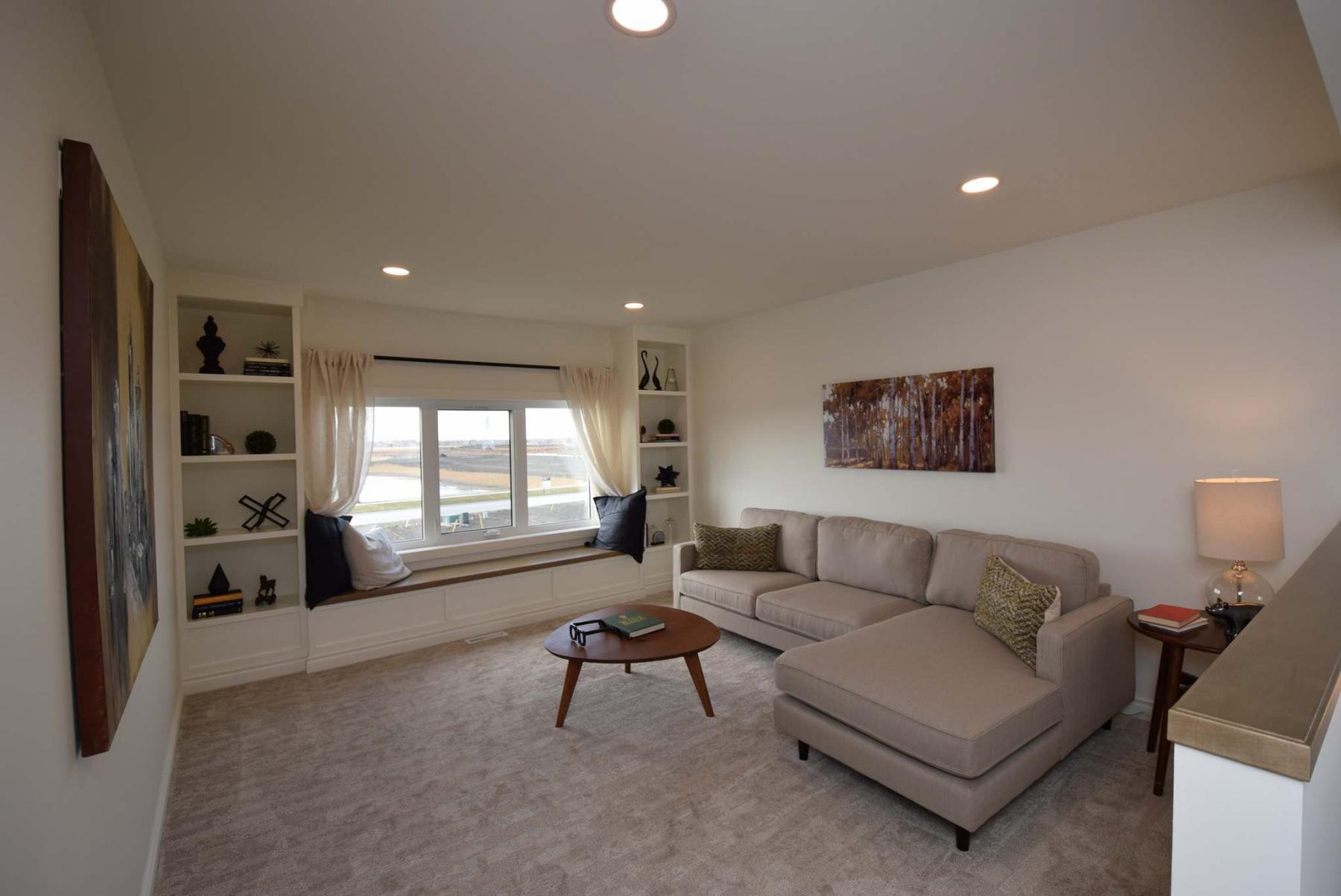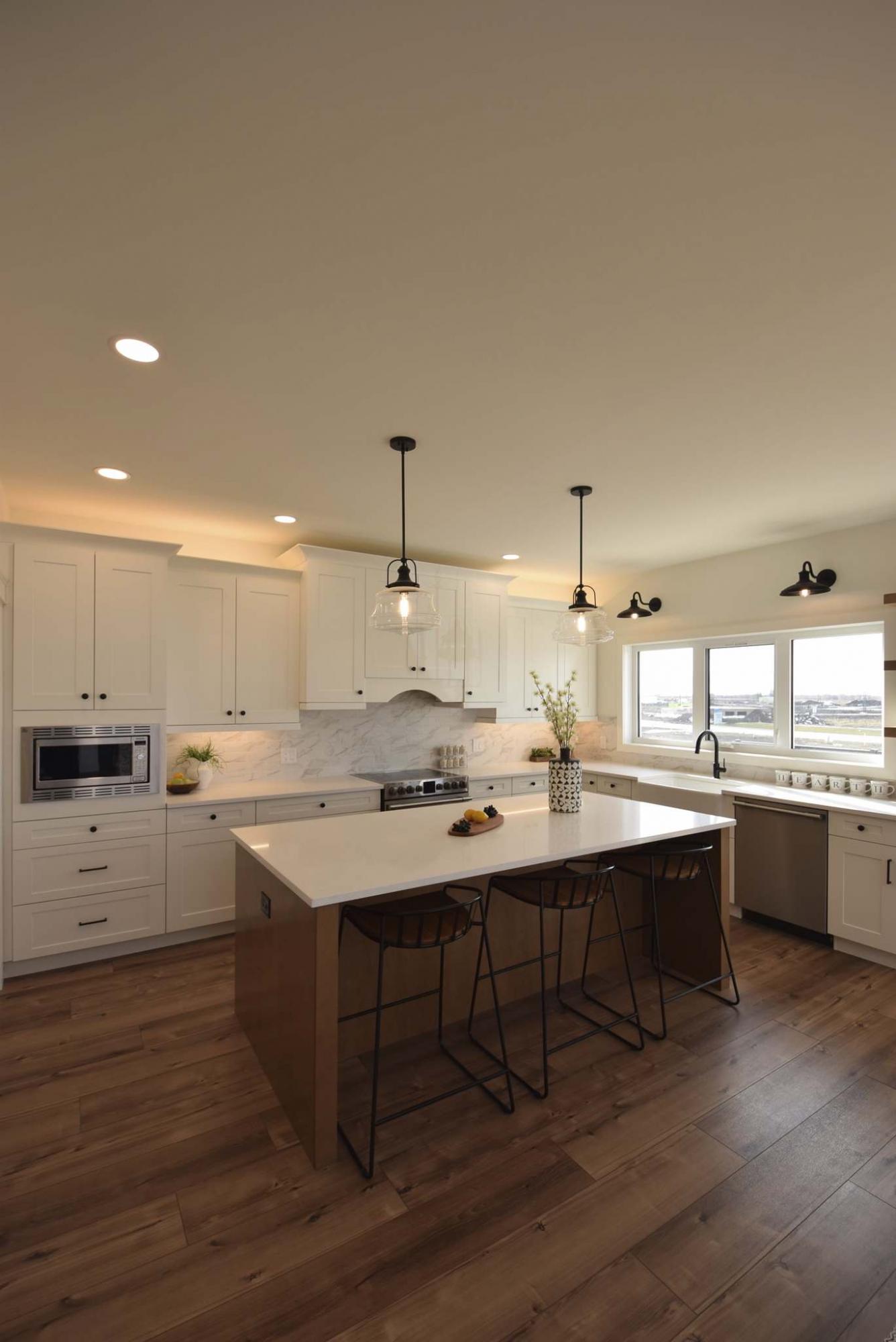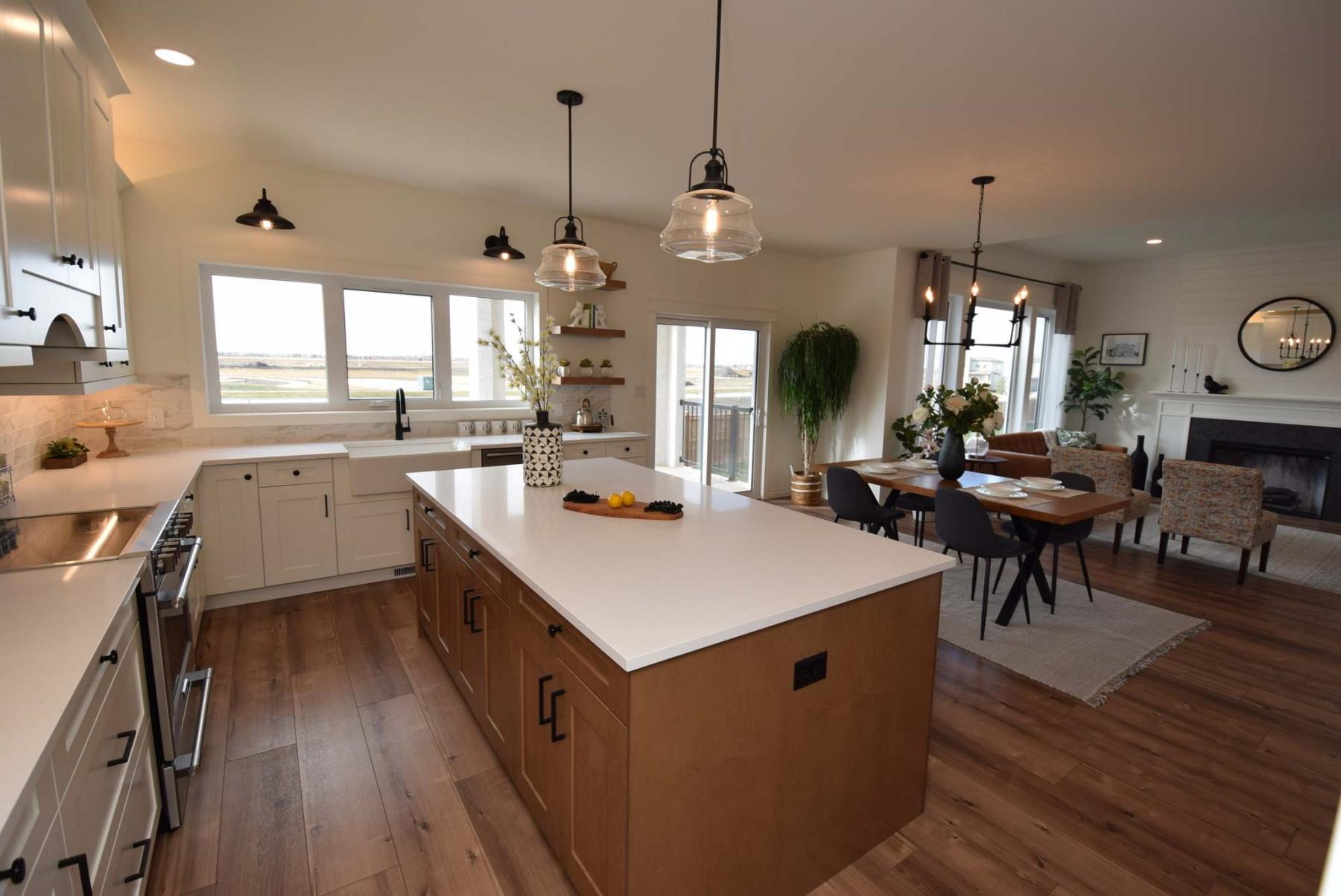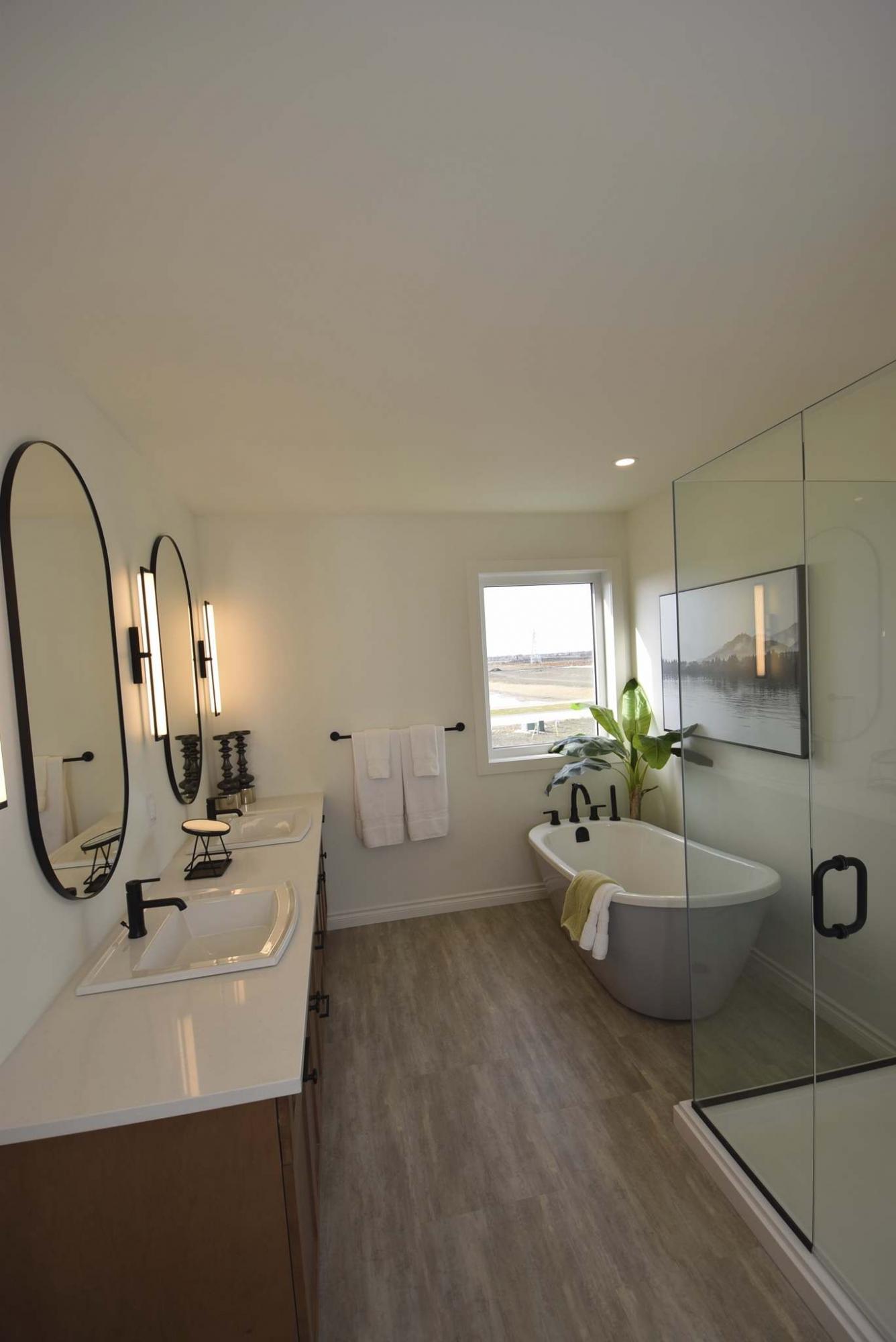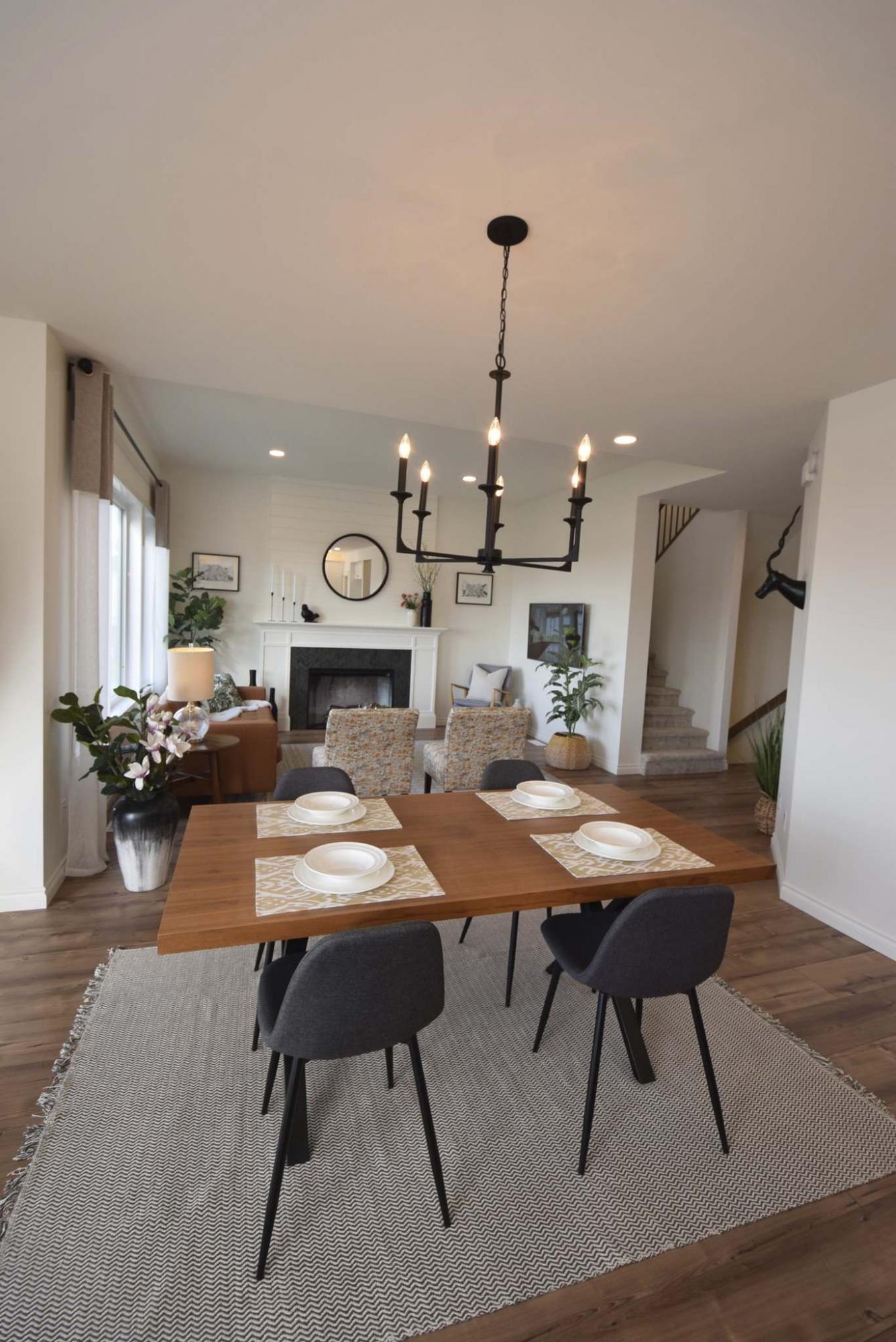 Inspiration. As most of us know, it can be fleeting. Consequently, you have to seize the moment and act upon it when it hits.
That's exactly what happened when members of Hearth Homes' design team looked at an oversized lot at 26 Tanager Trail in Sage Creek, says Ryan Miller, one of the company's project co-ordinators.
"The moment we looked at it, we knew we wanted to do a modern farmhouse design," says Miller. "My fellow project co-ordinator and designer, Brandi Soloway, came up with the exterior. It's based on a modern farmhouse and features a wonderful combination of old and modern design elements."
Those elements come together to create an unique exterior that sets the 2,112-sq-ft., two-storey home apart from the others that surround it.
White siding and a rustic white garage door with metallic black hardware immediately give the home a farmhouse look.
Cultured stone trim and distressed natural wood pillars that frame the home's front entrance further enhance that inviting, countrified feel. At the same time, black-trimmed, latticed windows — which pop on the white exterior — serve as a reminder that this home is indeed one very modern farmhouse.
Which is to say the home is as functional as it is warm and earthy.
"We always start our plans from functionality," says Miller. "This is a family home, so we wanted to the floor plan to promote easy flow and provide lots of space for families to move about."
Mission accomplished.
Thanks to a wide, tiled foyer and generous landing, everything flows naturally into the home's expansive main living area.
"Everyone who's gone through the home says it has a warm, welcoming feel. I think that feel comes from the off-white, beige and brown tones that we used in the great room. They really do give the area a nice, warm feel."
The greatest contributor to the great room's inherent warmth is its flooring, he adds.
"With its knots, grain and warm brown colour, it really ties everything together. It also helps mute all the natural light that floods into the area from all the windows on the back wall. The end result is an area that invites you to sit down and relax."
Perhaps the most impressive aspect of the great room is how well-proportioned — and well-positioned — each space is.
Set off to the left, the island kitchen is the perfect staging point for family meals with a mid-sized island that's functional, yet not so large that it dominates the space. Meanwhile, the centrally-located dining area can seat anywhere from six to 12 guests, and is just steps from both the kitchen and the bright, spacious family room.
Plenty of style has been woven into all that function, says Miller.
"The kitchen is gorgeous with its white shaker-style country cabinets, quartz countertops and farmhouse sink under a huge window next to floating maple shelving. The family room, with its extra-high ceiling, offers a nice juxtaposition of modern and traditional styles with its fireplace with dark herringbone trim, white mantel and white shiplap feature wall above."
Turns out, the home's naturally bright upper level offers the same seamless synergy of style and function as the amazing great room.
It starts off with a family-friendly space right to the right upper-level staircase, says Miller.
"While it could be turned into a fourth bedroom, most of the people that went through the home appreciated having it there to serve as a secondary lounging space for the kids. It's a space that provides separation, something that active families really need."
He adds that the four spaces on the second floor were specifically positioned to promote separation.
"The main bath was placed at the beginning of the wing to provide natural separation between the master suite and kids' bedrooms, which are a generous size and come with huge windows and large closets. As good as they are, the master suite is the highlight of the second floor."
Featuring a perfect combination of space, light and luxury, it's a space that parents will doubtless gravitate to at the end of a long, busy day.
"Again, the laminate plank flooring gives it a welcoming warmth while a huge window on its rear wall allows lots of natural light to stream inside," Miller says. "There's a big walk-in closet with built-in wooden storage, and the spa-like ensuite provides a welcome touch of luxury with its soaker tub, walk-in shower, maple vanity with dual sinks and warm taupe vinyl tile floor."
Miller says the home — which earned a gold award during the recent Fall Parade of Homes — turned out just as Hearth's design team envisioned.
"I think it bridges the gap between modern and classic designs. It's a warm, functional home that welcomes families with open arms."
lewys@mymts.net
Builder: Hearth Homes
Address: 26 Tanager Trail, Sage Creek
Style: two-storey
Size: 2,112sq. ft.
Bedrooms: three plus loft
Bathrooms: 2.5
Price: $695,000 (Includes lot & GST)
Contact: Linda Frenz-Cove, New Homes Sales Consultant, 204-228-0447