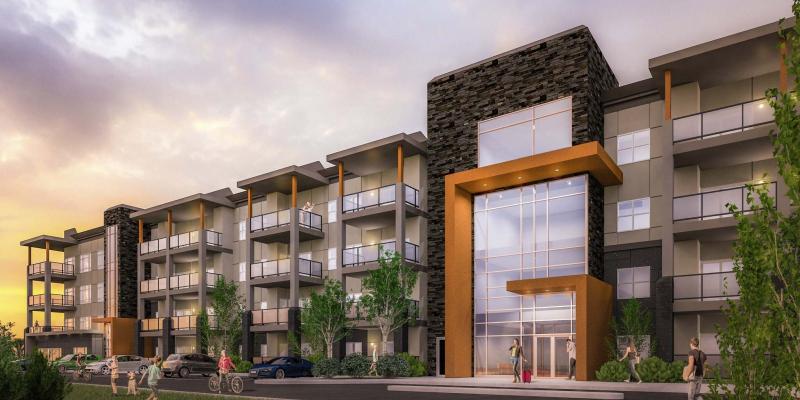 To date, Murano Gardens of Linden Woods has sold 80 per cent of the suites in its Phase 1. With demand for suites high, construction for Phase 2 of the project is slated for this coming spring.
Anupam Kothari, president of the Toronto-based Kothari Group — developers of Murano Gardens, which is located at 1044 Wilkes Ave. — said the enthusiastic response to the project has been a very pleasant surprise. "Considering how negative some of the publicity has been about condominiums, we're really pleased — the response has been fantastic," he said. "Our goal from the outset of the project was to provide consumers with a good product and a buying experience that was as hassle-free as possible. It seems that people have appreciated that approach."
The key to that approach?
"Basically, the package we present prospective buyers with is all-inclusive," Kothari explained. "There's really no need to upgrade. Each unit in Murano Gardens comes standard with white quartz countertops, two-tone (white thermofoil and medium brown oak laminate wrap) cabinets, laminate plank flooring and four stainless steel appliances (frost-free fridge with bottom-mount freezer and ice maker, ceramic top self-cleaning stove, dishwasher and over-the-range microwave oven)."
Consisting of 43 units ranging in size from 704 to 1,208 sq. ft., the second phase will showcase the same features that made suites in Phase 1 so attractive.
"All suites will come with nine-foot ceilings, and penthouse suites will feature 10-foot ceilings, as was the case in Phase 1," he said. "Patio doors leading to balconies and patios are wider than normal at eight-feet wide, and lead to oversized balconies (15 feet by eight feet) and huge main-floor patios that stretch 30 feet. Oversized tri-pane windows will also let in lots of natural light, while keeping heat, cold and sound outside where they belong."
Meanwhile, soundproofing between suites consists of gypcrete topping on all four levels, while the exterior of both Phase 1 and upcoming Phase 2 suites will be not only striking, but will feature some cutting-edge materials.
"Building exteriors will be a combination of stone and a product called terra-neo stucco. It's an acrylic stucco product with more aggregate in it that gives it a bit more texture and sparkle that goes nicely with the stone. It's going to create a different look that people will really like," said Kothari.
Kothari added while the exterior of the buildings will be striking, the suites will be exceptionally user-friendly.
"Subtle features such as energy-saving LED lighting, laundry rooms without hot water tanks (to open up extra storage space), HRV systems with each unit and bathrooms with walk-in (low-step-over) showers will make the suites that much more livable," he said.
Other amenities will include heated underground parking, ample visitor parking, two elevators and one storage locker included with each suite.
Prices for suites in Phase 2 of Murano Gardens of Linden Woods will range from $199,900 to $349,900, with condominium fees coming in at $160 for one-bedroom suites, and graduating up to $275 per month for the largest suites.
More information on Murano Gardens of Lindenwoods' upcoming Phase 2 can be obtained by calling 204-963-1044, sending an email to sales@muranogardens.com or visiting muranogardens.ca.