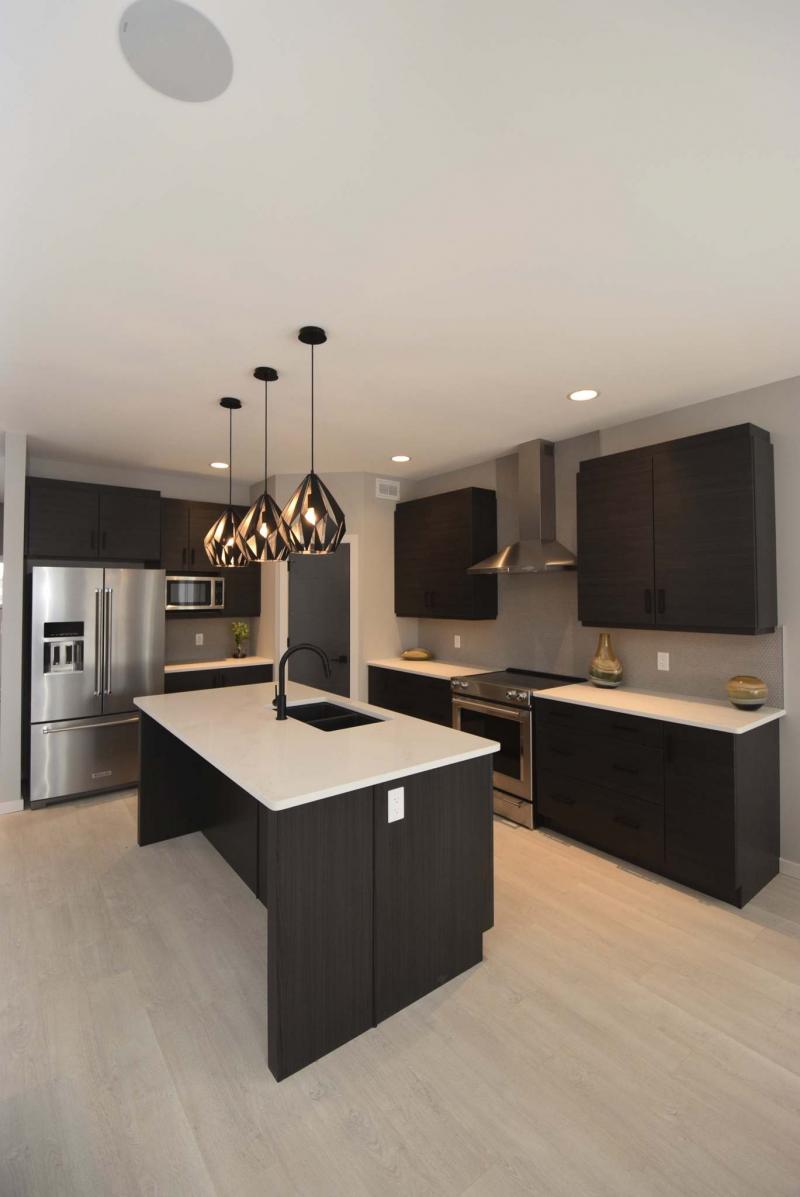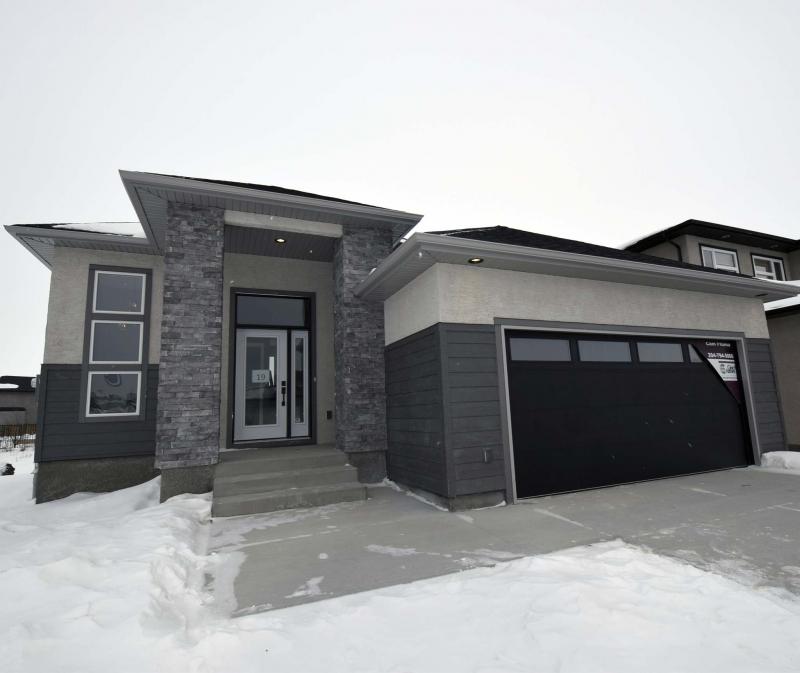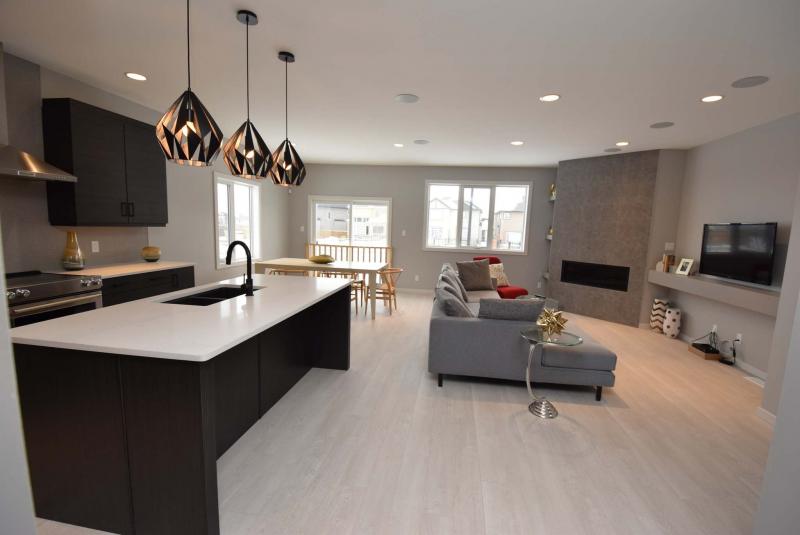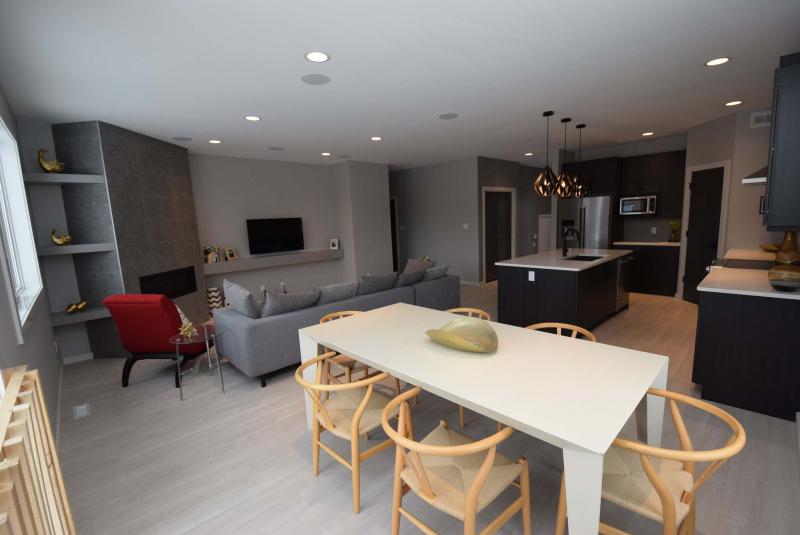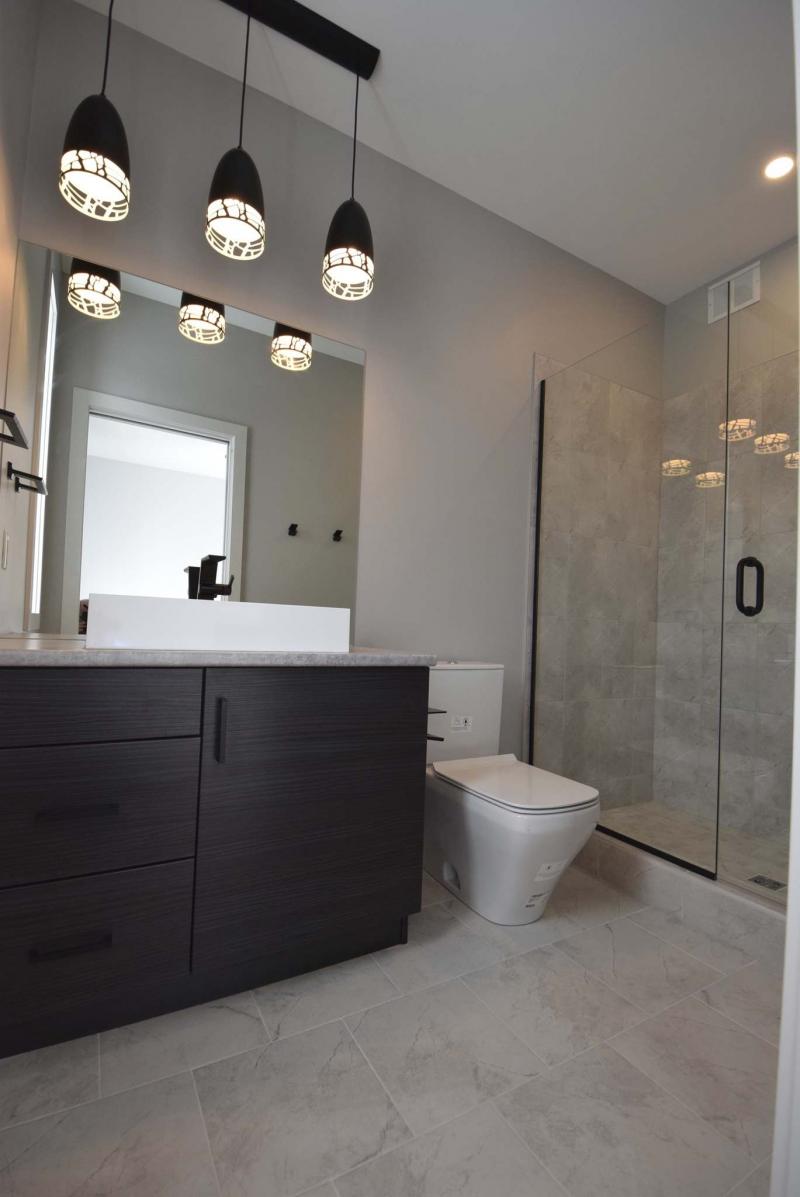 Contrary to popular thinking, a new home doesn't have to be huge — or be filled with the finest finishes — to offer all kinds of function and style.
All you have to do is visit 19 Wildflower Way to see first-hand proof of that, says Cam Ftoma of Re/Max Performance Realty, sales representative for Gino's Homes' newest show home in Sage Creek.
"This home offers amazing value," he says of the 1,450-sq.-ft. bungalow. "While it's not loaded, it comes equipped with a nice grouping of upgrades such as quartz countertops, wide-plank laminate flooring, a linear gas fireplace with tile surround and a deluxe ensuite in the master bedroom. It's a quietly spectacular home."
That fact hasn't been lost on those who've viewed the mid-sized bungalow, Ftoma says.
"The home has gotten rave reviews pretty much across the board. Most people have guessed the price to be about $100,000 more than the home is selling for. It's actually priced at $469,900, not $569,900."
According to Ftoma, there's a reason for that surprisingly low price — a conscious decision by Gino's management team to design well-appointed homes that are simultaneously luxurious and affordable.
"Gino's has a reputation for doing higher-end homes priced at $700,000 or over. With the market changing, the decision was made to start doing homes that allow buyers to get into a well-appointed Gino's home for under $500,000. While this home is priced at $469,900, we could get a family into the same home with standard finishes for just over $400,000."
In short, the concept behind 19 Wildflower Way is brilliant: come up with an ultra-functional floor plan, then judiciously place upgraded finishes in key spots.
A good example of that design philosophy is the kitchen, Ftoma says.
"Upgrades such as off-white quartz countertops and a grey octagonal glass tile backsplash were teamed with standard thermofoil cabinets with an espresso finish; the island's base also matches the cabinets. The thermofoil cabinets look great, yet they don't cost as much as a higher-end cabinet."
Next, the great room was outfitted with a pair of very appealing upgrades: taupe/grey wide-plank vinyl flooring and a linear fireplace with gorgeous grey tile surround.
"While the wide-plank flooring is an upgrade that costs about $10,000, it's worth it — it's so good-looking and durable," he says. "And the tiled, angled fireplace is a nice touch, as is the entertainment unit next to it. It's simple, but looks good. And it can hold a huge flat-screen TV, too."
Add in a free-flowing floor plan and a wealth of natural light, and you have one very habitable great room.
"Everyone who's gone through the home has loved all the glass that surrounds the great room — there's just so much natural light. Not only that, but each space is a good size, and flow between spaces is tremendous. All the colours — greys, taupes and whites — come together to give the area a warm, inviting feel."
Meanwhile, the secluded bedroom wing offers the same well-conceived style and function: a beautiful main bath with soaker tub and espresso thermofoil vanity quartz countertop with raised, rectangular sink; a pair of large secondary bedrooms; and of course, a stylish, yet practical master suite.
"It's everything you need in a master suite," Ftoma says. "The bedroom is big and bright, there's a good-sized walk-in closet and the upgraded ensuite is simply gorgeous. It comes not only with a tile floor, but with a five-foot custom glass/tile shower that's as nice as you'll get in a high-end home. The standard thermofoil vanity looks great, as do the matte black plumbing fixtures."
Because 19 Wildflower is a bungalow, there's another 1,200 sq. ft. of livable space downstairs.
Were the expansive basement to be developed, the home would offer about 2,650 sq. of total livable space.
"Three things stand out in the basement," he says.
"First, the mechanical equipment was tucked away neatly in the corner to open up space. Second, upgraded, oversized windows let in so much daylight that it doesn't feel like a basement. And third, an optional steel beam really opens up the whole area. We could finish it for around $50,000."
That means that a family or value-minded downsizers could acquire the home for just over $450,000.
"All you'd need to do is choose what finishes you want to go with a very livable custom floor plan. You could get a home with show-home finishes plus a finished basement for about $519,900. Or you could go with standard finishes and a finished basement to get the home for well under $500,000. It's a wonderfully designed home that offers amazing value from start to finish."
lewys@mymts.net
Details
Builder: Gino's Homes
Address: 19 Wildflower Way, Sage Creek
Style: Bungalow
Size: 1,450 sq. ft.
Bedrooms: 3
Bathrooms: 2
Price: $469,900 (Includes lot, upgrades, GST)
Contact: Cam Ftoma, Re/Max
Performance Realty, 204-794-5066