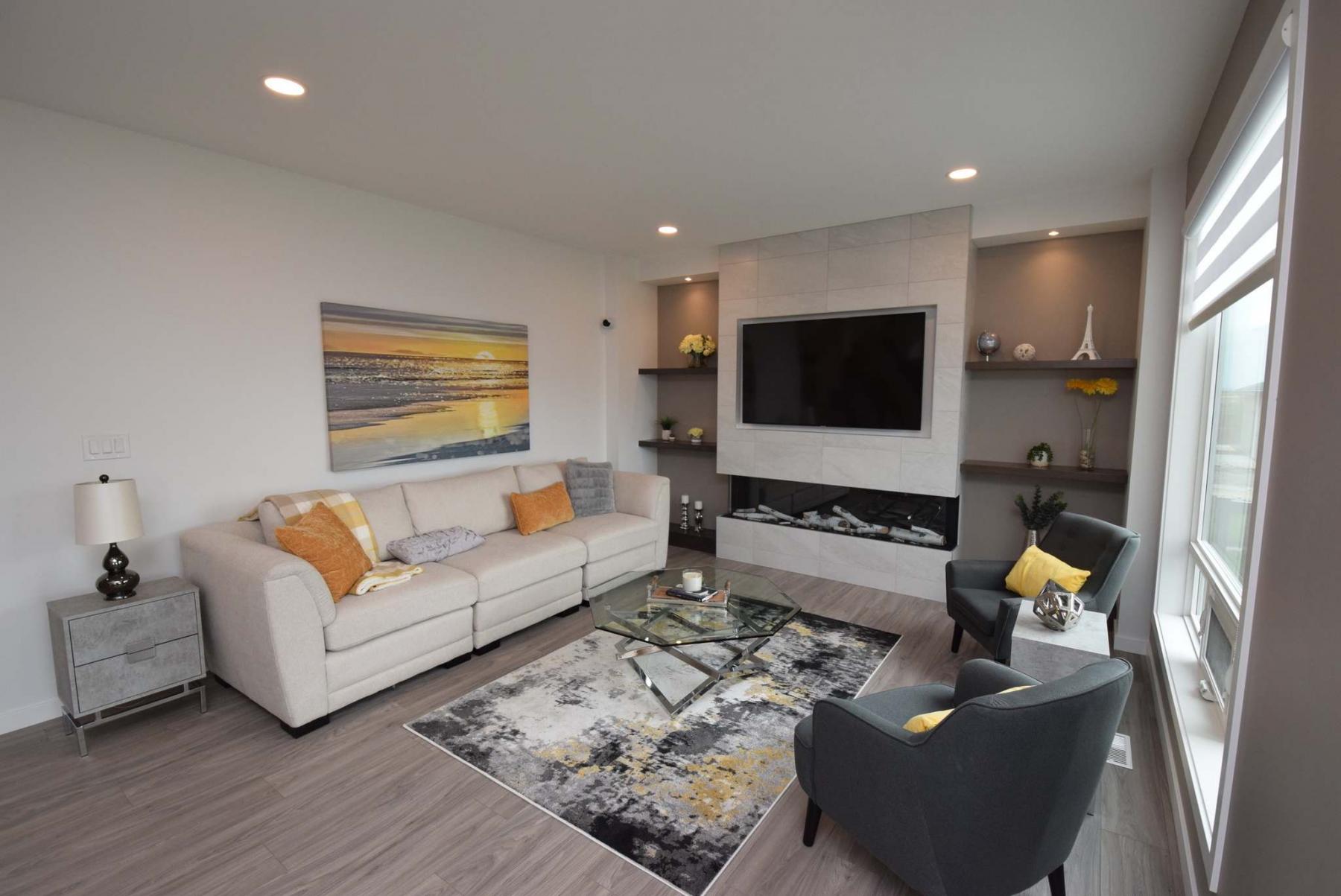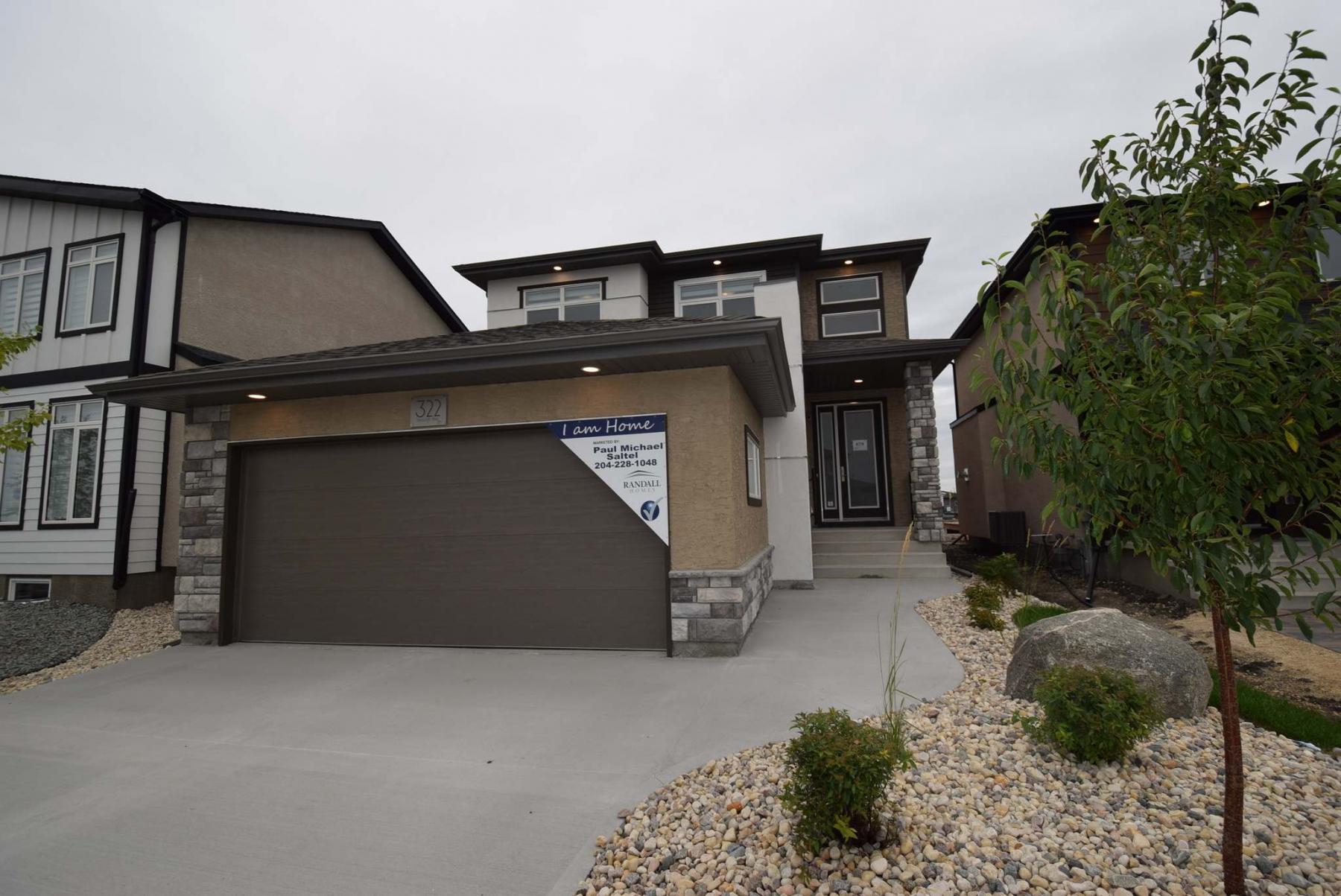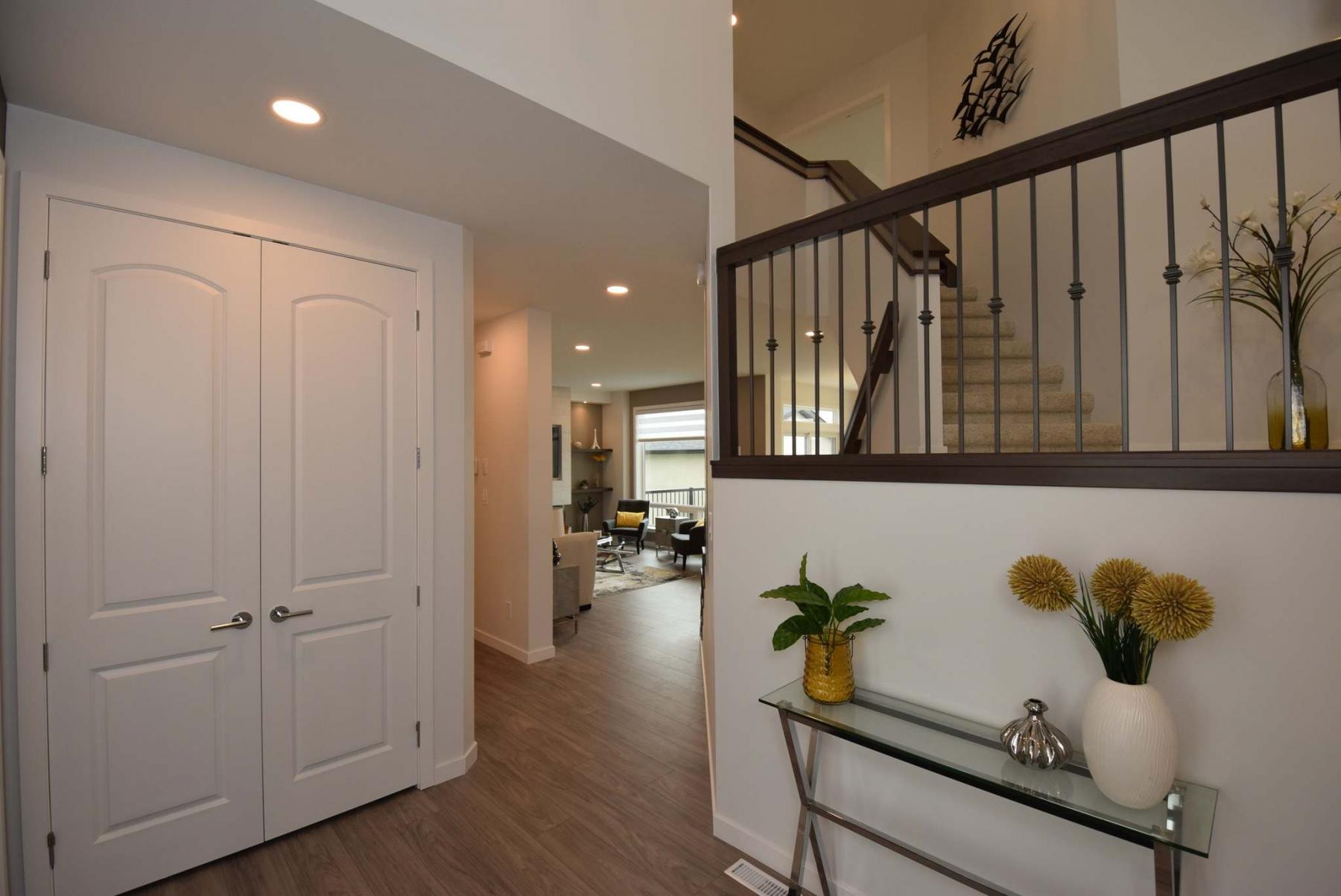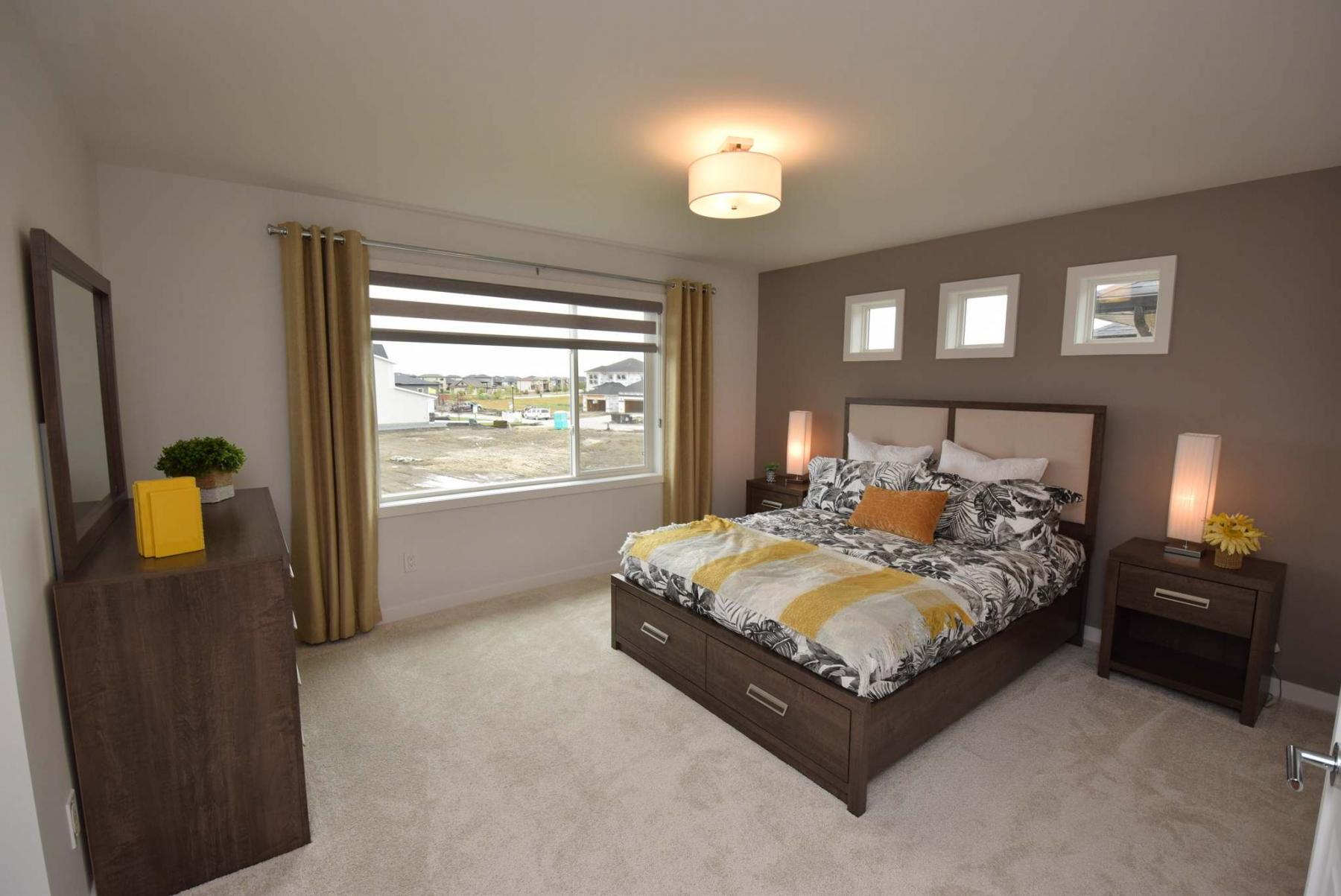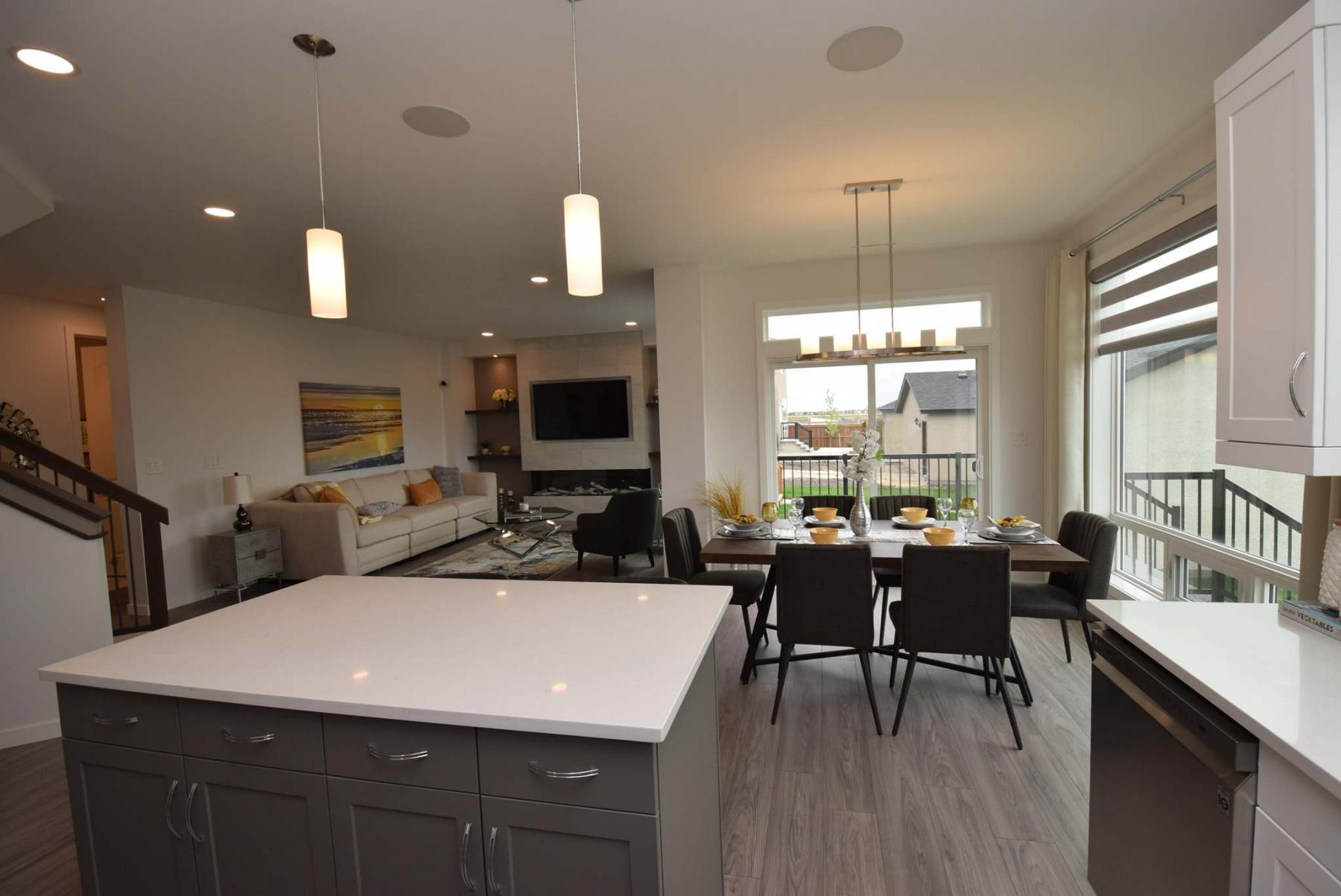 Randall Homes' newest model — the Douglas, which debuts starting today in the Fall Parade of Homes — is a design that doesn't sacrifice functionality at the altar of uniqueness.
"It's original in a very good way — there's no design out there like this one," new home consultant Paul Michael Saltel says of the 1,797-sq.-ft., two-storey home, located at 322 Tanager Trail in Sage Creek. "It's memorable, yet very functional."
The Douglas' imaginative yet functional design originates in its foyer and spreads out from there, adds Saltel.
"This is actually the first Randall Home design that comes with eight-foot doors on the main floor. Not only do you get a front door with extra height — it's a new Jeld-Wen product that comes with three locks — but you also get an eight-foot double closet to the left, as well."
While the foyer is a bit different — it's more enclosed than the entrances of most other show homes — it doesn't feel confining.
For starters, it was placed beneath an 18-foot ceiling, which gives it an immediate sense of volume. It was then bumped out and angled to the left so it leads naturally into a compact landing that was placed between it and the great room.
The upper level staircase that subtly divides the foyer from the great room plays a key role in creating and maintaining that feeling of space, notes Saltel.
"Basically, you have a half wall, then you have the spindles that define the staircase above," he explains. "They maintain that open feel, allowing you to look up to the second floor. You're not looking at a wall or looking straight into the house. It's just a great entrance."
The same could be said of the aforementioned landing to the left of the foyer. It links the front of the home with the great room — and a discreetly placed hallway tucked away on its left-hand side.
"It holds a bedroom and bathroom, and a door that allows you to enter the home from the garage," Saltel says. "The bedroom could be used as an office, or as an in-law suite so parents don't have to deal with going up stairs."
In the great room, instead of going with a wide-open great room design, Randall's design team essentially divided the Douglas' main living area in two: family room in its own well-defined space to the left, and kitchen and dining room in its own spacious area to the right.
"Doing that made for spaces that are distinct, yet that open nicely on to each other. At the same time, a nine-foot ceiling and huge, perfectly placed windows give the great room a bright, spacious feel."
Each space in the great room is special in its own quietly unique way.
The family room's focal point is a tiled feature with built-in TV-niche above a cool 74-inch-wide electric fireplace. Meanwhile, the kitchen is notable for its off-white herringbone tile backsplash, which combines beautifully with light grey quartz countertops and a wealth of white shaker-style cabinets.
Then, there's the spacious dining area behind the kitchen.
"A huge window on the wall behind it lets in tons of natural light while sliding patio doors lead out to a big deck that features a composite, not pressure-treated lumber surface," he says. "It looks better, is safer in the winter and lasts longer."
Upstairs, the Douglas offers a bright and spacious second level, with the livability, style and separation that active families require.
"A hallway to the left of the stairs holds two bedrooms, a laundry room and four-piece bath, while the master suite was set to the right of the stairs away from the bedrooms," says Saltel. "It offers his/her walk-in closets, a three-piece ensuite and comes with a huge window on its rear wall along with three piano windows over the bed. They combine to let in tons of natural light."
He adds that the Douglas is proof that a new home design can be original, yet practical.
"It works because its design is so well thought out. I think people are going to love the open yet segmented great room, the main floor bedroom, family-friendly second floor and big, open basement with its huge windows. This is a memorable yet functional family home that comes loaded at a very reasonable price."
lewys@mymts.net
Details
Builder: Randall Homes
Address: 322 Tanager Trail, Sage Creek
Model: the Douglas
Style: two-storey
Size: 1,791 total sq. ft.
Bedrooms: four
Bathrooms: two-and-a-half
Price: $559,900 (Includes lot & GST)
Contact: Paul Michael Saltel, Sales Consultant, 204-228-1048