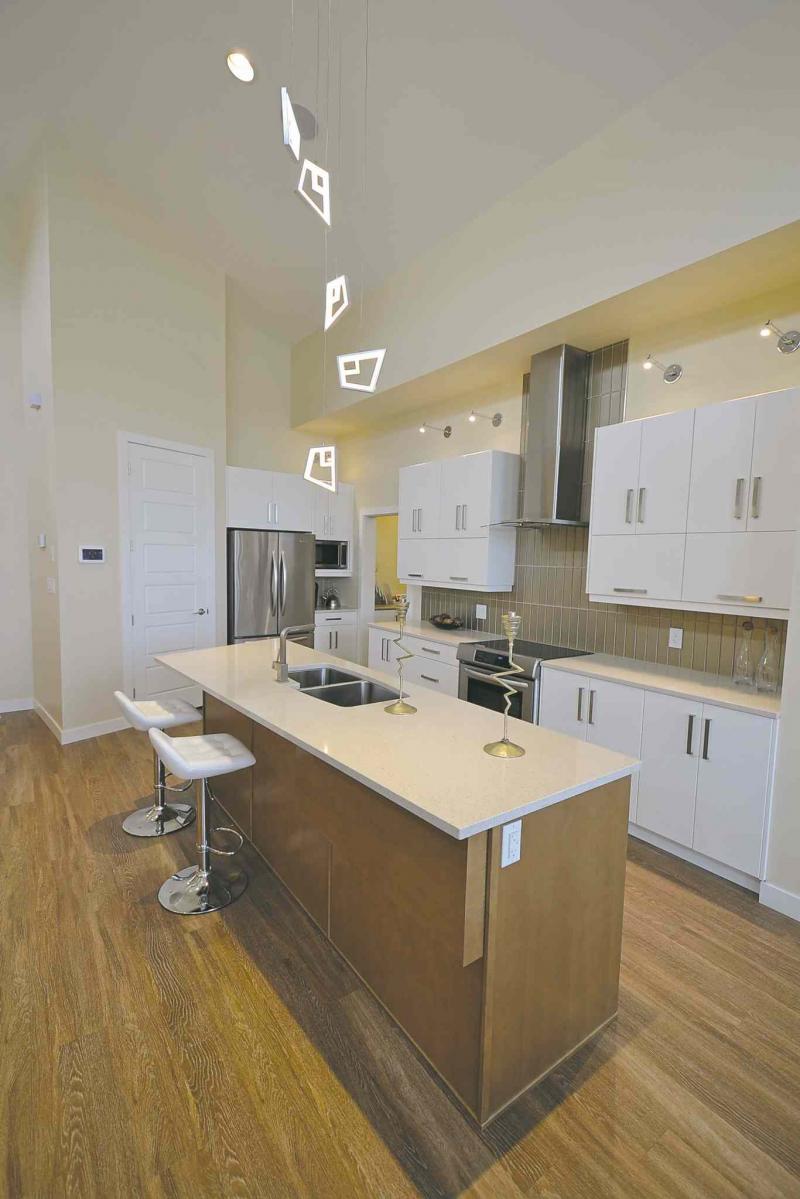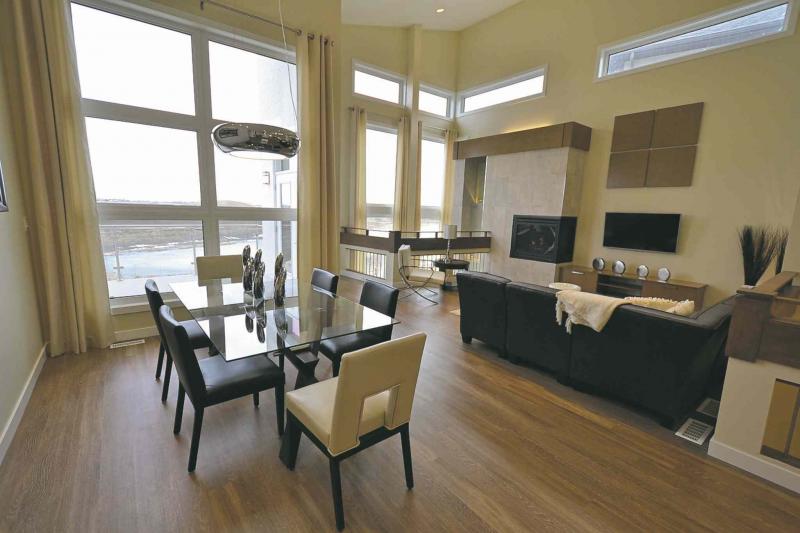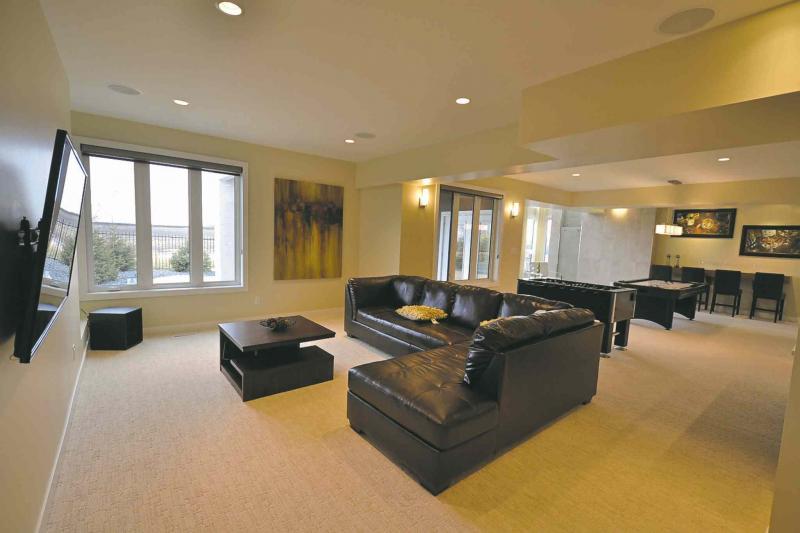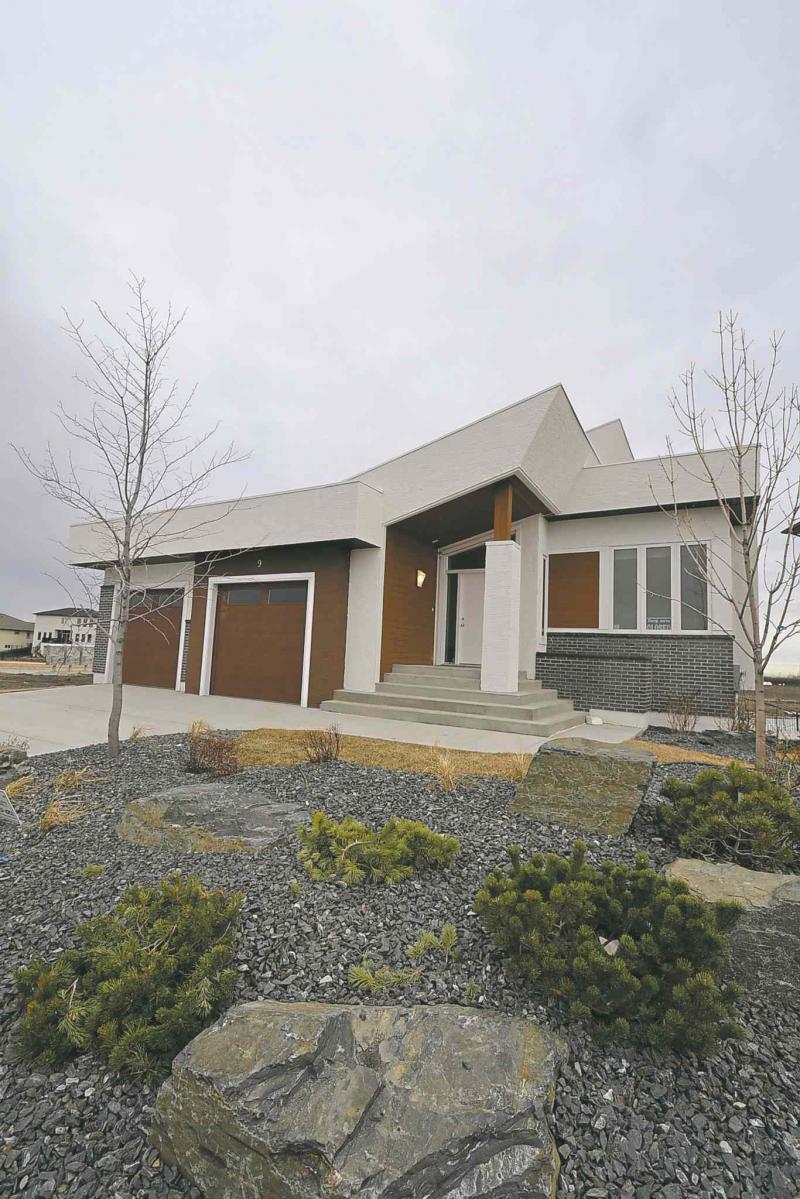 Designing a new home is not an easy task.
On the one hand, there's the necessity of building in a certain amount of wow factor to make it attractive to prospective buyers, on the other hand, it's critically important to design it to be livable. Err too much either way, and the home might not sell quickly because it doesn't possess the balance required to function well in everyday life.
KDR Homes has done a masterful job of walking that design tightrope with its latest show home at 9 East Plains Dr. in Sage Creek, said KDR's sales representative, Sean Kirady of Royal LePage Dynamic Real Estate.
"I think KDR's design team put a lot of thought into this home," said Kirady of the 1,900-sq. ft. bungalow, which comes with a walk-out basement. "It's a striking, different design, but yet, at the same time, it's a very functional design. It's a home that's artistic, yet practical."
The home's inherent practicality can be attributed to the fact KDR's designers discreetly wove wow factor into the home's overall design. Consequently, the moment you step inside, the home just feels good. There's an immediate feel of light, space and easy flow.
In short, it's a home you feel like you could adapt to and live comfortably in -- in very short order.
"If one thing stands out about the home, it's probably its high, vaulted ceiling. It starts in the foyer and then runs throughout the entire great room," he said. "Everyone who's viewed the home likes that feature. They also love the flooring, medium-brown (oak) wide-plank laminate flooring. It's warm, textured, durable and is a great surface to walk on."
Turns out, the floor colour was a perfect choice; anything lighter, and the great room would be too bright. Because there are windows everywhere, light simply fills the area, creating an airy, uplifting interior ambience, a feeling that's amplified further by the high ceiling.
"There are not only huge picture windows on the rear wall behind the dining area and family room, but there's also a host of oversized transom windows up high on both the rear and side walls," Kirady said. "As a result, the great room feels super open and bright. At the same time, design features such as beautiful (light mocha-stained) maple railing and an earth-tone colour palette work with the flooring to add warmth to the area."
While the great room is an open-concept design, there's enough subtle segmentation to ensure it doesn't feel like a box populated with a random collection of featureless spaces. For instance, while the family room opens directly onto the dining room, it's defined by the beautiful, warm maple railing on both sides.
Then, there's the kitchen, which is defined neatly by an angular, three-foot-wide by 10-foot-long island with seating for three to four. At the rear is the dining area, which can hold a table for six to 12 (or more, due to the area's generous proportions).
"The floor plan flows beautifully, so it's an area that's ideal for entertaining," Kirardy said. "It's also an area filled with subtle wow factor -- the family room with its two-sided gas fireplace set in taupe tile with maple trim above, the (light taupe) quartz countertops, white maple cabinets (both traditional and Euro-style pull-ups) the island's contrasting maple base, and a gorgeous bronze glass-tile backsplash that really makes the cabinets pop. There's also a practical feature off the back of the kitchen -- a handy laundry/mudroom with garage access."
Meanwhile, the master suite was placed between the kitchen and dining area to promote a feeling of privacy -- and to take advantage of the wetland view that's framed perfectly by the picture windows at the back of the great room.
"It's a nice big, bright space that comes with a wonderful view of the wetlands that run behind the home," said Kirady. "Its ensuite is also quite spectacular. It's fronted by a barn door (on stainless steel rollers) that can be closed effortlessly. Inside, you get an elegant, functional space with taupe tile floor, dual quartz/maple vanities, a six-foot soaker tub (set beneath a huge obscured glass window), a five-foot tempered glass/tile shower -- and good-sized walk-in closet."
Take the elegant maple-trimmed staircase downstairs, and you find yourself in the midst of a walk-out lower level that offers more than 1,500 sq. ft. of livable space that spreads out in the form of an open-concept rec room complemented by two bedrooms, an exercise room, four-piece bath and oversized mechanical/storage room.
"With the basement, the home nearly doubles in size," he said. "Like the main floor, there are huge windows on the rear wall that let in tons of light, and the wetland view. There's a space for everything -- to work out, watch movies or TV, play games, or sit and visit. The bedroom to the rear (next to the four-piece bath) comes with a walk-in closet, and is perfect for a teenager."
Kirady added the home's exceptional combination of artistry and function comes in at a very reasonable price.
"This home offers really good value at just over $810,000," he said. "It proves that a cutting-edge design can be artistic, functional -- and reasonably affordable."
lewys@mts.net