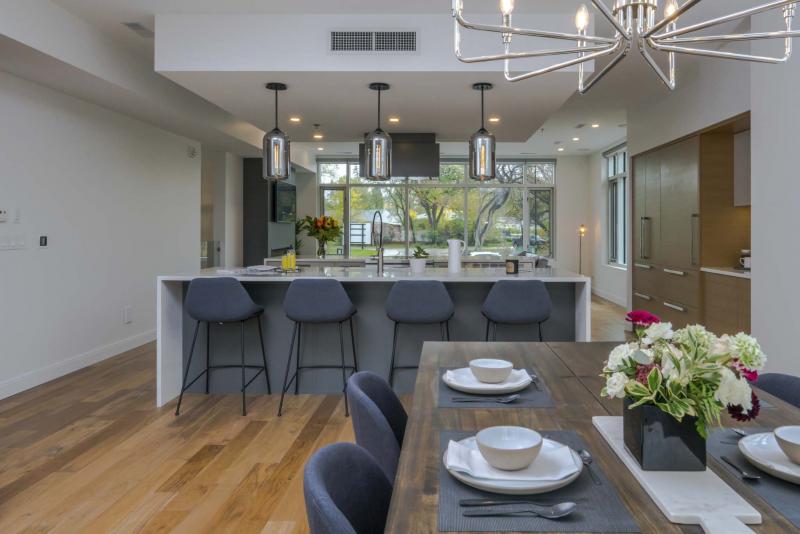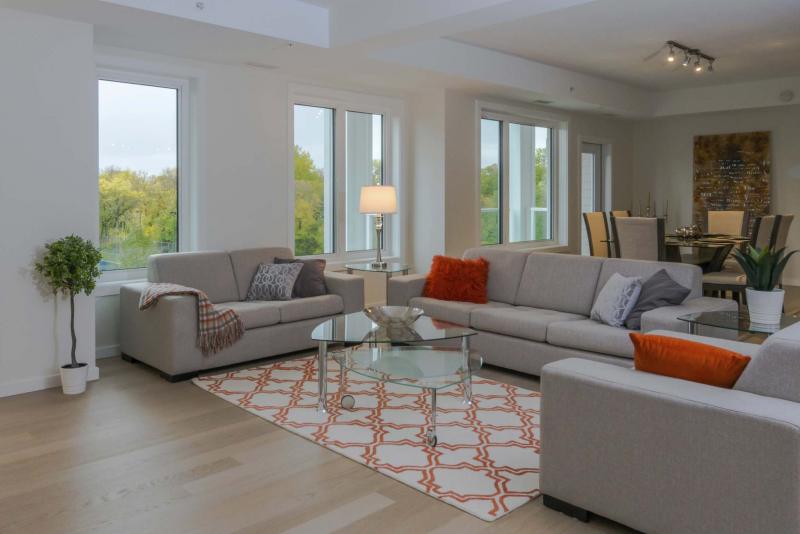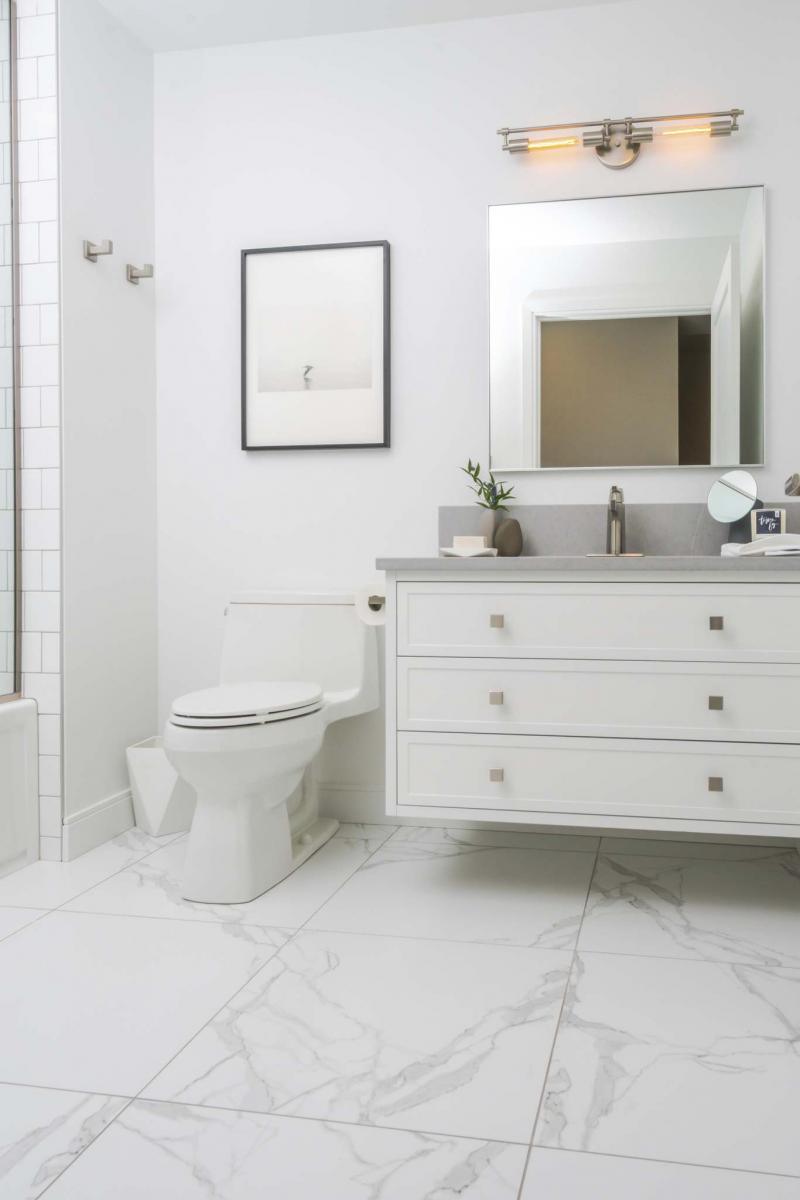 While realtor Ken Clark has viewed many fine condo designs over the years, he says the luxury townhomes at Wildewood Village top anything he's seen to date.
"There's nothing like them in the city," says Clark, a.k.a. the Condo King. "I haven't seen any that come close to matching their quality and overall design. The location is also unmatched."
Hardie board and stone facades make for striking, low-maintenance exteriors, while oversized windows let in tons of natural light and provide stunning river and nature views.
"They feature an architect-designed structure with concrete dividing walls between units that combines with stud wall insulation on each side of the dividing walls to make for extremely quiet units," Clark says. "At the same time, the dual-pane, low-e windows let light and views in while keeping it quiet inside."
Then there's the layout of the eight townhomes, which range in size from 2,780 sq. ft. to 3,657 sq. ft.
Each townhome will be comprised of four levels, starting with a main floor with double-attached garage and flex room with attached mechanical room.
"The flex room is a private space that could be used as a media room, hobby room or home gym," Clark says. "The mechanical room contains a high-efficiency furnace, and offers extra storage space."
A doorway off the garage then leads to the townhome's private front entrance, which serves as a precursor to the livability and luxury upstairs.
"It's an absolutely gorgeous area with its two-storey-high ceiling and a large window set up high to let in all kinds of natural light. A wide stairway then leads up to the townhome's second level. A private elevator also makes it easy to move about between all four floors."
The second level is a bright, spacious great room with nine-foot ceiling that's comprised of three distinct areas: a living room defined by a built-out electric fireplace, gourmet kitchen with dual islands (one with built-in induction cooktop) and a huge dining area surrounded by massive windows.
"The finishes are incredible, with engineered oak hardwoods, high-end Wolf and Sub-Zero appliances, rift oak and light-grey maple cabinets and off-white waterfall quartz countertops, but the views are even more incredible," he says. "The entire great room is surrounded by windows that bring the natural setting inside, all the mature trees, and of course, the spectacular river views."
Clark adds those views can be enjoyed from an outdoor space which can be accessed via a patio door on the dining area's rear wall.
"It leads out to a 25-foot by 10-foot balcony that faces right on to the river. It's a wonderful space that's perfect for entertaining, or relaxing with your favourite beverage."
While the townhome's second floor was designed to offer the highest possible level of style, function and livability, its third level was designed to foster rest and rejuvenation.
"There's two bedrooms plus a custom-fitted office with built-in desk, along with a beautiful four-piece bath with soaker tub, and, of course, the master suite," Clark says, "which is a luxurious retreat."
A huge, five-piece picture window on the bedroom's rear wall allows tons of natural light to stream inside while providing a picture-perfect nature/river view. There's plenty of space for a king-sized bed and furniture, a custom walk-in closet and an opulent four-piece ensuite.
"It features a beautiful 24-inch marble tile floor, custom glass/tile shower with wall-mounted showerhead and rift oak vanity," Clark says. "The master suite is a great spot to retire to at the end of the day."
The townhomes are then capped off by a fourth floor that must be seen to be believed.
"It's essentially a four-season lounge that's surrounded by a collection of huge windows. A patio door on the rear wall leads to a 20-foot by eight-foot balcony with tempered glass border that overlooks the river, while a door on the front wall takes you out to a south-facing balcony."
Clark says he's never seen a space like it in all the years he's marketed condominium projects. It even has its own heating and cooling system.
"The natural light and views are incredible. In the summer, you can enjoy the trees and the river stretching away either side to the east and west. In the winter, you'll be able to look way down the river when the leaves drop."
Not only were the units carefully placed in a prime spot to take advantage of the spectacular riverside setting, but they also happen to be part of a wonderful community that's secluded, yet also incredibly central.
"On the one hand, you're tucked away in a mature, riverside area that's surrounded by extensive walking and cross-country ski trails. You're also literally next door to the Winnipeg Lawn Tennis Club, Wildewood Golf Course, Crescent Drive Park and the Thermea Spa. If you're active, there's no better place to live."
On the other hand, a wide range of amenities is just a short drive away.
"You're minutes from downtown, plus all kinds of amenities in south and southwest Winnipeg, not to mention Crescentwood and River Heights," Clark says. "Wildewood Village's location is second to none."
Clark says if you're looking for a unique home that offers unparalleled luxury and quality in a secluded yet central location, you need to book an appointment to take an up-close look at Wildewood Village's spectacular luxury townhomes.
"Wildewood Village offers the opportunity to own a luxurious, fully-customized townhome, we can design it for you, or you can choose all the finishes yourself, in an incredibly beautiful yet central area that has everything you could possibly want or need," he says.
To find our more about Wildewood Village's spectacular setting, great location and well-appointed luxury townhomes, visit wildewoodvillage.com or call Ken Clark at 204-955-3887.
lewys@mts.net