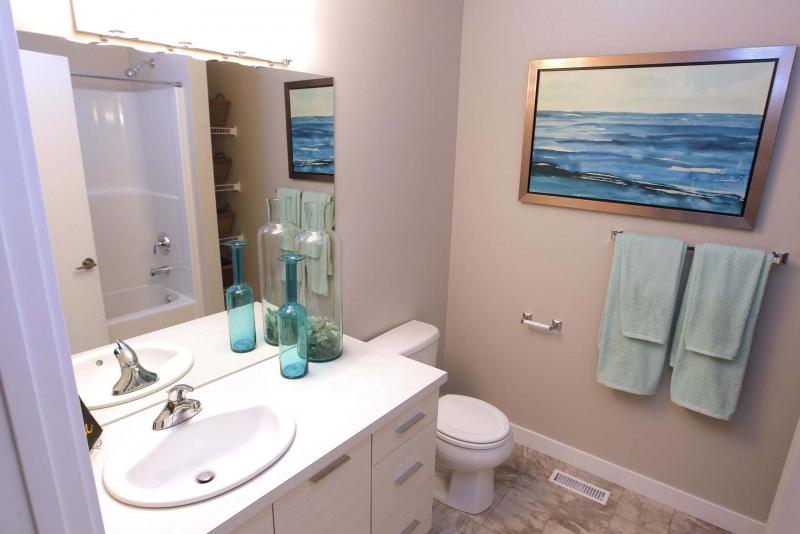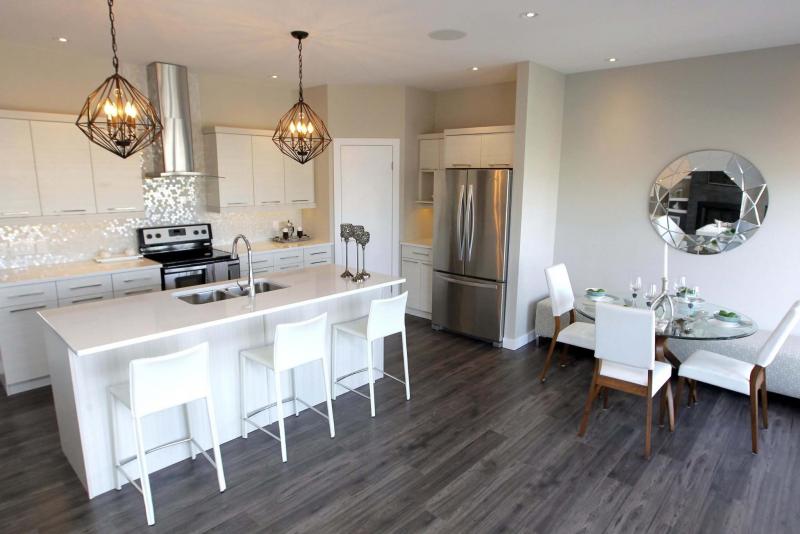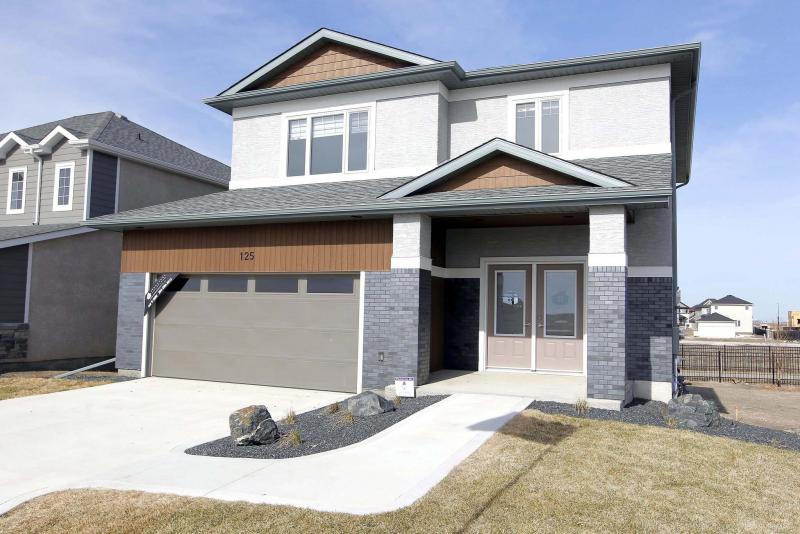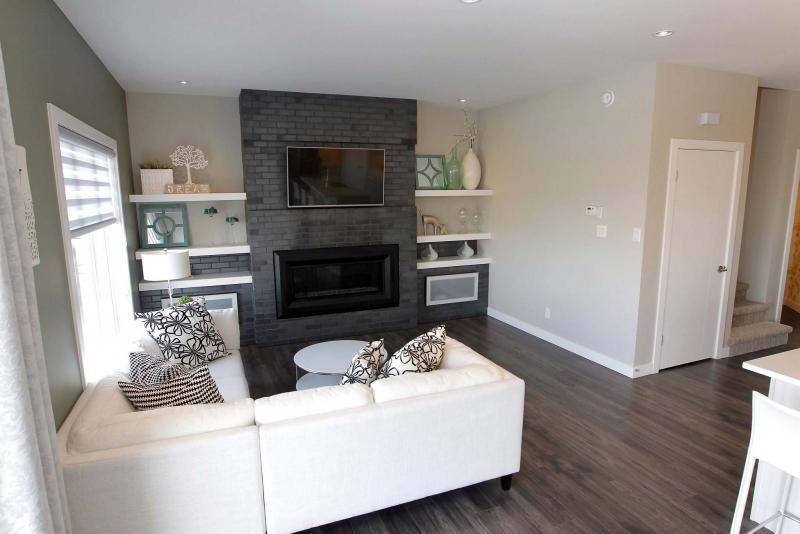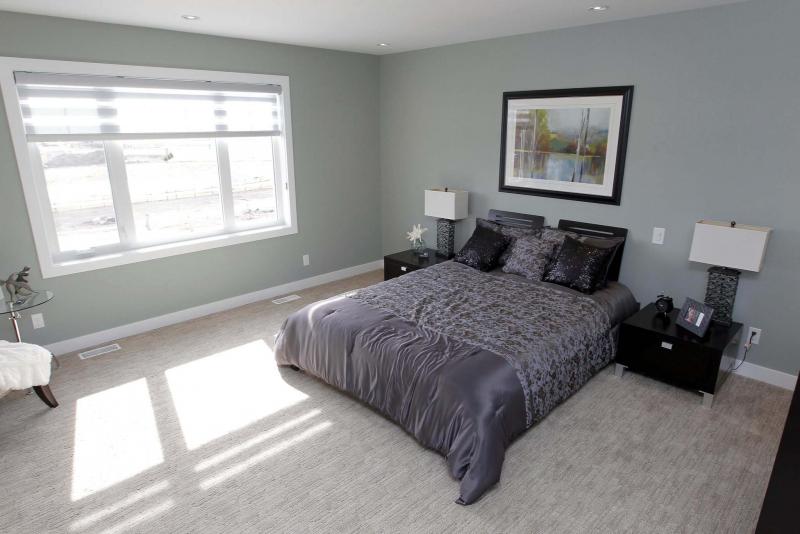 In roughly 30 years as a real estate agent, Jeff McArthur has seen a lot of homes. More recently — in his capacity as lead sales representative for Signature Homes — he's not only sold many homes to customers, but has listened to their comments about what works and what doesn't work in new home designs.
He then took that list to the design team at Signature Homes, and worked closely with them to come up with the Kelsey, a 1,850 square foot, two-storey design found at 125 Willow Creek Rd. in Bridgwater Trails.
The new design has been very well received, said McArthur. "We've been really pleased — the reception has been great, people just love the design, and the quality we've worked hard to build into it. We're working hard to surprise buyers with the value we deliver in our homes. The Kelsey is a great family home that (in show home trim) sells for around $475,000 that has features in it that a $550,000 to $600,000 home would have."
The first thing that stands out about the Kelsey is it lives larger than its listed square footage. Even though the home is "only" 1,850 sq. ft. — not large by today's supersize home standards — it feels more like a home that would measure in at about 2,200 sq. ft..
Nowhere is that spacious, livable feel more evident than on the second floor, where an intuitive floor plan makes for an upper level that's equal parts livability and privacy. "Big, active families need lots of room to move on school and work days, so we put in a huge landing area, and then put all the key spaces — three bedrooms, laundry room and four-piece main bath — around the perimeter," said McArthur. "That way, everyone can go about their business without worrying about running into each other; there's tons of room to move."
Meanwhile, the spaces surrounding the gargantuan landing are a good deal larger than anticipated. The two kids' bedrooms are 10.6 feet by 10.7 feet and 10.5 feet by 10.7 feet respectively, one with a walk-in closet, the other with a big double closet. The main bath is seven feet by nearly nine feet, and the laundry room — which comes with a huge window — is a generous five feet by just under nine feet.
Then, there's the master suite, which is notable for far more than its generous square footage (15.2 feet by 15.6 feet). "It's layout is simply amazing," he said. "Not only is the master suite big and bright (thanks to a huge south-facing picture window), but it also comes with his and hers walk-in closets and a (nine-foot by 10.9-foot) ensuite."
Entry to the ensuite comes via a hallway with the walk-in closets placed on either side. The end of that brief hallway leads into an ensuite that is surprisingly stunning. "It's just a beautiful space with its (light taupe) tile floor, soaker tub with tile trim set off to the side beneath a large (south-facing) window, five-foot shower and light (striated) brown thermofoil vanity with dual sinks. It's a very relaxing space."
Head downstairs, and you find a main level that's tastefully finished. It gets off to a good start with a wide foyer with angled wall that opens up an additional bit of space that makes it even more functional. A hallway then leads into a great room that, like the upper level, is thoughtfully laid-out. It's also bright, yet invitingly warm, said McArthur. "Basically, it's almost all glass on it's rear wall — a large picture window behind the dining area, (eight-foot) sliding patio doors in the centre, and another big picture window on the family room's back wall," he said. "Natural light just pours into the great room. Each area is bright, and the patio doors provide access to a big, elevated deck out back."
At the same time, the great room's finishes give it a warm, relaxing ambience that encourages you to sit down and stay awhile. "The different colours — light taupe walls (plus a grey/green feature wall that frames the windows and patio doors), laminate plank walnut flooring, light (striated) brown cabinets and island base, white quartz countertops and (grey/tan) backsplash — blend perfectly together," he said. "And the focal point of the family room is a (chocolate brown, upgraded) brick fireplace with ribbon fireplace and white shelving and white Euro pull up cabinets on either side."
Take a set of extra-wide stairs to the basement, and you find a lower level that can easily accommodate a rec room, fourth bedroom, bathroom and storage area. "It gives you over 700 sq. ft. of livable space," said McArthur. "The windows (standard) are big (54 inches by 21 inches), making for a bright, functional basement that adds a third level of livable space, something families will appreciate."
He added families will also appreciate that the Kelsey is very affordable in its basic trim level (which can include maple cabinets). "If you go with basic finishes, a family on a budget can purchase the Kelsey for $408,900 including lot, piles and net GST. It delivers all kinds of value no matter whether you go with the upgraded, or basic version."
lewys@mymts.net
Builder: Signature Homes
Address: 125 Willow Creek Rd., Bridgwater Trails
Style: Two-storey
Model: The Kelsey
Size: 1,850 sq. ft.
Bedrooms: 3
Bathrooms: 2 1/2
Price: $475,000 (Includes lot & Net GST)
Contact: Jeff McArthur, Maximum Realty, 204-299-5232