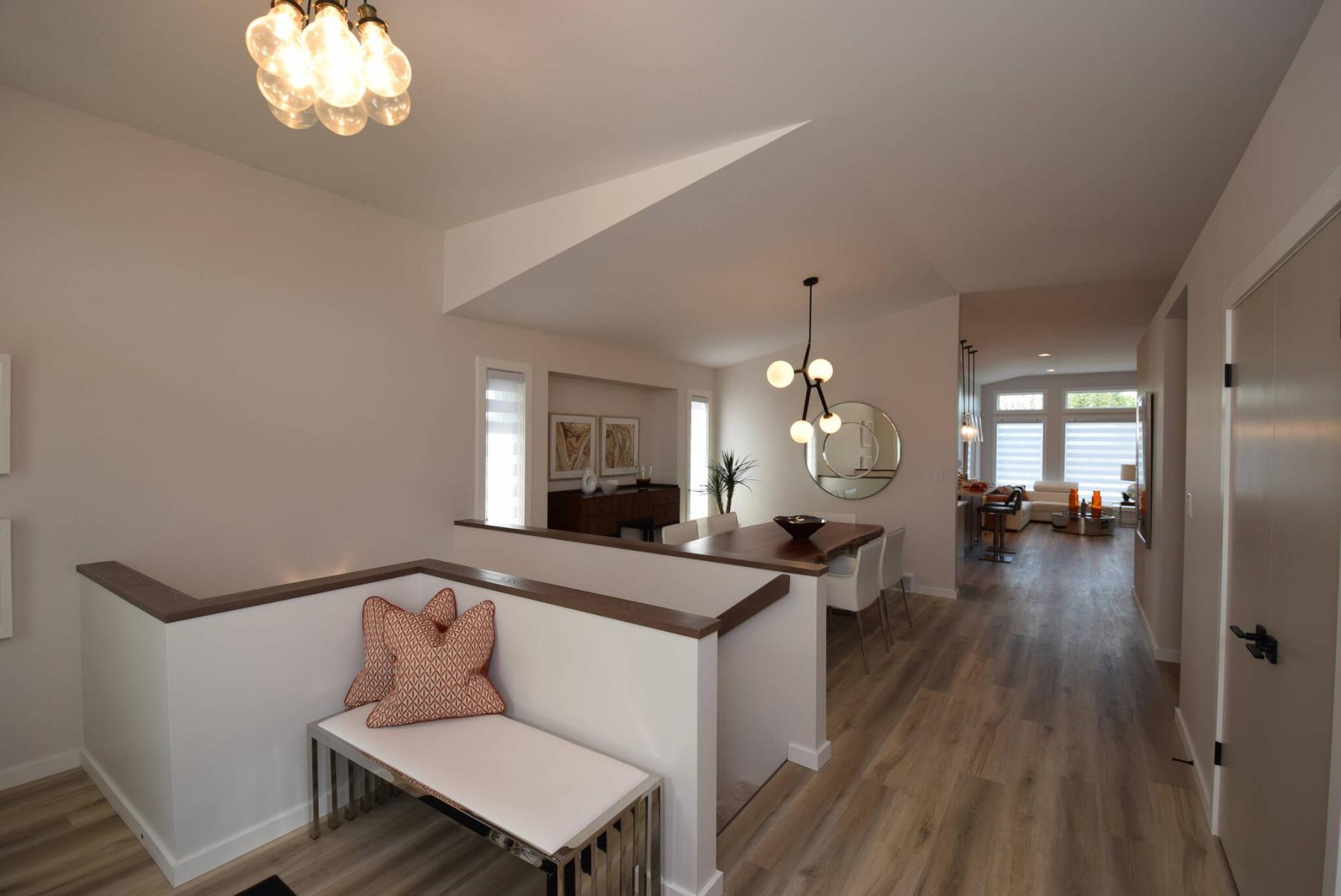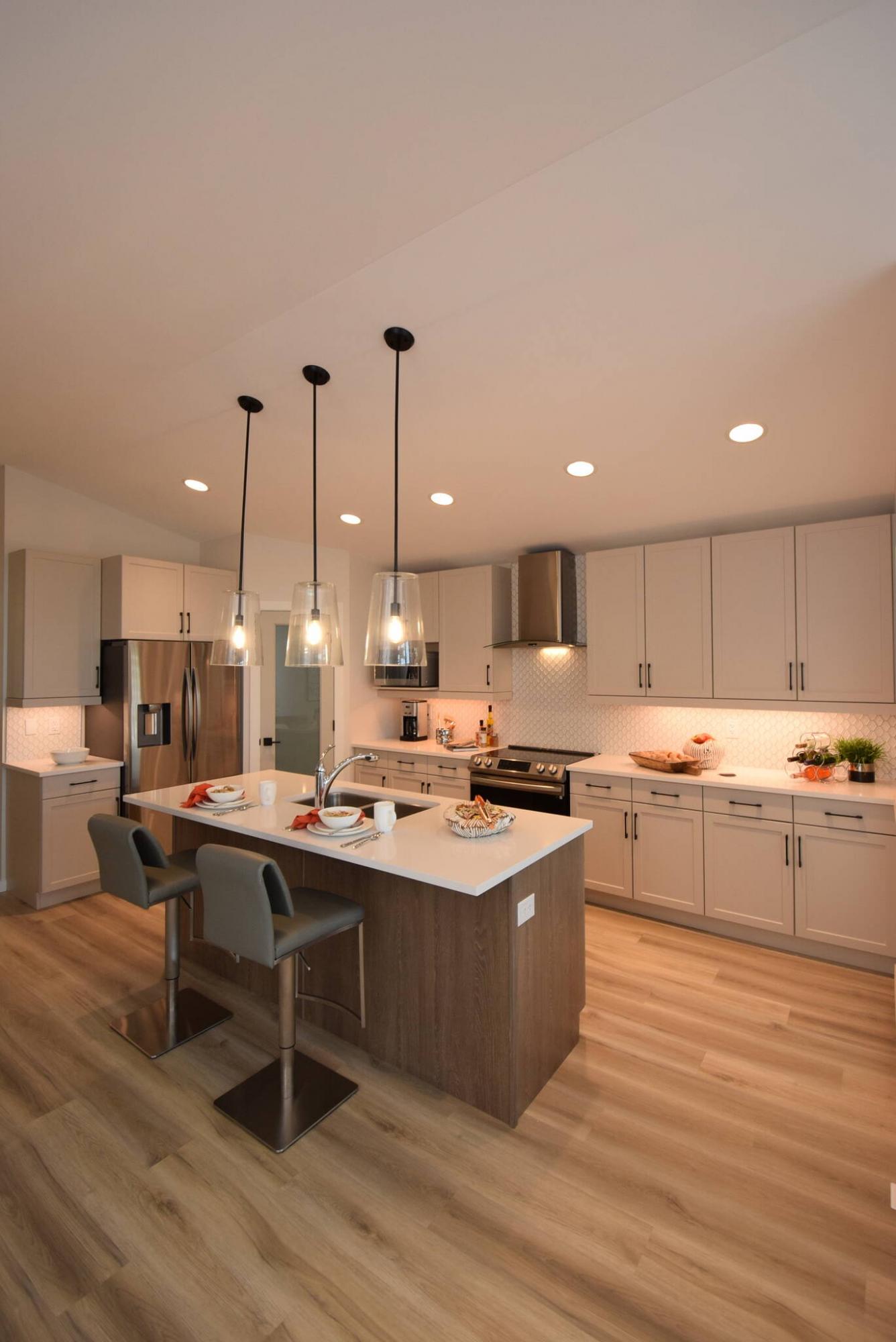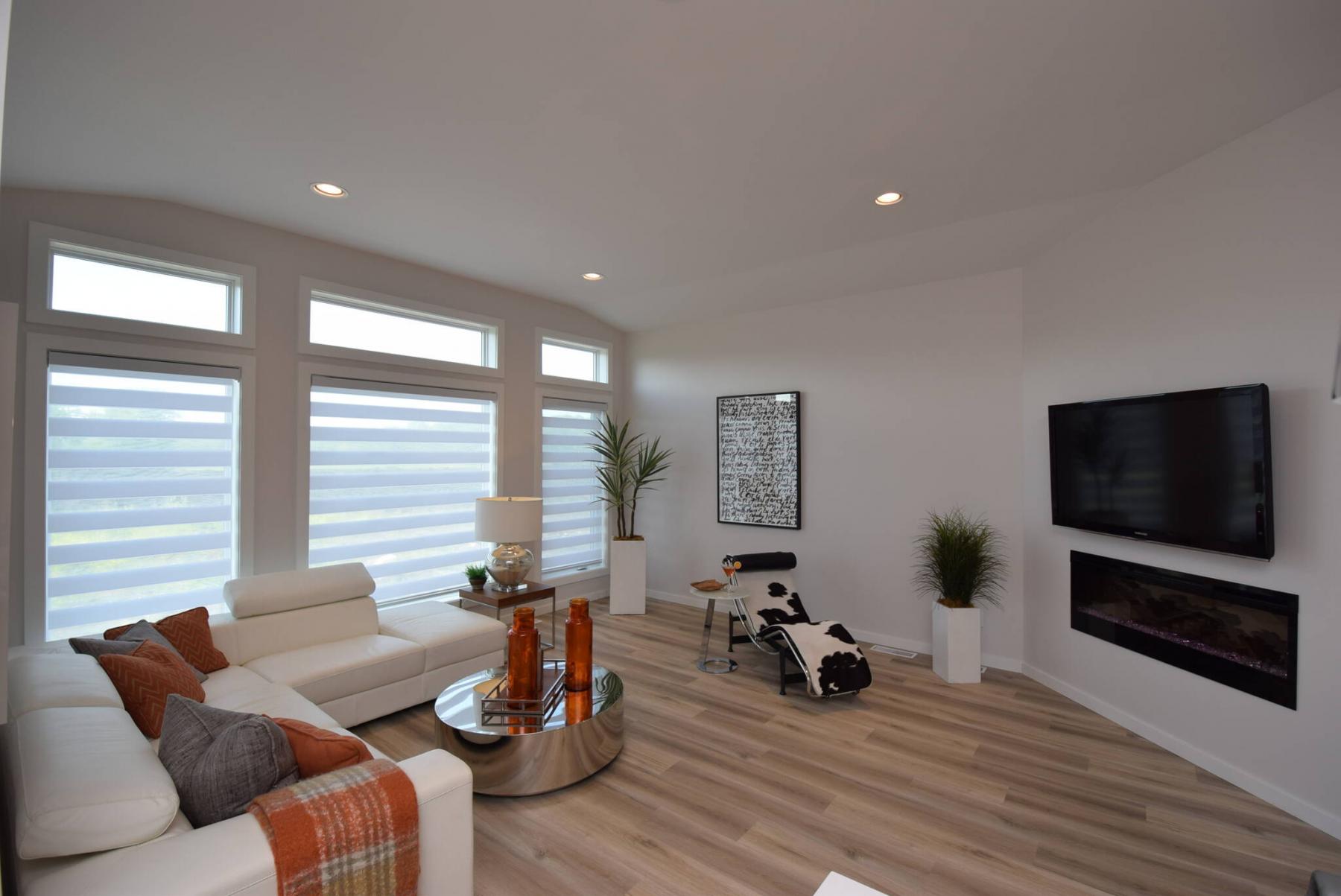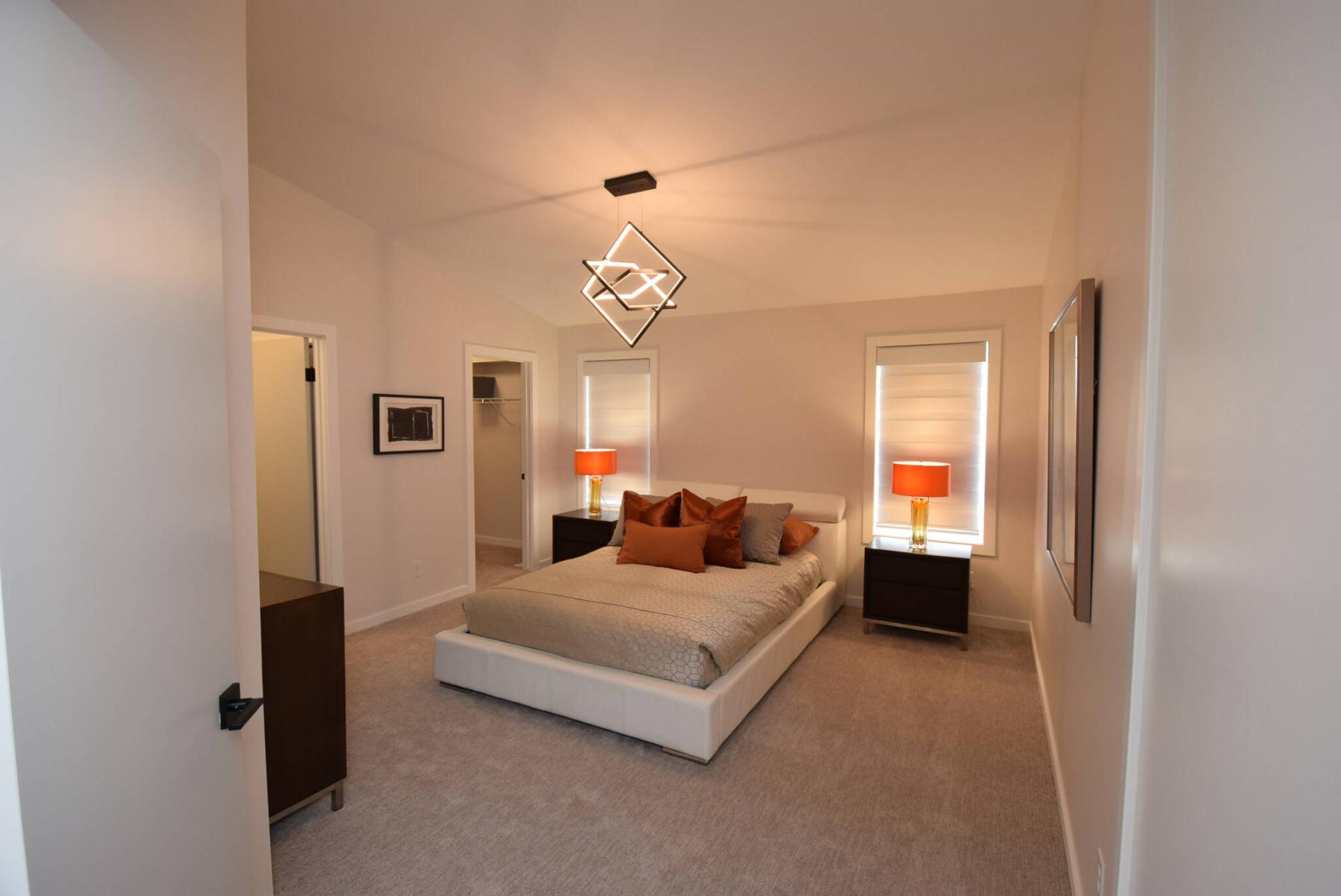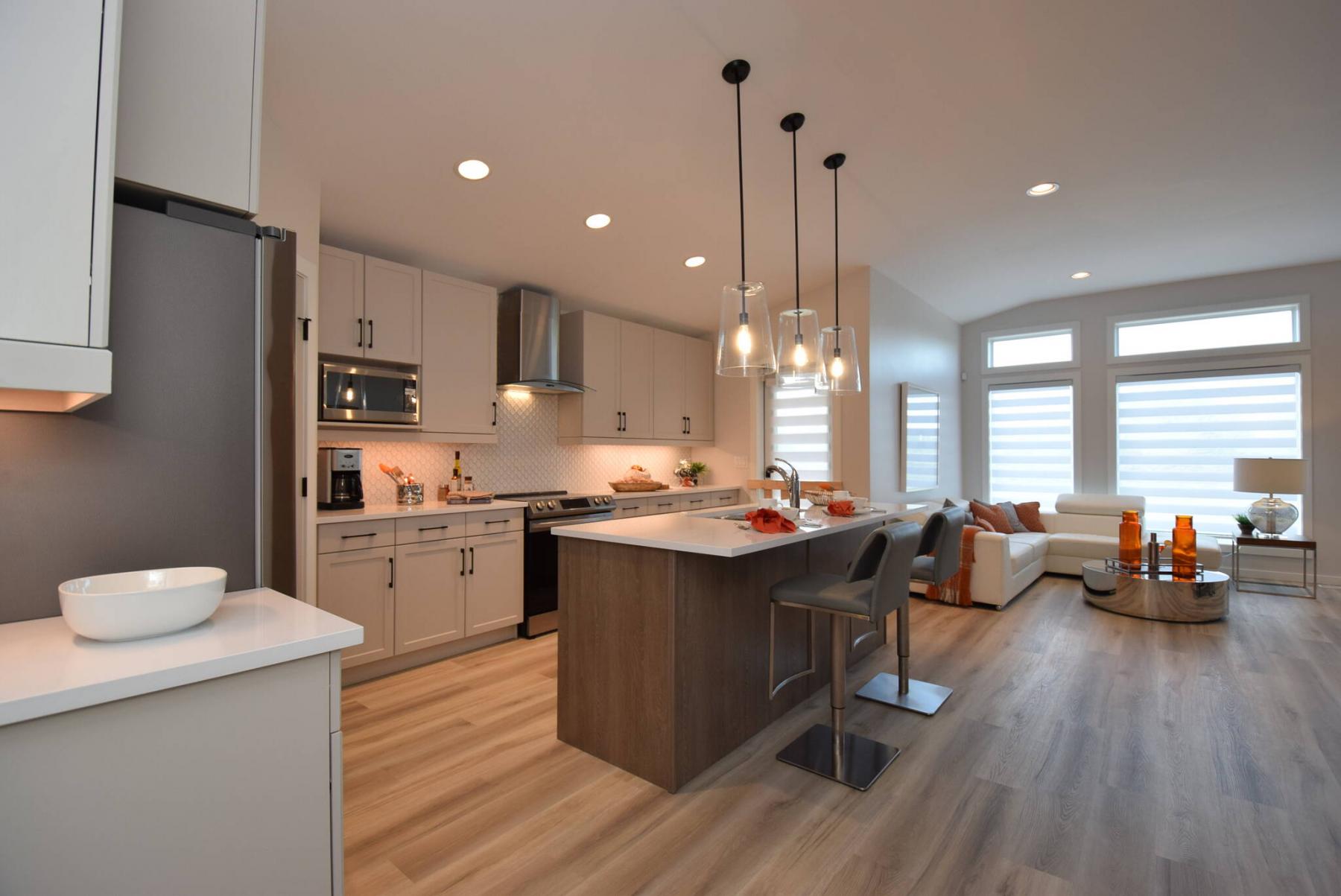 As creative as home builders can get when they build on a standard-size city lot, they can get even more creative when they get the opportunity to build on an oversized lot outside city limits.
It would be fair to say that Hilton Homes' design team went to town when they came up with the design for their brand-new show home at 109 River Springs Dr. in West St. Paul's River Springs Grove, says Spencer Curtis of Hilton Homes.
"The lot is 50 feet wide by 144 feet deep. You don't get that in the city, so we took advantage of it," he says. "It allowed us to not only to build a wider home, but it also allowed us to stretch it out a bit more."
That extra width and length asserts itself the moment you step into the foyer.
"The foyer is nice and wide with a built-in nook for a bench and a door to the right that holds a big mud/laundry room that connects to a double garage," Curtis says. "A vaulted ceiling increases the feeling of space, while the one-third walls that subtly close in the lower-level staircase separate the foyer from a formal dining room."
A four-and-a-half-foot hallway then provides seamless access to both the dining room and main living area, which, unlike many homes, consists of only a kitchen and family room.
"Stretching out the house allowed us to do a few different things with its layout," he explains. "There was enough space to put in a separate formal dining room. Doing that created a great entertaining space and opened up the front of the home even more."
Turns out, it also made for an incredibly spacious main living area.
"The home's extra length allowed for a larger kitchen with a bigger island. And while it can seat four for quick meals, families will rely more on the formal dining room to eat normal meals," says Curtis. "That's not a problem, as it's just around the corner."
All the extra space in the right rear portion of the 1,645-square-foot bungalow was then turned into a quietly spectacular family room.
"The home's extra width and depth gave us the ability to put in an enormous family room. A modified barrel-style ceiling gives it extra height and style, while floor-to-ceiling windows let in tons of natural light. There's plenty of room for a sectional and sofa, and an angled wall adds visual interest while serving as a place to put a linear electric fireplace and TV."
The primary bedroom was then placed down a six-foot-long hallway to the right of the eye-catching family room.
"We put in the hallway to ensure mom and dad didn't feel like they were walking right into the main living area, there had to be some division to create a sense of privacy," he says. "The kids' bedrooms are down another hallway at the midpoint of the home."
Mission accomplished, as the primary bedroom, which is fronted by a stylish double-wide entrance, is a well-isolated, luxurious retreat.
"Another vaulted ceiling gives it a really nice feeling of space, while a mod light fixture above the bed adds style," notes Curtis. "The bedroom is completed by a large walk-in closet and beautiful striated porcelain tile floor, walk-in shower with matching tile surround and an extra-long taupe/grey vanity with loads of storage and counter space."
He adds that the home's wider, deeper footprint also made for a ginormous lower level.
"It's huge," says Curtis. "Four large windows let in plenty of daylight, while the mechanical system is compact and nicely tucked away. There's about 1,500 sq. ft. of livable space that accommodate two bedrooms, a rec room, and a full bath with plenty of storage space left over."
A new development, River Springs Grove — which is just a few minutes north of the Perimeter Highway interchange off Main Street — is a viable alternative to building in the city.
Most lots will be in the 44-foot by 120-foot range in an area that's had a high percentage of its mature trees preserved.
That mature, countrified feel will be augmented by a series of paths winding through adjacent forest and a location that makes you feel like you're way out in the country despite being just minutes from the city.
lewys@mymts.net
Details
Builder: Hilton Homes
Address: 109 River Springs Dr., River Springs Grove (West St. Paul)
Style: bungalow
Size: 1,645 sq. ft.
Lot Size: 50' x 144'
Bedrooms: three
Bathrooms: 2.5
Price: $847,203 (includes lot, appliances, window coverings & GST)
Contact: Marie Livingston, Century 21 Carrie Realty, 204-987-2100