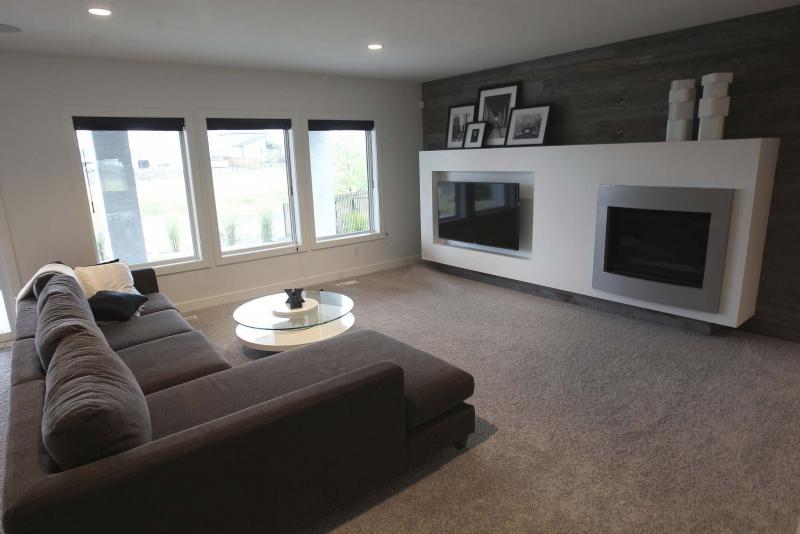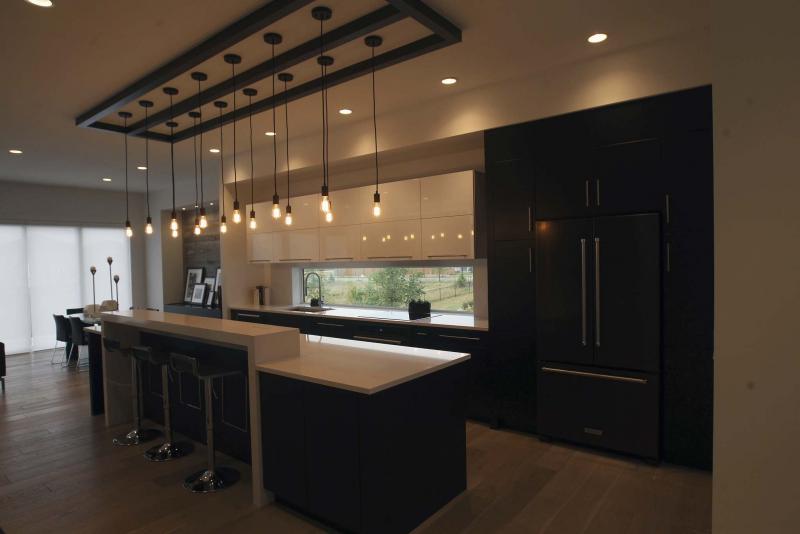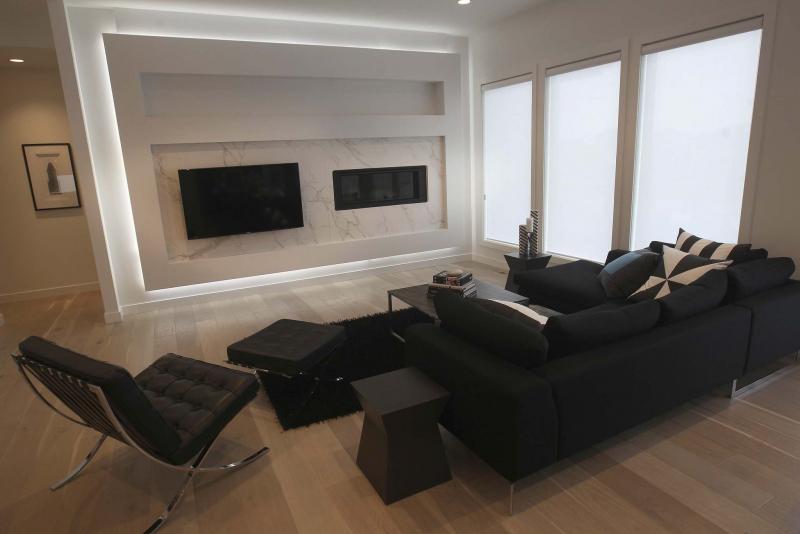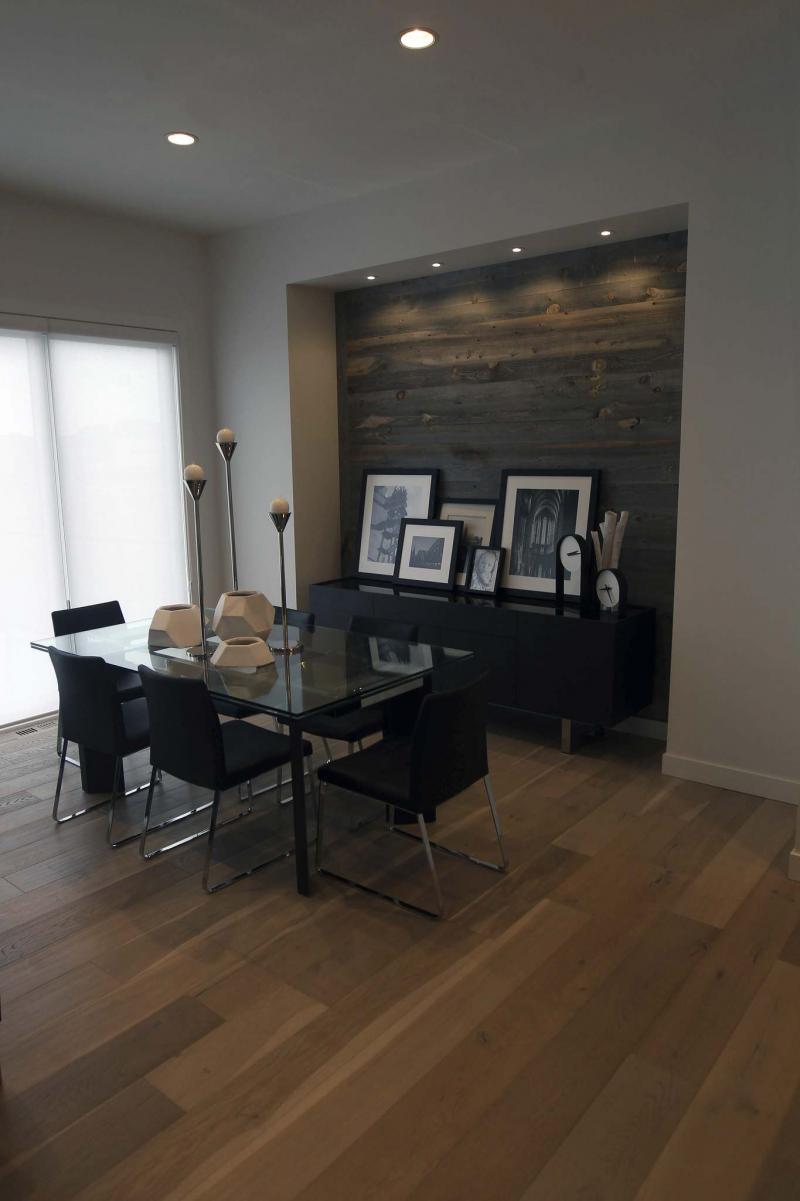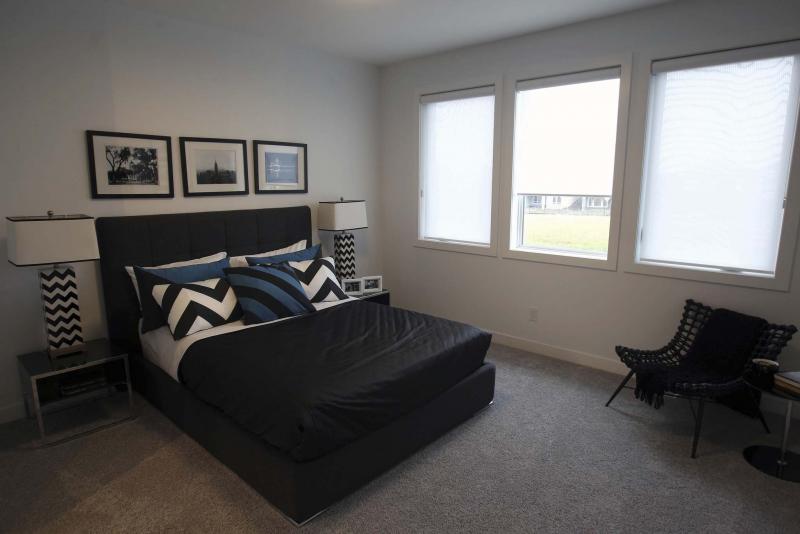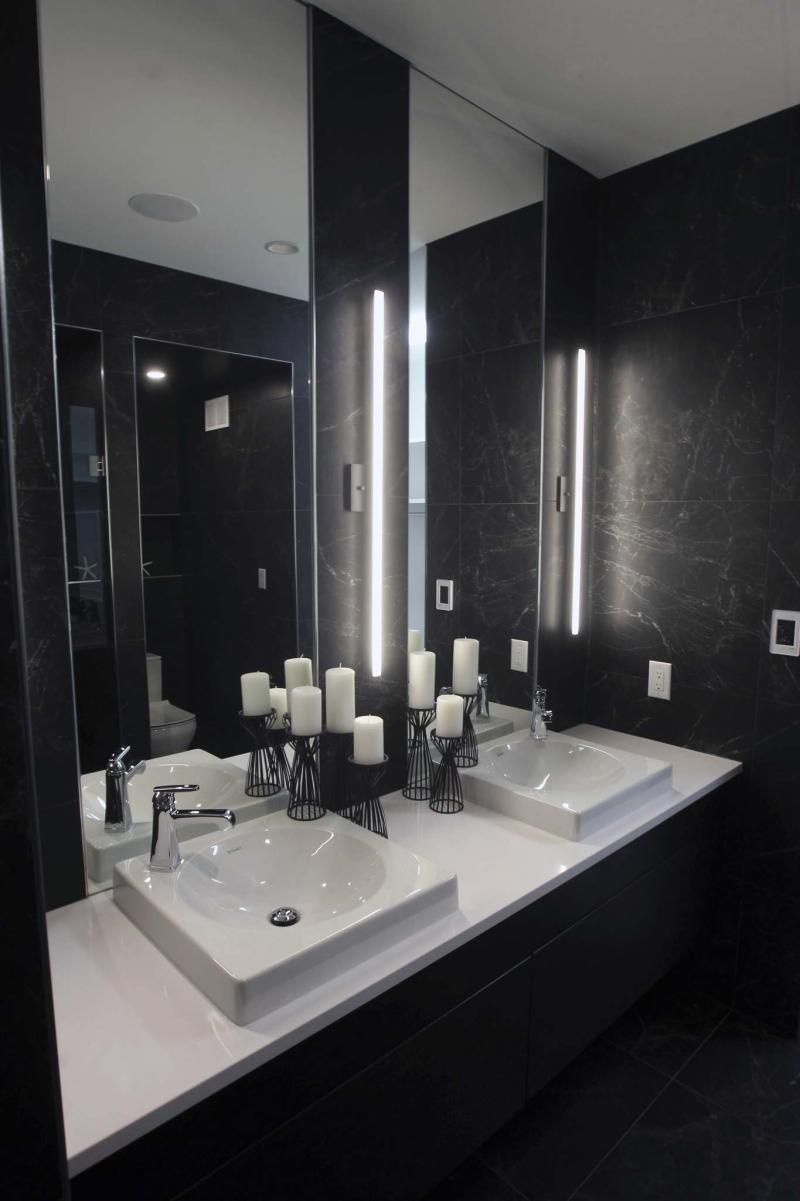 One of the challenges associated with building a show home is to ensure it's not too lavish.
The home should indeed be spectacular, but not to the extent it overshadows the overall design, which should be as functional as it is fashionable.
Which is precisely what has been accomplished with 18 Camira Way, says RE/MAX Executives Realty's Steven Crampton, sales representative for Maric Homes in Charleswood's newest community, Ridgewood West.
"I liked the design of the home as soon as I saw it," he says. "While you get plenty of wow factor, you also get plenty of functionality. It's a home that's striking, yet functional."
The home's striking design starts outside with its front entrance. In this case, Maric's design team cleverly put it around the side, and then covered its generous expanse to protect it from rain in summer and snow in winter. They also defined it with a one-third wall of charcoal-grey cultured stone, a modern yet rustic feature that carries on into the home itself.
Entry to the home comes via an eight-foot-high front doorway that leads into a wide, angled foyer that's defined by a cream-coloured tile floor.
Another notable feature is a narrow, distressed wood plank wall (with a grey hue) that separates the foyer from a huge, discreetly-positioned mud/laundry room to the left of the foyer; it lends a textured, rustic feel that, like the cultured stone around the front/side entrance, is a design feature spotted to great effect throughout the home.
From there, the great room opens up in quietly spectacular fashion. "The ceiling is 10 feet high, the area is surrounded by windows. It's a naturally bright home and there's plenty of room to move. The aisle between the (lower level) stairway and island is extra wide, which makes it easy to move through into the family room," Crampton says. "The kitchen, dining room and family room are also good-sized spaces, which makes the great room perfect for entertaining."
He added most visitors have been surprised by the home's square footage. "It's 1,770 sq. ft., but people think it's much bigger than that," Crampton says. "That's the result when you combine features like high ceilings and tons of windows with a great floor plan."
Indeed, use of space in the great room is impressive. Not only is there room for a galley-style kitchen with a 12-foot island with raised eating area for four, but the dining room is huge, with ample capacity for a table that can sit as many as 12. The adjacent family room is also plenty big, with loads of space to visit with company after dinner.
A host of well-placed windows make for a bright, airy great room that's easy to spend time in. Those same windows — a bank of three panes on the family room's rear wall and a patio door and window behind the dining room — also provide a near-panoramic view of the pristine wetlands behind the home.
A narrow, rectangular window placed on the side wall over the sink and built-in cooktop has also been drawing rave reviews. "It was a bold move that paid off — people love the window for the light it adds, and the open feel it gives the kitchen," he says. "People love the finishes as well: white quartz countertops, glossy white Euro cabinets up high (over the sink/cooktop) and black cabinets down low, engineered white oak wide-plank hardwoods and pewter appliances."
Placement of finishes in both the dining room (buffet niche) and family room (entertainment), meanwhile, is letter-perfect. "The same distressed wood planks used on the wall next to the foyer are used for the background in the buffet niche, while a cool product, Dekton (a durable material that replicates the look of marble), was used as background behind the TV niche and ribbon (gas) fireplace in the family room. Those finishes (along with oak hardwoods) add texture and warmth to an area that features a modern design theme."
The main floor is then finished off perfectly by a private bedroom wing which contains three bedrooms, a main-floor laundry room and four-piece bath.
Fittingly, the master suite is its crown jewel. "It's a gorgeous space," Crampton says. "You get a spectacular water view (through three large windows) and a luxurious ensuite with black tile floor (with grey highlights), five-foot glass/tile shower with rain shower head and three body sprays, floating vanity with (white) quartz countertops and dual sinks and a spacious walk-in closet with tons of built-in storage."
Finally, there's the walk-out basement, which offers more than 1,400 sq. ft. of livable space. A wall of windows — plus patio doors that lead to a covered patio — provide spectacular wetland views. There's also a media room (next to a bank of three windows), games area with recessed sitting area (next to three more windows), exercise room, plus a fourth bedroom and four-piece bath set off to the side in a private wing.
"All told, you get a home that gives you over 3,200 sq. ft. of living space featuring a striking, modern design," he says. "Yet, you get a livable, homey feel where everything fits and flows perfectly. This home is a great design from start to finish."
lewys@mymts.net
Details
Builder: Maric Homes
Address: 18 Camira Way, Ridgewood West (Charleswood)
Style: Bungalow with walk-out basement
Size: 1,770 sq. ft.
Bedrooms: 4
Bathrooms: 3
Price: $829,900 (including lot, GST)
Contact: Steven Crampton, RE/MAX Executives Realty, 204-509-3570