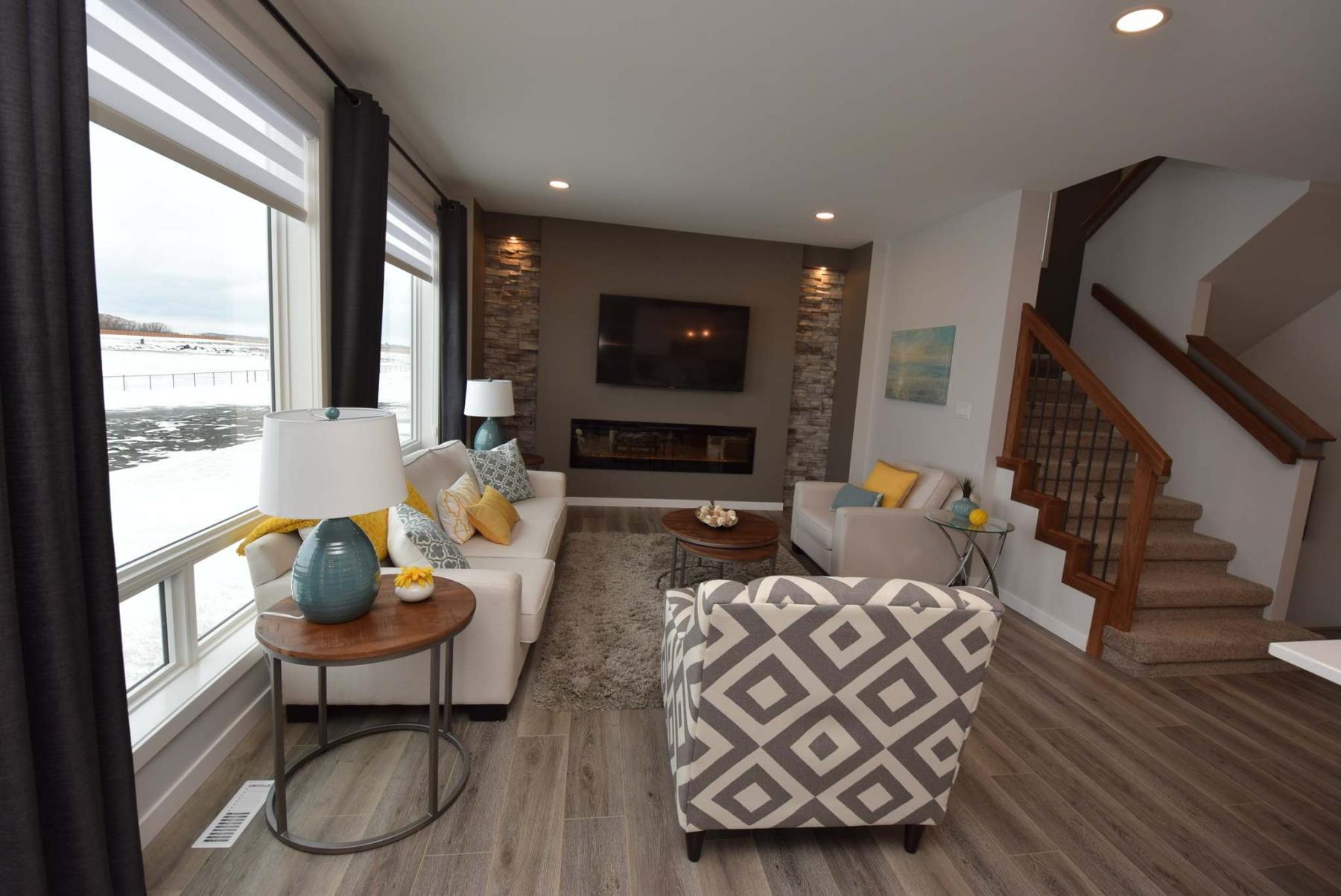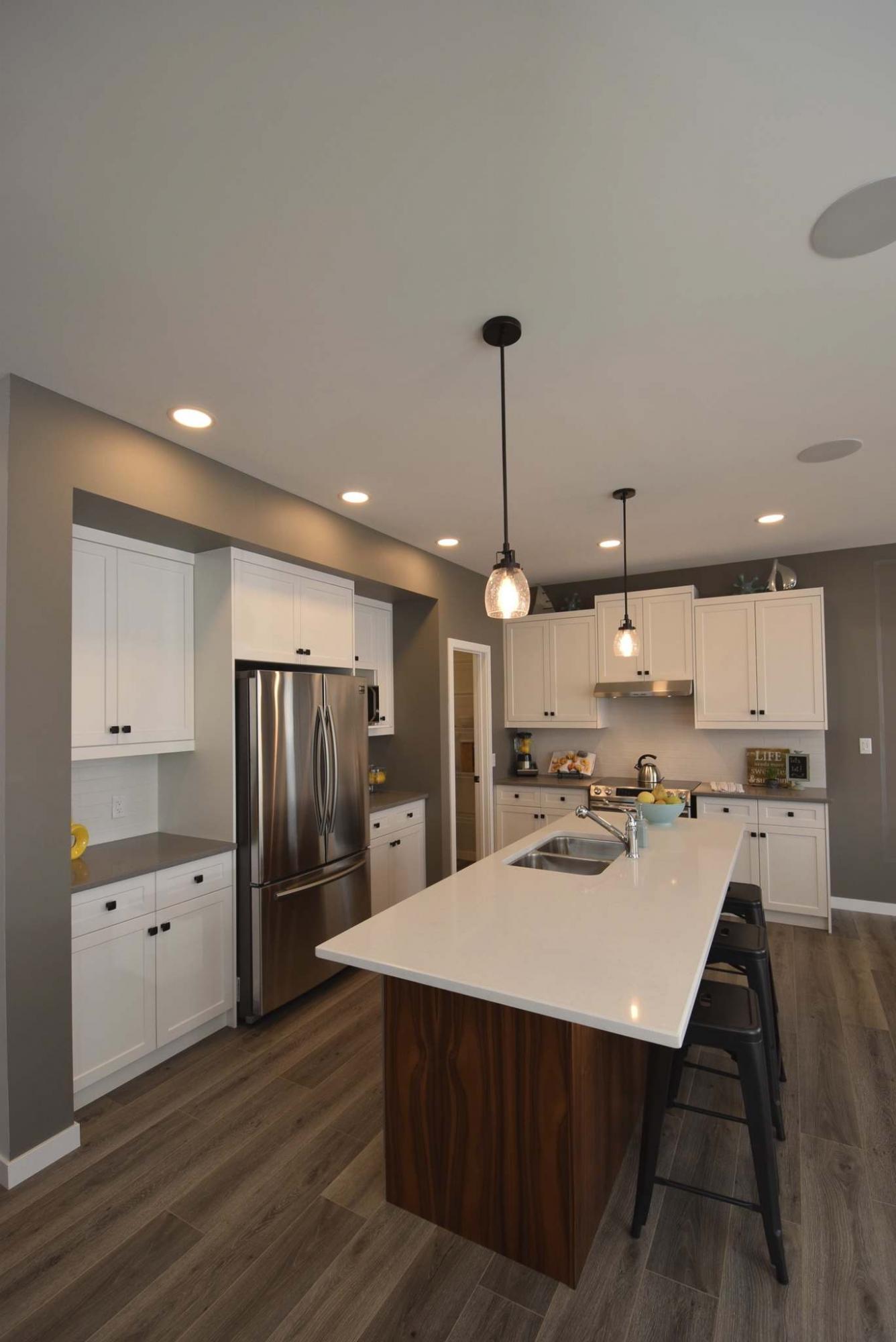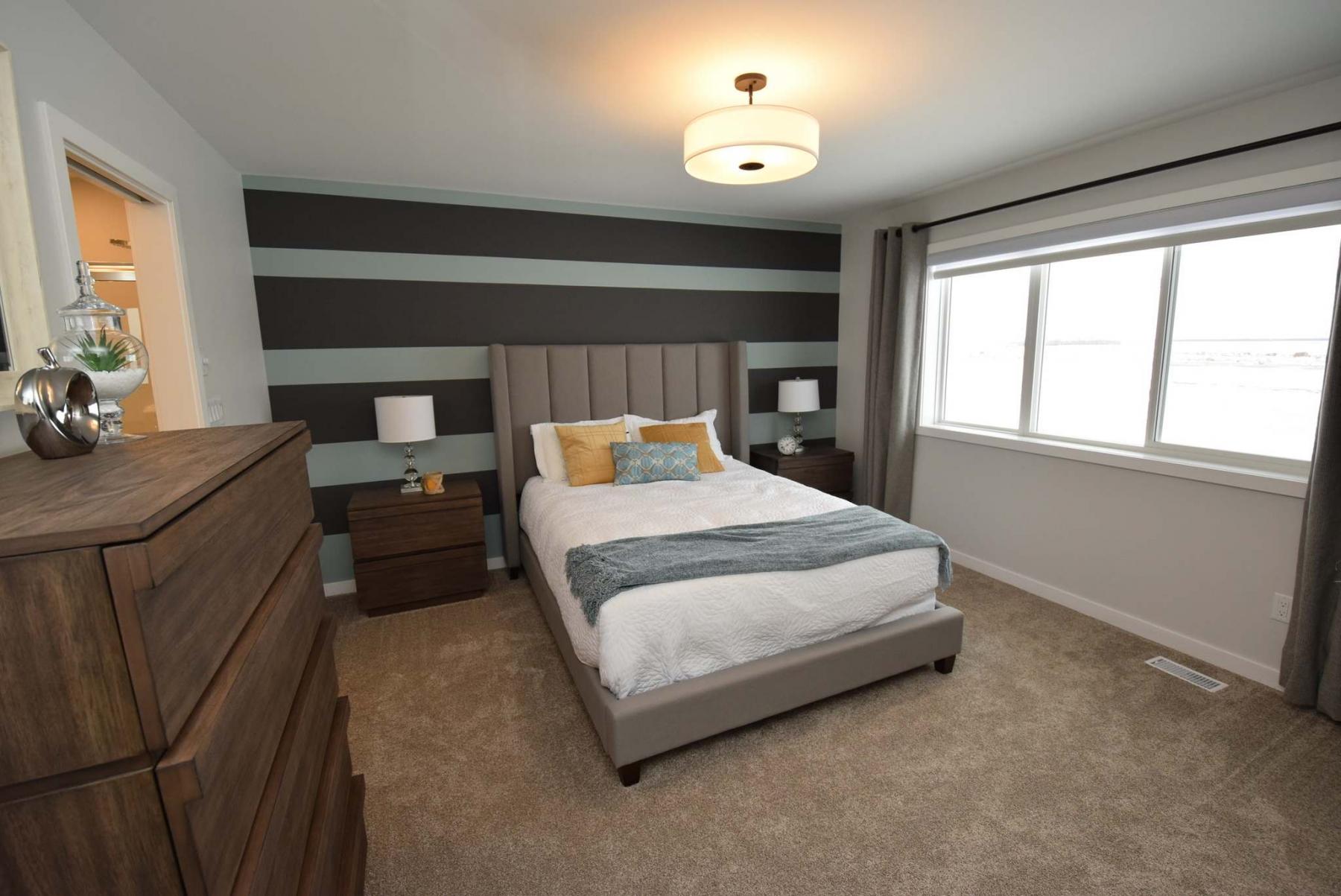 There are several advantages associated with building a home on a lot that's extra-wide and deep.
The first and most obvious advantage is you get a huge backyard and more space on either side of the home. The second and more subtle advantage is that a wider, deeper footprint gives builders more room to build function into a home's floor plan.
Randall Homes' design team took full advantage of all that opportunity in conceiving a new, modified version of one of their best-selling home models, the Carter.
"This home is called the Carter Country Collection," says Shayne Krasnesky, Randall's sales representative for the 1,844 sq. ft., two-storey show home, which is located at 256 Petryk Terrace in Grande Pointe Meadows. "It's a wider version of the Carter — and much more."
Randall's design team took full advantage of a huge 80-foot by 170-foot lot to make an already functional home that much more functional — and captivating.
The home's extra width comes into play the moment you step inside, says Krasnesky.
"Randall's design team did a great job with the home's floor plan, starting with the foyer. Not only is it extra-wide - it makes it easy for several people to enter at once without feeling congested — but it's loaded with function on either side."
That function comes in the form of a den/bedroom to the right and hallway to the left that houses a double closet, powder room — and thoughtfully-designed mudroom.
"Everyone who's been through the home has loved its design," she says. "It allows you to come straight through from the double-attached garage with your groceries into a walk-through pantry that's linked to the kitchen by another doorway. It's a design feature that everyone has really liked."
No matter whether you enter the great room through the walk-through pantry or extra-wide entrance, you can't help but marvel at its design.
Stylish yet practical, it's an ultra-navigable, light-filled space that's teams flair perfectly with function.
"It's another example of Randall's design team taking advantage of the extra space," notes Krasnesky. "The extra width allowed for three generous spaces that are open, yet nicely defined. A nine-foot ceiling added to the feeling of space, and allowed for lots of glass to be placed on the rear wall to let in tons of natural light."
Thanks to the nine-foot ceiling, that glass — a patio door with transom above and two huge windows on the family room's rear wall - literally spans from floor to ceiling, maximizing light flow.
Meanwhile, the colour palette and finishes combine to endow the bright, expansive area an undeniable warmth.
"Light and medium greys on the wall go beautifully with finishes like grey and off-white quartz countertops, Country white cabinets and a textured medium-brown laminate wide plank floor to give the great room a modern warmth," she says. "The generous island's walnut base and cabinetry is an especially nice touch."
And while the kitchen and dining room offer their fair share of utility and understated pizazz, the family room is unquestionably the great room's piece de resistance.
"The warm flooring and beautiful entertainment unit — an extra-wide electric ribbon fireplace with TV niche set on a simple taupe wall that's framed by cultured stone trim at either end - is a wonderful spot to visit with guests. There's so much light, and the view of the backyard and walking path behind the home is amazing."
There's no disappointments upstairs, either.
Like the main floor, the home's upper level was designed to maximize space, light and livability.
"This version of the home comes with a mid-sized loft with two windows that gives the upper level a bright, open feel," Krasnesky says. "The loft can be turned into a fourth bedroom, but most people keep it. It's like a second living room and is a great space for kids."
From there, the home's second level unfolds in well-ordered, efficient style.
A laundry room with window was placed to the right of the loft, while a bedroom wing with extra-wide hallway houses two oversized secondary bedrooms, centrally-located four-piece bath — and spacious, secluded master suite.
"Set off in it's own private corner, it comes with a huge window that provides a beautiful elevated view of the countryside. There's also a mid-sized walk-in closet and generous ensuite with five-foot shower with rain shower head, dome light and bench — and a white vanity with grey countertop and dual raised sinks."
More space and function can be found downstairs, she adds.
"With over 800 sq. ft. of space available to develop, you could put in a big rec room, two good-sized bedrooms, bathroom and still have plenty of space left over for storage. The home has the potential to offer five bedrooms, a loft and three-and-half bedrooms — plenty of space for everyone in the family."
Krasnesky says large families need to check out all that the Carter Country Collection — and Grande Pointe Meadows — have to offer.
"The home delivers great value with all the space, style and livability it offers for under $570,000. Best of all, it's in a safe, quiet community that's just eight minutes from town. It's a home that takes affordable innovation to new heights, while offering spacious country living just a short drive from the city."
lewys@mymts.net
Details
Builder: Randall Homes
Address: 256 Petryk Terrace, Grande Pointe Meadows
Style: two-storey
Model: the Carter Country Collection
Size: 1,844 sq. ft.
Bedrooms: three plus second floor loft
Bathrooms: 2.5
Price: $569,000 (includes lot & GST)
Contact: Shayne Krasnesky, Royal LePage Alliance, 204-996-4155